You are here
Governor's Newsletter March 2016
Governor's Newsletter March 2016

---
---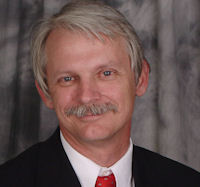 James F. Bush, MD, FACP, ACP Governor
---
Wyoming Medicaid Offers Patient Centered Medical Home Payments
The Wyoming Medicaid program is offering increased payment to practices and for becoming a Patient Centered Medical Home. Dr. James Bush, the state's Medicaid Medical Director and ACP Wyoming Chapter Governor says, recognizing the value of a PCMH has started this program to allow practices meeting criteria to receive an extra $6 per patient per month on top of their fee-for-service payment.
PCMH is a way of organizing primary care that emphasizes care coordination and communication. Bush says in order for a physician or practice to take part in The Wyoming Medicaid PCMH program, the doctor or practice needs to sign a survey put out by the NCQA, pull continuity of care documents on at least 50 percent of the Medicaid patients they see in a month, and at least once a quarter submit clinical measures into a state level registry.
The payoff for practices participating in the state's Medicaid program is a $6 payment per Medicaid patient per month whether the client has been seen that month or not.
"We were tasked with coming up with a system for value-based purchasing and rewarding quality medicine versus quantity medicine," says Bush. "You are being paid more for better care. That is very, very exciting and rewarding."
The Medicaid PCMH program will qualify participants under the proposed CMS rule for the maximum APM pay increase, so I urge our members to giving serious consideration to joining our PCMH program as it will benefit both their Medicaid and medicare rates beginning in 2018.
The four steps to sign on include:
Signing the Department of Health's attestation form and complete the NCQA self assessment score sheet. Wyoming Medicaid's PCMH website can be found here;
Register in the State Level Registry and submit monthly practice;
Review continuity of care documents on Medicaid clients using the CCD viewer;
Follow the billing process after each quarter of participation. There are four quarters to bill in the calendar year and your office will receive notifications when it is time to report.
For more information, contact Dr. Bush at 307-777-7245 or .
---
Wyoming ACP to Meet at Wyoming Medical Society Annual Meeting
The Wyoming Chapter of the American College of Physicians will feature a strong presence during the Wyoming Medical Society's Annual Meeting. The meeting will take place June 3-5 at the Jackson Lake Lodge in Grand Teton National Park. Among the highlights for ACP chapter members is the SEP module, scheduled for Friday, June 3 at 2:30 p.m. The ACP will also host its Town Hall Meeting from 7-9 a.m. on Sunday, June 5. Register today!
---
ACP Representatives Attend Fall Board of Governors Meeting in Palm Springs
Wyoming ACP Gov. Dr. Jim Bush and Governor-elect Dr. Mike Tracy represented Wyoming at the Fall Board of Governor's meeting in Palm Springs. Topics that were covered included the business report from the College, a presentation on optimal prescribing, a report on the Middle East respiratory syndrome, and a demonstration on the valuable new DynaMed Plus program as a benefit for our ACP members. I urge all members to check out this wonderful tool, and to forward me their feedback. I have found it very useful.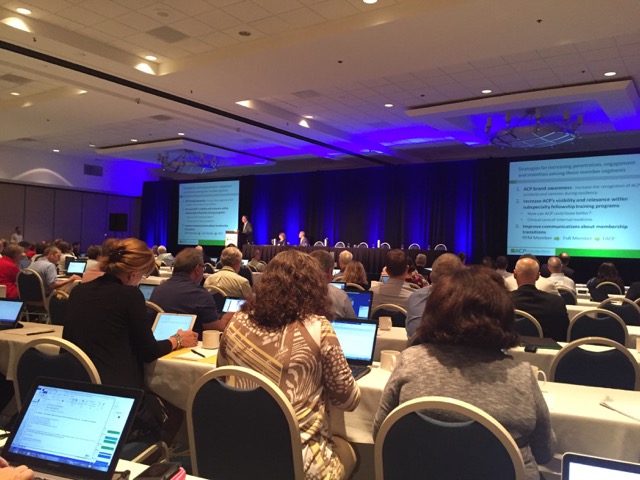 The American College of Physicians held its Fall Board of Governors Meeting in Palm Springs, Calif. Oct. 1-3.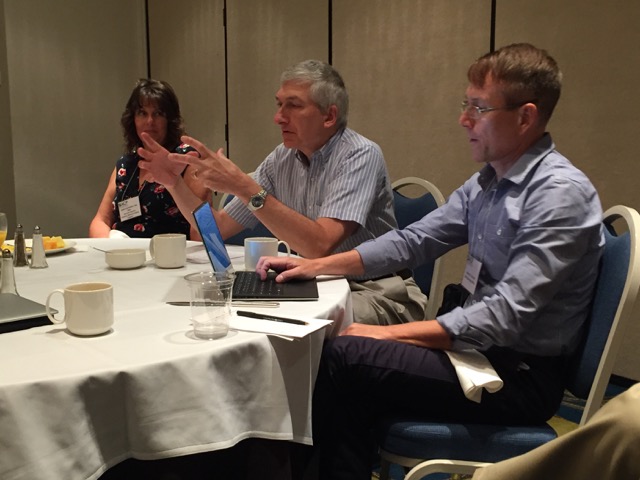 Dr. Steven E. Weinberger, CEO of the ACP speaks with chapter staff in Palm Springs on Oct. 3 during the ACP's Board of Governors Meeting.
Finally, Bob Doherty gave a wonderful summary of the implications for MACRA and MIPS and Alternative Payment systems. MIPS adjusts traditional fee-for-service payments upward or downward based on new reporting program (starting in 2019), bringing PQRS, Meaningful Use, and Value-Based Modifier into one program. The Pay-for-performance amounts increase from +/-4% in 2019 to +/- 9 percent by 2022 and a 5 percent annual bonus FFS payments for physicians who get substantial revenue from alternative payment models that Involve upside and downside financial risk, e.g. ACOs or bundled payments.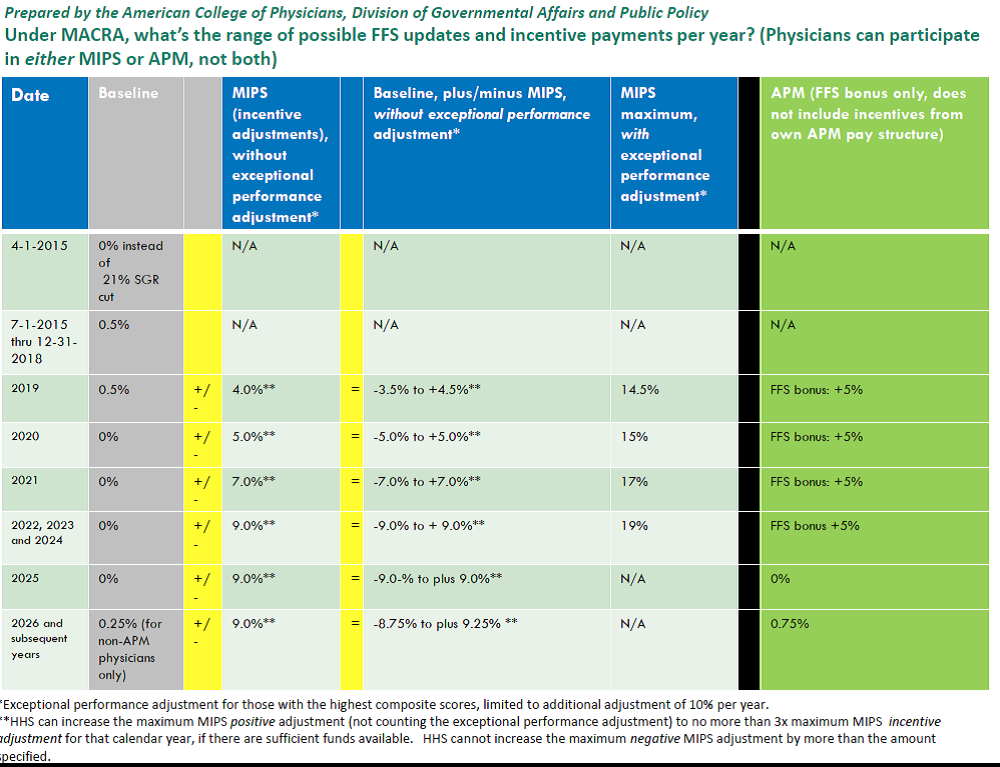 ---
ACP's lead lobbyist offers numbers on ACA at Palm Springs
Bob Doherty is the ACP's lead lobbyist and offered several minutes of update, pointing out there will be no challenges to the ACA at the federal level until after the Presidential election of 2014. He added the college will do an analysis for waiver proposals being made by conservative states as they consider Medicaid expansion. The ACP is also looking into the impacts of things like work requirements in states who have adopted Medicaid.
Doherty said the uninsured rates nationwide saw a drop with the one exception being Wyoming, which saw its uninsured rates rise by 1.6 percent. He went on to say the polling they had seen showed only 28 percent of physicians wanted the ACA repealed. The survey also asked primary care physicians if they were seeing an impact due to the ACA. Of those surveyed, 25 percent said they are seeing no impact and 23 percent said the ACA was a positive impact. When asked if the ACA was impacting the cost of healthcare, 44 percent of physicians surveyed said the ACA was negatively impacting the cost of healthcare, with another 21 percent suggesting it had a positive impact on healthcare. Seventy-two percent of physicians surveyed believed the ACA had improved access to healthcare.
---
ACP Updates From Staff
The Board of Governors Meeting in Palm Springs also featured interesting updates from ACP national staffers. National Board of Governors Chairman, Dr. Andrew S. Dunn said Dr. Steven E. Weinberger, the CEO and Executive Vice President of the ACP will retire and is planning to move into a half-time role with ACP until his replacement can be named.
Dunn also referenced a report regarding Maintenance of Certification and said ABIM has changed the blueprint for the exam after receiving feedback that said many of the questions were not relevant. The thinking, Dunn said, was that a high-stakes test once every 10 years may not be the best way to test knowledge and perhaps questions should come every two or three years instead.
He said the ACP received a call to action regarding the concept that firearms present a public health issue. He said recommendations are consistent with the second amendment and as of this summer there were endorsements from 51 health care and consumer organizations. This summer the ACP was assessing what to do with this information.
Dunn also offered information on some other issues the ACP is working with. The ACP has put together a paper on disparities of healthcare of LGBT. The ACP also came out against legislation which would have allowed physician-assisted suicide in California.
---
Moore Offers a Membership Update
Membership is always a hot-button issue for the ACP and ACP Membership Director Rebecca Moore said ACP adds 16,000 new members each year, but early career physicians represented 20 percent of members and 50 percent of those drop their membership each year. She said the career path for nearly 70 percent of newly minted internists are sub specialists or work in hospital medicine. As a result, the ACP is working towards high levels of engagement with residents, chiefs and program directors in hopes of addressing the importance of ACP with new internal medicine doctors.
As a whole, the ACP has 79,000 dues-paying members, which makes up 40 percent of ACP budget. However, only 15 percent of physicians who begin their career as a member of the ACP end up members throughout their career.
---
Calling for Award Nominations
The Wyoming Chapter of the ACP is proud of our members and their accomplishments. Wyoming internists are a dedicated group of individuals who have dedicated their lives to the health and wellbeing of Wyoming patients.
Wyoming ACP would welcome nominations for the Laureate Award, Volunteerism Award, and the Wyoming Chapter Award. Please contact the WY-ACP office by phone (307-635-2424) or email to nominate a colleague.
The Laureate Award is designed to honor those Fellows and Masters of the College who have demonstrated, by their example and conduct, an abiding commitment to excellence in medical care, education, and research, and service to their community, their chapter, and the ACP. A Laureate nominee is usually a senior physician who has been a Fellow or Master of the College for at least 15-20 years and meets all other categories of eligibility.
The Chapter Volunteerism Award was developed in 1999 by the Chapters' Subcommittee to recognize the work of members who are involved in volunteerism and community service activities. This award enables our Chapter to raise the level of awareness and promote dialogue and action in volunteerism within our region.
The Wyoming Chapter award is awarded to a Wyoming internist who has made a great impact in the state of Wyoming.
For all three awards nominees must be Masters, or Associates of ACP and must have provided volunteer service post-training. Self-nominations are not permitted. The services must have been performed on a voluntary basis and not required for the completion of teaching, training, or position requirements. Volunteer work must have been done as a physician and be medically related.
---
Nominate a Chapter Member for the Annual Richard Neubaur Advocate for Internal Medicine Award
ACP is now accepting nominations for its annual Richard Neubauer Advocate for Internal Medicine Award, which recognizes the individual who has made exceptional efforts in support of the College's advocacy program during the previous year. We invite chapters to nominate one or more members of the Advocates for Internal Medicine Network (AIMn) program for this award, and self-nominations are acceptable. The award will be given to the winner during Leadership Day 2016 in Washington, D.C.
Nominations will be accepted through Wednesday, March 30. The nominations process is simple and we provide a convenient online form, which can be found below. For more information about the award, visit here. To access the nomination form, visit here. Please contact Shuan Tomlinson by phone (800-338-2746 ext. 4547) or email if you have questions.
Under the proposed rules put out by CMS, any practice participating in a State recognized PCMH program such as the Medicaid program described above, should then be able to qualify as an APM without having to take financial risk. I strongly urge our members to look into this very closely, to make the correct decisions for their futures.