You are here
Governor's Newsletter January 2013
Governor's Newsletter January 2013
| | |
| --- | --- |
| January 2013 | James F. Bush, MD, FACP |
---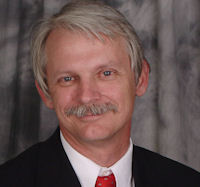 Wyoming Patient Centered Medical Homes
A key ACP concept over the last few years has been to support and promote the concept and development of Patient Centered Medical Homes (PCMH) . The Joint Principles of the Patient-Centered Medical Home are intended to describe the characteristics of a PCMH, including: a personal physician in a physician-directed, team-based medical practice; whole person orientation; coordinated and/or integrated care; quality and safety; enhanced access; and payment. These principles have been endoresed by the 4 primary care associations, the ACP, AAFP, AAP and AOA. To learn more about the details there is a wealth of information at the ACP website.
What is exciting is that Wyoming has now several practices that are working to become PCMH's. Last year grants from Winhealth and CRMC helped to start a pilot project with 8 practices to work with TransforMED - a company initially founded by the AAFP to help practices move to the PCMH model. This year there was an additional grant of $250,000 from Governor Mead through the Dept. of Health to expand upon this program, and in addition there was an innovation grant awarded to CRMC, and these funds were blended to allow this process to add an additional 17 practices. TransforMED is now working with all 25 practices in Wyoming to become PCMH's. There is also been a series of meetings with the various major Payers in the State to see if they will be able and willing to pay for case management and achieving quality outcomes in addition to continuing to pay for Fee for Service. To avoid any anti-trust concerns while the payers are meeting to make sure the broad priciples are similar to make it easier for the practices to have standard parameters, the actual rate negotiations will be between each payer and the participating practices" as we are initially limiting the enhanced payments to those practices and not the entire Integrated Care network. If we prove the worth we will then make these rates available for any practice that achieves similar goals.
The PCMH is perceived as critical by both Physicians and payers as all recognize the need to change our payment model from merely providing a service, to achieving case management and quality improvement. The parameters of Medicares PQRI, Meaningful Use, Core Adult and Pediatric Quality Measures are all noted and being used as accepted Peer-reviewed Medical Standards to measure quality. We hope to identify a physician group within Wyoming to assist in setting the Standards that determine quality. These 25 practices will account for about 1/3 of both Medicaid and State Employees Health Plans, so this is a significant number of patients who will be managed in a PCMH model, and should allow us to see if this model will achieve its promise in Wyoming. Colorado just recently published a study with fewer practices and patients that did achieve its goals, so there is good reason for optimism. To those practices who are going through the process, we appreciate their willingness to move forward, and for our other members, please learn as much as you can about this process at the ACPonline website, and by talking to those who are going through the process, as there will be hopefully more support in the future.
---
Report Describes Potential Medicaid Expansion Impacts
Expanding Wyoming Medicaid as encouraged by the federal Affordable Care Act (ACA) could reduce the number of uninsured residents and save more than $47 million in state budget funds over six years, according to a new Wyoming Department of Health (WDH) report.
Tom Forslund, WDH director, said his department analyzed ACA costs, benefits and Medicaid impacts. "Based on the information we have so far about the federal healthcare law and how it will work, we determined the full Medicaid expansion made optional by the Supreme Court decision earlier this year could increase the number of insured Wyoming residents and result in state general fund savings."
The WDH report described both positive and negative impacts of expanding Medicaid in Wyoming. On the positive side, reducing the uninsured rate could help more Wyoming residents gain healthcare services and could also support the state's healthcare providers by reducing the amount of uncompensated care they now must cover. The expected increase in federal dollars flowing into the system could help create higher demand for healthcare jobs. Potential negative impacts of expansion included potential healthcare provider shortages and uncertainty about the federal deficit's effect on future federal funding.
As the ACA goes into effect, Wyoming will receive a 50-50 federal cost match to cover newly eligible children and "woodwork" enrollees. Expanded coverage for these groups is not optional. "Woodwork" enrollees are likely already eligible for Medicaid and may be prompted by the ACA to enroll.
The net cost to the state of covering the mandatory groups is estimated by consulting group Milliman to be $79.4 million for state fiscal years 2014-20 with an additional 10,600 Wyoming individuals expected to enroll in Medicaid by 2016. "We must expect to pay Wyoming's share for these groups regardless of whether decision makers choose to further expand our Medicaid program," Forslund said.
If Wyoming's policymakers decide to further expand Medicaid to cover everyone under age 65 with incomes up to 133 percent of the federal poverty level (FPL), the federal government will cover 100 percent of costs for newly eligible adult enrollees for the first three years beginning in 2014. The federal share would decline to 90 percent by 2020. Milliman's best estimate is for 17,600 new "optional" enrollees if Wyoming fully expands Medicaid.
According to WDH projections:
The combined costs of expanding Medicaid to cover both the mandatory and optional groups for state fiscal years 2014-20 would be $151.1 million.
The combined budget offsets for the same period would be $198.5 million.
The net state general fund impact for the same period if Medicaid is full expanded is $47.4 million in savings.
"While most of the state's expected ACA-related costs are caused by coverage of mandatory groups due to their lower federal match, the potential savings we found are mostly linked to the optional expansion for adults," Forslund said.
WDH has several state-funded programs that provide certain healthcare services to vulnerable populations. "We may be able to maximize federal financing by shifting funding from programs that are currently paid for with state funds to Medicaid, which will be funded with mostly federal funds for the optional expansion group of adults," Forslund said.
In addition, some services now offered by WDH programs will be available for clients through Medicaid's healthcare coverage or private insurance.
Programs with possible opportunities for cost offsets include mental health and substance abuse outpatient services, Prescription Drug Assistance Program, breast and cervical cancer coverage, Pregnant by Choice waiver, Employed Individuals with Disabilities Program, the Wyoming State Hospital, renal dialysis, colorectal cancer screening, HIV/AIDS medications and tobacco cessation medication/counseling.
Medicaid is a joint federal and state government program that pays for medical care for some low-income and medically needy individuals and families. There are currently four primary categories of Medicaid eligibility in Wyoming: Children; Pregnant Women; Family Care Adults; and individuals who are Aged, Blind or Disabled.
Figures contained in the new report, as well as those in other ACA-related reports, are estimated and based on the best-available data and analysis. The report is available online.
---
Wyoming Chapter Annual Meeting
Hilton Garden Inn in Laramie, WY
June 7-9, 2013
WY ACP GAC Meeting Thursday, June 6, 8:00 pm
Townhall ACP membership meeting Sunday, June 9, 8:00 am
Internal Medicine lectures at this year's annual meeting will feature:
Dr. Murray - Canada and US health system comparisons and a Multiple Sclerosis Update
Mark Lupo, MD - Thyroid Disease Update
Hormone Therapy
Adolescent Depression and suicide
ABMS board certification important lecture series
Non-surgical treatment of overuse and sports related injuries
Conservative Therapy and non-surgical remedies for arthritis
Coronary Artery Disease Management