You are here
GOVERNOR'S NEWSLETTER November 2014

---
---
Dr. Mark Belknap, MD, FACP, ACP Governor, Wisconsin Chapter
From the Governor
I hope that this issue of the newsletter finds you well in mind, body, and spirit and that you are having an enjoyable fall. Along the south shore of Lake Superior, we are usually blessed with a lingering fall, a gift of the greatest of the Great Lakes and payback for its gift of a seemingly interminably delayed spring.
In this issue, I will review some of the happenings within our chapter and the national ACP organization, and I will touch on upcoming opportunities in 2015.
---
ACP Wisconsin Chapter Annual Meeting
The 2014 Wisconsin Chapter Annual Meeting was held at the Wilderness Resort in Lake Delton (Wisconsin Dells) on September 5 and 6. We again had a very successful meeting with very good attendance and a varied and very informative program. Highlights included a day full of information-packed presentations, some of which centered on the theme of High Value Care, which is one of the ACP's current priorities. Saturday's program also included a resident Jeopardy-type competition and a town hall meeting. This was preceded by a day taken up with Maintenance of Certification modules, resident clinical and research vignettes, and a large number of resident posters, along with a reception for all attendees. Special thanks are due to Dr. Noel Deep, Chair of the Program Committee and committee members, Drs. Sam Lubner and Dai Takahashi, and to Dr. Rachel Hawker, who arranged and coordinated the Residents' Program. It was a great educational opportunity, as well as a time to meet and catch up with colleagues from around the state. I encourage you to make efforts to attend the meeting in 2015, which will again be held at the Wilderness Resort on September 11 and 12.
The annual Awards Luncheon was held as part of the chapter meeting. Awardees are as follows:
Laureate Award: George Lange, MD, FACP
Distinguished Internist of the Year: Kurt Pfeifer, MD, FACP
Helen Dickie Woman Physician of the Year: Julie Schuller, MD, MPH, FACP
Young Internist of the Year: Kory Koerner, MD
Addis Costello Award: Elizabeth Jacobs, MD, FACP
Volunteerism and Community Service Award: Anna Corey, MD, MPH
Community-Based Physician and Mentor Award: Sophie Kramer, MD
Legislator of the Year: U.S. Representative Ron Kind
Dr. Thomas Tape, the college representative to our meeting and regent of the college, presented the 2013 Chapter Excellence Award to the Wisconsin Chapter at the luncheon. The Chapter Excellence Award recognizes those chapters that excel in reaching the standards for managing a chapter, such as communicating to members, instituting Medical Students' and Resident/Fellow Members' activities, and advancing and recruiting members. Recognition for this year's award should go to Dr. Steve Pearson, our former Governor who was unable to attend the meeting, to Jenni Kilpatrick, our chapter executive, and to our chapter council and committees.
ACP-WI Governor, Dr. Mark Belknap, FACP, presents Dr. Anna Corey, MPH with the 2014 ACP-WI Volunteerism and Community Service Award in Recognition of her lasting and meaningful contributions in the area of volunteerism and medical service in the state of Wisconsin.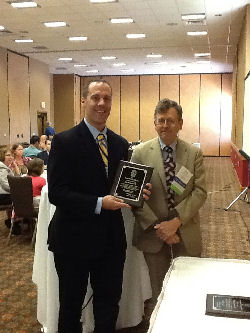 Dr. Mark Belknap, FACP, presents Dr. Kory Koerner with the 2014 ACP-WI Young Internist of the Year Award in recognition of his outstanding contributions as a young internist to patient care, medical education, and to fostering the ideals of the American College of Physicians.
Dr. Mark Belknap, FACP, presents Dr. Elizabeth Jacobs, FACP with the 2014 ACP-WI Addis Costello Award in recognition of her outstanding contributions to the socioeconomic aspects of internal medicine, through both local and national efforts and for being a strong advocate for the people of the state of Wisconsin and their healthcare needs.
Dr. Mark Belknap, FACP presents Dr. Julie Schuller, MPH, FACP with the 2014 Helen Dickie Woman Physician of the Year Award in recognition of an outstanding woman physician who has always provided excellent patient care and demonstrated exceptional leadership abilities resulting in a distinguished Career in internal medicine.
Dr. Mark Belknap, FACP presents Dr. Kurt Pfeifer, FACP with the 2014 ACP-WI Distinguished Internist Award in recognition of his dedication to his patients, outstanding contributions to the science and art of internal medicine and for upholding the ideals and mission of the American College of Physicians.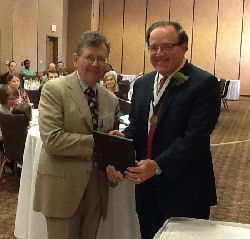 Dr. Mark Belknap, FACP presents Dr. George Lange, FACP with the 2014 ACP-WI Laureate Award in recognition of excellence in medical care and medical education; as well as outstanding service to his community, the people of Wisconsin and the American College of Physicians.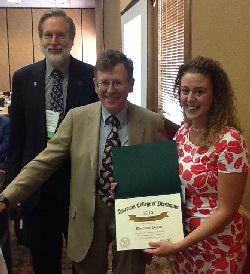 Dr. Thomas Tape, FACP presents the 2013 Chapter Excellence Award to ACP-WI Governor, Dr. Mark Belknap, FACP and Chapter Executive, Jenni Kilpatrick.
---
Board of Governors Meeting
I attended the ACP Board of Governors Meeting, along with most of the other chapter Governors, on September 18-20 in Chicago. These meetings are opportunities to keep up to date on ACP national initiatives and policies, to share concerns with other governors and our national leadership, and to learn of issues that vary between different regions of our country and between countries, as ACP is steadily expanding to countries across the globe with several recent new international chapters and a few more soon to be added.
Subjects covered at the meeting included an update on the ongoing controversy surrounding the Maintenance of Certification requirements of the American Board of Internal Medicine (with some progress slowly being achieved in making the requirements less burdensome) and a report of a new ACP initiative, Patients Before Paperwork, which is addressing the increasing hurdles and burdens of practice and also trying to support the joys of the practice of internal medicine. In a similar vein, we heard an insightful and thought-provoking talk, The Epidemic of Clinician Burnout: We can Turn This Around, by Dr. Mark Linzer, who has spent his career studying factors influencing physician satisfaction and burnout. We heard a legislative update from Bob Doherty, ACP's head of advocacy. His incisive updates and commentary are available to ACP members in the periodic email newsletter, The ACP Advocate Newsletter, and on Bob's blog, which can be found on the ACP website on the bottom right corner of the home page.
---
New Master from Wisconsin - Dr. Sharon Haase, MACP
Dr. Sharon Haase, a previous Governor of the Wisconsin Chapter of ACP, has recently been awarded Mastership in the College. Masters are Fellows who have been selected because of personal character, positions of honor, contributions towards furthering the purposes of the ACP, eminence in practice or in medical research, or other attainments in science or in the art of medicine. Masters are highly accomplished individuals and are distinguished by the excellence and significance of his or her contributions to the field of medicine.
Congratulations, Dr. Haase!
---
Maintenance of Certification
Since the Board of Governors meeting, Steve Weinberger, ACP's CEO, has sent out an update on the progress of changes in ABIM practices following ongoing negotiations of ACP with ABIM.
Here is the Update of Discussions of MOC with ABIM.
---
Legislative Update
ACP is urging the U.S. Congress to act on two issues with impending deadlines that could affect doctors nationwide: repeal of the Medicare sustainable growth rate (SGR) and extension of the Medicaid Pay Parity Program. The Medicaid Pay Parity Program expires at the end of the year if Congress does not act. If it's not extended, doctors who see Medicaid patients could face an immediate cut in the amount of money they receive for services. Meanwhile, Congress has until March 31, 2015, to act on the SGR, either repealing it or opting for a short-term path. Without either, physicians could face a 24 percent cut in Medicare payments.
For those interested, here is a page listing ACP's current advocacy priorities which also includes links to recent issues of the ACP Advocate Newsletter and of Bob Doherty's blog.
Currently, Wisconsin is one of the states that has chosen not to accept federal funding for Medicaid/Badgercare for an expanded population of those with incomes in the range of 100- 138% of the federal poverty level. In the last issue of Badger Beat, I reported on the initiative supported by our ACP chapter to get referenda on the question of Medicaid expansion on the November ballot by county. At this writing, it will be on the ballot in 16 counties and one municipality. By the time that you receive this newsletter, the election will have occurred.
---
Ebola
At this writing, the Ebola outbreak in Africa with cases occurring in the U.S. is a rapidly changing situation. ACP has developed an online resource page with links to the CDC website, ACP resources, and other sources. I'm providing the link to it; there will certainly be further developments by the time that you read this newsletter.
---
ACP Leadership Academy
The ACP Leadership Academy provides early career internists with the skills and knowledge necessary to become leaders in medicine.
The program includes formal live and online courses offered in partnership with the American College of Physician Executives (ACPE), the nation's largest leadership training organization for physician leaders. Online courses are offered as self-study or faculty led and include topics such as strategic thinking, financial decision-making, managing physician performance, marketing, ethics, quality management, and more.
All courses are eligible for CME credit through the ACPE. They were selected to provide episodic leadership training for members who want to brush up on a specific content area or to earn credits toward the Certified Physician Executive (CPE), a nationally recognized leadership certificate from the ACPE. Credits may also roll into an advanced degree program from selected accredited universities. ACP members receive a 15% discount on approved courses.
In addition, the ACP Leadership Academy is currently accepting registrations for a series of FREE (non-CME) webinars on a variety of leadership topics. Topics currently scheduled include:
December 2, 2014 - Topics in Hospital Medicine: Team-Based Leadership
January 20, 2015 - Topics in Hospital Medicine: Developing Effective C-suite Partnerships
March 17, 2015 - Personal Financial Planning for Physicians
May 19, 2015 - Population Health
All webinars start at 6:30 p.m. ET.
To learn more about the ACP Leadership Academy and to register for the free webinars go here. If you have questions, please email lead@acponline.org.
---
Choosing Wisely®
In keeping with the theme of our recent Wisconsin Chapter Annual Meeting, here is a link soliciting applications for a challenge open to those working in academic settings to submit descriptions and bright ideas in the field of High Value Care/Choosing Wisely®. Three submissions will be selected for presentation at the ACP national meeting, IM 2015, in Boston in April 2015.
---
Speaking of which…
IM 2015
It's not too early to be thinking about attending the next ACP annual meeting, IM 2015. The meeting will be held in Boston, which, though I'm not a city person, is one of my favorite cities. This is a great opportunity to benefit from a very large number of high quality educational offerings of various formats, and it's an opportunity to meet colleagues from around the country and around the world. There will be added festivities and events celebrating ACP's 100th anniversary. I encourage you to seriously consider attending and to start making plans. Go to the website for the meeting.
Please feel free to contact me if you have any questions, concerns, or comments. I may be reached at: belknapfacp@centurytel.net
Mark K. Belknap, MD FACP
Governor, Wisconsin Chapter