You are here
Governor's Newsletter March 2016

---
---
Mark Belknap, MD, FACP, ACP Governor, Wisconsin Chapter
Greetings from far northern Wisconsin, where at this writing we are experiencing a cold snap in an otherwise fairly warm El Niño winter. I will use this newsletter to bring you up to date recent and upcoming events of potential interest to you as members of the Wisconsin Chapter of ACP.
---
Spring Wisconsin Chapter Meeting
We are looking forward to a spring continuing medical education meeting including an MOC module. It will be held in Neenah on April 9, 2016. I encourage you to consider making time to join your colleagues in attending this event. See the program information. This is our first ever (that I can recall) spring meeting, and it is being held in a different location from our usual fall meeting, similar to our migratory pattern of many years past. We really hope that we will see you there.
---
Chapter Awards
We are extremely interested in receiving nominations of highly deserving internists from around Wisconsin for our state chapter awards, of which there are several in various categories. These awards are presented at the George Magnin Awards Luncheon, which is part of our Chapter Meeting in September. Our hope is that we can increase the geographic diversity of award recipients. Please take a look at the list of awards via the link below and the give serious thought to which internist(s) in your area is/are deserving of one of the awards and then make use of the form on the website to submit the nomination(s). The deadline for submitting the awards this year is March 23, 2016. Access the ACP-Wisconsin Chapter Awards Nomination Website.
---
Hospitalist Award
Speaking of awards, the ACP Hospitalist Top Hospitalist Award is given to a select few hospitalists who are nominated by their colleagues and chosen by ACP Hospitalist's editorial board for their accomplishments in areas of hospitalist practice such as patient care, quality improvement, and medical education. This year one of the awards went to Ankur Segon, MD, FACP of the Medical College of Wisconsin for innovations in medical school education as well as several quality improvement projects. Please click here for information on Dr. Segon's accomplishments.
---
Doctor Day
Doctor Day 2016 brought over 300 physicians and medical students from across the state to Madison to meet with legislators and their staffs Wednesday. Key issues included those critical to public health (the Heroin, Opiate Prevention and Education [HOPE] legislative agenda), patient safety (concerns over a bill allowing physical therapists to independently order X-rays), and the sanctity of the physician-patient relationship (a specific section of a proposed child abuse law).
Organized by the Wisconsin Medical Society (Society) and other key physician partners, including the Wisconsin Chapter of ACP, Doctor Day provides a unique opportunity for physicians to come together to advocate on behalf of patients and the medical profession. In addition to the above issues, ACP Wisconsin Chapter advocated for expansion of Medicaid eligibility from 100% to 133% of Federal Poverty Level, which would, because of Federal cost-sharing incentives, actually result in a reduction in the Wisconsin Medicaid budget of 5% while at the same time allow access to health care insurance to an additional 88,000 Wisconsin adults.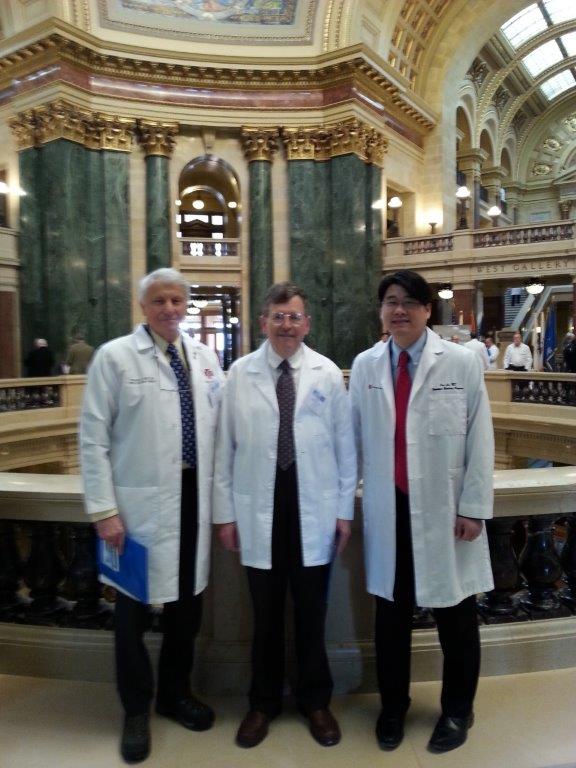 Caption: (L to R) Dr. Richard Dart, MACP, Dr. Mark Belknap, FACP and Dr. Don Lee, FACP represented ACP-WI at Doctor Day 2016 in Madison, WI.
---
ACP Internal Medicine 2016
The annual meeting, being held in Washington, DC this year, is coming up soon. The dates are May 5 – 7. I'm hoping that many of you will be able to attend this very high quality meeting. Several of our members will be participating in the convocation ceremony as new fellows, and Drs. Kim Hetsko and Richard Dart will be honored as new Masters from our chapter.
Our Wisconsin Chapter reception will be held on Thursday, May 5th from 8PM-10:30PM at Brasserie Beck, which is a restaurant near to the Walter E. Washington Convention Center meeting site. The reception is a chance to get together with colleagues from around the state, to renew old friendships and to meet new acquaintances, and to do this in a relaxed, welcoming environment. We always have a good turnout of practicing physicians and residents from Wisconsin, as well as a few who drop by who have roots in Wisconsin.
---
ACP Leadership Day
ACP Leadership Day is a two-day annual event in Washington, D.C. The first day consists of presentations educating attendees in the legislative and advocacy process. We are also informed on the particular legislative issues of priority to ACP and its members. On the second day we visit the offices of our legislators from Wisconsin and have the opportunity to educate and persuade them regarding our issues. This year Leadership Day will be held on May 3 – 4, which are the two days preceding ACP Internal Medicine 2016. We have drawn together a diverse contingent of internists from around the state to attend and participate in this event.
---
Retail Clinics
Retail clinics are rapidly increasing on the U. S. health care landscape. In recognition of this trend, ACP has developed a policy position paper on this subject. This paper underscores the need to establish a framework that underscores patient safety, communication, and collaboration among retail health clinics, physicians, and patients.
Also, the lead article in the February issue of the ACP Internist is titled Internists Interacting with Retail Clinics.
---
ACP Election Guide
I urge you to check out ACP's new section on the advocacy portion of its website. It's intended to provide physicians with information to consider when comparing presidential candidates' positions on various health care topics along with questions to keep in mind when evaluating candidates' positions.
While you're there, take a look at The ACP Advocate Newsletter and the ACP Advocate Blog, both of which give good background information to issues of particular concern to internists.
---
Dynamed Plus
This is just a reminder to check Dynamed Plus on the ACP website. The link is in the drop down list on the tab on the left at the top of the home page entitled Clinical Information. DynaMed Plus is an online clinical resource which is a collaboration between ACP and EBSCO Health. It is the more comprehensive and sophisticated successor to ACP's previous online clinical resource, SmartMedicine. As described on ACP Online, "ACP members enjoy free access to this comprehensive tool that optimizes time to answer for busy clinicians."
---
ABIM Maintenance of Certification
There are ongoing developments on this issue that are summarized in a recent letter from Steve Weinberger, MD, MACP. You should have received this letter as a member of ACP. If not, here is a link so that you can update yourself on these developments.
---
Governor's Contact Information:
Mark Belknap, MD, FACP, ACP Governor, Wisconsin Chapter
Email: belknapfacp@centurytel.net