You are here
GOVERNOR'S NEWSLETTER June 2014

---
---
From the Governor
Greetings from Ashland. There was still ice floating about in the Chequamegon Bay a couple of weeks ago, but despite that spring has truly arrived. This is the first newsletter from your new governor. I began my term at the end of ACP Internal Medicine 2014 in Orlando in April. I am a general internist here in Ashland, where I have practiced for 32 years. I have served on the ACP council for many years and on the Wisconsin Society of Internal Medicine (WISM) council prior to that. I look forward to serving the chapter and you as members over the next four years.
I first want to acknowledge Dr. Steve Pearson, our previous governor, and to thank him for his faithful and diligent service to the chapter. At the end of his term, the chapter remains strong, and we have continued to have vibrant and professionally useful annual chapter meetings. This past year, under his leadership, the chapter has again received the Chapter Excellence Award from national ACP. He has been very helpful to me in my process of becoming more familiar with the workings of the national ACP and of our chapter. I look forward to his ongoing input as a member on the chapter council.
I will use this newsletter to bring you up to date on recent state and national issues that impact the practice of internal medicine, and I will inform you of upcoming events.
National ACP News
Since the last issue of this newsletter, Congress has again failed to permanently repeal the Sustainable Growth Rate (SGR). Prospects looked very favorable until the last hour, with support from both political parties and in both houses of Congress, at which point a funding mechanism that was acceptable to both parties could not be found, and the pending legislation was again defeated, this time with a tricky legislative maneuver. We are again left with a temporary fix with uncertainty over if and when a permanent fix will be passed. If you are interested in further details, please refer to April 4 edition of The ACP Advocate.
Also, since that issue, information on trends of insurance in response to the Affordable Care Act is emerging. Here is a link from The ACP Advocate from last month giving a commentary on the data from ACP's perspective.
As stated by Dr. Pearson in the last issue of this newsletter, our chapter's Health and Public Policy Committee is interested in hearing from our membership of issues related to the implementation of the ACA and its effect on access and affordability of health care for your patients. Please send your comments to our state office, and they will be forwarded to our HPPC leadership.
ACP Leadership Day
The annual ACP national legislative advocacy meeting was held in Washington, D.C. on May 21-22. The first day provided training in the advocacy process as well as updates in topics pertinent to ACP's current legislative priorities. The second day was taken up with visits by meeting attendees to legislators' offices to advocate for health care-related legislation. This year six physicians from Wisconsin attended: Don Lee from Milwaukee, Dick Dart from Marshfield, Kesavan Kutty from Milwaukee, Dick Rieselbach from Madison, Abby Bales, a resident from UW in Madison, and myself. We were able to meet with staff of all seven Wisconsin representatives and one of two senators. (Legislators were not available to activity on the House and Senate floors.) In our discussions with legislative staff, we concentrated on four issues: 1) repeal of the sustainable growth rate legislation and creation of a permanent fix, 2) maintenance for funding of graduate medical education and expansion of GME opportunities in specialty shortage areas, such as internal medicine, 3) medical liability reform measures including safe harbor for compliance with practice guidelines and expansion of health courts, and 4) extension of a current provision to provide Medicaid reimbursement at parity with Medicare for primary care services and certain subspecialty services. The legislative staff were for the most part very engaged in our conversations and to varying degrees willing to commit their legislators' support for our issues. Read more details on Leadership Day in the latest issue of The ACP Advocate
Internal Medicine 2014
The ACP educational meeting in Orlando in April provided a wealth of continuing education opportunities. As always, the depth of the offerings often made it hard to choose among them. The meeting was also an opportunity to meet up with friends and colleagues from around the country. Our chapter reception held at Café Tu Tu Tango was well attended by practicing physicians, residents, and medical students from Wisconsin and a few from elsewhere, too. It was a good opportunity to get to know people from various parts of the state and in various phases of their careers. Six new fellows of the college from Wisconsin were inducted at the Convocation Ceremony: Drs. Carlos Sanabria, Mohamed Yafai, Anjun Gupta, Mark Micek, Thomas Shiffler, and Olatunji Olaoye. Dr. Juanita Halls was honored as Wisconsin 2013 ACP Laureate awardee along with laureates from the other ACP chapters. I encourage all new Fellows to seriously consider walking in the Convocation; it truly is an unforgettable experience for you and your family.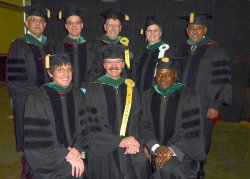 ACP Board of Governors Meeting
The ACP Board of Governors met in conjunction with the ACP annual meeting. The board discussed and voted on resolutions submitted by the chapters. Subjects included regulation of electronic nicotine delivery devices, recommendation to study the effects of underinsurance, recommendation to study of the effect of duty hour limitations on resident performance and patient safety, ACA policy on LGBT patients, and required undergraduate education in team-based care. A prime topic of discussion, and the subject of two resolutions, was the current controversy involving the Maintenance of Certification (MOC) process of the ABIM, with many Governors expressing their concerns as well as complaints from their members regarding the process. While we agreed that keeping up-to-date with medical knowledge is important, many argued that the ABIM's implementation is flawed. The ABIM shared a disturbing statistic: 23% of internists taking MOC exams in 2013 failed, an all-time high. The assertion was made that, unless the quality of our practicing physicians has significantly deteriorated, the structure and implementation of the examination needs to be re-examined. Concern was expressed that MOC for many has been transformed from a useful self-learning process to a high-stakes enterprise with serious consequences for failure since, while the ABIM states that MOC is "voluntary", board certification for the practicing or otherwise employed physician is essentially mandatory. Since the annual meeting, a commentary by the leadership of ABIM has appeared in Annals of Internal Medicine: The American Board of Internal Medicine: Evolving Professional Self-Regulation along with an editorial by senior physician leadership of ACP, Maintenance of Certification: Beauty Is in the Eyes of the Beholder. I encourage you to read them. Even more recently you should have received an email letter on June 4 from ACP senior leadership that describes ACP's current actions and plans regarding the issue of MOC.
State Chapter News
Our next ACP State Chapter Scientific Meeting will occur this year on September 5-6. Please mark your calendars. The meeting will be held once again at the Wilderness Resort in Wisconsin Dells. The Friday morning portion of the meeting will start out with ABIM Maintenance of Certification Modules for those physicians interested in MOC. The afternoon session starting at 3 PM will feature some of the most challenging and interesting medical cases from around the state in the past year. These cases are presented by Internal Medicine residents from each of the five IM residency programs in Wisconsin. Saturday's program will consist of talks on various topics across the subspecialties of internal medicine. A major theme across the program will be High Value Care. The Chapter Awards Luncheon will provide an interlude at midday. The day will include a discussion of Fostering Excellence in Internal Medicine with Dr. Tom Tape, past chair of the Board of Governors and a current member of the ACP Board of Regents. Attendees will have the opportunity throughout the meeting to interact with Dr. Tape regarding current ACP activities and priorities and any other questions that they might have about the college. The day will conclude with the Dr. Scott Sprtel Memorial Doctor's Dilemma Associates' Competition, which is always challenging, exciting, and enjoyable. There will be opportunity to discuss the process of advancement to fellowship with Dr. Tape, previous chapter governors, and myself.
Wisconsin News
Free Clinic
A one-day free clinic is planned to be held in Madison on Saturday, August 9 at the Alliant Energy Center. It is under the auspices of the National Association of Free and Charitable Clinics (NAFC).
Click here for a recent email which you may have recently received and click here for information about NAFC. I encourage you to consider being a physician participant for this event.
Human Papilloma Virus Immunization Initiative
The Wisconsin Immunization Program of the Department of Health Services is participating in state and national efforts to improve immunization coverage rates for the human papilloma-virus (HPV). Please click here for a letter from Dr. Jeffrey Davis of the Department to clinicians in Wisconsin promoting the use of this very important vaccine for their patients that are recommended to receive it. Click here for a letter co-signed by representatives of the American College of Physicians (ACP) and others promoting the vaccine. The letters will further explain our efforts and provide links to resources that physicians may find helpful.
In Memoriam
Dr. Carl Junkerman, former governor of the Wisconsin Chapter of ACP, died on March 29, 2014 in Helena, Montana, where he spent the last ten years of his life. In addition to being chapter governor, Dr. Junkerman was the founding chief of the first general internal medicine division at the Medical College of Wisconsin, the first of its kind at a US medical school. It continues to be vibrant and thriving, both academically and clinically. Dr. Junkerman realized early the clinical and economic potential of internal medicine primary care. He also had the distinction of having successfully migrated from a community based private practice into full time academia, and that transition ended even more successfully as he became the Director of the Center for Bioethics at the Medical College of Wisconsin. Even with all his accomplishments, he was a humble man; when he spoke, others listened; his voice was resonant with the aura of logic and persuasion. He had strong views about ethical issues that remain in our discussions, including palliative care, hospice care, and physician-assisted suicide. Carl Junkerman was a superb internist, erudite ethicist, a fine role model, and an inspiration for all of us. Our world is smaller without him today. May he rest in peace.
I am honored to be the governor of the Wisconsin Chapter of the ACP. I am looking forward to serving in this role for the next four years. I hope to see some of you at the chapter meeting in the Wisconsin Dells on September 5 and 6.
Mark K. Belknap, MD FACP
Governor, Wisconsin Chapter