You are here
From the Governor
| | |
| --- | --- |
| March 2014 | Steven B. Pearson, MD, FACP, ACP Governor |
---
From the Governor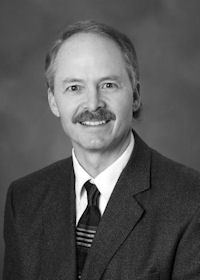 Greetings from La Crosse, Wisconsin. I hope everyone is handling the "winter that was." It can't last much longer (hopefully)!
There are a few very important announcements that I want to make in this Newsletter primarily dealing with important upcoming ACP events. So please read on!
This will be my final Newsletter as Governor of the Wisconsin ACP Chapter. It has been a fantastic time serving as Governor and it seems impossible that four years could have already gone by. The Wisconsin Chapter is in great shape, has a wonderful leadership team in place, and is very well positioned to meet the challenges that will come along over the next few years.
---
National ACP News
The National ACP office released its annual "State of the Nation's Healthcare Report" recently. Please visit the State of the Nation's Health Care page to find a comprehensive analysis and review of the key issues affecting healthcare in this country.
Congress has been moving closer to a permanent repeal of the Sustainable Growth Rate (SGR) formula. Please read the article Medicare's SGR Formula Moves One Step Closer to Repeal, to find a report in the "ACP Advocate" that discusses the SGR. The current bill pending in Congress to repeal the SGR must be passed by the end of March to avoid another temporary "patch" in order to avert a 24% cut in medicare physician reimbursements.
If you do not read Bob Doherty's "ACP Advocate," please consider doing so. It is a quick way to keep abreast of issues in D.C. that are of high interest to the ACP and many ACP members. Here is the link to the "ACP Advocate": http://advocacyblog.acponline.org/.
---
Internal Medicine 2014
Please consider attending Internal Medicine 2014 in Orlando in April. This is a fantastic annual meeting sponsored by the National ACP that almost literally has something for everybody. If you have never attended this meeting before, you will NOT be disappointed. It has numerous "updates" in all the IM specialties, maintenance of certification modules for those pursuing MOC through the ABIM, advocacy updates for those interested in ACP advocacy, as well as internal medicine resident and student poster and "Doctor's DilemmaTM" competitions.
If you are attending Internal Medicine 2014, please remember our Wisconsin Reception on Thursday evening at the Café Tu Tu Tango in downtown Orlando, 8625 South International Drive. This reception occurs immediately following the New Fellows' Convocation on Thursday evening, April 10th. There will be beverages and heavy hors d'oeuvres, and the best news is that it is all free of charge!
---
State Chapter News
We encourage all internists in the state to visit the ACP national website "Help Your Patients Enroll in Health Insurance Marketplaces" and look at the information offered in order to help our patients understand the process to enroll in the exchanges.
"Doctor's Day in Madison 2014" was held February 12th at the State Capitol. The Wisconsin ACP Chapter represented its members at this important event. Wisconsin legislators' offices were visited and key medical issues discussed with the legislators and their representatives.
Our next ACP State Chapter Scientific Meeting will occur this year on September 5-6. Please mark your calendars. The meeting will be held once again at the Wilderness Resort in Wisconsin Dells. The Friday morning portion of the meeting will start out with ABIM Maintenance of Certification Modules for those physicians interested in MOC. The afternoon session starting at 3 PM will feature some of the most challenging and interesting medical cases from around the state in the past year. These cases are presented by Internal Medicine residents from each of the five IM residency programs in Wisconsin.
Our Wisconsin ACP Chapter will be holding its annual Wisconsin Reception during Internal Medicine 2014 in Orlando. This reception will be held on Thursday evening April 10th starting at 7:30 PM at the Café Tu Tu Tango in downtown Orlando at 8625 South International Drive. This is a great opportunity to network with other internists from around the state and to catch up with old friends. We hope to see you there!
Health and Public Policy Committee (HPPC): If you would like to be involved with our state chapter Health and Public Policy Committee, please feel free to get in touch with Jenni Kilpatrick at our state chapter headquarters and she will connect you with leaders from the HPPC.
Also, if you or any of your colleagues are aware of significant clinical issues that occur as a result of the rollout of the Affordable Care Act (ACA) and adversely affect your patients, please forward comments and or anecdotes to our state office where they can be forwarded to the leaders of our HPPC.
The Health and Public Policy Committee would like to hear from internists as the Affordable Care Act is implemented in Wisconsin. We are interested in issues such as:
Are uninsured patients in your practices acquiring usable coverage through the ACA and getting better care as a result?
Are premiums, copayments, and deductibles for health exchange coverage a barrier to necessary care for low-income patients - specifically, access to physician visits and medications?
Do physicians have access to the care networks for exchange plans? Is reimbursement adequate? Has the paperwork burden decreased?
How easy or difficult is it for BadgerCare enrollees to access primary care? Is transition from BadgerCare to the exchange and vice versa due to a change in income level allowing patients to maintain coverage?
Has the uptake of preventive care services improved now that coverage is guaranteed without out of pocket cost to patients?
Both anecdotes and overall impressions are welcomed. Please send to either of the HPPC co-chairs: Ian Gilson, ihgilson@gmail.com; Tom Jackson, tomjackson7@wi.rr.com.
Chapter Awards
Please consider nominating one of your colleagues for one of our annual State Chapter Awards. There are many physicians out there who are highly deserving of special recognition for the great work that they do. Please view the descriptions of these awards on the chapter Web site. If you would like to nominate a colleague or acquaintance for an award, please email Dr. Don Lee with your nomination. We require an updated CV for each nominee. The deadline for awards nominations for this year is Friday, March 14th.
---
ACP Fellowship
The following are the new Fellows in the Wisconsin Chapter over the past six months. Congratulations to these new Fellows.
Robert L. Wilson, MD, FACP, Appleton
Margaret M. Spoerl, MD, FACP, Mequon
Ismail Quryshi, MD, FACP, Brookfield
Olatunji S. Olaoye, MD, FACP, Appleton
David E. Marinier, MD, FACP, Onalaska
Osama M. Halaweh, MBBS, FACP, Peshtigo
Jacob C. Frick, MD, FACP, Milwaukee
Sunu S Eapen, MD, FACP, Waukesha
Eric P. Conradson, MD, FACP, Brookfield
Bartho Caponi, III, MD, FACP, Madison
Fawad Aslam, MBBS, FACP, Eau Claire
---
Leadership Day 2014
The 22nd annual Leadership Day on Capitol Hill will be held on May 21-22 at the Westin Washington D.C. City Center, 1400 M Street, NW, in Washington, D.C. This is a unique annual event held by the ACP Washington, D.C. office. The first day of the two day event is filled with updates on the current "state of affairs" in D.C. The second day is filled with visits to Wisconsin legislator's offices to discuss issues as prioritized by the ACP. If you have never attended this event please consider doing so. Our Wisconsin Chapter has a fund to defray costs for those attending this event with our Wisconsin Chapter. If you have questions about Leadership Day or would like to sign up to attend this year's event, please email me.
---
Governor-elect
Dr. Mark Belknap is the current Governor-elect for our Wisconsin Chapter. He is a practicing internist from Ashland, Wisconsin. He has practiced in Ashland for 30 years. He will be taking over as Governor of the chapter at the conclusion of Internal Medicine 2014 in Orlando on Saturday, April 12th.
---
Thank you!
Thanks for allowing me to represent you as Governor of the Wisconsin ACP Chapter these past four years. It has been an honor and a privilege to do so. I hope to see many of you at our annual State Scientific meetings in the coming years or at our Wisconsin Receptions at the national ACP meetings in the spring of each year. So long for now.
Steve Pearson, MD, FACP
Governor, ACP Wisconsin Chapter