You are here
West Virginia Governor's Newsletter June 2016
West Virginia Governor's Newsletter June 2016

---
---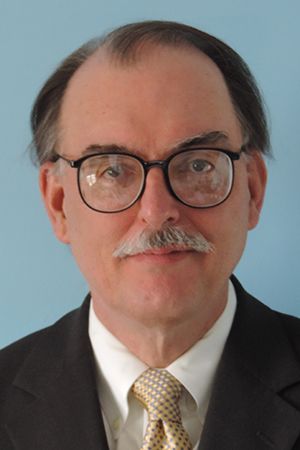 J. Thomas Dorsey, III, MD FACP
---
Recognizing our members
We are fortunate to have an active chapter with many outstanding members. One of my goals is to recognize member achievements at both the chapter and national levels.
I am asking our membership to nominate colleagues for the following awards. A short nominating letter, CV and biosketch of the nominee will be required. Nominees should be ACP members. Nominations and supporting documentation can be emailed to me or emailed to the chair of the Awards CommitteeRashida Khakoo, MD, MACP.
Mastership (MACP)—Recognizing highly accomplished physicians who are selected because of personal character, positions of honor, contributions toward furthering the purposes of the ACP, eminence in practice or in medical research or other attainments in science or in the art of medicine. Evidence of their achievements can come from many types of endeavors, such as research, education, health care initiatives, volunteerism and administrative positions. The Master must be distinguished by the excellence and significance of his or her contributions to the field of medicine.
Laureate—The Laureate Award is designed to honor those Fellows and Masters of the College who have demonstrated, by their example and conduct, an abiding commitment to excellence in medical care, education, and research, and service to their community, their chapter, and the ACP. A Laureate nominee is usually a senior physician who has:
Been a Fellow or Master of the College for at least 15 to 20 years.
Achieved a long history of excellence and peer approval in the specialty of internal medicine.
Served the chapter and community with distinction or in some clearly definable manner
Award for Outstanding Work in Clinical Medicine—Bestowed for outstanding work in clinical medicine.
Distinguished Teacher Award—Bestowed on a Fellow or Master of the College who has demonstrated the ennobling qualities of a great teacher as judged by the acclaim and accomplishments of former students who have been inspired and have achieved positions of leadership in the field of medical education, primarily as teachers.
Outstanding Volunteer Clinical Teacher Award—Bestowed on a Fellow or Master of the College who has consistently volunteered his or her services to teach medical students and residents. This individual should have demonstrated outstanding teaching prowess, displayed exemplary characteristics of care and concern for individual patients at the bedside, and served as a role model and mentor.
Award for Distinguished Public Service—Bestowed upon a current or former government official or a physician acting in an official capacity who has provided outstanding public service toward improving the delivery of health care.
Award for Volunteerism and Community Service—Bestowed upon an ACP Medical Student Member, Associate, Member, Fellow or Master who has initiated or been involved in volunteer programs.
Award for Young Physicians—Recognizing outstanding achievement by a physician member (within 16 years of medical school graduation, not a medical student or resident).
Award for Outstanding Medical Student Educator—Recognizing an ACP member who is an internal medicine interest group leader, clinical clerkship director, program director or faculty member who spends a significant amount of time teaching medical students.
Award for Outstanding Educator of Residents and Fellows—Recognizing an ACP member who is a distinguished faculty member who spends a significant amount of time teaching residents and fellows.
---
National Meeting
I have just returned from our national meeting IM2016 in Washington, DC. Forty five of our colleagues from the state attended the three day meeting which featured 15 pre-courses devoted to area including critical care medicine, cardiology, diabetes and neurology to mention a few, the scientific program featured over 200 sessions by nationally recognized faculty covering all of internal medicine. There were both didactic sessions and hands on workshops. The meeting featured a dedicated hospitalist track. If you have not had the chance to attend a national meeting I would encourage you to sign up for next year's meeting and see what you have been missing. Next year's meeting will be held March 30-April 1, 2017 in San Diego. Mark your calendars.
Congratulations to our presenters: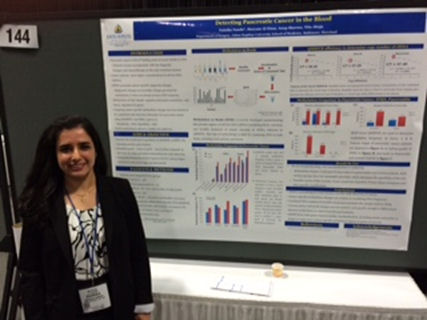 Photo caption: Nainika Nanda, MD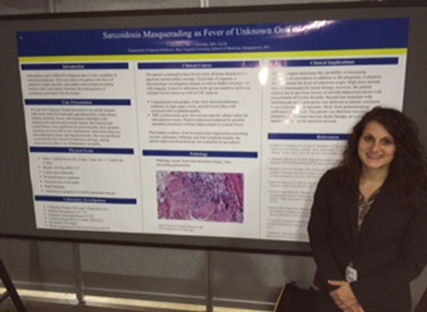 Photo caption: Jenna Sizemore, MD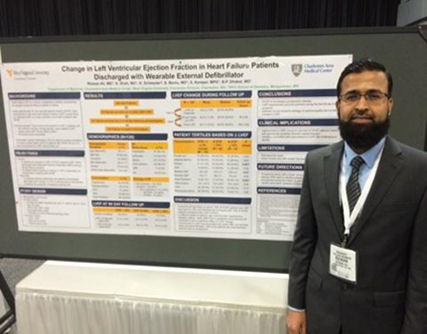 Photo caption: Rhishwan Ali, MD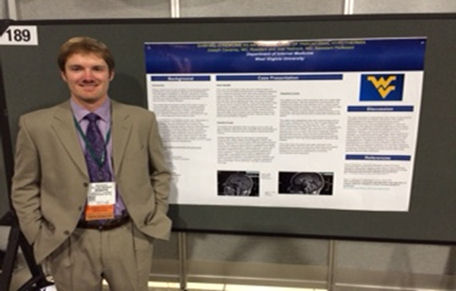 Photo caption: Joseph Caveney, MD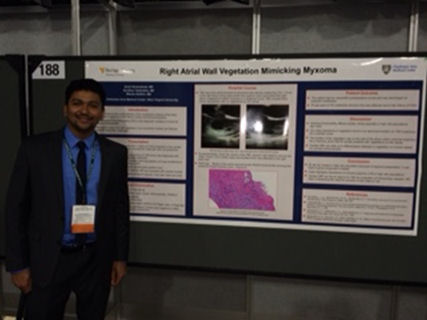 Photo caption: Anish Brahmbhatt, MD
Congratulations to our state Doctors Dilemma team and Coach Nick Young, MD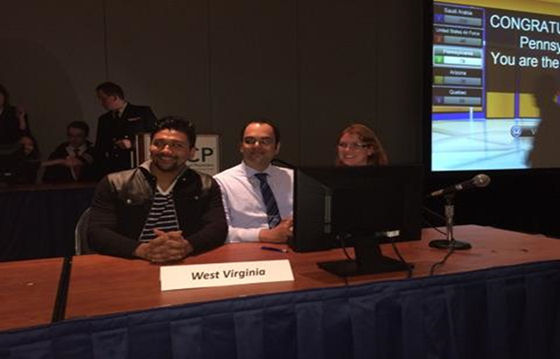 Photo caption: Muhammad Rawala, MD, Anish Brahmbhatt, MD, Colleen Pettrey, MD, and Alison Caruana, MD
Congratulations to our new Fellows elected over the last year:
Joseph B Africa, MD, FACP
Rick Greco, DO, FACP
Ghali Ibrahim-Bacha, MD, FACP
Molly John, MD, FACP
Zeid J Khitan, MD, FACP
Shanthi Manivannan, MBBS, FACP
Mohammad H Petrvaiz, MBBS, FACP
Sarah Helen Sofka, MD, FACP
Nihar N Shah, MD, FACP
Mary Davidson Warden, MD, FACP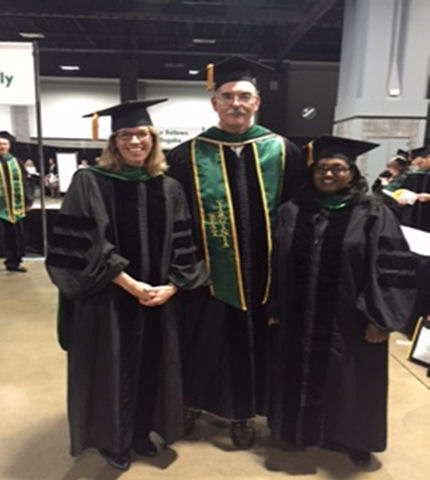 Photo caption: Mary Davidson Warden, MD, FACP, J. Thomas Dorsey III, MD, FACP (Governor), and Shanthi Manivannan, MBBS, FACP
Our Chapter held a lunch at Hill Country BBQ, during the meeting with an excellent turn out of 20 members: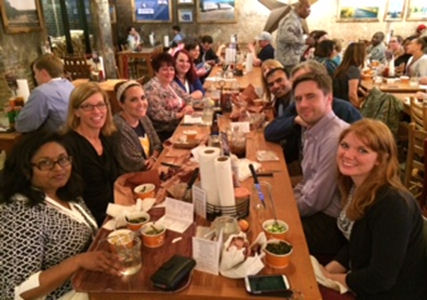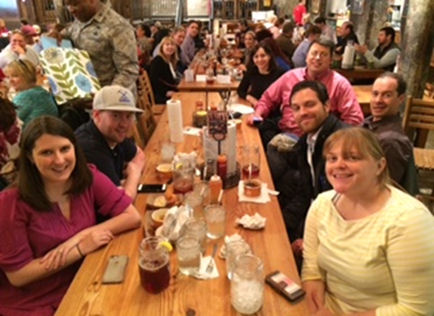 I was able to visit the offices of all our senators and representatives in Congress during Leadership Day as part of the meeting and discuss the ACP's agenda including the opioid crisis, telemedicine, expanding GME training slots, prescription drug prices and expanding mental health availability.
---
Chapter Meeting
A reminder our chapter meeting will be held Thursday, October 20 to Saturday, October 22, 2016 at Stonewall Resort in Roanoke, WV. Save the date.
---
Contact Information
J. Thomas Dorsey, III, MD FACP
Governor, West Virginia Chapter
Lisa Hirschbach
Chapter Coordinator
Phone: 304-243-0774
Fax: 304-243-0776