You are here
From the West Virginia Governor March 2014
From the West Virginia Governor March 2014

| | |
| --- | --- |
| March 2014 | Karen Clark, MD, FACP, ACP Governor |
---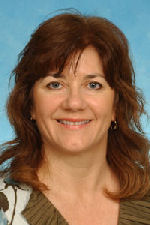 Greetings all!! It has been a while since my last newsletter. I am going to recap events from the end of last year, and lead us to upcoming events.
We had a wonderful Fall Scientific Meeting at Stonewall. Many exceptional lectures, and new this year, we offered a SEP module for those enrolled in the MOC process! The session was moderated by Beth and Ron Pellegrino. It was wonderful!! We hope to continue this as an annual session. Along those lines, Dr. William Iobst from the ABIM spoke about changes to the MOC process. Beginning in 2014 the maintenance of board certification process has become more continuous. The ABIM website has a "2014 MOC Changes" button on the L side of the page that has valuable information regarding these changes. In addition, you may send your questions.
On the heels of a great scientific meeting, Tom Dorsey was named Governor Elect. Congratulations Tom!! Take a look at the WV Chapter site to look over Tom's goals for his tenure as Governor. In addition, here are a few words from him:
I am honored to be chosen as Governor-Elect of our ACP chapter. With your help I hope to continue the tradition of excellence that Karen Clark and many previous Governors have established. I look forward to working with all of you and hope for your continued active participation in the chapter. Please feel free to contact me. Thanks, Tom Dorsey.
In December, Dr. Latos worked with the State Medical Association to help develop a collaborative statement from our Chapter, the state AAFP chapter and State Medical regarding Nurse Practitioners. Contact Dr. Latos or Dr. Cathy Funk to learn more about this and other state advocacy issues.
Shortly, Dr. Sofka will be scheduling planning meetings for the Fall 2014 Annual Scientific Meeting. Please contact Dr. Sofka or Karen Frazier if you are interested in working with the planning committee.
Looking forward to Spring (we all are for many reasons), I hope you are planning to attend Internal Medicine 2014 in Orlando. We will plan a Chapter social event during the conference. When those plans are finalized we will send information out to all.
Lastly, 2015 is the 100th anniversary of the ACP. There will be special events at IM 2015 to celebrate. If anyone has any ideas of how we might celebrate within our Chapter, please let me, one of our council members, or Karen Frazier know.
---
Associate News
The following residents and students were winners at our Fall meeting. Please be sure to congratulate them on their great work!
Oral Presentations:
Research
1st Brandon Lucke-Wold
2nd David Williams
Clinical Vignette
1st Heather Samuelson, MD
2nd Kristina Alaan, MD
Posters Presentations:
Research
1st Joseph Bozzay
2nd Dheeraj Kodali, MD
Clinical Vignette
1st Amber Makani
2nd Richa Singh, MD
---
2014: A Look Ahead in Advocacy
Permanent Repeal of the Sustainable Growth Rate (SGR)
ACP will be working to advance its priorities with the three committees having jurisdiction over Medicare payment policy as they develop what will be a final reconciled SGR-repeal bill. The intent is to have a comprehensive SGR-repeal bill enacted into law as soon as possible in 2014, though no later than March 31, 2014, when the current SGR-patch expires.
Extending Medicaid Pay Parity
Current law states that physician payments for primary care services under Medicaid must be equal to those under Medicare in 2013 and 2014. With this provision of law expiring at the end of 2014, ACP will advocate for an extension of at least two years.
Ensuring Successful Implementation of Key Components of the Affordable Care Act (ACA)
Implementation of the ACA will continue in 2014, including insurance coverage under the health care exchanges that began on January 1 and, on the state level, more states choosing to expand their Medicaid programs to cover more of the poor and near-poor. ACP will continue to advocate for successful implementation of these and other key provisions in the law, as well as address "nuts-and-bolts" implementation issues that directly affect physicians and their patients-such as narrow provider networks and restrictive drug formularies in some of the marketplace plans.
Supporting Vital Health Programs through Appropriations
Across-the-board sequester cuts in 2013 had a devastating impact on federal healthcare programs, including federal health workforce programs, medical research and public health programs. The bipartisan budget agreement, as enacted in December 2013, provides some much-needed respite from sequestration. Going forward, ACP will urge congressional appropriators to prioritize funding for the nation's health care workforce in the Title VII Health Professions program, medical research at the National Institutes of Health, public health at the Centers for Disease Control and Prevention, among others.
Advancing Medical Liability Reforms
ACP will continue working with key policymakers to advance meaningful medical liability reforms, including introduction of legislation based on ACP's framework which would authorize a national pilot of health courts.
Addressing Administrative Complexities
ACP has long identified reducing administrative hassles and complexities as an important objective and while some incremental progress has been made in providing relief, administrative burden continues to be a significant challenge for practices. ACP's campaign, which is expected to launch in the Spring of 2014, will educate policy makers, as well as ACP members, other physicians, and consumer advocates, on what makes up administrative challenges and why they are not all created equal-and will involve an advocacy effort to help mitigate or eliminate the top priority challenges that are identified.
Extending the Primary Care Incentive Program
Current law provides a 10 percent bonus payment, in addition to the usual Medicare fee schedule amount, for designated primary care services provided by internists, family physicians, geriatricians and pediatricians for calendar years 2011 through 2015. In order to qualify for the bonus, at least 60 percent of Medicare allowed charges of these physicians must consist of the designated primary care services: office, nursing facility, domiciliary, and home services. This important provision of law begins to address disparities in payments that are major barriers to physicians entering and remaining in primary care specialties. ACP will take necessary steps this year to ensure that lawmakers are fully aware of the importance of extending this program beyond its 2015 expiration date.