You are here
From the West Virginia Governor June 2013
From the West Virginia Governor June 2013

| | |
| --- | --- |
| June 2013 | Karen Clark, MD, FACP, ACP Governor |
---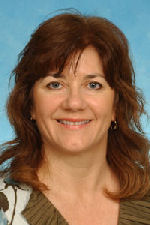 Happy Spring to all WV Chapter ACP members!!
It has been a busy spring for many. The annual meeting was a great success!! We had over 50 chapter members in attendance. San Francisco was lovely and the meeting was informative. Several chapter members met for a WV breakfast. Thanks to Eva Patton-Tackett for organizing the event.
Our residents and students again represented our state well. The jeopardy team performed admirably against several tough teams (New Mexico, Colorado, Pennsylvania and California Southern). We had 9 poster presenters, 6 Associates and 3 Students. David Greenwald won first place in the student competition for his poster entitled - Morbidity and Mortality of Geriatric Patients Diagnosed with Pulmonary Embolism.
Several new Fellows were inducted this year. Larry Dial, Yasser Etman, Eva Patton-Tackett, Bethany Pellegrino, and Kimberly Spurlock and marched in the convocation ceremonies. Other new Fellows include: Nabiel AlKhouri; Cathy Funk; Mayada Issa; Ahmad Nusair; Yaser Rayyan; Rajesh Sehgal, and Tipu Faiz Saleem. Congratulations to all!! I would encourage anyone who is interested in fellowship to pursue the application, it is a wonderful honor.
In addition to the spring Annual meeting, I had the pleasure of attending Leadership Day with Shelly Nickels. We had a whirlwind 48 hours on the hill. After being thoroughly prepped by ACP leadership, we "stormed the hill", visiting all 5 of our Legislative offices. It was a learning experience for me, and I had a wonderful tutor in Dr. Nickels who is an old pro at this after attending last year's Leadership Day. We spoke to our Senators and Representatives regarding elimination of Medicare's SGR Formula; ensuring full funding for essential health programs; no-fault Health Courts as a potential pilot program in WV; and finally GME financing. All offices were very receptive to us and understood the value of these ACP key priorities.
Sadly, Leadership Day fell on the hills of the deadly tornado in Oklahoma. Jim Baker, ACP Governor from Oklahoma attended Leadership Day and showed us first hand pictures of the tornado. You will be glad to hear that the National ACP has reached out to help all those in need. Dr. Baker sent a thank you to all for their prayers and support during this difficult time.
Lastly, planning is underway for our chapter meeting this October under the leadership of Mary Ann Riley and Karen Frazier. New this year will be an opportunity to participate in a SEP module during the meeting. Beth and Ron Pellegrino are working diligently on that for us.
Please take a look at our photo gallery on the web site and on facebook!! If anyone has pictures or other information to share with the Chapter, please send it to Karen Frazier or myself. Thanks.
---
From the National ACP
Join ACP's Special Interest Groups!
ACP's Special Interest Groups - an online forum for members only - provide members with a place to engage in discussions, share ideas, and support one another professionally and personally.
Participate by joining as many groups as you'd like, then connect with ACP members from all over the world with similar interests. Groups include:
African American Members | ACOs/New Practice Models | Caring for Adults with Developmental Disability | Clinical Problem-Solving | Clinical Research | Emerging Technologies | High Value Care | Hospital Medicine | LGBT Health | Maintenance of Certification | MKSAP | Physician Educators | Small Practices | Volunteerism | Women in Medicine | Work/Life Balance | Working Abroad
Join today.
Interested in a topic not listed? Contact ACP to ask about forming a new group.