You are here
Immediate Past-Governor's Notes

| | |
| --- | --- |
| May 2012 | Michael F. Rein, MD, FACP, Immediate Past-Governor |
---

Dear Colleagues,
Once again I have completed my term as Governor of the Virginia Chapter, and once again, I thank you for the privilege and the pleasure of working with outstanding colleagues. Your Chapter remains in excellent hands, with Lisa Ellis, MD, FACP as its steward. Lisa, as you know, had an abbreviated year as Governor-Elect and missed the first meeting of the Board of Governors, at which much is taught to the incoming leaders. She has quickly made up the ground; she is not a coward. Lisa has some great new ideas for the Chapter, ideas which, when I hear them, cause me to slap my forehead and mutter, "why didn't I think of that?"
The Once and Future Governor?
A resolution presented to the Board of Governors at its last meeting raised the possibility that a former Governor might serve a second term after an absence (presumably of at least four years). I strongly opposed this approach, a position supported by the excellence of the late Paul Florentino, MD FACP and of Dr. Ellis. Both have brought innovation and enthusiasm to the Governorship. The more senior among us remember the splitting off of the American Society of Internal Medicine. This happened in part because of a perception that the College was a top-heavy, old-boys network, and repeated Governorships would foster this impression. Virginia is indeed blessed with a strong cadre of younger people who are very interested in the College and will serve as excellent Governors. One of the goals of the Chapter is the development of such future leaders.
Advocacy and the College
As you know, the Virginia Chapter took a strong stand against the intrusion of our State Legislature into the doctor-patient relationship, when our representatives in Richmond mandated (transvaginal) ultrasounds for women seeking abortions. Our position was unrelated to the difficult question of abortion itself and addressed only the issue of the Legislature's requiring an unnecessary test, which would dramatically increase health care costs. Incidentally, in the Virginia bill, the cost would be borne by the woman herself, as there was neither governmental support for the procedure nor the suggestion that it would be covered by private insurance. A physician's failure to preform the test would result in a fine. We specifically did not ally ourselves with the Virginia Chapter of the American College of Obstetrics and Gynecology in order to further distance ourselves from the question of abortion.
In pursuit of this issue, we contacted the College to better understand its position on advocacy efforts by individual Chapters. Advice from our President, CEO and Executive Vice President, Chair of the Board of Regents, Chair of the Board of Governors, and Senior Vice President for Governmental Affairs and Public Policy was quite exceptional, emphasizing the close and mutually supportive roles of the College and the Chapters. In response to our queries, the Board of Regents is currently developing a policy on the role of individual Chapters in advocacy related to issues about which the College does not yet have a policy.
Governor's Council
The Council last met on March 15, 2012. The financial report, by W. Benton Lewis, MD, FACP indicated that the Chapter was currently in good fiscal condition, but Dr. Lewis noted that pharmaceutical support for our educational activities has decrease considerably and is likely to continue to do so. The Council also discussed the fate of the newsletter. It is my impression that few members of the Chapter actually read the newsletter (hey, prove me wrong, send me an email at mfr6t@virginia.edu with no content and just "read it" in the subject line). We have therefore decided to abandon the newsletter and to substitute four blast emails on specific topics of interest.
---
Governor's Note


Lisa Ellis, MD, FACP
We have had the pleasure and the honor of working under the leadership of Michael Rein, MD, MACP since April of 2007. Dr. Rein passed the baton to me at the New Orleans Business meeting on April 21, 2012. I thank Dr. Rein for his incredible mentoring and for facilitating this warp-speed orientation for my new role with the College. He will not go far (he can run but he cannot hide), as he will play a vital role on the Governor's council as Chair of the Membership Committee. Assisting him with student and resident membership will be Thamiris Palacios, DO, Associate Member, formerly our Student Representative to the Governor's Council and currently a Resident in Internal Medicine at the University of Virginia. Our Membership Committee is in excellent hands!
One of my highlights at the New Orleans IM2012 meeting was leading some of our many new Fellows into Convocation this year. We had an outstanding representation of new fellows and congratulate all of our new Virginia ACP Fellows.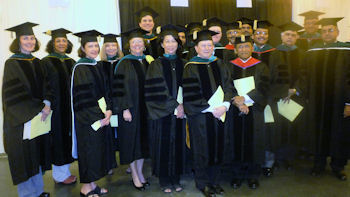 New Virginia Fellows who marched at Convocation during IM2012. Governor-Elect Lisa Ellis, MD FACP, fifth from left, led the procession
I am hoping to reach our members with direct and quick information from the College through as many ways as we can find tolerable and feasible. Please "friend" our ACP Virginia Chapter Facebook page to see bi-weekly updates on issues of concern such as maintenance of certification; patient-centered medical homes; high value, low cost, best practices; and political action reports. The page can be found here.
I will also stay in touch with you throughout the year with emails on pertinent issues. I am always open to your questions, concerns and ideas at znlellis@gmail.com.
---
Executive Director's Column
Ann Tennett, Executive Director
I have just returned from Internal Medicine 2012 in New Orleans. I am fortunate that the Chapter provides me the opportunity to meet with Executive Directors from around the nation to share ideas and to learn firsthand the latest information from the College.
Each time the Executive Directors meet, we have a "Best Practices" session. For the first time this year, we invited physicians to speak with us. Michelle Rossi, MD, FACP, Governor-elect from Florida, presented a session on Engaging Medical Students and Associates in the ACP. Ryan Mire, MD, FACP (former Chief Resident from VCU and now a practicing physician in Tennessee) gave a presentation on how to form a young physicians' council. As you may know, Virginia has a very active Council of Young Physicians and welcomes new members to this group. The criterion for a "young physician" is anyone 16 or fewer years out of medical school.
Other presentations to the Executive Directors included an update on new programs by national staff, time management, reducing costs for chapter meetings, and website development. There were many ideas in these presentations, and I plan to share them with the pertinent committees and chapter leadership.
I will be moving back to Virginia in the very near future and will have new contact information. Please check the Chapter website for changes. If you need further clarification on a topic or have a comment, please do not hesitate to contact me: astacp@hotmail.com.
---
Recognition for Chapter Members
William D. Atchley, Jr., MD, FACP, SFHM, is the 2012 recipient of SHM's Award for Outstanding Service in Hospital Medicine, which recognizes exceptional service to the discipline of hospital medicine. Dr. Atchley is currently the Senior Regional Medical Director for Eagle Hospital Physicians. His exemplary display of professionalism and service in this role was a key factor in this award, but his demonstrations of excellence do not end there. A member of SHM since 1997, he also served on the Board of Directors from 2002-2008. His professional accomplishments are extensive, varied and remarkable: he has been named Fellow of the American College of Physicians, Senior Fellow of the Society of Hospital Medicine, and in 2010, he was recognized as part of the Sentara Physician Leadership Academy. One of the hallmarks of his outstanding service is his commitment to developing new programs. In 1995, he developed the inpatient medicine service program at Sentara Leigh Hospital. He went on to develop a hospitalist program and an observation unit at Sentara CarePlex Hospital in Norfolk, VA. Dr. Atchley has also taken significant measures to ensure others can benefit from his experiences; he is frequently invited to give lectures on hospital medicine and its opportunities, challenges, risks and benefits. Dr. Atchley also has managed two private practices of general internal medicine. With this extraordinary track record of success and achievements, he has served, and continues to serve, the field of hospital medicine very well. It is with extreme pleasure that SHM commends his outstanding service with the 2012 Award for Outstanding Service in Hospital Medicine.
Alan Dow, MD, FACP, has been named as one of the first class of Macy Faculty Scholars. Only five medical and nursing faculty members nationally were accorded this honor. Alan has been granted $100,000 per year for two years to work on facilitating interprofessional collaborative efforts at VCU's schools of the health sciences. He will examine how increased collaboration among health care professionals will improve patient care, and he will teach team-based competencies to foster effective cross-professional practice. He is creating an interprofessional curriculum and a tool kit for instruction and assessment that other institutions can adopt. Alan is clearly at the operational, cutting edge of issues that are a very high priority for the College. For anyone privileged to hear Alan's presentations at our state meetings and to serve with him on the Council, such activity and recognition come as no surprise.
At IM2012, Eugene C Corbett, Jr., MD, MACP, received the 2012 ACP Jane F. Desforges Distinguished Teacher Award. The award was established in 1968 in Honor of Dr. Jane F. Desforges, a Master of the College and the first woman to receive the award. The award was named in her honor in 2007 and is bestowed upon a Fellow or Master of the College who has demonstrated the ennobling qualities of a great teacher as judged by the acclaim and accomplishments of former students who have been inspired and have achieved positions of leadership in the field of medical education, primarily as teachers. Dr. Corbett received a Mastership as part of the award.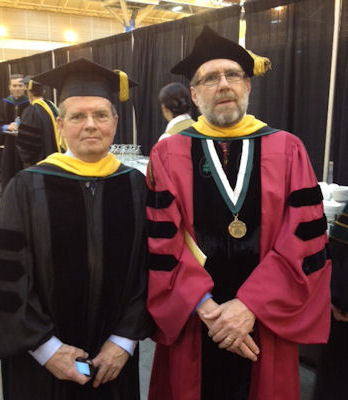 Drs. Michael F. Rein and Eugene C. Corbett, Jr. at IM2012 Convocation
Also at IM2012, Craig E. Cheifetz, MD, FACP was presented with the 2012 ACP Walter J. McDonald Award for Young Physicians. This award was established in 2003 to honor Walter J. McDonald, MD, MACP, former Governor and Regent, who served as Executive Vice President of the College from 1995 to 2002. The award recognizes outstanding achievement by a physician member who is within 16 years of graduating medical school and who is not an ACP Medical Student Member or Associate. Areas of achievement may include leadership; academics, including publishing, teaching, and mentoring; and/or volunteerism. Dr. Cheifetz was able to meet Dr. McDonald immediately prior to the awards ceremony.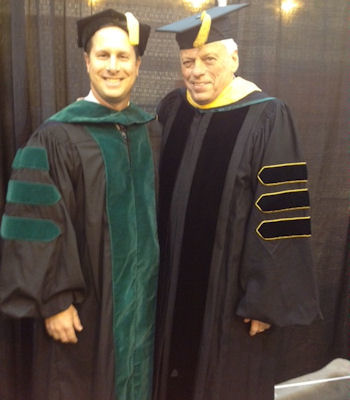 Drs. Craig E. Cheifetz (L) and Walter J. McDonald at IM2012 Convocation
Michael F. Rein, MD, MACP was awarded a Mastership
---
Please Nominate Your Colleagues for Local and National ACP Awards
Chapter Awards
The Virginia Chapter of the American College of Physicians is seeking nominations for the 2013 awards cycle. The 2012 Virginia Chapter Awards are listed below. Awards are presented in the following categories:
Paul Florentino Volunteerism Award - recognizes a Master, Fellow, or Member of the Virginia Chapter who distinguishes himself or herself in professional activities on a purely voluntary basis.
Young Internist Award - recognizes a Master, Fellow, or Member of the Virginia Chapter who is within 16 years of graduating medical school and has demonstrated excellence and achievement in areas which may include leadership, advocacy, academics, teaching, mentoring, volunteerism, or service to the college.
Academic Teaching Award - recognizes outstanding contributions from a Master, Fellow, or Member of the Virginia Chapter who distinguishes himself or herself in teaching and instruction in an academic setting.
Community Teaching Award - recognizes outstanding contributions from a Master, Fellow, or Member of the Virginia Chapter who distinguishes himself or herself in teaching and instruction in a community setting.
Laureate Award - The award honors Fellows and Masters of the College who have demonstrated by their example and conduct an abiding commitment to excellence in medical care, education, or research and in service to their community, their Chapter, and the American College of Physicians.
If you are considering nominating a colleague for a Virginia Chapter Award, please contact James Long, MD, FACP, Chair, Awards Committee, for more information.
*********************************
National Awards
The American College of Physicians is also seeking nominations from our Chapter to recognize the accomplishments of distinguished individuals through the College's national Awards and Masterships program. The College offers 20 awards and up to 50 Masterships each year. These awards recognize outstanding contributions in a variety of areas, such as the practice of medicine, teaching, research, public service, leadership, and medical volunteerism.
Nominations are now invited for the 2012-2013 awards cycle, which will end with the bestowing of awards and Masterships during the Convocation ceremony at Internal Medicine 2013. The 2012-2013 Awards and Mastership Booklet is available at ACP Online, and contains criteria for the College's awards and Masterships plus detailed instructions for writing and submitting nominating and supporting letters. More information about ACP Awards and Masterships can be found here . For new nominations, five detailed supporting letters and current curriculum vitae with full bibliography are required. The deadline for all materials is July 1, 2012.
It is the Nominator's job to assemble all nomination materials via the online submission form. Please note that if you navigate away from the form before submitting, the information will not be saved; all information must be entered to submit. The Nominator will need the following information available when filling out the form:
Nominator's full name and ACP number
Full name of Nominee
Nominee's current curriculum vitae
Letter of nomination
Four supporting letters (.doc or .pdf format only)
---
Advocacy Report
National Issues - March 2012

William Fox, MD FACP, Chair, Virginia Health and Public Policy Committee
SGR
Congress passed the Middle Class Tax Relief and Job Creation Bill of 2012, averting a scheduled 27% cut in payments to physicians. This will keep payments to physicians flat until January 1, 2013. Senator Webb voted for it. Senator Warner voted against, citing the concern that it would raise the federal deficit $100 billion. On the house side, Goodlatte, Griffith, Hurt, Cantor, Rigell, Wittman, Scott, and Forbes voted for. Moran, Wolf, and Connolly voted against. After the vote, the ACP-VA sent letters to our congressional delegation asking them to work toward a permanent solution to the SGR (follows).
Leadership Day
Traditionally held in May, this year Leadership day will be June 6-7. The chapter has traditionally subsidized one member from every congressional district, and one medical student and resident from each program. The VA-9 (Blacksburg) remains one of the most difficult areas from which to recruit a member.
*********************************
Medical Policy and Quality Committee
RUC: Based in no small part on lobbying by the ACP, the Relative Value Scale Update Committee (RUC) agreed to add 2 primary care seats to the committee, a board certified geriatrician, and a rotating actively practicing primary care physician. In addition, the RUC has updated its transparency policy so that the vote tallies will now be made public, although individual votes will remain secret. The RUC has also created a new Chronic Care Coordination Workgroup (C3W), the aim of which is to better recognize the distinct role many physicians play in care coordination and management of chronic disease. The C3W has recommended that Medicare pay for non face-to-face services such as telephone calls and team conferences, though thus far CMS has not accepted these recommendations. The C3W continues to work on methods to value the chronic care management that primary care physicians perform.
*********************************
Sunshine Act:
The Physician Payments Sunshine provisions are part of the Affordable Care Act. They require prescription drug and medical device manufacturers (i.e., "applicable manufacturers") to publicly report gifts and payments made to physicians and teaching hospitals on an annual basis. After deliberation in our committee, the ACP weighed in on the proposed rules. It agreed with many of the proposed rules, including the delay in reporting until the final rules are established and the inclusion of funding for speakers at CME activities in the reporting. It is requesting that CMS clarify certain rules regarding transparency of payment categories and payments made through third parties. For more information on the ACP's response to the Sunshine act, please see the attached FAQs from The College.
*********************************
AHRQ Survey:
Dr. Fox had the honor of representing the ACP at a meeting of the Agency for Healthcare Research and Quality on February 28 in Washington DC. The purpose of the meeting was to help develop a survey to assess information on US physicians and their practices. This survey will attempt to overcome the informational gaps present in current sources of this information. The ACP spoke about the importance of gathering data on how physicians are adapting to the changing models of practice, what type of tools are currently being used or are needed to undergo this transformation, and general morale issues affecting physicians. Other stakeholders discussed the adoption of EHRs, the evolving relationship between physicians and larger organizational entities such as hospital networks or IPAs, physician salaries, workforce issues, and access to care by Medicare and third party payer patients. If funded beyond the pilot stage, this survey would be ongoing on a biennial basis.
*********************************
Virginia Issues - March, 2012
Stuart Henochowicz, MD, FACP, Vice-Chair, Virginia Health and Public Policy Committee
This has been a very eventful time for the Health and Public Policy Committee. The Virginia ACP participated in the "White Coats On Call Day" along with the Medical Society of Virginia. It made its voice heard on the so-called Ultrasound bill, a controversial bill that eventually passed in modified form. The process of sending a letter in opposition to the bill involved discussions with the HPPC, Governor's council, and the national ACP.
The Virginia ACP participated in its first "White Coats On Call" day at the state capital on February 9th. The current legislative session is demonstrated the newfound strength of the State Republican party, which controls the House of Delegates and effectively control, through the Republican Lieutenant Governor's tie-breaking vote, the Senate, even though there is a 20/20 split with the Democrats.
The MSV had three "asks" of the delegates and senators regarding bills that have come up. Two bills dealt with so-called scope of practice issues. One bill aimed to redefine the relationship between nurse practitioners and physicians. While the bill restates that nurse practitioners cannot have an independent practice in Virginia, it talks of a collaborative relationship, rather than of a supervisory one, with physicians. It also increases the number of nurse practitioners who can work with one physician from four to six. The second scope of practice bill limits the practice of surgery to physicians, dentists, osteopaths, and mid-level professionals who work under the direction of a physician. The third bill involved provider reimbursement of Medicaid patients. The MSV is seeking to prevent a decline in payments.
The four members of the ACP who participated in the White Coats On Call day visited with delegates and senators, and observed a Senate committee session on health and education issues.
The following has occurred during the Virginia legislative session:
The physician-nurse practitioner team care bill (HB 346) passed the House of Delegates on 1/20/12 by a vote of 96-1, and passed by a unanimous vote of the Senate 0n 2/28/12. The governor has yet to sign the bill.
The definition of surgery bill (HB 266) was signed by Governor McDonnell on 2/28/12, and will become law on July 1st. It passed unanimously in both the House of Delegates and the Senate.
The budget bill failed to pass the Senate on a vote of 20-17, with 3 abstentions, on 2/23/12. 21 votes are needed for passage. It is unclear as of this time how the impasse on the bill will be resolved. However, as the MSV stated in its newsletter, "both the House and Senate budgets restore funding to critical safety net programs like free clinics, community health centers and the Virginia Health Care Foundation."
HB 462, the so-called Ultrasound bill, passed the House of Delegates on 2/14/12 by a vote of 63-36. A modified version of the bill was passed in the Senate on 2/28/12 by a vote of 21-19, and by the House of Delegates on 3/1/12 by a vote of 61-35. As of this time, it has yet to be signed by Governor McDonnell, although he is likely to do so. The following is a summary of the bill as passed:
"Requires that, as a component of informed consent to an abortion, to determine gestational age, every pregnant female shall undergo transabdominal ultrasound imaging and be given an opportunity to view the ultrasound image of her fetus prior to the abortion. The medical professional performing the ultrasound must obtain written certification from the woman that the opportunity was offered and whether the woman availed herself of the opportunity to see the ultrasound image or hear the fetal heartbeat. A copy of the ultrasound and the written certification shall be maintained in the woman's medical records at the facility where the abortion is to be performed. The ultrasound is not required if the woman is the victim of rape or incest and the incident was reported to law enforcement." Of note, failure to comply with the ultrasound requirements subjects a physician to a $2,500 civil penalty. (lis.virginia.gov)
Our ACP Governor, Michael Rein, after polling the Governor's council, and receiving clarification from the national ACP, sent a letter, along with Dr. Fox, to Governor McDonnell voicing our disapproval of the ultrasound bill. The letter was read on the floor of the House of Delegates by David Toscano, Minority Leader on 2/22/12.
The MSV, which initially took no specific position on the ultrasound bill, ultimately worked to oppose the bill.
Dr. Fox expressed Virginia ACP's opposition to the ultrasound bill in an interview with Internal Medicine news.
HB686, which proposed to eliminate the requirement for an HPV vaccine, did not pass the committee stage.
Deliberations regarding the ultrasound bill demonstrated the ability of the Virginia ACP to expeditiously voice our opinion on an important issue while involving all relevant parties.
Coordination with the MSV was looser, with the MSV apparently changing its position on active opposition to the ultrasound bill without notifying the Virginia ACP. Closer coordination on issues in the future would be advantageous to both organizations.
---
Associates' Day
January 21, 2012
Programs supporting our Associates remain a very high priority for the Virginia Chapter. Although some chapters combine their annual events, the Virginia Associates' Day has been kept separate from the annual Chapter meeting in part to emphasize the importance of the Associates' activities. The event rotates among the Internal Medicine Residency Programs in the state. This year's Associates' Day competition was hosted by the Naval Medical Center Portsmouth and held at Eastern Virginia Medical School. The meeting was developed and chaired by Anke Hacker, MD, FACP, Chair of Associates' Programs for the Chapter and Andrew Kellerman, DO Associate Member and Associate Representative to the Virginia Governor's Council. An inspiring and informative keynote address, The Military's Role in Post-Disaster Humanitarian Assistance was presented by Jason D. Maguire, MD, MPH, DTM&H, FIDSA, Capt MC USN. The meeting was attended by 85 members of the Chapter, including 56 Associates.
Associates from across the state submitted 156 abstracts to the competition. After removal of the authors' names and affiliations, these abstracts were reviewed by a panel of judges which included: Joseph Aloi, MD, FACP; Sidney Barritt III, MD, FACP; Kristin Conley, MD, ACP Member; Ranjodh Gill, MD, FACP; Alyce Girardi, MD, ACP Member; Jessie Glasser, MD, ACP Member; Barton Gumbert, MD, FACP; Stuart Henochowicz, MD, FACP; William Hutchens, MD, ACP Member; Yumi Imai, ACP Member; Rachel Lee, MD, ACP Member; Thomas Manser, MD, FACP; Michael Rein, MD, MACP; Stephanie Troy, MD, ACP Member; Jaqdeesh Ullal, MBBS, ACP Member; and Susan Wolver, MD, ACP Member. We thank you for your participation.
Forty outstanding abstracts were selected for oral presentation by the following Associate Members and Medical Student Members. Our congratulations to all!
Suchet Kaur, MD, Carilion: When a Skin Bug Goes for Blood: Corynebacterium minutissimum Bacteremia
Chinyelu Onyeka, MD, Carilion: ST segment elevation in aVR heralding Left Main Coronary Artery (LMCA) occlusion in Fatal Myocardial infarction.
Armin Rashidi, MD, EVMS: Fresh Frozen Plasma Dosing For Warfarin Reversal
Mechelle Elosiebo, MD, EVMS: The Dark InVader: Cladophialophora bantiana Brain Abscess
Kenneth Surkin, MD, EVMS: Severe Hyperammonemic Encephalopathy After Gastric Bypass: A Case of the Missing Zinc
Ashley Nickerson, DO, EVMS: A Rickettsia Run Around: A Case of Near Death, Anca Positive Vasculitis and Rocky Mountain Spotted Fever
Catherine Bergeron, MD, EVMS: A Biblical Calamity: The One Smitten with Dreadful Boils
Michael Layne, MD, EVMS: MEN Syndrome Presenting as Paraplegia: A Rare Case of MEN-1 Syndrome
Barry Wright, MD, EVMS: No PEP in My Step, And no SPEP or UPEP in My Myeloma
Kenneth Prince, MD, PNMC: New Weapon in the War on Vasculitis: A Case of Newly Diagnosed Granulomatosis with Polyangiitis (Wegener's) in a Young Active Duty Male Induced with Rituxamab for the First Time at Naval Medical Center
Caitlin O'Connor, MD, PNMC: Salmonella Strikes Again: Case of Salmonella heidelburg Wound Infection
Eric Meek, MD, PNMC: The Traps of Missing the Big Picture
Jason Weiner, MD, PNMC: Intravenous Immunoglobulin (IVIG) Causing Paradoxical Alloimmune Hemolytic Anemia
Andrew Kellerman, DO, PNMC: Activating Inhibitors: Tuberculosis Presenting as Cardiac Tamponade in a Patient on TNF-Alpha Inhibitor Therapy
Jennifer Cunningham, MD, PNMC: Q Fever - The Importance of Convalescent Titers
Ryan Fawley, MD, PNMC: In Search of the Holy Grail: Finding the Key Indicators for Surgical Intervention in C. difficile Infection
Jisun Hahn, MD, PNMC: Capsule Study as a Diagnostic Tool In Evaluation of Irritable Bowel Syndrome.
Glenn Moulder, MD, UVA: The unusual case of a traveler with diarrhea: Grimontia hollisae gastroenteritis
Angela Kloepfer, MD, UVA: Acute Myelogenous Leukemia Presenting as Central Diabetes Insipidus Secondary to Leukemic Infiltration of the Pituitary Stalk
Gaia Muallem, MD, UVA: An Atypical Presentation of Hypernatremia
R. Elaine Cagnina, MD, UVA: Carbon Monoxide Poisoning Presenting as Myocardial Injury and Cardiogenic Shock
Vishal Gohil MD, UVA: Diverticulosis Does Not Adversely Affect Cecal Intubation Rates, Procedure Times, or Sedation Requirements During Colonoscopy
Elena Jiménez Gutiérrez, Student Member, UVA: A Fever of Unknown Origin: An Atypical Presentation of Systemic Lupus Erythematosus in the Elderly
Imran Farooq, MD, VCU: Prevalence of Nephrolithiasis os Significantly Higher in Hepatitis C Cirrhosis Compared to Patients Without Cirrhosis
Ian Reinemeyer, MD, VCU: Severe Metformin Associated Lactic Acidosis and Use of Hemodialysis as a Life Saving Measure
Christopher Thomas, MD, VCU: Microrna-21 Mediates Cardioprotection With PKGI-? Over-Expression Through Upregulation of Hydrogen Sulfide
Nayef Abouzaki, MD, VCU: Beware the Superwarfarin
Lindsay Holtz, MD, VCU: Hyperemesis Cannabinoid Syndrome
Catherine Pearson, MS, Medical Student Member, VCU: Access and Barriers to Health Services Vary Between Three Neighboring Honduran Communities
Matthew Kappus, MD, VCU: Primary Infection with Herpes Simplex Virus Leading to Reactivation of Varicella Zoster Virus and Fulminant Liver Failure
Matthew Kappus, MD, VCU: Synergistic Roles of Hepatic Encephalopathy and Obstructive Sleep Apnea in Disturbance of Sleep Architecture in Patients with Cirrhosis
Kristyn Sayball, DO, VCU: Lowering Platelets Instead of Glucose: A Potential New Cause of Thrombotic Thrombocytopenic Purpura
Ryan Melchior, DO, VCU: Severe Refractory Coronary Artery Spasm Leading to Recurrent Cardiac Arrest: A Multidisciplinary Approach
Gary Simmons, DO, VCU: The Paradox of Thrombocytopenic Thromboembolism During Acute Leukemia Care
Tuyet Nguyen, MD, VCU: Abdominal Ascites From Cameroon
Ali Yassen, MD, VCU: Blocking an Electrical Storm
Anna Barton, MD, VCU: Visceral Varicella in a Patient with CLL
These presentations were judged by the following physicians: Jagdeesh Ullal, MBBS, ACP Member; Amer Beitinjaneh, MD, FACP; John Port, MD, FACP; Donald Richardson, MD, FACP; Stuart Henochowicz, MD, FACP; Jeri Lantz, MD, FACP; Rachel Lee, MD, ACP Member; Dean Gianakos, MD, FACP; Jeffrey Harris, MD, MACP; Michael Rein, MD, MACP; Ranjodh Gill, MD, FACP; and Romesh Khadori, MF, ACP Member. We thank these physicians for their time and commitment.
*********************************
Congratulations to the following winners:
To represent the Virginia Chapter at Internal Medicine 2012 abstract poster competition: Kenneth Surkin, MD, Associate Member and Armin Rashidi, MD, Associate Member
To present orally at the Virginia ACP Annual Meeting and Clinical Update: Associate Members: Eric Meek, MD, Gaia Muallem, MD, Ryan Melchior, DO, Ali Yassen, MD, Tuyet Nguyen, MD, Christopher Thomas, MD, Nayef Abouzaki, MD, Catherine Bergeron, MD, Ian Reinemeyer, MD, Elaine Cagnina, MD,Matthew Kappus, MD, Gary Simmons, DO, Michael Indelicato, DO
Medical Student Member: Elena Jimenez Gutierrez
Very well done, ladies and gentlemen!
Sami Tahhan, MD, FACP, developed a devilish (I speak here from personal experience as an audience member) set of questions for Medical Jeopardy. The hard-fought contest was MC'd by Jody Boggs, MD, Associate Member, Chief Resident at Eastern Virginia Medical School and the competitors included Associate Members from Virginia's five Internal Medicine Residency Programs:
Carilion: Bonny Moore, MD, Ben Chopski, MD, Kevin Loughry, MD
EVMS: Kerry Shaughnessey, MD, Armin Rashidi, MD, Barry Wright, MD
Naval Medical Center Portsmouth: Jennifer Cunningham, MD, Nikunj Bhatt, MD, Jason Weiner, MD
UVA: Glenn Moulder, MD, Elaine Cagnina, MD, Vishal Gohil, MD
VCU: Krystal Larson, MD, Nayef Abouzaki, MD, Eiman Nabi, MD
The team from EVMS carried the day.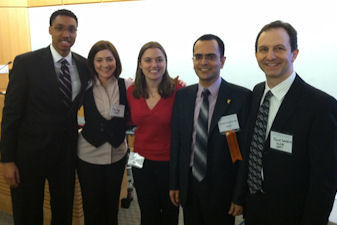 Winning Medical Jeopardy Team from EVMS (L to R): Barry Wright MD, Associate Member; Jody Boggs, MD, Associate Member, Coach; Kerry Shaughnessey MD, Associate Member; Armin Rashidi MD, Associate Member; David Costaldo, MD FACP (Coach)
---
Annual Chapter Meeting and Clinical Update
Our Council of Young Physicians, chaired by John Port, MD, FACP, worked hard as the Program Committee (co-chaired by Zachary Shook, MD, FACP) for the 2012 ACP Virginia Annual Meeting and Clinical Update, which was held at the Omni Charlottesville Hotel, March 16-17, 2012. The meeting provided 15.25 hours of CME credit and received an excellent overall rating of 4.5/5.0 from attendees. The meeting was attended by 239 registrants, who included about 5% of the Chapter Membership. We were honored to have Virginia L. Hood, MBBS, MPH, MACP, then President of the College join us and present a scientific talk on lactic acidosis as well as updating the attendees on College activities. The meeting received an outstanding overall score of 4.5 from the attendees. Well done, John, Zach, and the Program Committee.
The Virginia Chapter's Awards were presented at a luncheon. The Awards Committee is chaired by James Long, MD, FACP (Drjameslong@yahoo.com), who is always on the lookout for nominations. The awards presented were:
Young Internist: Rebecca Dillingham MD FACP
Michael F. Rein, MD, FACP,presented the award: "Dear Colleagues, it is an honor and really a particular pleasure to present the Virginia ACP 2012 Young Physician of the year award to Rebecca Dillingham, MD, MPH, FACP, Assistant Professor of Medicine at the University of Virginia. She is one of the people I most admire and like. This is a very appropriately named award. First of all, it is actually 2012. Second, I have known and worked closely with Dr. Dillingham since she started her Internal Medicine residency in 1999, when she was a very young physician indeed. Third, and perhaps most importantly, she has absolutely excelled in every aspect of being a true physician. She has amazing accomplishments as a clinician, as an educator, as an innovator, as a colleague, and as a scientist. Her extensive Curriculum vitae speaks for itself, and we have not the time to do it justice. I have it here, and those interested can take a look at it, or you can just ask her what she does for a living. Dr. Dillingham has received considerable recognition for her accomplishments in many areas, including her local, regional, and international work. Let me therefore just make a few personal observations. Dr. Dillingham really cares about people; her family, of course; her patients; her colleagues; and many people in other parts of the world, including earthquake-devastated Haiti and rural South Africa, in which she spends a great of her time. She demonstrates this caring not only by what she does, but the manner in which she does it. Thus Dr. Dillingham serves not only as a teacher but as a (I apologize for the cliché) role model. She is a dedicated advocate for her patients and her students. Since her Chief residency, Dr. Dillingham has been a superb mentor, a service of great importance to her and benefit to those she mentors. She mentors students, residents, fellows, and junior faculty, and frankly, senior faculty as well. Here I speak from personal experience. Awards are actually defined by the people who receive them. By presenting this award to Dr. Dillingham, we are self-serving in that by doing so, we increase the value of the award itself. Thank you and congratulations, Rebecca."
*********************************
Paul Florentino Volunteerism Award: Joseph Aloi MD, FACP
Presented by Jerry Nadler, MD, FACP: "I am pleased to say a few words about Dr. Joe Aloi, the recipient of the Paul Florentino Volunteerism Award. Dr. Aloi received his training in Internal Medicine at George Washington University and then subspecialty training in Endocrinology and Metabolism at the University of Virginia. Dr. Aloi was an Associate Professor (Clinical Educator) at the University of Virginia prior to joining EVMS in July in 2009, as the Clinical Director and Division Chief. From a community service perspective, Dr. Aloi has always been involved in assisting those who are underserved or impoverished. He has previously served as the attending physician approximately once a month in the Charlottesville Free Clinic and the Orange Free Clinic and he currently also serves at the EVMS Sentara Ambulatory Core Center free clinic. Perhaps most recognizable is his involvement during the University of Virginia Medical Center's remote area medical (RAM) clinic. Each summer, (July) and fall (October) the University of Virginia Medical Center sees several patients in a 3-day (Friday/ Saturday/ Sunday) free medical clinic. This is in collaboration with other medical centers, the RAM association, and local service groups (Lions Club, Rotary Club, etc.). Several thousand patients come from multiple states to receive free medical care including dental, audiology, cancer screening and general medical care. The July event is the largest of its kind in the United States. The trip back in the fall is for 2 days and with fewer services. Dr. Aloi has volunteered in July 2007, October 2007, and July 2008, as one of the medical directors for July 2009, and this past July 2011 as the EVMS Team Leader. Dr. Aloi has worked countless hours during the RAM clinics to provide diabetes care to patients who rarely get to see a physician. Typically, 300 people with diabetes are seen in the 2½ day event. Dr. Aloi is also currently actively volunteering to help several diabetes screening events in the community and for the American Diabetes Association. He also has established a screening and care program for the underserved population of the Western Tidewater Region. Dr. Aloi also helped educate the community on diabetes and diabetes prevention by giving invited lectures to local Rotary Clubs (2) and the Lion's Club (Orange County). He has participated in the Charlottesville television news "Medical Minute" (WVIR) speaking on the role of Obesity and Diabetes as well as new therapies for Diabetes. On invitation, he has also lectured on general medical topics to local community groups, middle school students, and the diabetes support group. Clearly, Dr. Aloi is well deserving of this honor. Please join me in thanking Dr. Aloi for all his efforts."
*********************************
Community Teaching Award: Ranjit Cheryian, MD, FACP
The ACP Virginia Chapter Community Teaching Awards recognizes dedication to teaching and skill and accomplishment in the education of medical students, residents, or other physicians. Educational take place in the recipient's practice, the clinic, on the wards. Particular emphasis is placed on a record of continued educational activity. Craig Cheifetz, MD, FACP, nominated Dr. Cheryian, saying: "Dr. Cheriyan has been an active and highly regarded educator for medical students and residents both at Inova Fairfax Hospital and Virginia Hospital Center. Dr. Cheriyan has been teaching, mentoring, and lecturing students, residents, and young faculty since 1987. Ranjit Cheriyan always receives high marks in his evaluations and takes a true caring interest in each of his learners. As a person, he is quiet and understated. He never asks for compensation and always actively engages his learners to see if they are learning, and if they are not, then why not. He has the great ability to keep all learnings practical for each individual learner. As a highly regarded nephrologist, he has led a "Meet the Experts" series in Northern Virginia over the last 11 years. Both attendance and feedback for these sessions have been extraordinarily high. Dr. Ranjit Cheriyan has been a medical staff leader for the past 15 years. He has been actively engaged in a community nephrology practice for nearly 24 years, and neither his dedication and commitment to teaching nor his enthusiasm have ever diminished in time. Ranjit Cheriyan does not seek out awards or ask for praise. We at the VCU School of Medicine Inova Campus recognized him as an outstanding teacher of the month in 2009 and as the top internal medicine outpatient community preceptor in 2007. I can think of no other who more deserves to receive the Virginia ACP Community Teaching Award than Ranjit Cheriyan. Dr. Cheriyan is a role model for all teachers."
*********************************
Academic Teaching Award: Eric Houpt, MD, FACP
Presented by William A. Petri, Jr, MD, PhD, FACP: "I am honored and delighted to present the Virginia ACP Academic Teaching Award to Eric Houpt. In 2002 Eric joined the faculty at UVa and spent the first 3 months at the Kilimanjaro Christian Medical Centre in Moshi, Tanzania, where he has since started a clinical, educational, and research enterprise which serves a unique niche the School of Medicine. In ensuing years he has facilitated and mentored 21 medical students, 8 housestaff from across the School, and 4 undergraduates to participate in rotations there. Specifically, Dr. Houpt works at two sites in Tanzania: KCMC Moshi and rural Haydom in central Tanzania. UVA trainees go to both. Experiences have been uniformly positive and truly life-changing. Other highlights of Dr. Houpt's educational portfolio:
In 2010 Dr. Houpt was awarded an NIH Training grant "UVA-Tanzania Global Infectious Diseases Training Program" (2010-2015), which is building capacity and training PhD, Masters, and Bachelor level Tanzanians in Infectious Diseases research. NIH training grants are the foundations of medical research and this will advance UVA's ability to compete on the international stage.
In 2007 Dr. Houpt and McIntire School Professor Mark White led a J-term course entitled "Financing a Sustainable Future" (COMMERCE 480E) to Tanzania. Dr. Houpt organized and led these 14 undergraduate UVA Commerce students, along with 7 Tanzanian graduate business students, to several sites in order to research and devise a financial plan for local production of diagnostic reagents at the Kilimanjaro Christian Medical Centre.
In 2006 Dr. Houpt started, with Dr. Fern Hauck in the Department of Family Medicine, a 4th year medical student elective named "International, Tropical, and Cross-Culture Medicine" (MED 1415). The course satisfies the clamor from medical students for more material on global health and provides a forum for students highly motivated in this area as a career.
In 2004 Dr. Houpt began directing the UVA Parasitology course for 2nd year medical students (part of Pathology, MED 622) which has now been transformed with the new curriculum into Microbes: the Essentials. Students have great enthusiasm for this course, particularly the laboratory component, which provides them with the hands-on experience of parasite microscopy.
Dr. Houpt is a national figure in Global Health education. His manuscript in Academic Medicine on Global Health competencies is one of the most cited on the topic. He also founded the Committee on Medical Education within the American Society for Tropical Medicine and Hygiene.
Dr. Houpt consistently receives accolades from fellows, housestaff, and students for his educational performance while attending on General Medicine, the Infectious Diseases consult service, and while precepting classes. In the laboratory, Dr. Houpt has mentored 17 undergraduate students, technicians, medical residents, technicians, and post-doctoral associates with great success and professional advancement. Eric every day makes a positive impact on our UVA students, residents, housestaff and faculty. The award is most deserving and I am grateful to the Virginia ACP for providing this recognition to Eric."
*********************************
Virginia Laureate Award: John N. Clore, MD, FACP
The Laureate Award is the most prestigious award given at the local level. It honors Fellows or Masters of ACP who have demonstrated by their example and conduct an abiding commitment to excellence in medical care, education, or research, and in service to their community, their chapter, and the American College of Physicians.
John N. Clore, MD, FACP, is a native Virginian, who obtained his MD from the Medical College of Virginia. He remained there to complete his training in Internal Medicine and in Endocrinology and Metabolism. He is a Professor of Medicine and serves as Vice-President for Clinical research and Program Director of the Center for Clinical and Translational Research at Virginia Commonwealth University. Dr. Clore has published over 100 papers and abstracts on various aspects of diabetes research. His clinical practice is exclusively focused on the treatment of individuals with diabetes mellitus. He particularly emphasizes intensive insulin management of patients with both Type 1 and Type 2 diabetes. He also manages patients on immunosupressives, which increase the difficulty of successful control of glucose levels. He has developed insulin strategies and algorithms that are increasingly used by house staff and faculty. Within the hospital, he has initiated efforts to improve the overall management of diabetes through the more routine use of insulin infusions or basal insulin therapy instead of sliding-scale insulin. His educational efforts are directed toward improving the management of diabetes by health care providers. Dr. Clore has been actively involved in the American Diabetes Association and the American College of Physicians for more than 20 years. He has received the ADA Educators of the Year Award. He has lectured numerous times at Virginia Chapter and ACP national meetings, always to rave reviews. We are proud to present him with the 2012 Laureate Award.
*********************************
2012 Chapter Excellence Award: Ann Tennett, Executive Director
Presented by Virginia L. Hood MBBS, MPH, MACP, President of the College, the award recognizes chapters that successfully meet the standards for managing a chapter. In order to achieve the Chapter Excellence Award, chapters must meet all basic criteria and seven optional criteria. Criteria include such activities as formulating an effective Governor's Council and committees, communicating frequently with membership, providing educational opportunities, recruiting and advancing members and celebrating membership through local awards. The award represents the work of the Council, many Chapter members, and our Executive Director. For their hard work and dedication, we received this award.
*********************************
Students well represented at Virginia Meeting
Neha D. Chande, Class of 2012, VCU School of Medicine, Student representative to the Governor's Council developed an outstanding program for students from Virginia's Medical schools. Most of the approximately 60 students in attendance were members of their first or second year classes. The students attended many of the regular clinical sessions. Among the special breakout sessions for the students, Peter Pollack, MD, Associate Member and Cardiology Fellow at UVA presented on interpreting EKGs, and Mr Cram presented on financial planning and managing medical school debt. A panel on choosing and applying for medical residency was conducted by Program Directors: Drs. Barrett, Hacker, Donowitz, and Khosa. A Medical Jeopardy session, run by Shaun Bhatty, Associate Member, Chief Resident at VCU, employed (OMG!) many of the same questions that had been used in the competition for the Associates earlier in the year. The game was won by the team from the University of Virginia.
---
Report from the Spring 2012 BOG Meeting
Michael F. Rein, MD, MACP, Interim Governor
An extremely useful presentation to the BOG of Governors at its April meeting concerned upcoming changes in the requirements for Maintenance of Certification. An outstanding talk was presented by Robert M. Wachter, MD, FACP, President-Elect of the ABIM Board of Directors and Professor of Medicine at the University of California, San Francisco. Some of the elements of his presentation that I particularly noted included the definition of certification as "a continuous framework to recognize and assess knowledge and what is being done in practice." Eighty-six percent of physicians who completed an ABIM self-assessment module agreed that it enhanced their ability to improve patient care. I have adapted (stolen) the following material from Dr. Wachter's slides, but I take full responsibility for error that may have crept in.
The ABIM is changing its approach because it has heard from the public, payers and others that the current MOC program (with its 10 year cycle) is not a credible way of evaluating physician competency. The American Board of Medical Specialties is requiring more frequent engagement of diplomates in MOC activities, and every Board is required to develop a continuous MOC program. So, the ABIM is designing a continuous MOC process that complies with ABMS mandates while taking account of diplomate feedback.
Its new approach to Maintenance of Learning (MOL) includes three components:
One: (Reflective Self-assessment) - CME, a majority of which is practice-relevant and supports performance improvement
Two (Assessment of Knowledge and Skills) - Objective knowledge and skills assessments to identify learning opportunities and guide improvement activities
Three (Performance in Practice) - Use of comparative data to assess the quality of care provided and then apply best evidence or consensus recommendations to improve and subsequently reassess care
Each licensee [should] complete a minimum Component One activity yearly and document completion of both one Component Two and one Component Three activity every five years. State medical and osteopathic boards should consider that physicians who provide evidence of successful, ongoing participation in ABMS Maintenance of Certification (MOC) have fulfilled all three components of MOL
In 2013, the MOC will include a redesign of its infrastructure/IT platform to be more user friendly. MOL will be a more continuous process, requiring some activity every two years for meeting MOC requirements. There will be no expiration dates for board certifications issued in or after 2013, but maintenance of certification will require fulfilling the specific components above. Certificates will have a five-year "cycle," with a secure examination every 10 years. There will be an annual payment option, so that the cost of the entire examination does not descend all at once. There will be a grace period for newly certified physicians and those in fellowship training.
The time already specified on current certificates will be honored, as will lifetime certifications (MFR - That's mostly us "grandfathers"), however, the ABMS and ABIM will immediately begin reporting whether or not each diplomate is meeting the requirements of the new MOC program.
The requirements:
Earn some MOC points every two years; 100 points every five years
Pass the secure examination every 10 years
Earn a total of 100 points, including knowledge and practice assessment.

20 points in practice assessment
20 points in medical knowledge
60 elective points in any category
Disclaimer: Please go to the ABIM website for more current, more detailed, and likely more accurate information.
Important: Do note the increasing number of ACP programs and products that can be used to meet these requirements including the ever-popular MKSAP and the recently constructed sessions at the ACP national meeting, which include questions and score MOL/MOC points.
---
Virginia Chapter of the ACP Well Represented at IM 2012
Faculty: Members of our Chapter presented many sessions at the meeting in New Orleans.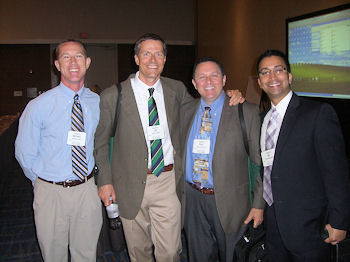 Bedside ultrasound faculty at IM2012 (L-R): Drs. Michael Wild, Dr. Jon Sweet, Dr. Apostolos (Paul) Dallas, Dr. Om Samantray]
Eugene C. Corbett, Jr., MD, MACP, Professor of Medicine, Department of Internal Medicine, University of Virginia, Charlottesville. Ophthalmoscopic Skills for the Internist.
Apostolos P. (Paul) Dallas MD FACP, Assistant Professor of Medicine, Department of Internal Medicine, Virginia Tech Carilion School of Medicine, Roanoke. Bedside, Hand Carried Ultrasound-Guided Thoracentesis and Paracentesis. Portable Ultrasonography for the Internist: A Clinical Skills Demonstration. Portable Ultrasonography for the Internist: What You Can Do in Your Office on Monday.
John E. Nestler, MD, FACP, William Branch Professor and Chair, Department of Internal Medicine, Virginia Commonwealth University, Richmond. Polycystic Ovary Syndrome.
Julia R. Nunley, MD, FAAD, FACP, Professor of Dermatology, Program Director, Department of Dermatology, Virginia Commonwealth University, Richmond. Essential Dermatology for the Practicing Internist: The Basics and Beyond. Dermatology for the Hospitalist: Important Skin Conditions in the Acute Care Setting.
Om Samantray, MD, Associate Member, Department of Internal Medicine, Virginia Tech Carilion School of Medicine, Roanoke. Portable Ultrasonography for the Internist: What You Can Do in Your Office on Monday.
Jon M. Sweet, MD, FACP, Associate Professor, Department of Internal Medicine, Virginia Tech Carilion School of Medicine, Roanoke. Portable Ultrasonography for the Internist: What You Can Do in Your Office on Monday.
Michael Wiid, MD, MBChB, FACP, Assistant Professor, Department of Internal Medicine, Virginia Tech Carilion School of Medicine, Roanoke. Portable Ultrasonography for the Internist: What You Can Do in Your Office on Monday.
Leanne M. Yanni, MD, FACP, Assistant Professor of Medicine, Department of Internal Medicine and Palliative Care, Bon Secours Richmond Health System, Richmond. Multiple Small Feedings of the Mind: Sleep Medicine, Pain Management, and Geriatric Medicine.
*********************************
Associates
Doctor's Dilemma (Medical Jeopardy): The winning EVMS Medical Jeopardy team from our Virginia Associates' Day competition fought valiantly at the Doctor's Dilemma competition in New Orleans.
Associates' Presentations: Our Associates were well represented at IM2012. Abstracts were submitted by Associates from all of the residency programs throughout Virginia. The abstracts, blinded as to author and program, were reviewed and graded by a volunteer, national panel of ACP Members, Fellows, and Masters. The highest scoring abstracts were selected for presentation at the National Meeting. Vince Faridani, MD, Associate Member, a second year internal medicine resident from the Carilion Clinic - VTC program, was chosen as a National ACP Associate winner for his abstract and podium presentation in New Orleans at the Internal Medicine 2012 meeting. His abstract is presented below. His co-authors on the abstract included Adil Akthar, MD., Nugma Chadha, MD., and Jim Mertz MD. We are pleased to report that Armin Rashidi, MD, Associate Member took a first prize in the poster competition. His abtract, coauthored by H. Raymond Tahhan, MD, is presented below. Dr. Rashidi's photograph may be seen above as a member of the winning Medical Jeopardy Team from EVMS. Well done, gentlemen.
*********************************
Podium Presentation - Clinical Vignette
Acyclovir Induced Rhabdomyolysis
Vince Faridani, MD, Adil Akthar MD, Nugma Chadha MD, Jim Mertz MD
Introduction: Acyclovir is an acyclic guanosine analogue used in the treatment of herpes simplex virus and varicella-zoster virus. Although generally well tolerated, usage of acyclovir may be complicated by development of acute renal failure in select patients. The following case demonstrates a rare case of rhabdomyolysis induced acute tubular necrosis in a patient with on antiretroviral therapy.
Case Presentation: A 29 year old female with a known history of type I diabetes and end stage renal disease on peritoneal dialysis presented to the hospital with altered mental status, weakness, and vomiting. Four days prior she was started on oral acyclovir therapy for treatment of genital herpes. Upon initial presentation, afebrile, vital signs stable. Physical examination revealed the patient to be confused and not orientated x 0, no focal neurological deficits. Initial evaluation, CT head was negative for acute injury and lumbar puncture revealed CSF to be normal. Laboratory studies, Na 122, K 3.7, BUN 87, Creatinine 12.3, and Phosphorus 11.2, creatine kinase (CK) 20,199. Serological work including ASO titers was negative. HIV viral load was undetectable. The patient was immediately discontinued from her acyclovir, given IV fluids, underwent emergent hemodialysis for two consecutive days given her acute on chronic renal failure, altered mental status, and elevated CK. Nearly 48 hours later her CK decreased and mentation returned to baseline. Hemodialysis was discontinued and she resumed her peritoneal dialysis.
Discussion: The mechanism of acyclovir-induced acute tubular necrosis classically involves the administration of intravenous acyclovir leading to precipitation of crystals within the nephron tubules and renal parenchyma. However the above case highlights a different physiologic mechanism whereby oral acyclovir can lead to reversible rhabdomyolysis-induced uremic encephalopathy and oliguric acute kidney injury. Clinicians should also be aware that acyclovir-related renal failure can occur with lower doses of oral therapy as well as rapid IV infusions. This consideration is especially important when dealing with patients who have underlying chronic kidney disease. These patients warrant lower doses of acyclovir treatment given their greater predisposition to renal damage.
*********************************
Virginia Poster Winner - Research
Fresh Frozen Plasma Dosing for Warfarin Reversal: The "Rashidi-Tahhan" Formula
Armin Rashidi, MD (Department of Internal Medicine); H. Raymond Tahhan, MD (Departments of Pathology and Internal Medicine)
Eastern Virginia Medical School, 825 Fairfax Avenue, Suite 410, Norfolk, VA 23507, rashida@evms.edu
Introduction: FFP administration is the most common method of warfarin reversal. Currently, FFP dosing is not evidence-based. We attempted to derive a practical formula in the form of DeltaINR (PreINR - PostINR) = a x PreINR + b, where PreINR and PostINR are the INR before and after FFP administration, respectively.
Methods: We retrospectively reviewed the data of all recipients of a total of 6,678 units of FFP in our institution (April 1, 2009 and March 31, 2010). We excluded patients with DIC, cirrhosis, or those treated with factor VII or prothrombin complex concentrate. We used multivariate regression with DeltaINR and PreINR as outcome and predictor variables, respectively. We first found the formula for the subset of patients that received 1 FFP (FFP1 subset). We then applied the FFP1 formula, in a stepwise manner, to the FFP2, FFP3, and FFP4 subsets, and compared predicted values of DeltaINR to actual values. Finally, the FFP1 formula was applied to a random series of patients who received 1 unit of FFP in April 2011 (test series). The size of this series was chosen to be one tenth of the FFP1 subset by which the formula was derived.
Results: A total of 956 cases were included. The best estimate for DeltaINR after one unit of FFP is 0.57 x PreINR - 0.72 (R2=83%, p < 0.001). Stepwise application of the FFP1 formula to the FFP2, FFP3, and FFP4 subsets explained 92%, 96%, and 95% of the total variation in DeltaINR after 2, 3, and 4 units of FFP, respectively. 76.4% of all DeltaINR predictions were within ± 0.5 of the actual values. Applying the formula to the test series (n = 31) yielded a Pearson's correlation coefficient of 81% between predicted and actual DeltaINR values, confirming high predictive accuracy across the entire dataset.
Conclusion: The "Rashidi-Tahhan" formula provides a convenient and accurate method for warfarin reversal.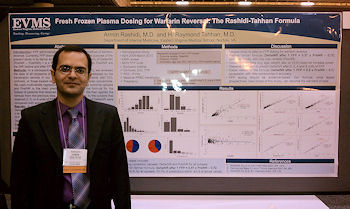 Armin Rashidi, MD, Associate Member with prize-winning poster at IM2012
*********************************
Virginia Poster Finalists - Clinical Vignettes
Intrathecal Methotrexate Nephrotoxicity
Vince Faridani, MD, Jim Mertz, MD
A Rare Case Of Falsely Elevated Thyrotropin(Tsh)Level Due To Heterophile Antibody, LT Manoj Mathew, MD
Chest Pain By A Bug Bite Sandra Moallem, MD, Jennifer Ryal, MD
A High Tech Source of Ethylene Glycol Toxicity Bonny Lauren Moore, MD, Jadyn Swerbinsky, PA; James Cain, MD; Chad Demott, MD, FACP
Cafe Au Lait With A Side Of Multiple Sclerosis Seth T. Parsons, MD, Sami G. Tahhan, MD, FACP
Acquired Fanconi's Syndrome -- Watch Out In HIV Infected Patients With Acute Renal Failure On Tenofovir Chhayaben V. Patel, MBBS Edward Oldfield, MD, Hooman Sadr, MD
Radial Artery Sterile Granulomatous Reaction Om Samantray, MD, Dexter De Leon M.D, Gary Swank MD, M. Ayoub Mirza MD
Thiazide Diuretics: You May Need A Little Salt With That Kristyn M. Sayball, DO
The Question To Lyse: Not Just For The School Nurse Kristyn M. Sayball, DO
Severe Hyperammonemic Encephalopathy After Gastric Bypass: A Case Of The Missing Zinc. F. Kenneth H. Surkin, MD, Mark Flemmer, MD
Esomeprazole-Induced Acute Insterstitial Nephritis Janki Shah, MD, Christy Fagg, DO, Jon Sweet, MD, FACP, Ann Peters
Fatal Raoultella planticola Peritonitis Angela D. Venuto-Ashton, MD, Jon Sweet, MD, FACP
---
From the VA Department of Health
S. William Berg, MD, MPH, Director, Hampton Health District
This spring the Virginia Department of Health will send an invitation to all physicians to sign up to receive its new Listserv. This will electronically transmit letters from the Commissioner of Health, statistical reports on reportable diseases, weekly state influenza summaries, and alerts about disease outbreaks and other urgent public health matters. The Listserv will include a variety of information options, and physicians can sign up to receive as many as they wish, however joining the Listserv is voluntary. Be on the lookout for this rapid and simple way to keep current on public health matters in the Commonwealth.
---
Nurses, Physicians, Assistants, and Others Now Can Join ACP as Affiliate Members
ACP has expanded its domestic Affiliate membership category to include a variety of allied health professionals, such as physician assistants; nurse practitioners and other advanced practice nurses; registered nurses; pharmacists and doctors of pharmacy; and clinical psychologists.
The College has long been supportive of patient-centered care delivered in a team-based environment. Allied health professionals that work with internal medicine physicians can benefit from the College's resources and increased collaboration with ACP's physician members.
ACP Non-Physician Affiliate members have online access to a variety of benefits, including Annals of Internal Medicine®, featuring In the Clinic® and ACP Journal Club® access to the College's practice management and quality improvement tools; and, the Physicians' Information and Education Resource (PIER) ®. In addition, they receive discounts on many of the College's products and services, such as Internal Medicine 2012 and MKSAP 15®.
Non-Physician Affiliate members do not have voting privileges, and will not be able to hold office or become a Fellow in the College.
Dues for the Non-Physician Affiliates are $119.
To learn more, or to share this opportunity with allied health professionals in your office, visit www.acponline.org/npaffiliates.
---
From the ACP Foundation
Nine Out of Ten Adults Lack the Skills Needed to Manage Their Health and Prevent Disease
The ACP Foundation develops patient-centered materials to facilitate physician-patient communication and help patients manage their health. These FREE tools, available in English and Spanish, help patients understand the most important information they need to know. To view or order these materials, go to the ACP Foundation .
---
From the College
Frequently Asked Questions: Medical Records Issues
By Laura A. Dixon, BS, JD, RN, CPHRM, and Susan Shepard, MSN, MA, RN, CPHRM of The Doctors Company
Q: How long should records be kept?
A: Although states may have different guidelines or laws, The Doctors Company recommends retaining records for the following time periods:
- California only-indefinitely, or for at least 25 years after the patient's last visit. - Adult patients-10 years from the date the patient was last seen. - Minor patients-28 years from the patient's birth. - Deceased patients-five years from the date of death.
Q: How long should billing records, telephone calls/messages, and appointment books be kept?
A: The Doctors Company recommends the following:
- Billing records in all states should be retained for seven years, according to Internal Revenue Service standards, and may be kept in a separate file.
- Telephone calls that pertain to medical care should be documented in the medical record and kept according to the above medical record retention guidelines.
- Appointment books may be kept for one year.
Q: Are videos, x-ray films, EKGs, fetal monitor strips, photos, etc., part of the medical record?
A: Yes. Any and all data collected at the time of a patient encounter, regardless of form, is part of the medical/legal document.
Q: Does the medical record include financial information such as billing and insurance data?
A: In some states, yes. Physicians should review billing documents for any reference to the specific health care provided.
Q: If a patient brings his or her past medical records to my office, am I required to maintain all of the copies?
A: The physician should review, extract, and photocopy any information that he or she might need from that record and then return the original documents to the patient. Otherwise, you must maintain such copies for the same length of time as the medical record.
Q: How should hard copy paper records be destroyed?
A: The only safe methods for destroying paper records are incineration or shredding. A destruction method for electronic medical records has yet to be determined.
Q: Where can medical records be stored?
A: Inactive records may be thinned from the active patient cases and stored outside the office suite. Take the following factors into consideration when making arrangements for long-term storage:
Privacy-protect the records from unauthorized persons.
Safety-protect the records from fire or flood damage and unauthorized access or theft.
Accessibility-make sure the records are easy to retrieve and copy.
Q: Can records be transferred to microfilm, microfiche, or disk or stored in a computer?
A: Yes. Privacy, safety, and accessibility can also guide you when transferring records to microfilm, microfiche, or disk or when storing records in a computer. Computer data should be backed up at regular intervals and stored offsite.
Q: Is it sufficient to back up a copy of an electronic health record (EHR) onto a disk?
A: Yes. However, you should store a copy of the EHR software along with the data itself, to make sure the records can be read in the future. Alternatively, you could save the data in PDF format so it can be read without special software. If you use an application service provider-where your data is stored by the EHR vendor and you access it online-your contract should include terms that ensure your data will be available to you when you're ready to make arrangements for long-term storage.1
Q: Can I thin and purge medical records prior to storage?
A: Yes. Copies of other health care providers' medical records, such as hospital records, can be purged because the originals will be maintained by the hospital.
Q: Can I sell my records when I sell my practice?
A: Yes. We suggest that you include the recommended retention time and access capability as part of your sales agreement.
Q: If I move to another state, can I take my records with me?
A: Yes, with the same conditions prevailing for retention and accessibility. It might be reasonable to alert your active/current caseload of your move in order to give patients an opportunity to request a copy of their medical records.
Q: If a patient requests a copy before I move, can I give him or her the original record?
A: No. The original is the property of the physician, who has a duty to maintain the record.
Q: Can a physician take medical records home for documentation completion?
A: No. The only time an active, original medical record should be out of an office is when it is required to be present in a court of law.
Q: If someone claiming to be a representative of a deceased patient's estate requests a copy of the chart, what do I need to do?
A: You must verify that the individual is a qualified representative of the decedent's estate (for example, the executor). The individual should provide a copy of an official document from the state as proof.
References
1. O'Brien L. Long-term storage of electronic records. Modern Medicine. February 2008. Available at www.modernmedicine.com. Accessed July 31, 2008.
About the Authors
This article is by Laura A. Dixon, BS, JD, RN, CPHRM, Director, Department of Patient Safety, Western Region, and Susan Shepard, MSN, MA, RN, CPHRM, Director, Patient Safety Education.