You are here
Utah Governor's Newsletter August 2016
Utah Governor's Newsletter August 2016

---
---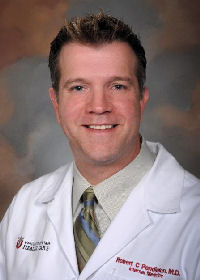 Robert C. Pendleton, MD, FACP, ACP Governor
---
GREETINGS FROM THE GOVERNOR
Greetings:
It is a privilege to be able to provide you with a Summer (almost Fall!) 2016 Utah ACP update. The leaders of your Utah ACP Chapter have been busy this past 6 months working hard to ensure that our chapter brings value to our trainees and members, is a vital professional home, supports wellness, meaningfully engages in advocacy to ensure that we all have a voice in our practices, and provides a link to national resources to assist us all in navigating the complexity of todays healthcare. I could not be more proud of the work that our Utah ACP Leadership council continues to do to serve our members.
I wanted to make sure that you SAVE THE DATES for the following meetings:
Fall trainee clinical vignette competition- Wednesday, September 28, 2016 in HSEB Alumni Hall
Utah Chapter Annual Scientific Meeting- Friday, February 10 – Saturday, February 11, 2017 at the University Guest House
Annual National ACP meeting in San Diego - March 30 – April 1, 2017
Thanks for all you do to take such amazing care of the patients in our communities. Wishing you a safe, rewarding, and joyous Summer and Fall in both your professional and personal endeavors.
Respectfully,
Bob
---
UTAH CHAPTER ANNUAL SCIENTIFIC MEETING – SAVE THE DATE!
February 10 – 11, 2017 | Salt Lake City, UT | University of Utah Guest House
Many changes are coming to the Utah Chapter Annual Scientific Meeting. We requested your input a while back and we took your suggestions to heart. In addition to the usual multitude of great talks, this two day event will feature:
Social event and awards ceremony with guest keynote speaker Dr. Christine Sinsky, author of 'In Search of Joy in Practice'.
Hands-on workshops on Motivational Interviewing & Mindfulness Techniques
Panel discussion on Medical Marijuana
ABIM Maintenance of Certification (MOC) medical knowledge points
and more…
You won't want to miss this – save the dates on your calendar today! Exact schedule and details will be released soon.
---
RESOLUTIONS
Fall 2016 – Feedback Request
We would like to request your feedback regarding the ten (10) resolutions that will be heard at the fall 2016 Board of Governors Meeting. After considering the intent of each resolution and how it fits with the College's strategic plan, please send your comments indicating whether or not you support a resolution here: . Please provide your feedback by Friday, September 16th.
Spring 2016 – Results
Thank you for taking time out of your busy schedule to provide comments regarding the fourteen (14) spring resolutions. By providing your feedback on the Board of Governors resolutions, you have helped to shape College policy that impacts the practice of internal medicine. You can see how our chapter voted and the results of the resolutions by clicking here.
---
RECAP OF INTERNAL MEDICINE 2016 MEETING
First and foremost I would like to congratulate those who were elected to fellowship in FY 2016 and invited to participate in the 2016 convocation ceremony; those from Utah include:
Darrin D. Checketts, MD FACP
Kencee K. Graves, MD FACP
Jeffrey W. Johnson, MD FACP
Michael B. Jolly, MD FACP
Katie Lappe, MD FACP
Donna Milavetz, MD FACP
Jennifer L. Scott, MD FACP
Tyler R. Williams, MD FACP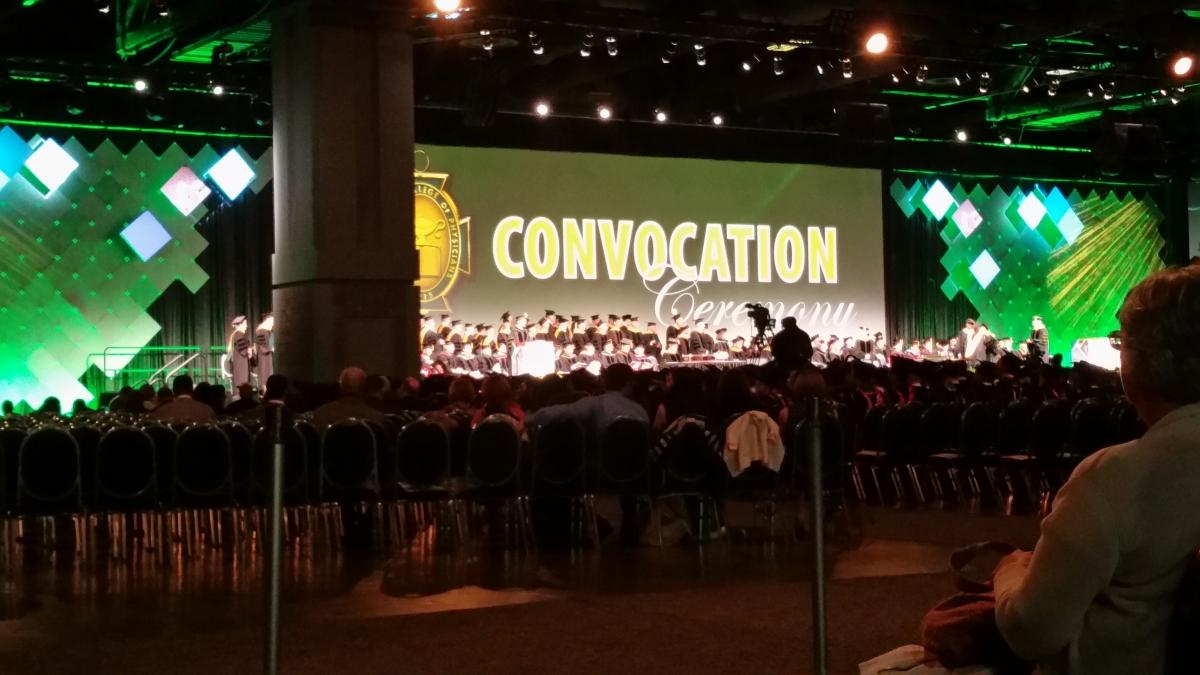 Fellowship in the College is an honor. It is a mark of esteem from colleagues who recognize accomplishments and achievements over and above the practice of medicine.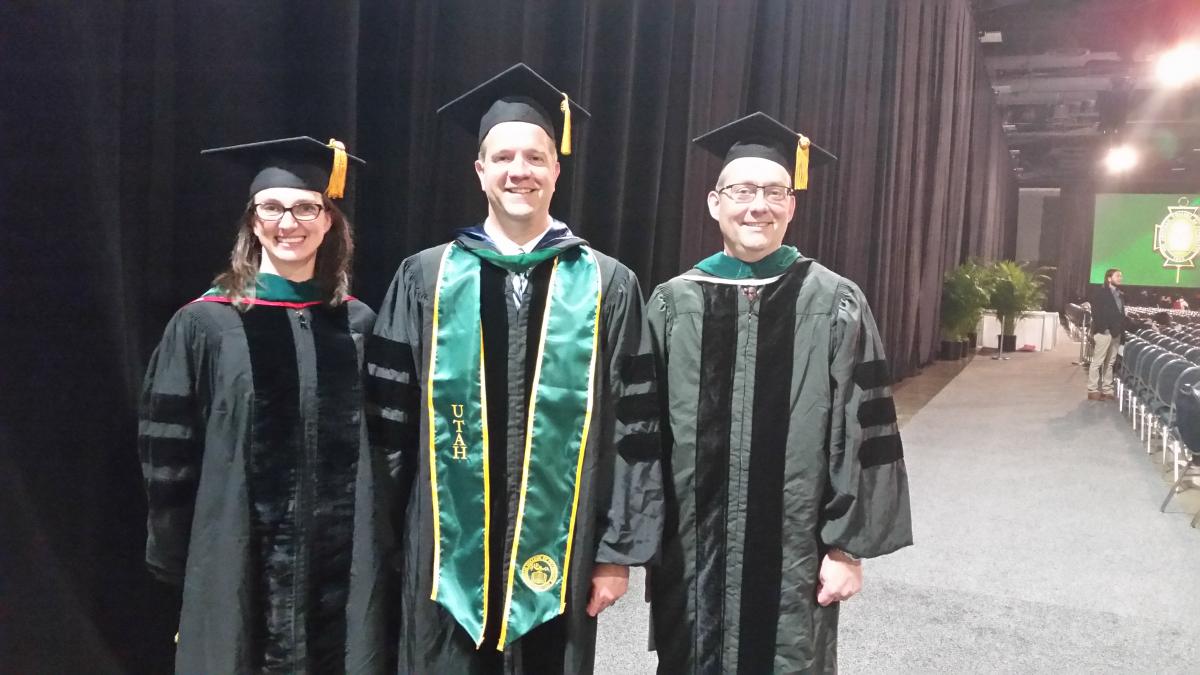 From left to right: Kencee Graves, MD FACP; Bob Pendleton, MD FACP; Darin Checketts, MD FACP.
This year IM2016 was held in Washington, DC alongside ACP's annual leadership day activities. ACP Services, Inc. holds an annual advocacy day on Capitol Hill. This event provides an opportunity for ACP and our members to increase our presence in Washington and bring visibility to issues of common concern. Participants receive a comprehensive orientation and briefing on ACP's top legislative priorities and then have an opportunity to meet with legislators and the staff on Capitol Hill.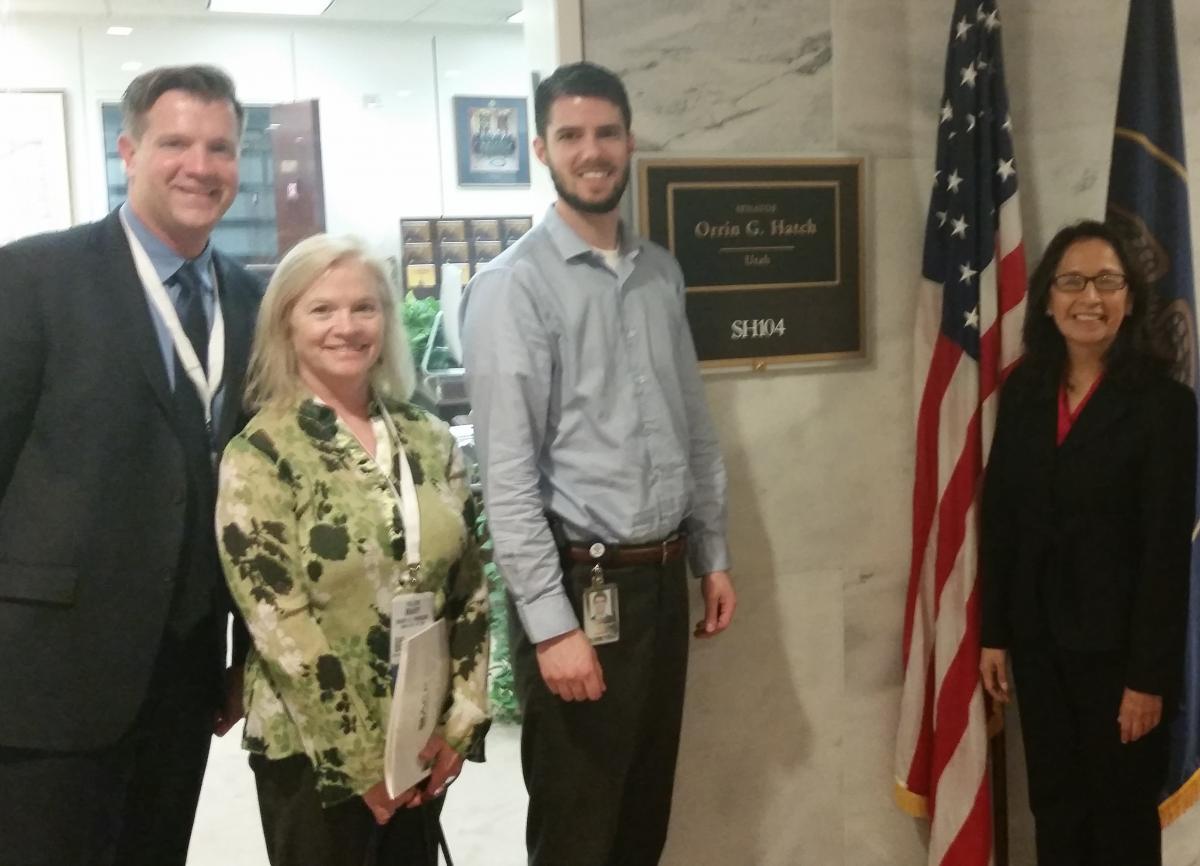 From left to right: Bob Pendleton, MD FACP; Mary Parsons, MD FACP; Matthew Richardson (Orrin Hatch); Ana Maria Lopez, MD FACP.
---
RESIDENTS & FELLOWS ACTIVITIES
Poster Competition
February, 2016 | Salt Lake City, UT | University of Utah Health Sciences Education Building

This is always a terrific event. Each year we have more and more participation; this year we had a record-breaking 24 entries into the competition; 17 clinical cases and 7 research. From those entries 4 outstanding posters (2 from each category) were selected as the winners for this year's competition. You can view a PDF of all the posters here.
POSTERS: CLINICAL
Elwen Bould, A Case of Ogilvie's, Or Not
Amanda Breviu, HHV-8-negative, idiopathic multicentric Castleman's disease
James Craven, Anterior Cutaneous Nerve Entrapment Syndrome- Often Present, Rarely Considered
Anees Duad, Chest Pain Without An Easy Answer -WINNER
Meng Gan, Role of Glyburide and Sitagliptinfor Insulin Independence in Relapsed 6q24 Transient Neonatal Diabetes Mellitus
David Gaston, A Malignant Delusion: Igor Meskovitch and the Deeper Diagnosis
Meghan Gaule, Short of breath and short of synthroid
David Gill, Hemoglobin Olympia – A Rare Presentation of "Acquired" Polycythemia -WINNER
Eric Johnson, Pathologic fracture found to be recurrent Phyllodes Tumor with spinal cord impingement
Adam Kilian, A Desquamating Pruritic Maculopapular Rash
Matt Lamont, Medical Management of Septic Dural Venous Sinus Thrombosis: A Case Report
Steven Miller, On the Highway to Rhabdomyolysis and Acute Renal Failure
John Morgan, Lymphomatoid Granulomatosis Masquerading as Comorbid Cellulitis
Tara Rachakonda, An Eyesore of a Rash
Austin Rupp, Vexing Vertigo
Vince Smith, A skin infection of the stomach wall?
Isabel VanDerslice, When Diagnosis is a Bear
POSTERS: RESEARCH
Kara Arnold Applegate, Cardiovascular Disease Risk and Glenohumeral Joint Pain: a Cross-Sectional Study
Josh Marr, Sepsis Recognition and Treatment in the Hospitalized Patient -WINNER OVERALL
Nichole Molin, Administration of Mesenchymal Stem Cells to Rats Improves Chronic Kidney Disease Induced by 5/6th Nephrectomy
Rachel Parbhu, Impact of Procalcitonin Measurement in Hospitalized Patients -WINNER
Aida Rezaie, Suppressive role of normal epithelium in pre-malignant to malignant progression of Barrett's esophagus
Kimberly Uchida, Mutational Activation of the MEK/ERK Pathway in Chronic Myeloid Leukemia
Tiffany Volden, Adapted Transitional Care Program Provides Reduction in Geriatric Veteran Admissions and Emergency Care Unit Usage
We are happy to announce Josh Marr, MD was our 1st place winner and will be invited to join our leaders at the 2017 ACP National Meeting to be held in San Diego, CA.
Thank you to all who entered and a special thanks to Darin Checketts, MD; Mary Parsons, MD; and John Sweetenham, MD for taking time out of their busy schedules to judge this event. Last but not least this event couldn't be done without the time and leadership devoted each year by Residents and Fellow Committee: Dr. Kencee Graves (Chair), Dr. David Glodowski, Dr. Rosane Fernandez, and Dr. Mark Kaeppler– thank you!
Clinical Vignette Competition
September 28, 2016 | Salt Lake City, UT | University of Utah Health Sciences Education Building
There will be another chance to win a trip to the 2017 ACP National Meeting in San Diego, CA at the Fall Clinical Vignette competition. Winners will be eligible for entry into the national competition held during Internal Medicine 2017 and will receive travel expenses to attend the meeting.
The clinical vignette competition is an opportunity for you to present a medical patient case that is an unusual presentation of a common disorder; or an uncommon disorder; or something you found very interesting.
Once we receive your vignette, it will be reviewed without your name by 3 Internists. Judging will be based on the interest of the case, the clarity of presentation, originality, and importance. Three abstracts will be selected for presentation at the ACP Utah Chapter Clinical Vignette Competition on September 28, 2016 at 5:30 pm. All 3 who present at the Vignette Banquet will receive a CASH PRIZE; the grand prize winner will receive travel expenses to present at IM 2017 in San Diego, CA.
Deadline for submissions is August 28th, 2016 at 11:59 PM – View instructions here.
Presenting a clinical vignette may count as your scholarly activity requirement for the Utah Internal Medicine Residency Program
Please contact Brittany Patterson with any questions. We look forward to seeing your submissions.
---
Nominate a Top Colleague!
Do you have a colleague who always goes out of the way to put his patients at ease or mentor new physicians? Maybe she solved a tricky throughput problem or led a safety initiative. If so, we'd would like to hear about it.
We're seeking candidates for our annual chapter awards ceremony to be held at our annual meeting February 10, 2017. The ceremony will recognize physicians who made notable contributions to the field in 2016, whether through exceptional clinical skills, patient safety, improved workflow, leadership, community involvement, quality improvement, or something else.
To suggest a colleague, please fill out our nominations form by December 30, 2016. The more nominations, the better! Thanks for your participation.
Laureate Award: The Laureate Award is designed to honor those Fellows and Masters of the College who have demonstrated, by their example and conduct, an abiding commitment to excellence in medical care, education, and research, and service to their community, their chapter, and the ACP.
Volunteerism & Community Service Certificate: This award is designed to recognize the work of members who are involved in volunteerism and community service activities.
Advancement to Fellowship (fast-track): ACP Fellowship is a mark of distinction from colleagues who recognize accomplishments and achievements over and above the practice of medicine. Fellowship honors those physicians who have made contributions to medicine, to their community, or to ACP. Fellows receive the same benefits as ACP Members, but also have right to hold office and sponsor applicants for Membership and Fellowship.
Advancement to Mastership: ACP Masters have been awarded this extreme honor after being nominated by their peers and then vetted through the Awards Committee for selection due to the excellence and significance of their contributions to medicine as well as their involvement in ACP. Masters are nominated for their for their personal character, positions of honor, contributions toward furthering the purposes of the ACP, eminence in practice or in medical research, or other attainments in science or in the art of medicine. A limited number of Masters are awarded each year.
---
HOT TOPICS
ACP Achieves Policy "Win" with Enactment of Opioid Legislation!
Congress has recessed for the summer, but before leaving it delivered a major legislative "win" on one of ACP's key advocacy priorities. The Comprehensive Addiction and Recovery Act (S.524), also known as CARA, passed both chambers by a resounding majority, and on a bipartisan basis, and the President signed it into law on July 22nd. See ACP's statement here.
ACP 2015-2016 Annual Report from the Executive Vice President
The American College of Physicians' 2015-2016 Annual Report of the Executive Vice President, an interactive review of the College's programs, initiatives, and accomplishments over the past fiscal year, is now available.
Browse ACP highlights from the past year, including information about clinical recommendations and policy papers, the High Value Care initiative, our advocacy efforts to represent your interests and needs and much more.
The report represents a snapshot in time and is an attempt to capture the breadth and depth and broad scope of activities and efforts the College is engaged in over this period of time. All of ACP's efforts are done in support of our mission: To enhance the quality and effectiveness of health care by fostering excellence and professionalism in the practice of medicine.
The report also includes a brief video message from Dr. Steven Weinberger, as he prepares to step down as ACP's Executive Vice President and CEO in September 2016.
Cognitive Behavioral Therapy Recommended as Initial Treatment for Chronic Insomnia
Cognitive behavioral therapy for insomnia should be the first-line treatment for adults with chronic insomnia, ACP recommends in a new evidence-based clinical practice guideline published on May 3 in Annals of Internal Medicine.