You are here
In This Issue Spring 2014
In This Issue Spring 2014

This is a quarterly newsletter intended to help inform Early Career Physicians in the Utah region of events and news that matter to them. An Early Career Physician is defined as anyone within 16 years of graduating medical school. More information.
---
---
Upcoming Event
Network and get to know other Early Career Physicians in Utah at our first Early Career Physicians Social. RSVP Today!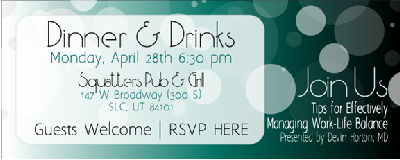 ---
Early Career Physician Resources
Check out the Early Career Physicians Corner Website
Please take a look at ACP's Early Career Physicians Corner website for things of interest to you, as well as tools to help you in your career.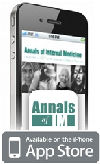 Free Annals of Internal Medicine IPhone/IPad App
This is a free Annals of Internal Medicine app for your iPhone/iPad. It allows you to:
View abstracts and link to full text of all articles from the current issue.
See which recent articles are creating the most buzz in the Popular tab.
Quickly access published clinical guidelines.
Listen to podcasts and watch videos covering the latest topics.
Read In The Clinic and ACP Journal Club articles.
---
Annals of Internal Medicine Teaching Tools
These are phenomenal resources to enhance your knowledge as well as use to teach other colleagues and trainees. Some modules are:
Annals for Educators - includes tips from the editors on ways to use selected articles from each Annals issue to help you in your teaching activities; alerts on Clinical Practice Points, Quality Improvement, Humanism and Professionalism, and a MKSAP Morning Report question derived from MKSAP 16.
High Value Care site - this allows access to a high value care curriculum, which is very important in the new cost-conscious/high value medical care era. Other resources, including In the Clinic series slides, etc.
---
Opportunities for Early Career Physicians
Become an Advocate for Internal Medicine

ACP's continued success on Capitol Hill greatly depends upon year-round grassroots support from the College's participants in the Advocates for Internal Medicine Network (formerly known as the "Key Contact Program"). Advocates e-mail, call, and meet with members of Congress on issues of importance to medical students, internists, and their patients and report the results back to ACP. To enroll as an Advocate, ACP members are not required to have existing relationships with their members of Congress-ACP provides the tools necessary to develop and maintain relationships. The program is open to all membership categories. More information.
Lobby for Health Care on Capitol Hill
ACP Services Inc. holds an annual advocacy day on Capitol Hill. This event will take place on May 21-22, 2014 in Washington, DC. It provides an opportunity for ACP and its members to increase their presence in Washington and bring visibility to issues of common concern. Participants receive a comprehensive orientation and briefing on ACP's top legislative priorities (Day 1) and then have an opportunity to meet with legislators and the staff on Capitol Hill (Day 2). For more information or speak with your local ACP Governor.
Become a Fellow of the American College of Physicians(FACP)!
Fellowship in the College is an honor. Being an FACP is a distinction earned from colleagues who recognize your accomplishments and achievements over and above the practice of medicine: personal integrity, excellence in Internal Medicine, professional accomplishment, and demonstrated scholarship and contributions made to both medicine and to the broader community in which the internist lives and practices. The application and criteria can be found here.
Follow periodical publications in addition to Annals and MKSAP:
If you have anything you would like included in the next issue of this newsletter or ideas to improve this in the future, please write to auron.moises@gmail.com. The next newsletter will appear during the summer. Additional information can be found on our website at this link.
---
ACP Internal Medicine 2014
Internal Medicine 2014 is fast approaching. This year it takes place in Orlando, Florida! You can register for the meeting. Here is a copy of this year's meeting brochure. Internal Medicine 2015 will take place in Boston, Massachusetts, April 30-May 2, 2015.

---
Members of the CECP - Utah Chapter
Megan J. Engelen, DO
Chair, Early Career Physicians
Utah Chapter
Dr. Megan J. Engelen is board-certified in Internal Medicine and a Fellow of the American College of Physicians. She received an undergraduate degree in Biology from Purdue University, followed by her medical degree from Kansas City University of Medicine and Biosciences in Missouri.
Dr. Engelen completed an Internal Medicine residency at New Hanover Regional Medical Center in Wilmington, North Carolina and then spent the next two years as a Hospitalist in South Carolina. She currently practices outpatient Internal Medicine at Internal Medicine of Salt Lake in Salt Lake City, UT. Her areas of interest include Cardiovascular Disease, Diabetes, and Health Maintenance and Prevention.
In her free time Dr. Engelen enjoys spending time with her husband Robert who is a Physical Medicine and Rehabilitation resident at the University of Utah, 4 year old daughter, Ella; and 2 year old son, Harrison. She enjoys running, road biking, hiking, skiing, and spending time outdoors.
**************************************************************
Devin Horton, MD
Early Career Physicians
Utah Chapter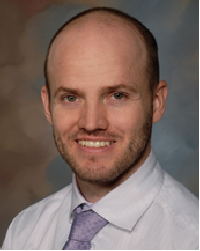 Dr. Horton received his MD from the University of Utah School of Medicine where he was Student Body President and received several awards for outreach to underserved communities. He received training in both Internal Medicine and Pediatrics from the University of Utah and Primary Children's Medical Center
As a Hospitalist and Clinical Instructor, he has particular interest in understanding and teaching the pathophysiology of the sick and hospitalized patient to medical students and residents while emphasizing the importance of sitting down at the bedside of the patient during rounds, to ensure the patient and their family is part of the medical team.
Dr. Horton has academic interests in understanding the evolution of physiology and pathology and how the mismatch of environment and phenotype leads to disease. He has particular interest in comparative physiology, endothelial biomedicine, and sepsis. Dr. Horton is also a writer and contributes columns to Hospitalist News, an independent monthly newspaper for specialists in hospital-based medicine.
If you've ever considered getting more involved with ACP you can learn more about joining our committee at the dinner event on April 28, 2014 or contact Brittany.patterson@hsc.utah.edu.