You are here
In This Issue January 2014
In This Issue January 2014

| | |
| --- | --- |
| January 2014 | Bob Pendleton, MD FACP, ACP Governor |
---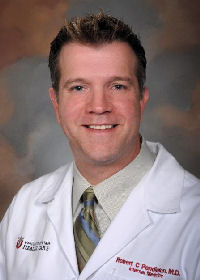 Greetings to all members of the Utah Chapter of the American College of Physicians:
We wanted to wish you the happiest of holiday seasons. The end of the calendar year marks a time of reflection and this past year the Utah ACP chapter has been vibrant and active. We have seen growth of our overall membership, recognition of excellence of numerous members through successful advancement to Fellowship in ACP, financial stability, and incredibly meaningful contributions by our members such as the Annual Scientific Session spearheaded by Dr. Kristen Ries and the Associates Poster competition led by Dr. Scott Woller. Further, I am excited about initiatives that the new year holds in store such as implementation of innovative approaches to ensure that ACP membership is most meaningful through efforts by the new chair of our Membership Committee, Dr. Galindo, the launch of our early career physician group by Dr. Engelen, and IM 2014 in Orlando Florida.
Healthcare continues to undergo transformative changes with the only certainty being a relentless push towards greater accountability for the value of care we provide to our patients. I am proud that ACP is positioned to be a leader in this movement and will be successful with the engagement and input by invaluable members such as yourself. We encourage you to participate through attendance of our 2014 national meeting in Orlando, our Utah Scientific Chapter meeting, and/or self-nomination to serve on one of our many committees outlined in this newsletter.
Thanks so much for all you do for ACP, and even more importantly for all you do in providing outstanding patient centered care to your patients. Happy Holidays!
---
Recap of Utah Chapter Annual Scientific Meeting
September 27, 2013, University of Utah Alumni Hall, Salt Lake City, UT
We had a wonderful Scientific Program this September. Bob Doherty, Senior Vice President of ACP Governmental Affairs and Public Policy was our keynote speaker and gave a great update on healthcare reform. All slides presented at the meeting are available online.
Dates for the 2014 Scientific Meeting will be announced soon.
---
Associates Annual Poster Competition
September 26, 2013, University of Utah Alumni Hall, Salt Lake City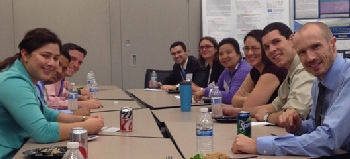 Dinner and social before the poster presentations.
Dr. Woller has put together another wonderful event. There were tremendous accomplishments achieved by our housestaff and medical students this year. A total of 16 posters highlighting fascinating cases seen at all 3 institutions, including 3 posters of original research were submitted.
The below is a list of individuals who submitted posters for the competition this year. The breadth of those participation this year including submissions by medical students, residents, IMC TY Residents, and Dr. Hannah Gaedtke, leading by example as Chief Medical Resident.
Jennifer Beckman, MD
Lucille Brunker, MSII
Kimberly Davenport MSII
Eric Fox MD
Hannah Gaedtke, MD
Verena Haringer, MD
Abdul Haseeb, MD
Scott Hollingshaus, MD
Mark Kaeppler, MD
Tommy Queen, MD
Craig Robison, MD*
Jennifer Springer, MD
Miguel Teixeria, MSIV*
Madeline Torres, MSIII
Khine Win, MD
First place winners were Miguel Teixeira, MSIV and Craig Robison, MD (Research). After much debate by our judges it was decided that Craig Robison would be the grand prize winner; Craig will be joining Adam Tinklepaugh, MD and our leaders to present their cases at the 2014 ACP National Meeting to be held in Orlando, Florida.
Thank you to all who entered and a special thanks to Nate Allred, MD; Linda Venner, MD; and Kristin Dascomb, MD for taking time out of their busy schedules to judge this event. Last but not least this event couldn't be done without the time and leadership devoted each year by Dr. Scott Woller, Utah Chapter ACP Resident & Fellow Committee Chairman - thank you!
Submissions for the spring clinical vignette competition will be opening in the coming months. Stay tuned for more information.
---
Hot Topics
Fall Resolutions
Ten resolutions were voted on at the 2013 Fall Board of Governors Meeting. See how our chapter responded as well as the outcome of each resolution from the meeting.
Increased Prescibing of Opioid Pain Relievers
The number of prescriptions filled for opioid pain relievers has increased dramatically, leading the CDC to identify prescription drug abuse a problem of "epidemic" proportions. To better equip physicians and other health professionals against this crisis, the National Institute on Drug Abuse offers two free online CMEs/CEs:
Safe Prescribing for Pain (1.25 credits) teaches the prevalence of prescription opioid abuse and explores ways to effectively screen for and prevent abuse in patients with pain.
Managing Pain Patients Who Abuse Rx Drugs (1.75 credits) identifies the prevalence of opioid addiction and dependence in patients with chronic pain, and assists health care providers in identifying emerging abuse behaviors.
---
We Want You! Call for Committee Members
Have you considered playing a more active role in ACP? Our chapter is expanding our leadership committees and we are looking for energetic, motivated internists to help us lead the Utah Chapter of the American College of Physicians into this new age of healthcare. Committees we need help on include:
Resident & Fellow
Medical Student / Internal Medicine Interest Group
Membership & Credentialing
Scientific Program
Early Career Physicians
If you are intersted in hearing more about serving on any of the commitees above please contact brittany.patterson@hsc.utah.edu.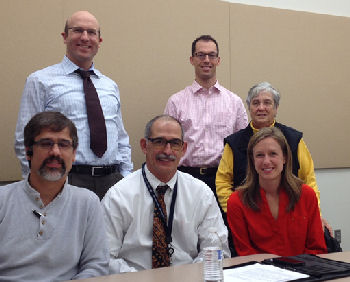 Strategic planning session, Fall 2013. From top left: Scott Woller, MD; Michael Galindo, MD; Tony Musci, MD; Doug Smith, MD, Megan Engelen DO; Kristen Ries, MD.
---
Recruit-a-Colleague
Through March 15, 2014
We invite you to recommend ACP memberhsip to your colleagues and earn a significant discount on your membership dues or even free membership!
If you recruit a new member between now and March 15, 2014 you will receive the following credit toward your 2014-15 dues:
$100 credit when you receruit one new member
$200 credit when you recruit two new members
$300 credit when you recruit three new members
FREE membership when you recruit four or more new members.
BONUS - For every member recruited within the promotional period you will also be entered into the grand-prize drawing for a trip to Internal Medicine 2015 in Boston, MA. That includes registration, airfaire (up to $500), and four days of hotel accomidations.
To be considered a "recruited" member, you colleague must:
Be a nonmember who is eligible for "full" ACP Membership or Physician Affiliate membership and pay $100 or more in dues.
Submit a membership application, along with his or her dues payment, between April 1, 2013 and March 15, 2014.
Write your name in the recruiter box on the top of the Membership application
Additional information available online.
Send a recruitment e-mail to a colleague today, or download and print an application to personally deliver.
---
Registration Open: Internal Medicine 2014
April 10-12, 2014