You are here
Greetings from the Governor
Greetings from the Governor

| | |
| --- | --- |
| June 2013 | Bob Pendleton, MD FACP, ACP Governor |
---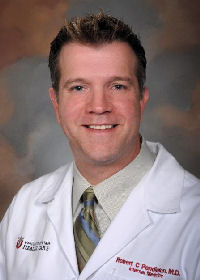 Greetings to all members of the Utah Chapter of the American College of Physicians:
I am privileged and humbled to serve as the Governor of the Utah Chapter of ACP. I strongly believe in the overall mission, goals, and values set forth by ACP. At a time of transformative change in healthcare delivery in the U.S., the mission of ACP and the collective voice of ACP members has never been so vital. Through your active voice and the guidance of our Utah ACP Chapter Leadership Council, we can help to lead effective change. I encourage you to be involved through email or phone communication, participation in our Chapter committees, and attendance at our annual scientific meeting.
I want to personally thank our outgoing Governor, Dr. Corwin Q. Edwards. Dr. Edwards has contributed enormously to the field of Internal Medicine, has guided and mentored hundreds of trainees and colleagues, and has provided exemplary leadership of ACP as our past Governor. He embodies the core values of ACP and I am grateful for his compassionate and effective mentorship this past year as he has oriented me to the role of ACP Governor.
Finally, I look forward to seeing you in person at our annual scientific meeting on September 27th from 8:00 AM to 4:00 PM at the University of Utah Health Sciences Education Building in Alumni Hall. We are fortunate to have a dynamite line up of timely speakers and topics. I encourage you to look at the agenda.
---
Recap of Internal Medicine 2013 Meeting
April 11 - 13, 2013, San Francisco, CA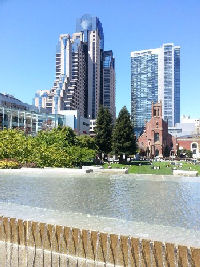 First and foremost I would like to congratulate those who were advanced to fellowship at the 2013 convocation ceremony; those from Utah include:
Evan Abel
Rahul Anand
Byron Bair
Jeffrey Booth
John Bowler
Cherie Brunker
John Christensen
Peter Crossno
Michael Galindo
Claudia Goulston
Reid Hales
Russell Hirst, Jr.
Lt Col David Houghton
Leslie Lenert
Menno Lont
Charles Mallender
Kent Meredith
Nicole Mihalopoulos
Anthony Musci
Don Neer
Virgil Parker
Robert Pendleton
Jason Penrod
Anne Perry
Amy Powell
Angelo Pulgiano
Larry Reimer
Natalie Sanders
Margaret Solomon
John Sweetenham
William Tettelbach
Jeffrey Twitchell
Fellowship in the College is an honor. It is a mark of esteem from colleagues who recognize accomplishments and achievements over and above the practice of medicine.
Craig Robison won the 2012 Associates Clinical/Research Poster competition in September for his clinical poster on Acromegaly which was presented at the 2013 national competition. He did an excellent job representing our chapter.
Ten resolutions were voted on at the 2013 Board of Governors Meeting. See how our chapter responded as well as the outcome of each resolution from the meeting.
---
Associates Annual Banquet & Clinical Vignette Competition
May 16, 2013, University of Utah Alumni Hall, Salt Lake City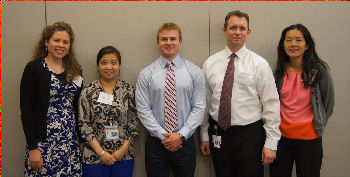 From left: Natalie Rodden, MD; Khine Win, MD; Adam Tinklepaugh, MD; Matthew Feurer, MD; Tian Zhang, MD
This is always a terrific event. This year we had a record-breaking 28 entries into the competition; from those entries 5 outstanding clinical vignettes were chosen to be presented:
Matthew Feurer, MD - Vertigo: Down the Rabbit (or Ear) Hole.
Natalie Rodden, MD - A Little Swelling Goes a Long Way
Adam Tinklepaugh, MD - Calcium Doesn't Do a Body Good
Khine Win, MD - When You Hear Hoof-beats, Why Think of Zebras?
Tian Zhang, MD - Of Mice and Men: A Story of Sin Nombre Hantavirus
The PowerPoint slides along with all the clinical vignette submissions and case briefs are available. The judging was very close this year but we are happy to announce Adam Tinklepaugh, MD was our 1st place winner and will be joining our leaders at the 2014 ACP National Meeting to be held in Orlando, Florida.
Thank you to all who entered and a special thanks to Leslie Lenert, MD; Jeff Miller, MD; and Chelsey Wells, MD for taking time out of their busy schedules to judge this event. Last but not least this event couldn't be done without the time and leadership devoted each year by Dr. Scott Woller, Utah Chapter ACP Associates Committee Chairman - thank you!
There will be another chance this fall to win a trip to the 2014 ACP National Meeting in Orlando! The Associates' & medical Students' Poster Competition will be held on Thursday, September 26 from 4:00 - 7:00. Winners will be eligible for entrance into the national competition held during Internal Medicine 2014 and will receive travel expenses to attend the meeting. Contact Brittany Patterson or (801)635-6921 for information about entering the competition.
---
Leadership Day on Capitol Hill
May 21 - 22, 2013, Washington, DC
Our chapter sent 3 representatives to Leadership Day this year: Jeffrey Robinson, MD; Kencee Graves, MD; & Swati Rao, MD. Thank you for taking time out of your busy schedules to represent our chapter!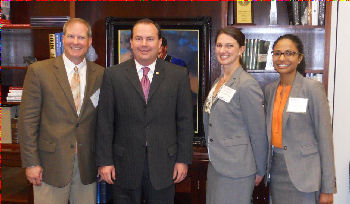 From left: Jeffrey Robinson, MD; Senator Mike Lee; Kencee Graves, MD; Swati Rao, MD
---
Utah Chapter Annual Scientific Meeting - Register Now!
September 26 - 27, 2013, Salt Lake City, UT
Don't miss out on the Utah Chapter Annual Scientific Meeting this September! Keynote speaker Bob Doherty - Senior Vice President or the ACP Governmental Affairs & Public Policy - will be providing a dynamic update on healthcare reform. See full agenda below and click to register!
Friday, September 27, 2013
7:30 AM - 8:00 AM - Registration and Seating
8:00 AM 8:15 AM - Welcome and Opening Remarks
8:15 AM - 9:00 AM - Update on Healthcare Reform
Robert Doherty
Senior Vice President
Governmental Affairs and Public Policy
American College of Physicians
9:00 AM - 9:45 AM - How Internists Can Improve Quality of Care
Robert Pendleton, MD, FACP
Chief Medical Quality Officer
Associate Professor of Medicine
Division of General Internal Medicine
University of Utah Medical Center
9:45 AM - 10:00 AM - Break (15 minutes)
10:00 AM - 10:45 AM - Wise Lipid Management: State of the Art 2013
Eliot Brinton, MD
Research Associate Professor of Medicine
University of Utah Medical Center
10:45 AM - 11:30 AM - Personalized Healthcare: The Value of an Enhanced Relationship
Beth Hanlon, MD, FACP
Adjunct Associate Professor of Medicine
Division of General Internal Medicine
University of Utah Medical Center
Kim Scott, MD
Internist Park City, Utah
11:30 AM - 12:15 PM - Lunch (60 minutes)
12:15 PM - 1:00 PM - Beta Blockers: Treatment for Cardiovascular Disease
J. Brent Muhlestein, MD, FACP
Professor of Medicine
Director of Cardiovascular Research
Intermountain Health Care
1:00 PM - 2:00 PM - New Drugs: Rheumatology
Allen Sawitzke, MD
Associate Professor of Medicine
Division of Rheumatology
University of Utah Medical Center
2:00 PM - 2:15 PM - Break (15 minutes)
2:15 PM - 3:00 PM - Current Topics in Antibiotic Use
Bert Lopansri, MD
Associate Professor of Medicine
Division of Infectious Disease
Intermountain Health Care
3:00 PM - 3:45 PM - Choosing Wisely in Advanced Illness
Michael Galindo, MD, FACP
Medical Director Palliative Care, Hospice, & Medical Home
Adjunct Assistant Professor of Medicine
Division of General Internal Medicine
Intermountain Health Care
Meg Randle, GNP-BC, ACHPN
Clinical Coordinator
Palliative Care Consultation Team
Intermountain Medical Center
3:45 PM - Closing Remarks and Adjourn
Kristen Ries, MD, MACP
Professor Emerita of Internal Medicine
Division of Infectious Diseases