You are here
Governor's Newsletter February 2016
Governor's Newsletter February 2016

---
In this Issue:
---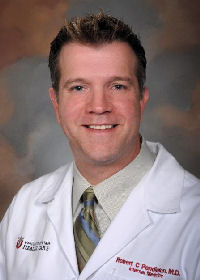 Robert C. Pendleton, MD, FACP, ACP Governor
---
Greetings to all members of the Utah Chapter of the American College of Physicians
I hope that you and your families had a wonderful and safe Holiday Season. It is hard to believe that 2016 is already well underway- a year that holds great promises to be an incredible one! I wanted to provide a brief update of activities already well underway:
Our annual Scientific Meeting will be February 26-27 and a detailed summary can be found below. I encourage all of you to attend. This meeting is an opportunity to connect with each other, to earn MOC and/or CME credit and to celebrate two of our distinguished colleagues- Dr. Kristen Ries and Dr. Scott Woller. I hope that you will join us for this exciting meeting and celebration.
ACP Internal Medicine 2016 meeting will be in Washington, DC from May 3 - May 7. As always, this will prove to be an invaluable and incredible program. You can register. We hope to see you there.
Also, changes in the national healthcare landscape continue to unfold. The details of the new CMS provider payment legislation (MACRA) will become clear in the coming months. I encourage you to pay particular attention to ACP resources to help you stay ahead of these changes.
Lastly, your Utah ACP leadership council is committed to enriching your professional practice through ACP. We welcome your thoughts, comments, and interest. It remains a privilege to be able to serve as the Governor of the Utah ACP Chapter.
Warmest Regards,
---
Utah Chapter Annual Scientific Meeting
February 26 – 27, 2016 | Salt Lake City, UT | University of Utah Guest House
The Utah Chapter Annual Scientific Meeting is coming up quickly. If you haven't registered yet, be sure to check out the wonderful sessions our committee has lined up. Here are just a few of them:
Payment Reform to Drive High Value Care
Robert Pendleton, MD FACP, Chief Medical Quality Officer, University of Utah Health Care
ACP successfully lobbied congress to repeal the SGR so that physicians are not faced with large cuts to their Medicare payments. This was an important achievement, but now what? On January 1 2017 we will have to meet new requirements that align physician payments with the delivery of high value care. Don't miss this important update to learn more about what you and your practices need to be doing to prepare.
Hospital Medicine Newsflash
Joshua LaBrin, MD FACP, Hospitalist, University of Utah Health Care
The past year provided significant findings that can help you care for your hospitalized patients. Are you wondering what the most important articles related to inpatient medicine were last year? Please join us to review some of the top articles in hospital medicine for 2015.
Keynote: Less Medicine/More Health
H. Gilbert Welch, MD MPH, Professor of Medicine, Dartmouth Institute for Health Policy & Clinical Practice
For the past two decades, Dr. Welch's research has focused on the problems created by medicine's efforts to detect disease early: physicians test too often, treat too aggressively and tell too many people that they are sick. Registrants will receive a signed copy of Dr. Welch's book 'Less Medicine, More Health'.
Physician Wellness & Mindfulness Workshop
Ana Maria Lopez, MD MPH FACP, Associate Vice President for Health Equity & Inclusion, University of Utah Health Care
Join our local wellness champion, Dr. Ana Mara Lopez, to learn about physician wellness and mindfulness workshop. Take the Mini Z burnout survey – responses will be used during this session.
Primary Care Newsflash
Erik Riessen, MD FACP, Internist, Intermountain Health Care
As clinical evidence continues to be published, Dr. Riessen will try to present a combination of contemporary must-know landmark trials, clinical pearls that may fly under the typical radar, or cautionary tales of publications with much hype, but limitations that may be overshadowed by marketing or pop culture portrayal.
Rheumatology: The Challenges of Biomarkers and Structured Care for Rhematic Disease
Tracy Frech, MD
In this session, Dr. Frech will discuss rheumatoid arthritis and systemic sclerosis as examples of the challenges and opportunities for applying biomarkers and structured treatment algorithms to rheumatic disease. Attendees will learn how a cost-effective physical exam and laboratory approach to rheumatic disease best guide management.
High Value Care Cases
Kencee Graves, MD, Hospitalist, University of Utah Health Care & Nathan Allred, MD, Internist, Intermountain Health Care
ACP's High Value Care (HVC) initiative is a broad program that connects two important priorities for the College: 1) Helping physicians to provide the best possible patient care and 2) Simultaneously reducing unnecessary costs to the healthcare system. This session is also eligible for 13 ABIM MOC Part II Points. Learn more.
Resident and Medical Poster Competition
Browse 25 clinical vignette and research posters. 10 posters will be chosen to present. Enjoy drinks and hors d'oeuvres while browsing poster & mingling with colleagues.
See the full meeting agenda.
You won't want to miss this - register today!
---
Resolutions
Spring 2016 – Feedback Request
Fourteen (14) resolutions will be heard at the Spring 2016 Board of Governors (BOG) Meeting in Washington, DC. Please review each resolution and then indicate your support or opposition by completing the brief survey form by Monday, April 11.
---
Clinical Vignette Competition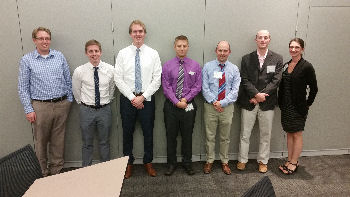 The clinical vignette competition was held on Tuesday, September 22, 2016. A total of 16 clinical vignettes highlighting fascinating cases observed at University Hospital, VA Medical Center, and Intermountain Medical Center were submitted.
The below is a list of individuals who submitted posters for the competition this year. The 4 individuals selected from a very competitive pool who presented their Clinical Vignettes were:
Atrial Chorionic Gonadotropin by Wade Brown
Black Ears After a Binge by Jason Carr
A Woman With Nausea, Vomiting, and Intermittent Urticaria by Russell Johnson
Time = Brain: Code Stroke Leads to a Near Miss by David Gill
The winning presentation was submitted by Andrew Justice, PGY4, Med/Peds, who presented his case, A Curiosity of Calcium. Dr. Justice will join our leaders at the 2016 ACP National Meeting to be held in Washington, DC.
Abstracts Submitted by Housestaff, Fellows, & Medical Students
The Hypertensive-Hypotensive Dilemma | Jason Allen, MD [R3]
For the Love of Gardening |Jeffrey Bank, MD [R1]
Atrial Chorionic Gonadotropin | Wade Brown, MD [R2]
Black Ears After a Binge | Jason Carr, MD [R2]
When in Doubt, Punch it Out | Meghan Cirulis, MD [R2]
No small problem | Nate Cook, MD [R3]
If Cancer Wasn't Enough… | Anees Daud, MD [R2] 7
Time = Brain: Code Stroke Leads to a Near Miss | David Gill, MD [R2]
Maybe this Time it is Lupus? | Jeffrey Halleck, MD [R3]
PT Eval and Treat | Brad Henriksen, MD [T]
A Woman With N/V and Intermittent Urticaria | Russell Johnson, MD [R3]
A Curiosity of Calcium | Andrew Justice, MD [R4]
Blue Times Two | Brad Morris, MD [R3]
Mysterious Anasarca | Austin Rupp, MD [R2]
Just Another Case of Gastroenteritis? | Emily Signor, MD [RI]
Platelets, Proteinuria, & the Principle of Parsimony | Andrew Walker, MD [RI]
Here is a copy of the Clinical Vignette Booklet.
Congratulations to all who submitted for the 2015 ACP Utah Chapter Clinical Vignette Competition and a special thanks to Ryan Bender, MD; Paul Eleazer, MD; and Mary Suchyta, MD for taking time out of their busy schedules to judge this event. Last but not least this event couldn't be done without the time and leadership devoted each year by Residents and Fellow Committee: Dr. Kencee Graves, Dr. Scott Woller, Dr. Julianna Desmarais, and Dr. Mark Kaeppler – thank you!
Our Residents and Fellows committee hosts two annual competitions with the winners from each being eligible for entry into the national competition held during the Spring Internal Medicine conference. Winners are automatically accepted into the competition and will receive a travel stipend to attend the meeting (location varies by year). The next competitions are:
February 26 – Poster Competition: The Medical Student and Resident/Fellow Poster Competition will coincide with the annual Utah Chapter Meeting February 26-27, 2016. All trainee members are encouraged to submit research, clinical vignette, or quality improvement posters for the competition. The call for abstracts has closed. All ACP members are welcome at the competition.
September 2016 – Clinical Vignette Competition: Exact date TBD. ACP Medical Student and Resident/Fellow members are encouraged to submit a clinical vignette about a patient they have found interesting. Three finalists will be chosen to present their vignettes during a dinner event on a weekday evening in September 2016. More information will be coming soon.
Contact Brittany Patterson for information about the competition.
---
Early Career Physicians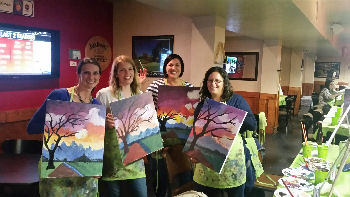 From left to right: Kencee Graves, Sonja Raaum, Christy Oberg, Karli Edholm
The Early Career Physician Committee hosted a fun Paint Nite social event in October, 2015. The Early Career Physician events are a great opportunity to network with colleagues, enjoy food and drinks, and have fun! Stay tuned for details on the next event for Early Career Physician (defined as within 16 years of graduation from medical school). Have an idea for a fun event? Let us know by sending an email.
If you've ever considered getting more involved with ACP you can learn more about joining our committee by contacting Brittany.
---
Hot Topics
ACP Guideline on Generic Drug Use
According to a new ACP guideline, "Improving Adherence to Therapy and Clinical Outcomes While Containing Costs: Opportunities From the Greater Use of Generic Medications: Best Practice Advice From the Clinical Guidelines Committee of the American College of Physicians," all clinicians should prescribe generic medications whenever possible as a way to improve adherence to therapy and clinical outcomes while containing costs. ACP looked at how often brand name drugs are used when generic versions are available, how the use of generics influences adherence, whether brand names and generics have similar clinical effects, the barriers to increasing the use of generics, and strategies that can be used to promote greater use of generics. Read the full article.
ACP and Consuer Reports Release New Series of Patient-Centered Articles on Health Topics
ACP and Consumer Reports have collaborated on a series of High Value Care resources designed to help patients understand the importance of seeking appropriate care in order to maximize value and live a healthy life. Topics include: the importance of adult immunizations; how to manage your health by knowing your numbers such as blood pressure and which health screenings to get: and the most appropriate setting to seek care when you're sick or healthy. For a complete list.
ACP Workshop - Teach and Assess High Value Care and Quality Improvement Activities
Today, clinical educators are expected to practice and demonstrate high-value care while simultaneously training future physicians to do so. However, many educators lack the knowledge and experience required to mentor trainees in this new skill.
ACP will host an opportunity to gain new strategies to teach, implement, and supervise value-based quality improvement activities in a rigorous way. Participants will be able to earn CME credits. Continue reading.
Utah Million Hearts Initiative
Million Hearts® is a national initiative to prevent 1 million heart attacks and strokes by 2017. Million Hearts® brings together communities, health systems, nonprofit organizations, federal agencies, and private-sector partners from across the country to fight heart disease and stroke.