You are here
Tennessee Governor's Newsletter June 2016
Tennessee Governor's Newsletter June 2016

---
---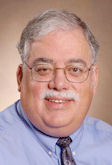 Richard G. Lane, MD, FACP, ACP Governor
---
From the Governor
Welcome to the Spring newsletter. Hard to believe I am now into my fourth and final year as your Governor. Hopefully I have represented you well and achieved my goal of keeping you informed on actions affecting Tennessee Internists and conveying your concerns to national. This issue contains several advocacy items including state legislative concerns addressed with our governmental affairs resources at TMA, national concerns which out Tennessee contingent addressed at Capitol Hill on Leadership Day with ACP and a report from the Board of Governors including actions on resolutions, MOC, MACRA, and strategic plan priorities for 2016-2017. A summary with pictures of Internal Medicine 2016 activities including recipients of awards, advancements to fellow, resident participation in posters and doctor's dilemma, as well as information on Dr. Tracey Doering your new Governor-elect. In preparation for our statewide annual meeting this fall I have added a call for awards and accolades. It is important that membership recognize outstanding physician colleagues for the career accomplishments they have earned. Lastly I have added a section on some of the myriad free resources as members you have access to as well as a reminder of upcoming events over the next year. Thank you for the continued privilege of serving as your Governor.
---
TNACP Literature in Medicine Reading Retreat
Our retreat this year occurred March 4-6 at Fall Creek Falls and was the 29th. It was facilitated by Gregory O'Dea, PhD and organized by Mark Anderson, MD, FACP. As you may recall from my December newsletter Dr. O'Dea was the recipient of the ACP Nicholas E. Davies Memorial Scholar Award for Scholarly Activities in the Humanities and History of Medicine. He received this award at the Convocation. As the recipient of this award he gave a presentation at ACP Internal Medicine 2016 entitled "the Falling Man."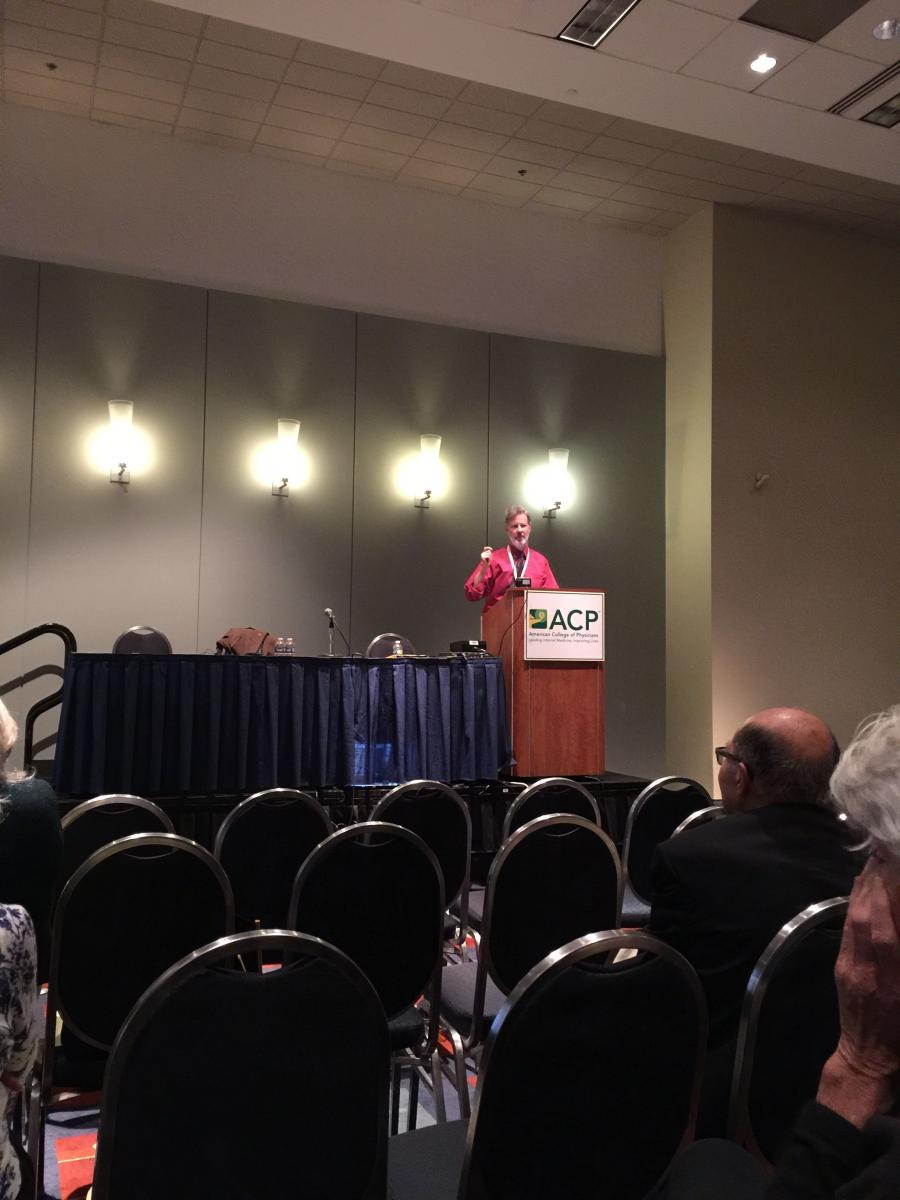 Greg O'Dea presenting "The Falling Man" at ACP Internal Medicine 2016
Also in the newsletter Dr. Anderson was cited as recipient of our 2016 Laureate Award.
The theme for this conference was "Apocalypse Now: Ethics at the End of the World." People have faced abrupt and violent disruptions of their "world" as long as civilizations have existed. At present, Syria and Eastern Ukraine provide stark examples. Most recently Japan has suffered another devastating earthquake. For those who say such is unlikely in our stable United States, the 10-year anniversary of Katrina reminds us even the most settled places can suffer catastrophic interruptions of lives. When such events happen, we physicians will be looked to for not just our medical expertise but also as leaders of efforts to survive and recover. We really need to prepare more than everyone else. Reading accounts of worlds going awry, both real and fictional, can help us to begin to consider what we would do and how we should prepare. These accounts can be traumatic to experience but it is just as important that we consider them as it is we consider and learn to deal with tragic events in the lives of our individual patients.
The works included: Five Days at Memorial by Sheri Fink; Hiroshima by John Hershey; The Children of Men by P. D. James; The Handmaid's Tale by Margaret Atwood; Falling Man by Don DeLillo; and The Road by Cormac McCarthy.
The venue over a late winter weekend at a state park allows not only an opportunity for CME but time to relax and spend time with family. I would particularly encourage participation from early career physicians as this is a break from traditional medical knowledge accumulation of the usual CME meetings or MKSAP modules and children love being at the state park. Next year's Reading Retreat will be Friday evening March 3 through Sunday morning March 5, 2017. I would suggest contacting Connie Reece, reservationist, Fall Creek Falls Inn (1-800-250-8610) and mention you will be attending the ACP meeting now as there are limited rooms. Cabins, if you are bringing friends or family, are particularly hard to get. Dr. Anderson mails out the announcement to register for the meeting with book selection and theme in the fall and I will also put a reminder in the newsletter. Additional questions regarding the Reading Retreat may be emailed to Mark.
---
Advocacy
Tennessee Political Scene
The AMA in their advocacy blog earlier this year listed 4 issues physicians will take to their state legislatures in 2016: 1. Ensuring physician-led team based care; 2. Improving patient health; 3. Reducing prescription drug abuse and overdose; and 4. Managed care and payer issues. As you recall, ACP came out with a position paper in the Annals of November 3, 2013: Principles Supporting Dynamic Clinical Care Teams: An American College of Physicians Position Paper.
I provided background as a participant of the Tennessee Medical Association's task force on Physician Lead Team-Based Care. This resulted in a proposed bill to the 2016 Tennessee General Assembly entitled The Tennessee Healthcare Improvement Act to oppose a bill from the Tennessee Nurse's Association entitled The Nurse Independent Practice/ Full Practice Authority. These bills currently are off notice being handled by a study group this summer to come back to the legislature early next year.
One of ACP/TNACP's concerns on improving patient health has been improving access. At the state level Medicaid a.k.a. Tenncare expansion has been blocked. Governor Haslam worked for about 18 months developing a tiered system to use federal Medicaid funding to expand health insurance coverage called Insure Tennessee. In 2015 it was killed in subcommittee and never made it to either floor for a vote. While it continues to surface in news articles it hasn't gained any additional traction. Speaker of the House Beth Harwell (R-Nashville) at the end of the legislative session formed a "3-star Health Project" task force to explore alternatives to the governor's plan. For the most recent update see the article appearing in the Tennessean of May 28, 2016.
National Political Scene
I won't belabor what is going on with national politics as most of us have watched some or all of the Presidential debates. Now that the Democratic and Republican candidates seem to be selected hopefully we will see more focus on issues and not character assassinations. ACP has suggested some issues to focus your attention on when the two final candidates begin to debate and will continue to update a breakdown on where the candidates stand on these issues.
The AMA Wire January 7 of this year listed the Top 9 Issues that will affect Physicians in 2016.
Several of these are the exact issues ACP had prioritized and were the issues advocated by your delegation at Leadership Day this year. (See Leadership Day 2016 article below.)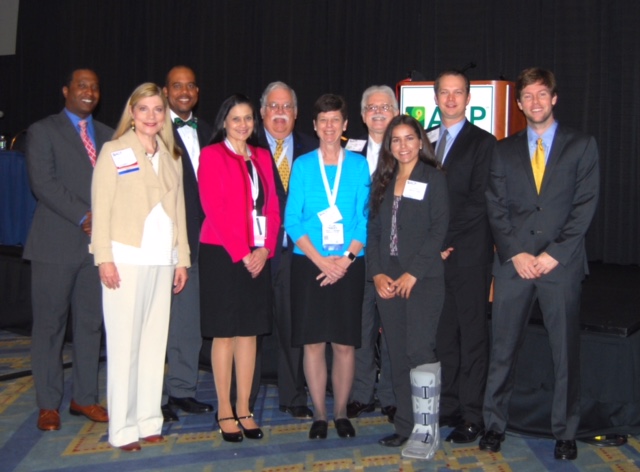 ---
TNACP at MedTenn 2016
Your ACP Tennessee Chapter was represented at MedTenn 2016 at the Embassy Suites in Murfreesboro (April 28-May1) in several venues. We had a Governor's Council meeting Friday morning April 29 during which we reviewed the strategic plan, had reports from the various committees and reviewed plans for the upcoming annual fall meeting. Our website was updated along with the update to ACP's website. For those who may not have visited us, click here.
Click on About the Tennessee Chapter, then click on Chapter Governor's Council. If you have concerns you want brought to our attention, you can directly contact a Council member from your region that you may know or contact me through our executive director.
As part of our educational efforts statewide we provided two CME events eligible both for category AMA I credits (4 hours) and 20 MOC credits. James Lewis, MD, MACP presented an ABIM module on "Update in Hospital Medicine" and Catherine Clarke, MD, FACP, the other half of our Lewis and Clarke ABIM tag team, presented an ABIM module on "Update in Internal Medicine."
Drs. Fred Ralston, Tracey Doering, and Richard Lane represented TNACP in the House of Delegates. In addition, Dr. Bob Vegors as a TMA Board member and liaison to ACP was in attendance as well. For the final actions of the House of Delegates visit the TMA website.
I would bring your attention to Resolution No. 16-16 HOD Action. Adopted as Amended Title: "Maintenance of Certification (MOC) and Licensure (MOL) VS Board Certification, CME and Lifelong Commitment to Learning Author: Karin M. Covi, MD, Chattanooga-Hamilton County Medical Society.
The following are the specific resolves in this resolution dictating the course of action the delegates on behalf of the membership are asking the Board of Trustees and leadership to take;
RESOLVED, That the Tennessee Medical Association oppose efforts by American Board of Medical Specialties and the Federation of State Medical Boards to require physicians to meet the mandates imposed by Maintenance of Certification and Maintenance of Licensure as conditions of employment, licensure, reimbursement or professional insurance coverage; and be it further RESOLVED, That the Tennessee Medical Association continue to support reasonable lifelong continuing medical education and lifelong specialty board certification requirements as determined by the physician him/herself; advocate against time-limited specialty medical board certifications; and oppose discrimination against physicians who are not certified or are certified and choose NOT to engage in corporate re-certification programs labeled as "voluntary" by the specialty medical boards; and be it further
RESOLVED, That the Tennessee Medical Association seek the adoption of policy and legislation in Tennessee that will prohibit discrimination by any hospital or employer, state medical licensing board, insurer, Medicaid, and other entities, which might restrict a physician's right to practice medicine without interference (including discrimination by varying fee schedules) due to lack of certification, lack of participation in Maintenance of Licensure, Maintenance of Certification or other time-limited board certification; and be it further
RESOLVED, That the Tennessee Medical Association's American Medical Association delegation submit a resolution to the AMA House of Delegates to adopt as its policy, to oppose discrimination by any hospital or employer, state board of medical licensure, insurers, Medicare, Medicaid, and other entities, which results in the restriction of a physician's right to practice medicine without interference (including discrimination by varying fee schedules) due to lack of certification or participation in a Maintenance of Licensure, Maintenance of Certification, or time-limited board certification.
The marching orders at the state level are quite similar to ACP's policy. While lifelong continuing medical education is the expectation of a physician, regulations and mandates that create unnecessary barriers to patient access to care need to be opposed.
---
Report from Board of Governor's Spring 2016
Prior to Leadership Day 2016 and Internal Medicine 2016 as your chapter Governor and grassroots representative to the national organization I met with the Board of Governors (BOG). As an added bonus Dr. Tracey Doering, your Governor-elect, attended with me. Each class of 4 year Governors meet for breakfast to discuss what we have done at the chapter level the preceding 6 months and any concerns to bring to the Board of Regents (BOR) , the actual governing body of ACP. I am the Class of 2017, meaning my term ends following the annual meeting in 2017 and Dr. Doering's will be the Class of 2021.Hard to believe 3 years has already flown by, 4 years if you count one year as Governor-elect. Due to the full week of activities we started with Monday afternoon with ACP updates
---
CEO Remarks – Dr. Stephen E. Weinberger
Presented and updated on ongoing ACP discussions with ABIM and ongoing changes in maintenance of certification (MOC). Attached is a link to ACP Internist of May 7; however it is likely additional updates will occur before you get this newsletter.
In addition, he commented on physician satisfaction with practice and things ACP has been doing to prevent physician burnout, high value care initiatives, workforce issues, various position papers released by ACP appearing in the Annals of Internal Medicine over the past year. the increased international presence of ACP, and meeting the various educational needs of practicing physicians including POC tools like DyneMed. Later in the week at the annual business meeting recognizing he was stepping down as CEO for ACP this September he outlined the ACP Priorities for 2016-2017 which he will be actively engaged along with Dr. Darilyn Moyer as she transitions in as the new CEO.
Priority Initiatives: The ACP Board of Regents identified the seven initiatives below (in no particular order) as particularly high priorities for FY 2016-17, in addition to other projects and operations, and expects time and financial resources to be allocated to support progress.
Continue to advocate for timely reforms to ABIM's MOC process that increase the value and reduce the burden of the process.
Facilitate the transition to value based payment and new delivery models by a. developing resources to prepare members, their practices, and their health systems for success in such models; b. addressing one-demand care and its implications, including remote care delivery, increased expectations for instant access, and the impact on the patient/physician relationship; c. facilitating effective team-based care; d. engaging patients/families; and e. advocating for payment systems that appropriately support innovative delivery models.
Increase ACP's role and critical input as a national leader in optimizing performance measurement, focusing on improving measure development, evaluation, harmonization and implementation.
Expand ACP's work in reducing the cost of healthcare through a. promoting efficient and effective practice design, care delivery and coordination of care; b. reducing unnecessary hospitalization, readmissions and emergency room visits through better ambulatory care models for managing chronic illness, including effective use of team-based care; c. advocating for reducing overpriced pharmaceuticals; d. emphasizing high value care in guideline development; e. developing educational programs to reduce low value, marginally beneficial care; and f. increasing transparency about costs, including out-of-pocket expenses.
Increase the number and engagement of ACP members by a. elevating awareness of ACP among healthcare delivery organizations, practices, and the physicians they employ and determining how ACP programs and products can address their needs; and b. creating innovative national/chapter partnerships and local outreach to academic centers and systems.
Help ACP members experience greater professional satisfaction and fulfillment by a. promoting resilience and practice efficiencies; and b. advocating for change in the underlying causes of dissatisfaction.
7. Expand approaches to delivering information and education in mobile and engaging formats that are available at key points of need.
---
Transforming Clinical Practice Initiative (TCPi) – Cynthia (Daisy) Smith, MD, FACP
To assist ACP members as they transition into new payment models under the MACRA legislation, ACP has received funding from CMS for a Transforming Clinical Practice Initiative. The intent is to help physicians achieve large-scale health transformation to improve patient care quality in a cost-effective fashion. ACP is working in Tennessee with a focus on small group practices who otherwise don't have the resources to achieve this type of transformation on their own. The point person at ACP is Daisy Smith, MD. Additional information is available at here. For those of you not familiar with MACRA, this is the legislation that replaced SGR (Sustainable Growth Rate) in 2015 and dictates future physician reimbursement from Medicare and Medicaid (TennCare) and ultimately private insurers. Click here for ACP's two-page overview.
In addition, there is a website for ACP's MACRA resource center.
---
Mr. Robert Doherty, SVP, Governmental Affairs and Public Policy
Bob is the consummate master of the Washington political scene regarding health policy. He provides a succinct overview of the Quality Payment Program outlined by MACRA (Medicare Access and Chip Reauthorization Act of 2015). Currently we are at a fixed annual increase of 0.5% from CMS until 2019 when positive or negative adjustments of increasing amount will affect our reimbursement of federally funded patients. Most of us will be reimbursed under a Merit-based Incentive Payment System (MIPS) which starts adjustments to provider's base rate of Medicare Part B payment plus or minus 4% in 2019 but increases to plus or minus 9% by 2022. Some of us may be in Alternative Payment Models such as Patient Centered Medical Homes, Alternate Care Organizations, myriad other acronymed models , or the newest kid on the block – Comprehensive Primary Care Plus initiative (CPC+). This is too complex to detail here and is likely to change significantly over time as the new reimbursement models evolve, however, I have provided access to the superb overview by Bob Doherty.
Also I would recommend Bob's bi-weekly ACP Advocate newsletter:
---
Resolutions Spring 2016
As your Governor I solicit input from your council on proposed resolutions in advance of each semi-annual BOG meetings. My role is that of a two-way street. I provide your input to the BOG as provided through your council and through the resolution process hopefully your concerns get addressed. Through my newsletter I then report back to you the actions taken by the BOG.
BOG Action on Spring 2016 Resolutions: Recommendations to the Board of Regents RESOLUTIONS Posted on May 10, 2016
At its May 4, 2016, Business Meeting, the Board of Governors (BOG) voted on the recommendations below for spring BOG resolutions (view the resolved clauses) .
Keep in mind that the BOG recommendations are not final and are subject to change by the ACP Board of Regents upon their review. A summary of the BOR's actions taken at their May 7th meeting will be posted shortly which will provide the final disposition of the spring BOG resolutions.
BOG Recommended for Adoption:
4-S16. Advocating for Removal of Tobacco Products and Tobacco Control Measures from Any Trade Negotiations
6-S16. Advocating for Inclusion of "Stop" Orders in Certified Electronic Health Records (EHRs)
BOG Recommended for Adoption as Amended:
1-S16. Working with Other Organizations to Assess Systems for Assuring that Internists Continue to Provide Safe and Effective Patient Care
5-S16. Advocating Against "Cold Call" Pharmaceutical and DME Retailing
13-S16. Taking Concrete Action in Support of the Concerns Expressed in 4-S13, "Supporting the Provision of the Medicare Annual Wellness Visit only by Clinicians Providing Longitudinal Care"
BOG Recommended for Adoption as a Substitute Resolution:
3-S16. Assuring Physician Representation on Healthcare Systems' and Health Insurers' Governing Boards
BOG Recommended for Adoption as a Reaffirmation:
11-S16. Increasing the Transparency and Completeness of Clinical Trial Results when Presented to the Media
12-S16. Clarifying the Meaning of High Value Care to Other Organizations
14-S16. Advocating for Cost Transparency
Referred for Study and Report Back to the BOG:
2-S16. Discouraging Formation of New For Profit Medical Schools
8-S16. Seeking Willing Provider Legislation to Improve Access to Care
9-S16. Supporting the Expansion of Medicare as a Means to Create a Single-Payer Insurance System for Those Uninsured Excluded by the Affordable Care Act
10-S16. Supporting the Expansion of Medicaid and Health Care Marketplaces for Non-Citizen Residents of the United States
Not Recommended for Adoption (not forwarded to the Board of Regents):
7-S16. Calling Upon the Office of the National Coordinator of IT to Improve the Clinical Utility of EMRs so that Clinicians Can Provide Optimal Patient Care
Additional detail of the exact wording of the resolutions may be accessed here.
---
Leadership Day May 3-4, 2016
Leadership Day enjoyed robust attendance this year as it was held in conjunction with ACP's Internal Medicine 2016 in Washington, D.C. ACP does a great job assisting both in educating your delegates how to speak with your legislators but also in providing talking points on key legislative priorities for Internal medicine. Areas of concern included chronic care management, health information technology, telemedicine, behavioral health and opioid abuse, prescription drug costs, and graduate medical education. (Check out this website for our key legislative priorities). )
Since the legislature wasn't in session during the time frame we visited, instead of the usual 5-10-minute breeze in breeze out sessions with the legislators and their health care aides, on average we had 30 minute sessions. It was encouraging to discover that the health care aides, none of whom seemed to be over 30 years of age, had been well versed by our ACP legislative advocates and were familiar both with ACP and our wants. Your advocacy delegation included council members, residents and students: Dr. Richard Lane—Governor, Dr. Tracey Doering—Governor-elect, Dr. Robert Vegors—chair health and public policy committee, Dr. Ryan Mire—secretary-treasurer, Dr. Catherine Womack—council, Dr. Mukta Panda—council, Dr. Stephen Juel—resident UTHSC Memphis, Dr. Ben Maddox—resident UT Baptist/STH Nashville, Mr. Craig Washington—Meharry student representative TNACP council and president-elect ACP student member council, Ms. Vivian Ortiz—Meharry, ACP student member council.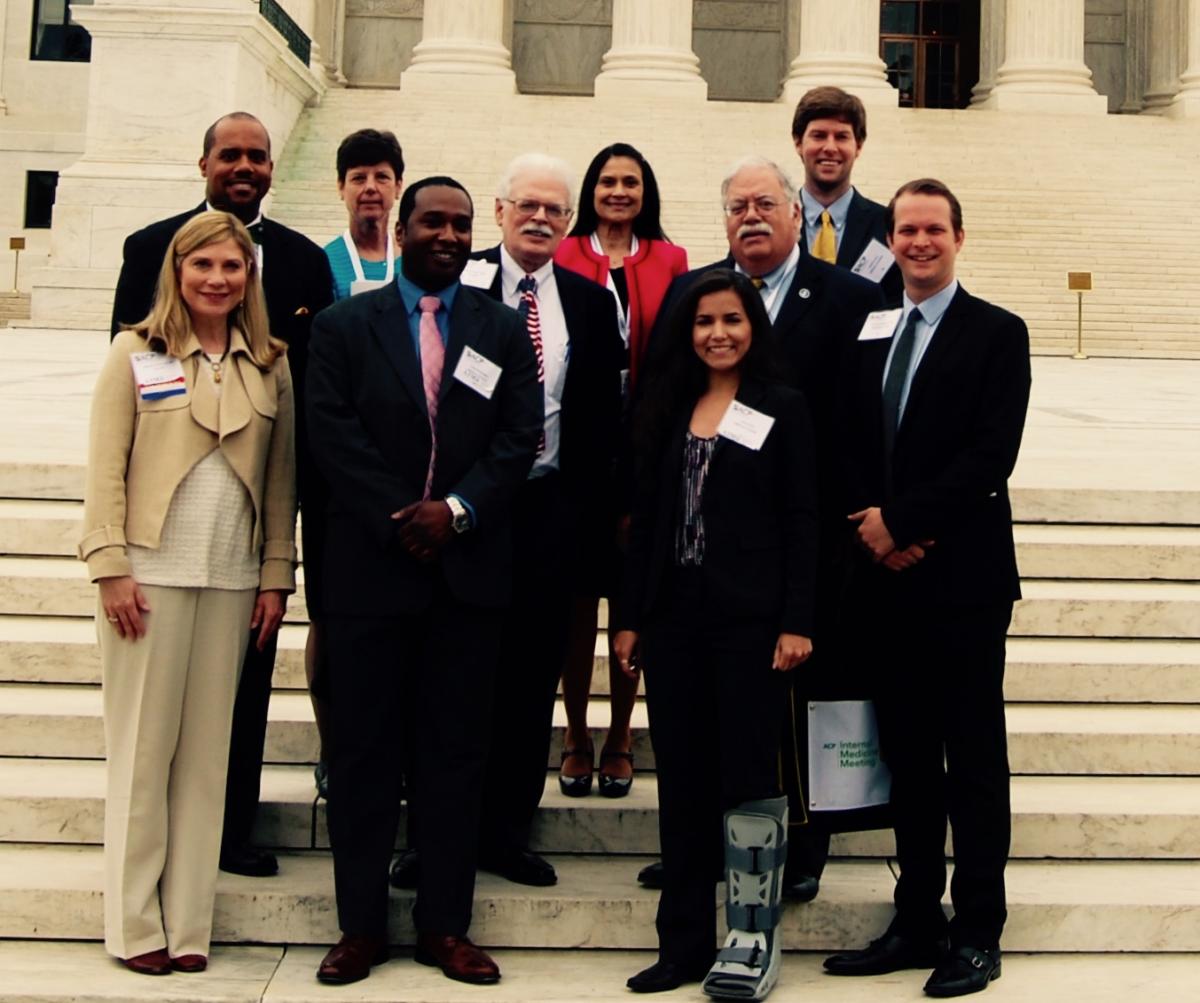 TNACP Leadership Day Delegation 2016 – Steps of Supreme Court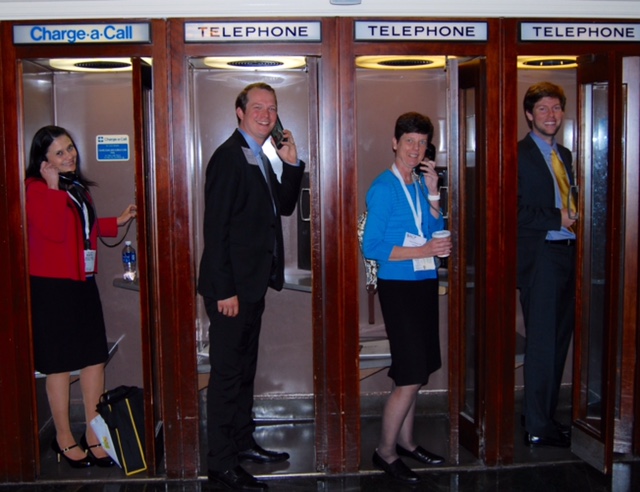 ---
TNACP Delegation Calling on You to be Advocates
Most physicians are not politically active for various reasons. However, in this world of high speed Internet, rapidly changing social mores, and political candidates of dubious repute, we have an obligation to our patients and ourselves to be politically aware. Few of us as practicing physicians have the interest, the time, or the expertise to keep track of what legislation is being discussed much less passed, so we defer it to our specialty societies. I would ask any of you who are not already members to consider joining the Advocates for Internal Medicine Network if only for informational purposes. Here is the Website. I would recommend checking out ACP position on issues that are of particular interest to you listed on the left hand side of this site. For those of you who may have or develop a greater interest consider joining us at next year's Leadership Day 2017 or statewide join us for TMA's Physicians on the Hill.
---
ACP Internal Medicine 2016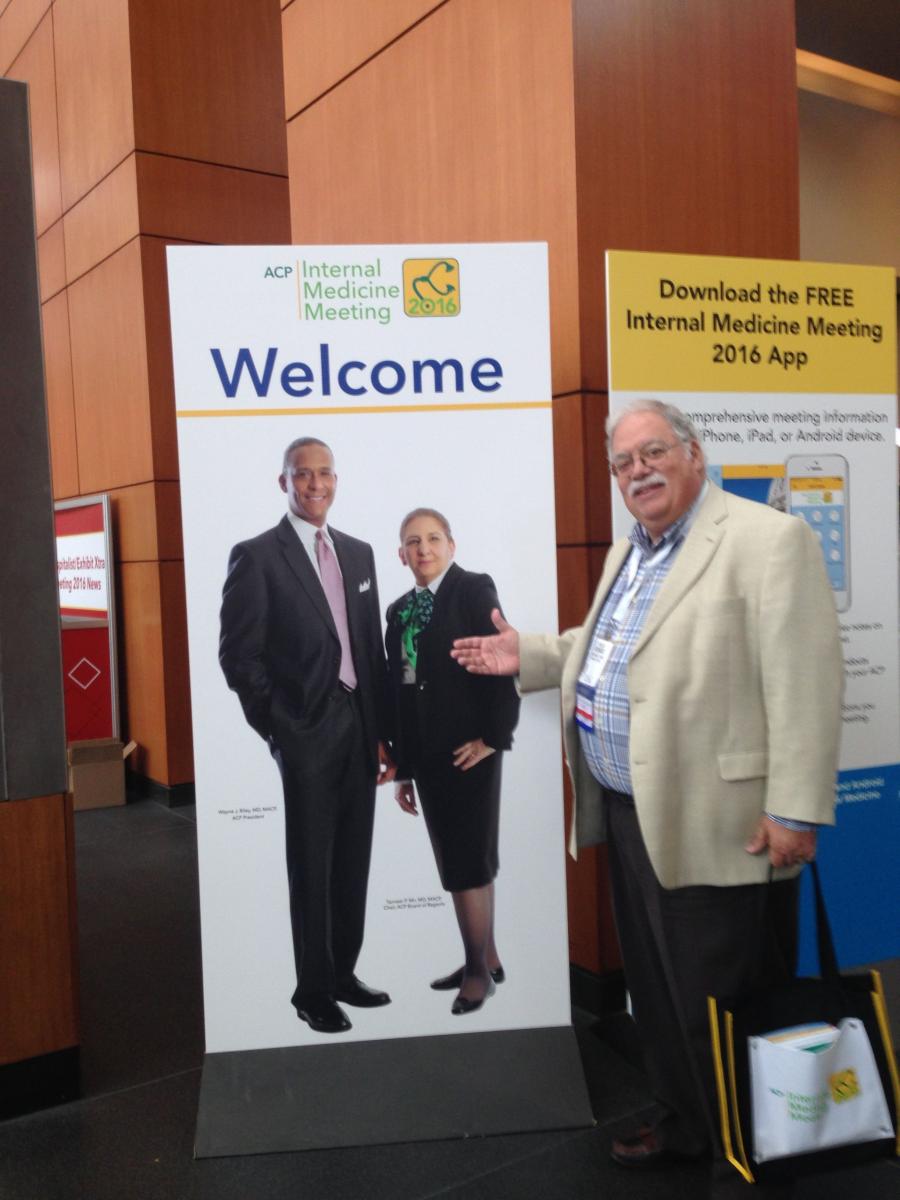 Dr. Wayne Riley, President ACP, Dr. Tanveer P. Mir, Chair Board of Regents, and Dr. Lane
Educational Sessions – If you have never been to an annual ACP Internal Medicine meeting you have missed a unique learning experience for an Internist. One can come early for pre-course programs. In addition to multiple learning formats including clinical skills workshops, special programs for early career physicians, residents/fellows, and medical students, there are special tracks for hospitalists, for those needing to satisfy state CME requirements, and for those participating in MOC. The exhibit hall offers not only product updates but poster presentations, and industry-supported learning opportunities. As a rule, I try to get to the Clinical Pearl presentations, the Multiple Small Feedings for the Mind, and being a general internist I try to get to the Update in General Internal Medicine. Additional activities include the Convocation, Doctor's Dilemma where our resident's compete, and our state reception. Less you get confused by all the options there is a free ACP phone APP to guide you.
Convocation – Several things occurred at the Convocation. Several of our members were advanced to Fellows. Drs. Ann Brown, Terinell Beaver, Douglas Dameron, Mihir Patel, Heather Reddinger, Joanna Shaw, and Merhaf Zeino.: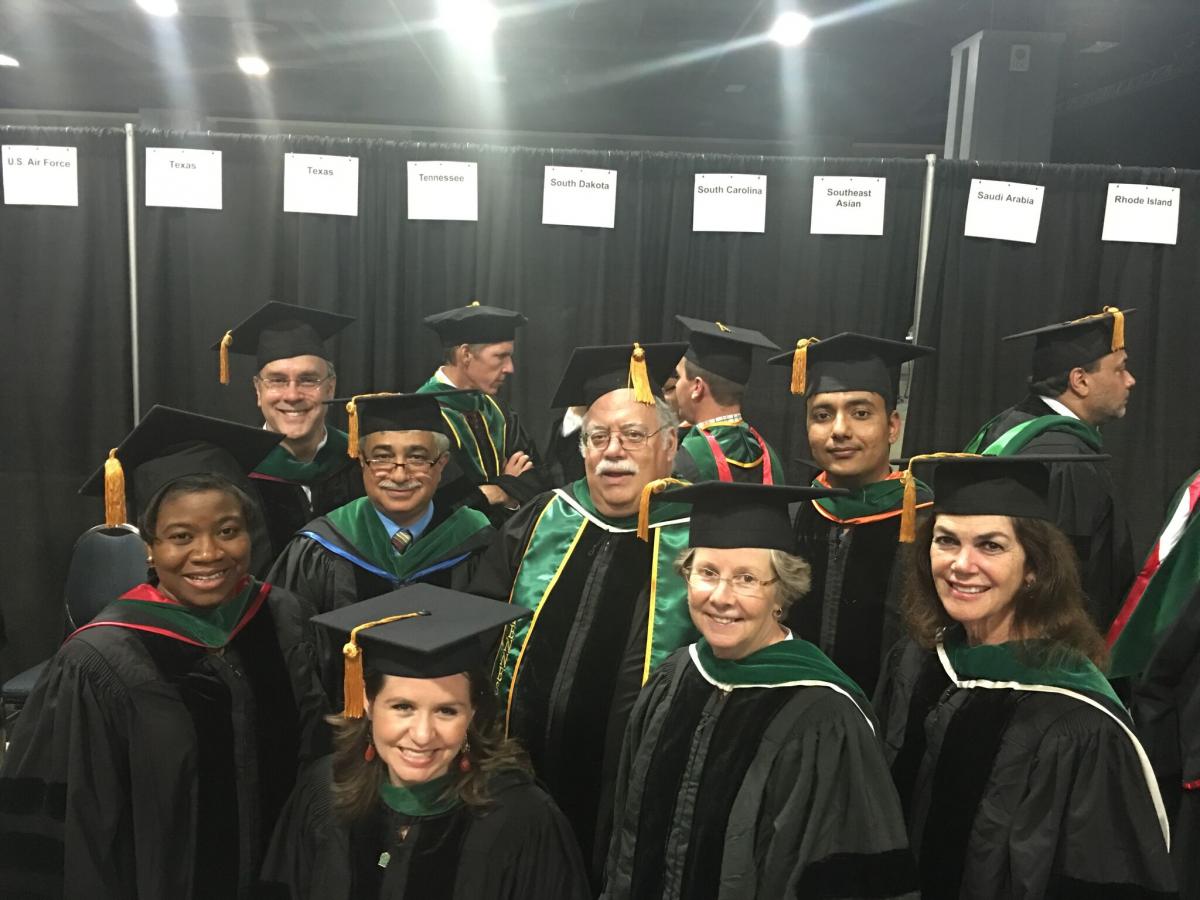 Front: J. Shaw, H. Reddinger, T. Beaver, A. Brown; Back: D. Dameron, M. Zeino, R. Lane, M. Patel
The Nicholas E. Davies Memorial Scholar Award for Scholarly Activities in the Humanities and History of Medicine was presented to Gregory O'Dea, PhD who facilitates our annual Literature in Medicine Reading Retreat (see article elsewhere in newsletter).
The ACP Award for Outstanding Educator of Residents and Fellows to recognize a distinguished faculty member who spends a significant amount of time teaching residents and fellows was presented to Mukta Panda, MD, FACP, a member of our council and assistant dean for medical education and professor of medicine at the College of Medicine Chattanooga of the University of Tennessee Health Science Center.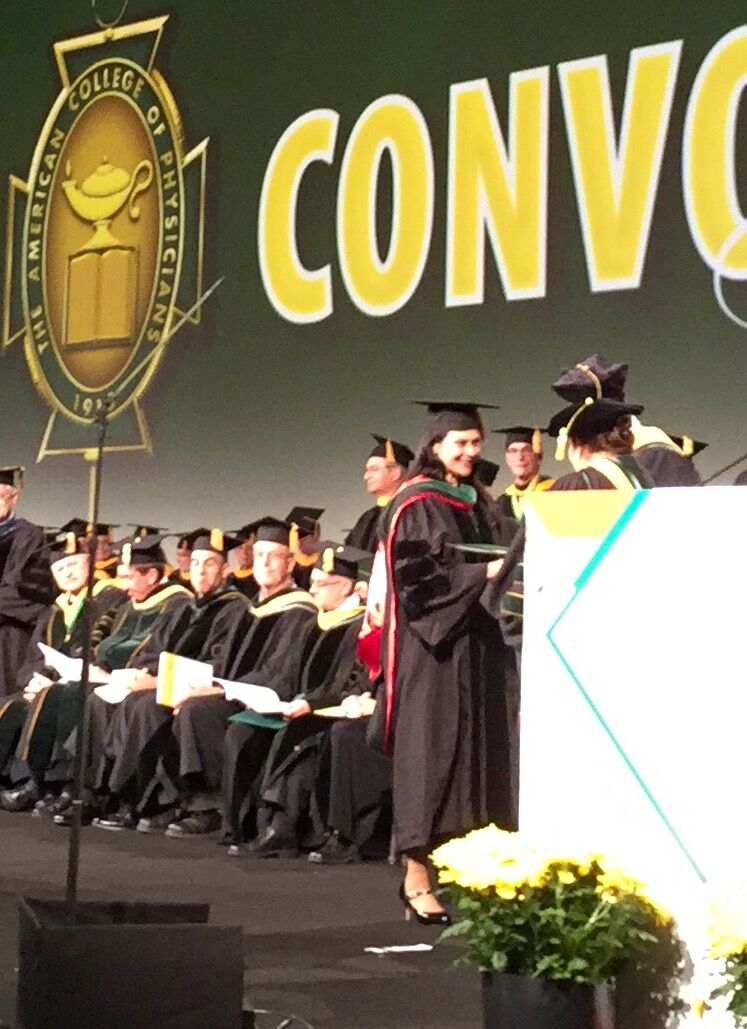 Dr. Panda receiving her Award for Outstanding Educator at ACP 2016
Doctor's Dilemma – Two of the Vanderbilt University residents, Tyler Reese (PGY-3, Med-Peds) and Sam Rubenstein (PGY-2, IM) who won our state level Doctor's Dilemma (Medical Jeopardy) contest participated at the ACP national event. They got to the second round before being bested. Neither Tracey nor I watching from the sidelines got that far.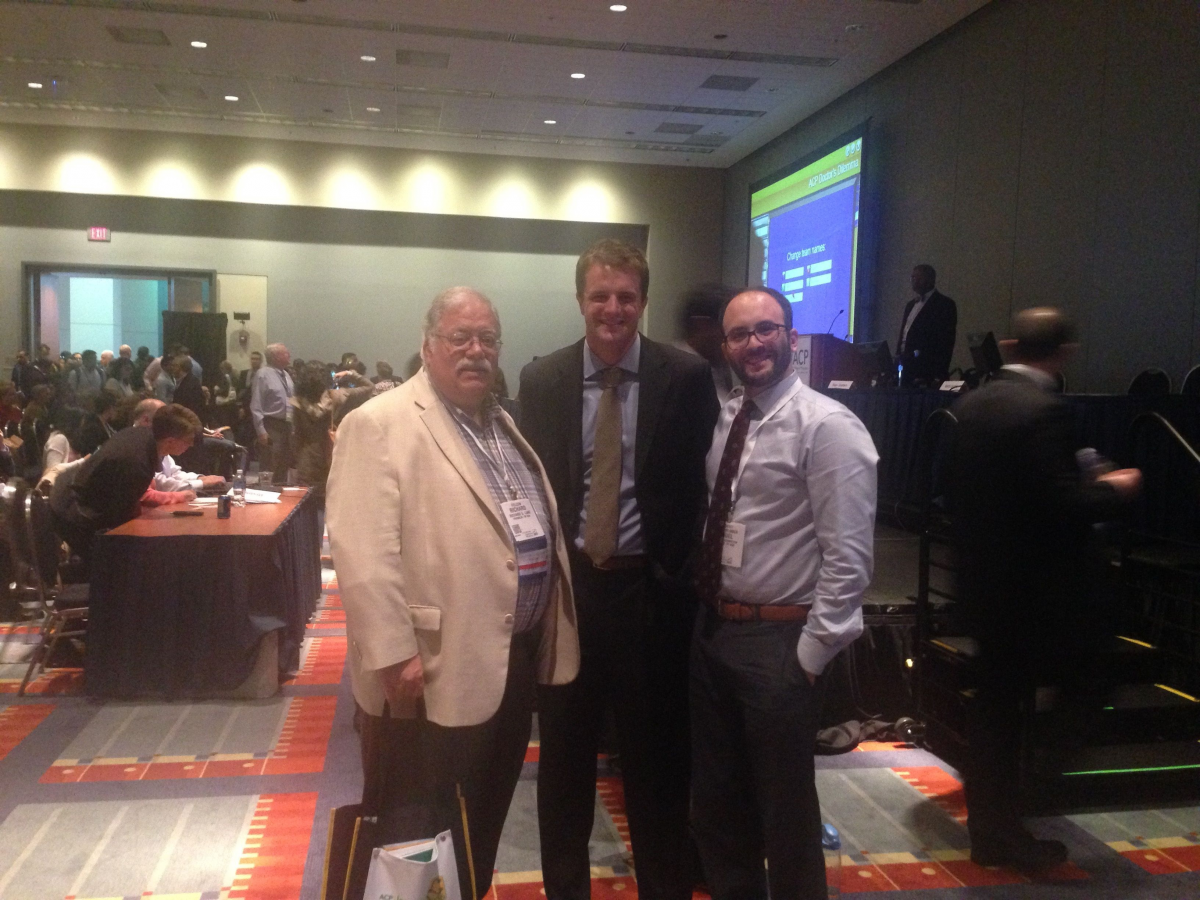 L-R: Richard Lane, MD, FACP, Tyler Reese, and Sam Rubenstein—Vanderbilt University Medical Center
Resident Poster – Dr. Ben Maddox from the UT-Nashville training program had won our state level resident poster. He was invited to display his poster: "A Tale of Two Tumors" at the national meeting.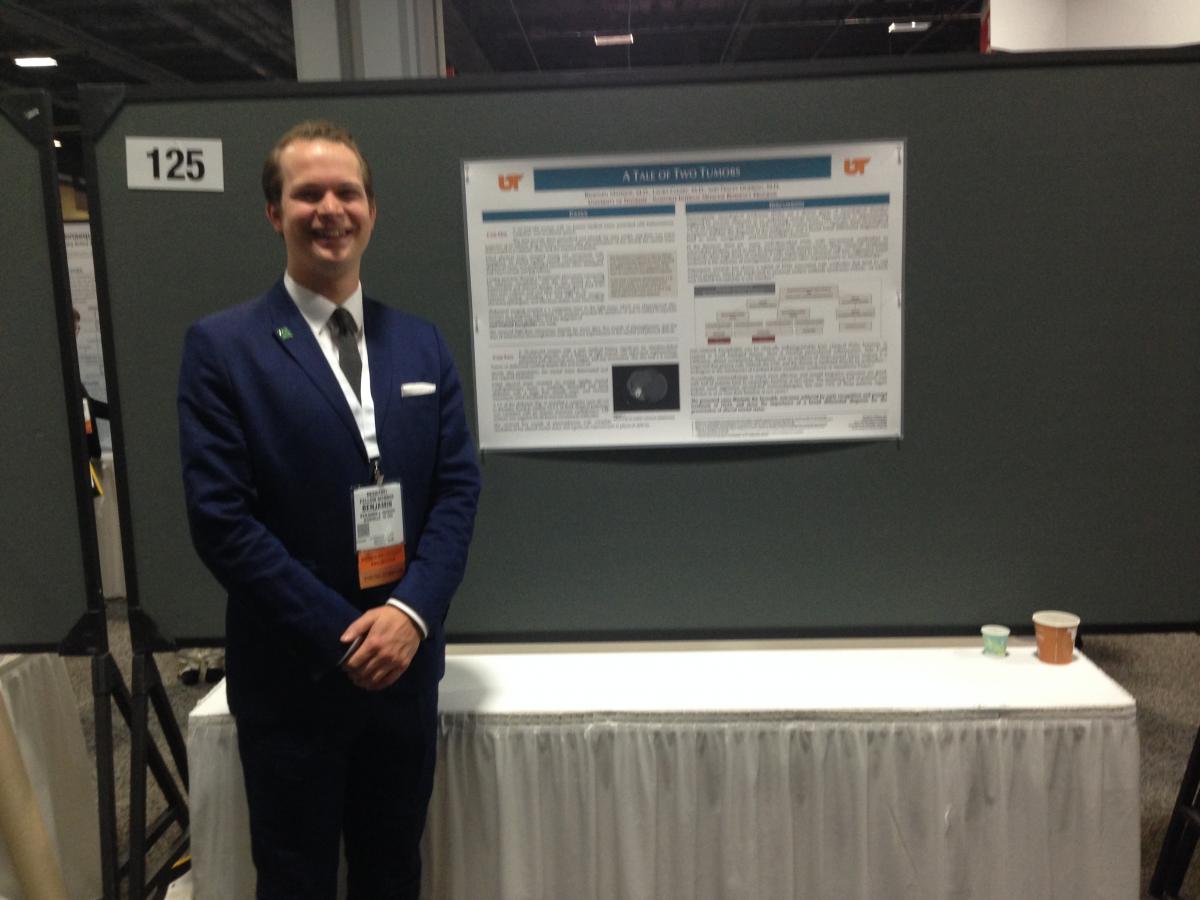 Ben Maddox, MD – Resident Poster – "A Tale of Two Tumors" at ACP 2016 Tennessee Chapter Reception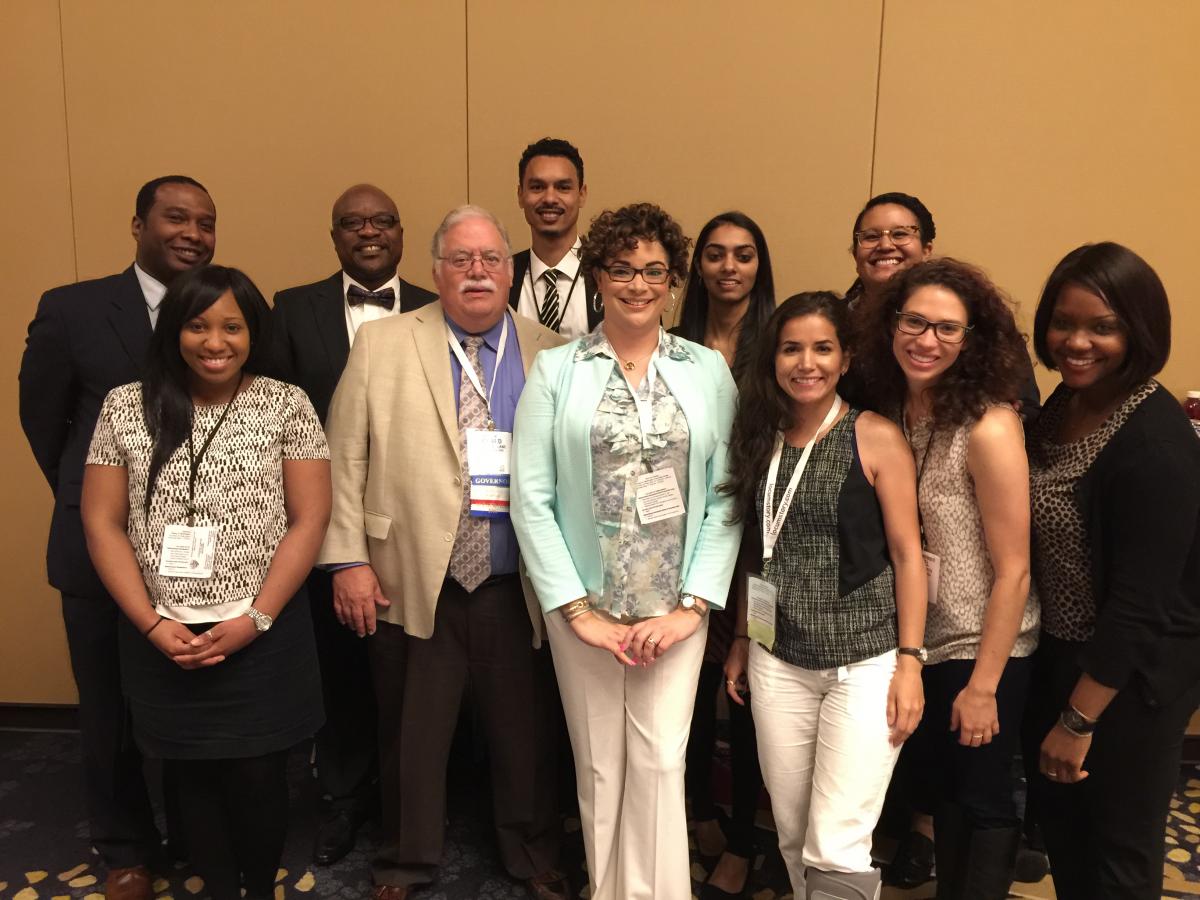 Excellent turnout from Meharry
Closing Event – At the close of the business meeting the last day, Dr. Tracey Doering officially moved up from Governor-elect Designee to Governor-elect.
Congratulations to the Tennessee Chapter Governor-Elect, Tracey E. Doering, MD, FACP. Our new Governor-elect will do a year of training as a Governor-elect and then will start her four-year term as Governor in the Spring of 2017. As Governor, Dr. Doering will serve as the official representative of the College for the Tennessee Chapter, providing a link between members at the local level and leadership at the national level. In the meantime, Dr. Doering will be working closely with Dr. Lane (the current Governor) and College staff to learn about the College and her duties as Governor. To learn more read her bio below:
Tracey E. Doering, MD, FACP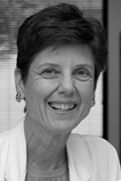 EDUCATION: Undergraduate: Rutgers College, NJ Medical School: Johns Hopkins University School of Medicine
POST DOCTORAL TRAINING: Internship and Residency: Vanderbilt University Medical Center; Chief residency: University of TN; IM Residency: St. Thomas Midtown, formerly Baptist Hospital
CERTIFICATION: ABIM in Internal Medicine (lifetime certificate, and have recertified and will do again in 2015 ABIM: Geriatrics-recertified in 2014
PRESENT POSITION: Core Faculty and Director of Ambulatory Medical Clinic, University of TN, St. Thomas Midtown Private Practice: Geriatrics and Internal Medicine
ACP CHAPTER INVOLVEMENT/LEADERSHIP ACTIVITIES: TN ACP Governor's Council, 2002-present TN ACP treasurer 2009-11 Work with Resident/Fellow Members for clinical vignettes, posters, and jeopardy for yearly meetings
ACP NATIONAL ACTIVITIES: Fellowship-1998 Review resident abstracts for national meeting
OTHER APPOINTMENTS/ACTIVITIES: Siloam Family Health center-volunteer Local medical missions with St. Thomas Health-volunteer Nashville Rescue MIssion-volunteer Former vice chief and chief of IM-St Thomas Midtown (2009-2012) Former chair of St Thomas Midtown quality committee (2013-15) Member: Medical executive committee, quality committee, Medication management High reliability organization, ACO subcommittees, EMR Outpatient and Inpatient Committees
AREAS OF PROFESSIONAL INTEREST AND EXPERTISE: 1. Geriatrics-Improving transition of care, and high value care for the elderly 2. Ambulatory education for house-staff and promoting primary care as a career.
---
Awards and Recognition
Fellowship: There are many physicians among our membership worthy of recognition. Advancement to fellowship is one that just takes a small amount of organization of a curriculum vitae and obtaining sponsorship letters. There are several pathways for member physicians to achieve this recognition.
Please consider nominating a chapter member for one of the following awards:
Laureate Award - Criteria:
Fellow or Master
Senior physician
Demonstrated excellence to medical care, education, or research
Excellence and peer approval in the field of internal medicine
Service to community, chapter, and the ACP Nominations must document attributes and accomplishments which fulfill the above criteria.
Volunteerism and Community Service - Criteria
Member, Fellow, or Master
Distinguished volunteer work done as a physician and medically related.
Activity does not represent service performed as part of training or job
Nominations should document:
The range and scope of the volunteer and community services
Whether the nominee been a leader in initiating, developing, or implementing volunteer programs.
Whether the nominee's contributions been sustained over time.
How have the characteristics of the nominee that have made him/her a role model inspired other physicians or medical trainees to participate in volunteer and community service.
We award the Laureate and Volunteerism and Community Service Awards at our Annual meeting but need your help to nominate candidates for our Awards Committee to select from. Please email your nominations to our executive director Ms. Renee Arnott. for her to provide this to our Awards Committee.
---
ACP Resources
Position Papers
Since my last newsletter ACP has published several position papers in the Annals of Internal Medicine. The recent topics covered have included Climate Change and Health, Financing U.S. Graduate Medical Education, Cost of Prescription Drugs, Concierge and Other Direct Patient Contracting, and Retail Health Clinics. Most of us barely have time to keep up with the usual practice updates on guidelines for treatment of disease, new drugs released and are they of benefit to our patients, and have I over prescribed an antibiotic or opioid this week. Occasionally we do glance at a policy statement to see if we feel our concerns are being addressed by our specialty organizations. Most policy papers are developed through the Health and Public Policy Committee but the impetus begins from grassroots sending a resolution through the Board of Governors that gets refined and moved to the Board of Regents for implementation or study. As your Governor, should you have an issue you want addressed by ACP, you may channel it through me or go directly to ACP leadership with it. This provides a nice segue to my next topic.
Call for Spring 2017 Board of Governors Resolutions
Are you concerned about a practice or clinical issue or have an idea you'd like to suggest? If so, you might consider submitting a resolution to your Governor or chapter council.
Initiating a resolution provides ACP members an opportunity to focus attention at the ACP national level on a particular issue or topic that concerns them. Participating in the Board of Governors resolutions process provides the ACP grassroots member a voice and allows you to shape College policy that impacts the practice of internal medicine. When drafting a resolution, don't forget to consider how well it fits within ACP's Mission and Goals. In addition, be sure to use the College's 2016-2017 Priority Initiatives to guide you when proposing a resolution topic.
Not sure how to begin drafting a resolution? Researching the College's position on an issue can give you a start. Visit the ACP Online homepage and click the "Advocacy" link in the right-hand, top margin to access ACP policy positions, read about recent ACP advocacy activities, or search ACP's library of policies and recommendations. Visit your chapter website, too, and click the link under "Advocacy" to access Electronic Resolutions System (ERS) where you can search past or proposed resolutions. A copy of the resolutions process is available on the ERS which furnishes more details on formatting resolutions, as well the process for submission, review, and approval.
Members must submit resolutions to their Governor and/or chapter council. A resolution becomes a resolution of the chapter once the chapter council approves it. If effecting change interests you, the deadline for submitting new resolutions to be heard at the Spring 2017 Board of Governors Meeting is September 28, 2016.
Share your good idea with us. Draft a resolution.
ACP Develops Safe Opioid Use Resources for Patients
In response to public health concerns over the adverse impact of opioid misuse nationwide, two new patient education resources have been developed by ACP. Please feel free to use the following links and print out the documents for distribution to your patients.
The "Patient FACT" sheet on Safe Opioid Use answers the following questions:
What Are Opioids?
Will Opioids Help My Pain?
What Are the Side Effects of Opioids?
What Are the Risks of Opioids?
Using Your Opioid Medicine Safely and
Questions for My Doctor.
The "Patient FACT" sheet on Chronic Pain provides responses to:
What is Chronic Pain?
What Are the Symptoms of Chronic Pain?
How is Chronic Pain Diagnosed?
How is Chronic Pain Treated?
How Can I Manage My Chronic Pain and
Questions For My Doctor.
ACP launches new ACPOnline.org website
ACP has launched a newly rebuilt and redesigned website, https://new.acponline.org. The site features a contemporary design that incorporates task-based navigation and provides quicker access to features that ACP members use most. Since the Tennessee Chapter website is maintained jointly with ACP our site has also had a facelift. Visit us.
Whether members want to find ACP's clinical or policy recommendations, access CME and MOC resources, renew their membership, or register for an event, the content they need to find is just a few clicks away. The new site is also mobile- and touch-friendly, with a responsive interface that automatically optimizes for all devices (e.g., desktop, smartphone, tablet). The site is best viewed using Google Chrome, Mozilla Firefox, or Safari for MacOS or iOS browsers. Take a moment to explore the new site today. I would especially encourage you to visit the membership benefit site for the range of free educational and practice management options available to you as an ACP member and use this information to encourage your non-ACP member colleagues to join ACP. Remember our ability to influence health policy depends on our numbers and through the Recruit-A-Colleague program you directly benefit.
---
Upcoming Events
TNACP Annual Scientific Session 2016
Friday, October 28, 2016 and Saturday, October 29, 2016 at the Franklin Marriott at Cool Springs in Franklin, TN. Dr. Maria E. Tudor, DO, FACP and her program committee have submitted and excellent educational event entitled "Keeping "App" With the Guidelines: Evidence-Based Medicine". In addition to the scientific program our Saturday afternoon will feature our usual stand-alone ABIM SEP module presentations for 20 MOC points as well as 4 hours of AMA category I credits in addition to the anticipated 12.5 credit ours of the regular sessions.
TNACP Literature in Medicine Reading Retreat
Friday evening March 3, 2017 through Sunday morning March 5, 2017 at Fall Creek Falls State Park, Pikeville, TN.
ACP Internal Medicine 2017
San Diego, CA
San Diego Convention Center
March 30-April 1, 2017
Pre-Courses March 28-29
Register by July 15 to enter a contest for free round trip airfares to the meeting.