You are here
Tennessee Governor's Newsletter January 2017
Tennessee Governor's Newsletter January 2017

---
---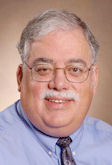 Richard G. Lane, MD, FACP, ACP Governor
---
From the Governor
It is hard to believe that I am authoring my final newsletter as Governor. My four year term will end following the close of Internal Medicine 2017 in April. It has been an honor and privilege to serve as your representative to ACP and I hope I have met the expectations you had hoped for when you chose me. Hopefully I have fulfilled my role to serve as a conduit of information between the College and our membership. I have organized this last newsletter into activities, awards, advocacy, and availabilities. The activities speak for themselves. I would encourage all of you to attend our annual meeting. I have included lots of pictures of physicians in training as they are the lifeblood of the organization and certainly are at a stressful point in their careers. Burnout is a real issue even early on for physicians and a focus on physician wellness is one of the priorities of the College and was one of our state meeting presentations. If you have never been to a national meeting I would encourage you to attend at least one and San Diego is a fabulous city to visit. I have also focused on awards. Many of our excellent physician members go unrecognized for their achievements and I would encourage you to look at the criteria for the Laureate and Volunteerism and Community Awards and submit nominees to our Awards Committee. Also mat the national level ACP has numerous awards and we need to glean our ranks for appropriate candidates for these recognitions. Likewise encourage our Early Career Physicians to become Fellows and be selected to the Governor's Council by partaking in our various committees and being recognized as active members. With the changing leadership climate in Washington and its likely cataclysmic alteration in health care legislation I have devoted a significant section on advocacy. Again if only to do it once, attending a structured visit to your legislators either through TMA's Doctor on the Hill at the state level or ACP's Leadership Day in Washington at the national level is a worthwhile time off from practice. Even in the "protected "environment of a large group practice and membership in an organization like ACP it is important as an individual practitioner to know what external legislative influences may be potential barriers to the care you want to provide your patients and to be in a position to be pro-active to protect your patients and your ability to provide care to them. Lastly I have listed some of the resources ACP has available to you and some of the upcoming dates of events of relevance to practicing internists. Again I thank you for allowing me to have served as your Governor.
---
ACTIVITIES
Board of Governors Fall 2016
Many members believe ACP to be a top down organization but that is not the case. The reality is policy and positions of ACP derive from the state chapters through resolutions from chapter members through their elected delegates, the state governors. Members may submit concerns to their colleagues on the Governor's Council, to their governor, or directly to ACP. Visit our new chapter vanity URL website for more information.
The Fall 2016 resolutions may be viewed online.
Resolutions are researched to see if existing policy and for background information. There is then open online discussion prior to the semi-annual BOG meetings which is summarized by the reference committee in the opening session of the BOG meeting for discussion by the Governors at their class breakfasts. (Governors serve 4 year terms so there are four classes. My class of 2017 ends following the spring meeting in 2017 and your current Governor-elect, Tracey Doering, MD, FACP, will take over until her class of 2021 ends in the spring of 2021.)
The following actions were taken at the BOG meeting: On the three holdover resolutions from the spring of 2016 (2-S16, 8-S16, and 9-S16) the vote was non-adoption. Voted for reaffirmation of existing policy included 2-F16 and 10-F16. Voted for non-adoption included 5-F16, 7-F16, 8F-16, and 9-F16. Resolution 5-F16 (Studying Various Practice Models Known as "Direct Primary Care" and Updating Previous ACP Policy) was debated but non-adopted as a recent position paper on this had appeared in the Annals and it was not felt sufficient time had passed for new data. Resolution 9-F16 (Calling upon ABIM to Accept CME Provided by Oher Legitimate Medical Educational Organizations) also engendered robust discussion. Although it boiled down to allowing a Category I AMA credit being acceptable for a MOC point the original and substitute resolution did not pass. After these preliminary recommendations to the Board of Regents they took the following actions:
Board of Regents Action Taken on BOG Resolutions, November 5-6, 2016, Meeting
Adopted and referred for implementation
1-F16. Developing Policy to Address the Gender Pay Gap within the Field of Medicine
3-F16. Modifying HCAHPS Questions and Eliminating Associated Financial Incentives to Improve the Safety of Opioid Prescribing
Adopted as amended and referred for implementation
2-S16. Monitoring the Formation and Implication of For-Profit Medical Schools
6-F16. Advocating for Formal Infrastructure to Support Expansion and Sustainability of Wellness Initiatives
Adopted as a Reaffirmation
2-F16. Opposing Rising Out-of-Pocket Patient Spending
10-F16. Offering a Reduced Internal Medicine (IM) Meeting Registration Fee for Retired Physician Members
The Board of Regents
VOTED:to approve, as a Consent Calendar, recommendations regarding the disposition of the following resolutions adopted at the Fall 2016 Board of Governors (BOG) Meeting:
Resolution 2-F16. Opposing Rising Out-of-Pocket Patient Spending (Adopted and reaffirmedas current College policy):
RESOLVED, that the Board of Regents adopts as a matter of principle its opposition to rising out-of-pocket patient spending that is fostered by health plans, whether public or 26 private; and be it further
RESOLVED, that the Board of Regents makes public statements addressing the deleterious effects of rising out-of-pocket patient spending on health access and outcomes.
Resolution 3-F16. Modifying HCAHPS Questions and Eliminating Associated Financial Incentives to Improve the Safety of Opioid Prescribing (Adopted and referred to the Medical Practice and Quality Committee for implementation with input from the Health and Public Policy Committee):
RESOLVED, that the Board of Regents advocates to revise pain-related questions on the 38 Hospital Consumer Assessment of Healthcare Providers and Systems (HCAHPS) survey to 39 better reflect the appropriateness of pain management interventions, with particular 40 attention to the differences between acute and chronic pain and also attention to the 41 goals and risks of the clinical situation; and be it further
RESOLVED, that the Board of Regents advocates to remove financial incentives based on the HCAHPS that could inadvertently incentivize inappropriate opioid administration and prescribing.
Resolution 10-F16. Offering a Reduced Internal Medicine (IM) Meeting Registration Fee for
Retired Physician Members (Adopted and reaffirmed as current College policy):
RESOLVED, that the Board of Regents offers a reduced IM registration fee for retired 51 physician members to encourage continued involvement.
The Board of Regents extracted Resolution 1-F16 from the Consent Calendar for discussion. Following discussion, the Board of Regents
VOTED:to adopt Resolution 1-F16 and refer to the Executive Committee Board of Regents for implementation.
Resolution 1-F16. Developing Policy to Address the Gender Pay Gap within the Field of Medicine
RESOLVED, that the Board of Regents develops policy specifically addressing the gender pay gap within medicine; and be it further
RESOLVED, that the Board of Regents works to start a national dialogue and create a culture within medicine at large in which men and women physicians are paid equally 66 and fairly; and be it further
RESOLVED, that the Board of Regents addresses the issue within the specific contexts of (1) the lack of transparency of physician salaries, (2) burnout and physician wellness, and (3) resultant negative effects on the strength of our medical workforce.
The Board of Regents extracted Resolution 6-F16 from the Consent Calendar to discuss the first resolved. Following discussion, the Board of Regents
VOTED:to approve a motion to amend the first resolved, then adopt Resolution 6-F16 and refer to the Executive Office for implementation.
Resolution 6-F16. Advocating for Formal Infrastructure to Support Expansion and Sustainability of Wellness Initiatives
RESOLVED, that the Board of Regents explores how best to develop an infrastructure to support expansion and sustainability of wellness initiatives for physicians and physicians- in-training; and be it further
RESOLVED, that the ACP Board of Regents becomes a leading voice in addressing areas such as changes in the practice environment, burnout prevention, physician wellness, and professional satisfaction and collaborate with like-minded organizations and entities in these areas.
Although most of the focus at the Board of Governor's meeting is on discussing and voting on resolutions as part of the policy setting process for ACP, the Board of Governor's meeting also includes college updates and workshops to assist in chapter development and function. Following a welcome from the home state Governors (Texas has two) Douglas DeLong, MD, FACP chair of the BOG gave opening remarks and was followed by Darilyn V. Moyer, MD, FACP the new Executive Vice-President and CEO. She gave an update on current college activities regards guidelines, professional satisfaction, performance improvement, and of most interest, the status of ongoing discussion with ABIM regarding requirements for Maintenance of Certification. Elena V. Rios, MD, MSPHS gave a presentation on health disparities and the actions the national Hispanic Medical Association is taking to improve Hispanic health equity and empower Hispanic physicians. Robert H. Lohr, MD, FACP gave the Treasurer's Report indicating financial solvency of the organization. Of the several workshops, I attended one on MACRA, the final rules of which were released October 14, 2014. Since the document is 2,000+pages you may want to consider going to the ACP Resource Center for information .
Another workshop discussed ways of providing MOC points at chapter meetings. Currently we have been presenting SEP modules on Saturday afternoon following the TNACP Annual Scientific Session as an add on elective but with ABIM changing requirements for MOC more of our CME programing should also allow MOC points to be obtained. Along with ACP's theme of increasing its International presence Nestor Sosa, MD, FACP the Governor of the Central American Chapter who does research in Panama on arboviruses presented on "Zika and other Arboviruses: A Survival Kit for Internists" He opened with a history of Dr. William Crawford Gorgas work on sanitation in Panama which controlled the yellow fever epidemic allowing the successful completion of the Panama Canal and then covered the clinical presentations of Dengue and Zika and health care impact and considerations. Mr. Robert Doherty, Senior Vice-President Legislative Affairs and Public Policy gave an overview of current advocacy efforts and policies of ACP including topics like climate change, cost of prescription drugs, gun violence, opioid epidemic , and Zika virus to mention a few. We are going to be privileged to have Mr. Doherty as a college representative and discussant at our health care forum at our annual state meeting in 2017. There were also the usual chapter management presentations on dues collection, how and what amount of national dues filter back to state chapters, ACP QI programs and physician wellness actions. Despite the intensity, these are very enjoyable, collegial and educational meetings and hopefully beneficial to our chapter members.
Governor's Council Meeting – October 27, 2016
The evening prior to our annual scientific session your Governor's Council met. Old business included a review and update of our strategic plan and a look at the status of doing independent SEP modules around the state. This past year, separate from the traditional two modules following our state meeting, we also presented one at MedTenn 2016. This coming year we will present one two hour SEP module along with an additional two hours of CME in conjunction with the new TMA fall educational event (TriMED Healthcare Educational Seminar) in September. New business included committee reports. Dr. Ryan Mire, your Treasurer, has continued to watchdog our finances and keep us solvent and is a nominee for an ACP Regent position. Future leadership training was discussed. ACP has a Leadership Academy and the TMA has the John Ingram Institute for Physician Leadership Training. TNACP would ask your help in identifying some of our early career physician members with leadership potential and encouraging them to tap into one of these two resources. TNACP is willing to commit a stipend to offset some of the financial costs involved. TNACP also continues to provide some funding to offset costs to serve as delegates from TNACP to the TMA House of Delegates which will meet Saturday April 29, 2017 at the Nashville Airport Marriott separate from the new educational session scheduled for the fall of 2017. Likewise TNACP provides financial support to our delegates to ACP Leadership in Washington, D.C which will occur Tuesday May 23 and Wednesday May 24, 2017. For more detail see the Advocacy section of this newsletter. Overall Dr. M. Kevin Smith, your membership chairperson reported an increase in membership. Results of the Awards Committee chaired by Dr. Ken Olive are also detailed elseware under Awards in this newsletter. We will plan to poll membership on combining our state meeting with the TMA new fall educational seminar or remain independent. For now the decision was a limited participation at TMA to see how its inaugural session goes with our usual standalone meeting scheduled for October 27-28, 2017 at the Franklin Marriott at Cool Springs. Dr. Doering will be shepherding those decisions.
---
TNACP Annual Scientific Meeting - October 28-29, 2016
Our annual meeting " Keeping 'App" with the Guidelines: Evidence-Based Medicine" was held at the Franklin Marriott Cool Springs in Franklin, TN. Dr. Maria Tudor, our program chairperson, and her program planning committee put together a stellar grouping of educational sessions of practical clinical value. The opening presentation focused on the current role of PSA testing followed by an entertaining and enlightening presentation on perioperative evaluation by our own James B. Lewis, Jr., MD, MACP. The morning concluded with a presentation on appropriate serologic testing in rheumatologic diseases followed by an insightful presentation on wellness by our most recent Master of the College, Mukta Panda, MD, MACP. Chapter Awards were presented at the luncheon including the Laureate Award and the Chapter Excellence Award highlighted elsewhere in this newsletter. Dr. Kelly Moore from the Tennessee Department of Health gave an update on adult immunization and information on proper storage of vaccines for those providing them in their offices. She mentioned the free CDC APP for vaccines. (Also the CDC provides free APPs on travel medicine, STDs , and tick diseases) The remainder of the afternoon included concurrent workshops on hospital medicine, abnormal office ECGs and how to manage the abnormal finding, and orthopedic evaluation of hip pain including proper examination of the hip. Dr. Wendy Long, Director of TennCare , as well as the Director of Health Care Finance and Administration for the State of Tennessee wrapped up the formal presentations with an update of the 3-Star Task Force, Episodes of Care, and Primary Care Transformation. Roughly 23% of Tennesseans are on TennCare and the vision is 65% of TennCare will be ina PCMH (Patient-Centered Medical Home) by 2020. Recall at the time of her presentation the results of the presidential election was not decided.
The meeting closed with attention to students and residents with the Poster Presentations and Abstracts being judged followed by the Doctor's Dilemma contest. This past year your Council had budgeted to provide update audio visual equipment for the Doctor's Dilemma and its maiden voyage went off without a hitch. The winners in the various categories are as follows:
Tennessee ACP Resident/Student Presentation Awards
The winners of the poster presentations are...
Residents/Fellows
1st place: Sagal Mohamed, UT Nashville, A Tell-Tale Heart: A Case of Daptomycin Non-susceptible MRSA Endocarditis
2nd place (tie):
Nibetita Chowdhury, UTHSC, Gastric Peripheral T Cell Lymphoma: A Rare Gastrointestinal Lymphoma
Sachin Kumar, UTHSC, When Statins Get Physical
First Place Student
John Grisham, UTCOM, A Persistent, Puzzling, and Pernicious Problem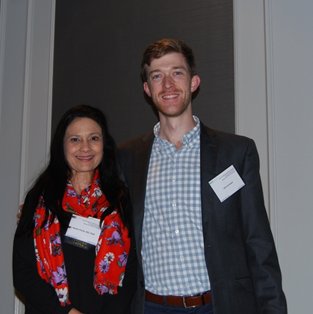 Mukta Panda, MD, MACP and medical student John Grisham
The winner of the Oral Presentations:
Byung Ban, UT Chattanooga, OPANA Nirvana Gone Wrong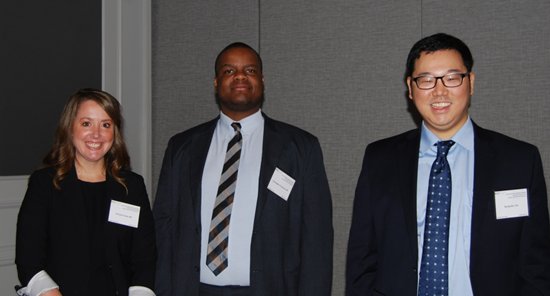 Christine Cook, MD, Christopher Jackson, MD, and Byung Ban, DO
Others selected by their program for oral presentation:
Christopher Jackson, UT Memphis, Flip or Flop: Post-Traumatic Charcot Arthropathy of the Right Hip from Acrobatics
Christine Cook, Vanderbilt, A Rare Case of Autoimmune Limbic Encephalitis Secondary to Pembrolizumab Treatment of Malignant Melanoma

Doctor's Dilemma Winner: University of Tennessee Chattanooga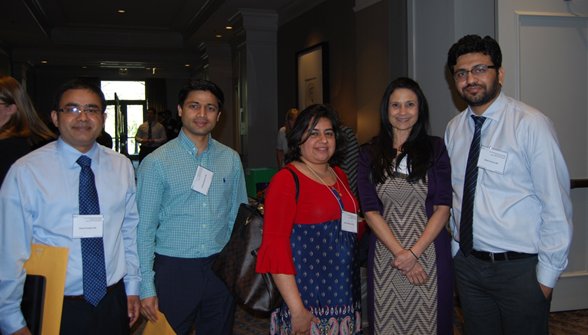 Chattanooga Residents: Drs. Dinesh Poudyal, Pralhud Sharma, Aparma Shrereach, and Ashish Verma with Mukta Panda, MD, MACP. Missing were Drs. Amr Marawan, Vrushall Shah, Jennifer Samuel, and Josh Mastin.
If you know any of these awardees please congratulate them. They are to be recognized for the work they put in and the educational benefit they provided to all of our program attendees. If as TNACP members, fellows, or early career physicians you wish to be more involved in college activities serving as judges for the poster sessions or serving on the program planning committee are excellent entry points of involvement. Contact Ms. Renee Arnott our executive director or Maria Tudor, MD, FACP, our program chair for 2016. Those of you involved in mentoring of students or residents are also deserving of recognition and are in a unique position to encourage involvement in the college and its educational resources through membership application of these trainees.
Other Participating Residents – My apologies if I have identified incorrectly any of the resident groups as well as for the lack of specific identification of some of these residents. TNACP and I, as Governor, appreciate the efforts put in by the residents and students for their participation in the posters and abstract presentations as well as the Doctor's Dilemma competition.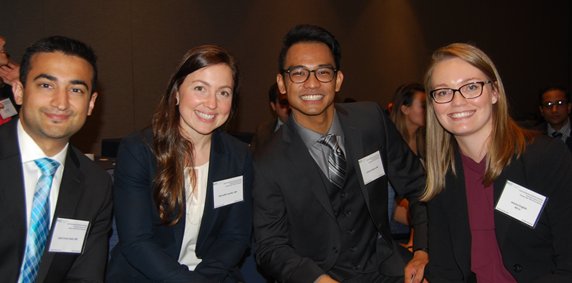 ETSU: Drs. Syed, Meredith Janell, Joseph Gabriel, and student Jessica English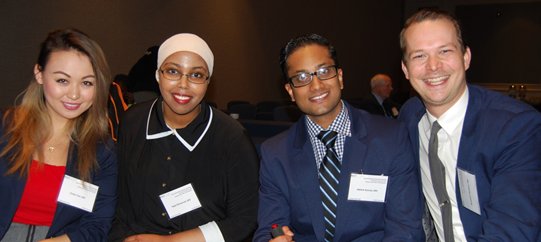 UT-STH Nashville: Drs. Cindy Tran, Sagal Mohamed, Abhish Koirala, and Ben Maddox

Vanderbilt: Drs. Christine Cook, Meral El-Ramahi, Christin Giordano, Peter Edmonds and student Rohini Chakravarthy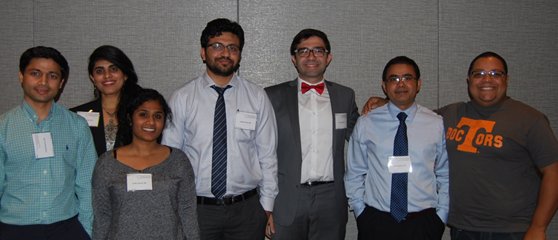 University of Tennessee Residents and Students

UT - Memphis: Sachim Kum, MD, Mr. Dennis Narcisse, Peter Snell, DO, and Christopher Jackson
UT-Knoxville: Drs. Amber Sholl, Emmanual Isang, James C. Morris, and Reem A. Hussein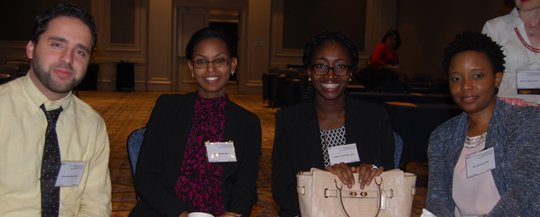 Meharry
The day's activities ended with a reception at the Franklin Marriott at Cool Springs. The evening activities began with the honoring of our immediate past ACP president Wayne J. Riley, MD, MPH, MBA, MACP and his wife Charlene Dewey, MD, FACP also a practicing internist who has provided presentations at our state meetings.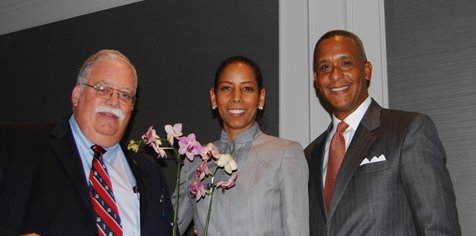 Drs. Lane, Dewey and Riley
Dr. Lane was also recognized with a service award from the chapter for his term of office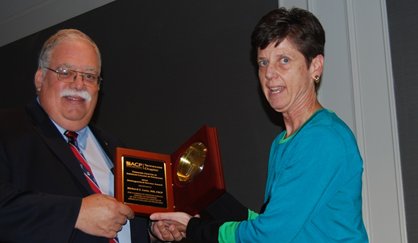 Dr. Lane receiving a service award from Governor-elect Dr. Tracey Doering
The evening activities were concluded by a unique presentation by Mr. J. Mark Tumblin on his Visiting the Base camp at Mount Everest.
The Saturday sessions closing out the meeting included the Resident and Fellow Oral Presentations won by Dr. Vying Ban, UTC as noted above. Following that, presentations on genetic testing for inherited colorectal cancer syndromes and how to avoid unnecessary peer-to-peer conversations for prior approval of imaging concluded the program. Many of these presentations are available at our Tennessee Chapter homepage under the News and Meetings heading.
Additional AMA category I and MOC credits were provided by the presentation of two 2-hour SEP module reviews by Dr. Dan Ely and Dr. James Lewis on Update in Internal Medicine and Update in Hospital Medicine respectively.
Next year's program has been scheduled for Friday October 27 and Saturday October 28, 2017 again at the Franklin Marriott at Cool Springs. Dr. Maria Tudor will continue to serve as program chair. Mark your calendar and plan to attend. The basic format will be the same with optional SEP modules for Saturday afternoon. TNACP also plans to participate in TMA's educational sessions next fall September 8-10, 2017 providing 4 hours of Internal Medicine CME in conjunction with TMA's multispecialty CME venue. My personal thanks go out to our program chair and her stalwart committee.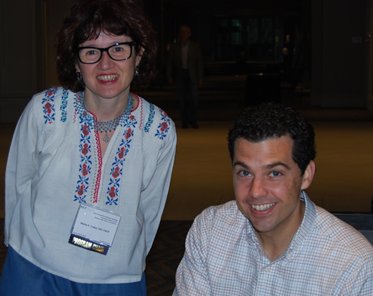 Maria E. Tudor, DO, FACP – Chair and Steve Hegedus, MD, FACP past chair hard at work
---
AWARDS: TNACP and ACP Awards and Recognition
2016 Chapter Excellence Award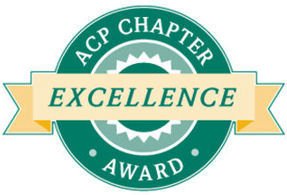 I am pleased to announce that our chapter is in receipt of the 2016 Chapter Excellence Award! The award recognizes chapters which successfully meet the standards for managing a chapter. In order to achieve the Chapter Excellence Award, chapters must meet all basic criteria and ten optional criteria. Criteria include such activities as formulating an effective Governor's Council and committees, communicating frequently with membership, providing educational opportunities, recruiting and advancing members and celebrating membership through local awards. I would like to extend a special thanks to those chapter members who assisted me in all of these endeavors! For their hard work and dedication, we received this award.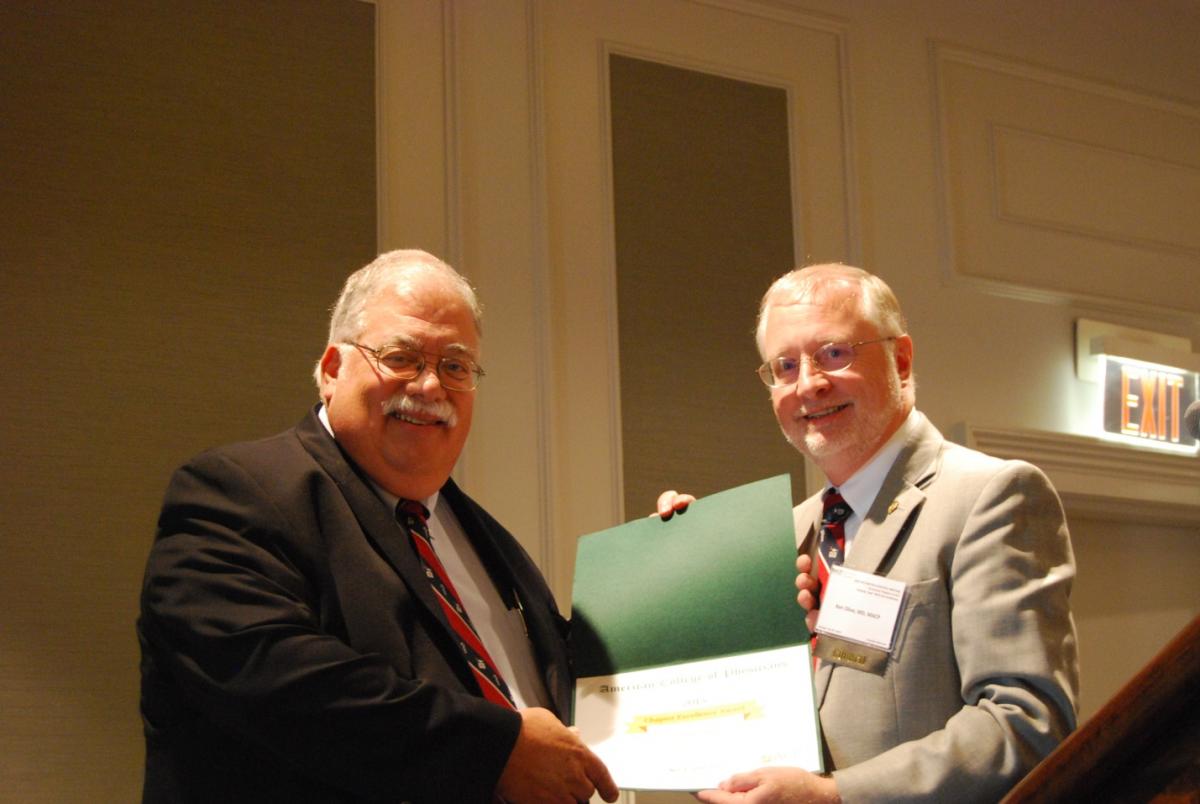 Governor Lane accepting the 2016 Chapter Award from previous Governor Ken Olive
New Fellows - Fellowship is an honor achieved by those recognized by their peers for personal integrity, superior competence in internal medicine, professional accomplishment, and demonstrated scholarship.
The Chapter recognizes and congratulates the following physicians who were elected to Fellowship in the College past 6 months - Drs. Matthew J. Beuter, John Thornton, Parul M. Goyal, Sapna P. Kripalani, Claude A. LaCharite, Uchechukwu K. Sampson, Jimmy Darrell, Idowu O. Uzzi, and Amit Vashist For those interested in applying for fellowship here is the ACP website for application.
New Master – Mukta Panda, MD, MACP of Nashville, Tennessee
Masters shall be Fellows who have been selected because of "integrity, positions of honor, eminence in practice or in medical research, or other attainments in science or in the art of medicine." Masters must be highly accomplished persons demonstrating eminence in practice, leadership, or in medical research. The Master must be distinguished by the excellence and significance of his or her contributions to the field of medicine. Dr. Panda as you may recall from my last newsletter had received the Outstanding Educator of Residents and Fellows at this year's national ACP meeting.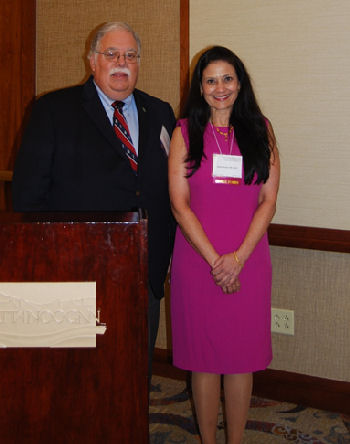 Dr. Lane with Dr. Panda 2016
Laureate Award 2016 – Daphne Norwood, MD, FACP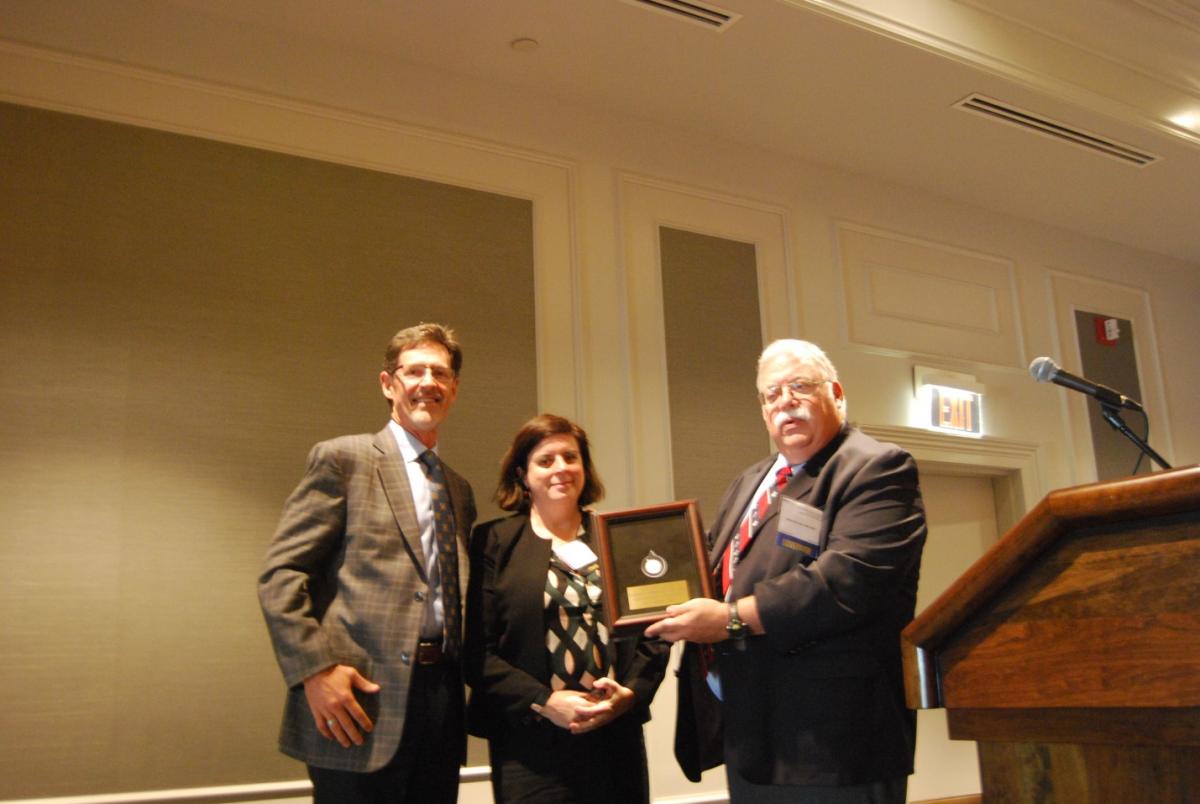 Dr. Lane presenting to Dr. Norwood with Dr. Dan Ely who nominated her.
Laureate Award - Criteria:
Fellow or Master
Senior physician
Demonstrated excellence to medical care, education, or research
Excellence and peer approval in the field of internal medicine
Service to community, chapter, and the ACP Nominations must document attributes and accomplishments which fulfill the above criteria.
Volunteerism and Community Service Award – No 2016 Recipient
Volunteerism and Community Service - Criteria
Member, Fellow, or Master
Distinguished volunteer work done as a physician and medically related.
Activity does not represent service performed as part of training or job
o Nominations should document:
o The range and scope of the volunteer and community services
o Whether the nominee been a leader in initiating, developing, or implementing volunteer programs.
o Whether the nominee's contributions been sustained over time.
o How have the characteristics of the nominee that have made him/her a role model inspired other physicians or medical trainees to participate in volunteer and community service.
Be A Pro-Active Member - Please assist our Awards and Nominations Committee by thinking of any ACP members you know who may be appropriate candidates for our Laureate or Volunteerism and Community Service Awards and submit those names to Ms. Renee Arnott. It is not too early for 2016 nominees. Likewise look at the community of internists you practice with. If one of them is not member encourage them to join. Person to person contact is the best recruitment tool. Here is the website for membership information. Don't forget if you recruit a member, you can reduce your own membership fee through the Recruit-A-Colleague program.
---
Letter of Recognition
Dr. Lane as an outgoing ACP Chapter Governor (Class of 2017) was awarded a letter of recognition for his term of office 2013-2017. Some achievements during his term included overall membership growth of 12%, Chapter nomination for a 2014 John Tooker Evergreen Award for initiation of a Strategic Planning Retreat, initiation of a plan for freestanding SEP modules around the state, Chapter recipient of the Chapter Excellence Award every year, and sending an increasing number of delegates each year to Leadership Day.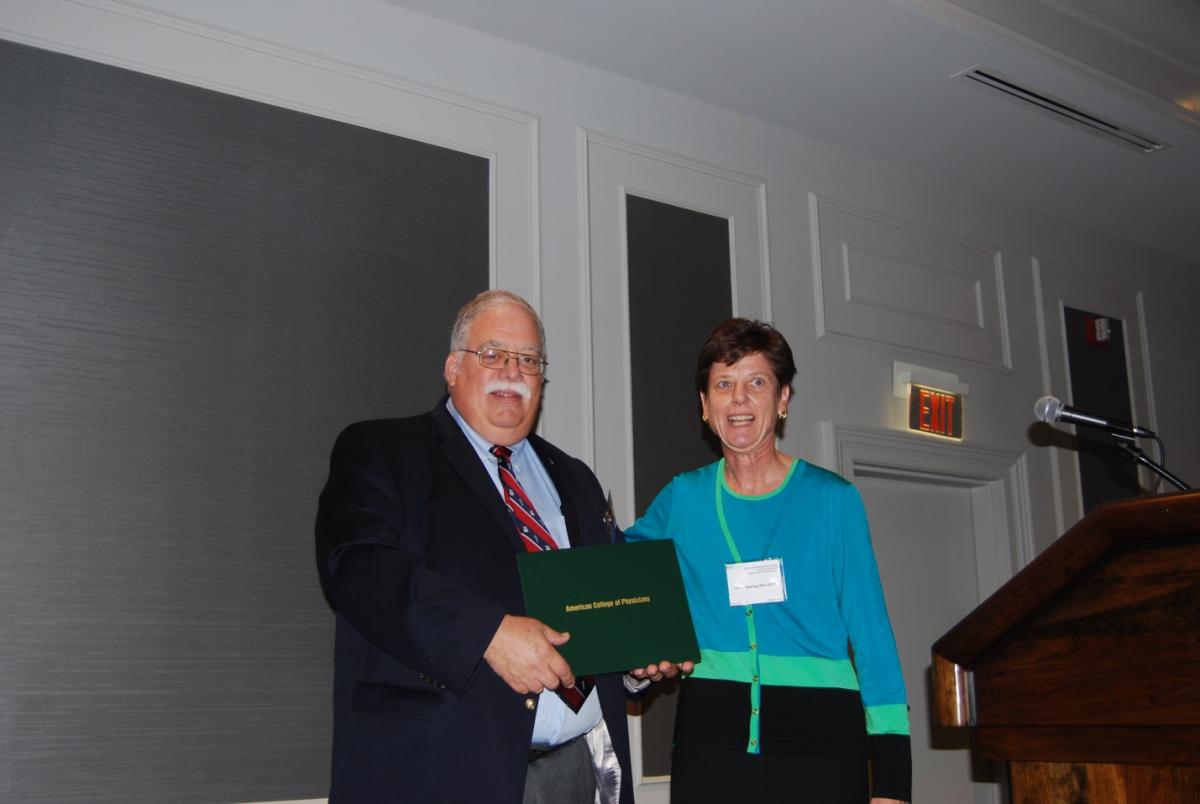 Governor Lane being presented the Letter of Recognition from Governor-Elect Tracey E. Doering
---
ADVOCACY
At the state level TNACP has worked with the TMA and their legislative committee to stay current on what issues coming before our state legislature is likely to have the most impact on medicine. For those not members of TMA I have with their permission extracted from their website what they have prioritized and where they stand.
Advocacy – State Legislative Focus 2017
The first session of the 110th Tennessee General Assembly will convene on Jan. 10, 2017. TMA will focus on several key legislative issues during the session.
Healthcare Provider Stability Act/Payer Accountability
TMA Position: Support
Background: The Healthcare Provider Stability Act would limit how often insurance companies can change fee schedules and payment policies/methodologies and would make such changes more transparent to healthcare providers.
The goal of the bill is to achieve predictability in reimbursement for healthcare providers by limiting arbitrary reimbursement changes in the middle of a contract period. By requiring notice of changes to fee schedules and payment policies, the bill would make it easier for providers to see, understand and deal with contract changes as they are made.
The legislation came close to passage during the 2016 session.
Maintenance of Certification
Background: TMA wants to address the ever-increasing cost and hassles for physicians associated with maintenance of certification.
MOC has become a topic of discussion nationwide, with legislation to address the issue gaining traction in other states. In Kentucky, new legislation prevents MOC as a condition of licensure and, in Oklahoma; legislation removed MOC as a requirement for physicians to be hired, gain admitting privileges or be reimbursed.
Scope of Practice
Background: TMA hopes to be able to support a recommendation expected to come out of a legislative task force established during the 2016 session to explore healthcare access and nursing scope of practice issues. The association remains firm, however, in advocating for a team-based approach between physicians and advanced practice nurses.
TMA nominated several members of the task force, and physicians and nurses were given equal representation on the task force. It convened for the first time in June 2016.
Balanced Billing
TMA Position: Oppose
Background: During the 2016 session, legislation was considered that would have required healthcare providers who are not contracted with a patient's insurance provider to give an estimate of anticipated charges to patients.
TMA opposed the legislation because it would have created operational slowdowns and unnecessary administrative hassles.
With TMA advocacy, the bill was amended to create a legislative task force to study the issue. The task force has yet to convene.
In the meantime, TMA is working with the Tennessee Department of Commerce and Insurance to reach a consensus on National Association of Insurance Commissioners (NAIC) network adequacy model bill and to make the bill more Tennessee-specific.
Patients for Fair Compensation
TMA Position: Oppose
Background: A Georgia-based group called Patients for Fair Compensation filed legislation in 2016 in an attempt to move medical malpractice lawsuits against physicians out of the court system and into an administrative patient compensation system.
The legislation did not pass but is expected to be filed again in 2017.
TMA's concerns about the proposal include questions about its constitutionality, the cost it would ultimately levy on physicians and the meteoric increase in National Practitioner Databank reports the system would create.
3- Star Healthy Project
Background: House Speaker Beth Harwell established the "3-Star Healthy Project" task force in 2016 to come up with a proposal to extend healthcare coverage to more of Tennessee's working poor residents as an alternate to Gov. Bill Haslam's failed Insure Tennessee proposal.
TNACP along with TMA is watching this issue and will evaluate any proposal(s) that emerges from the legislative task force.
As you can see TNACP is in concert with TMA on the aforementioned issues. What I see as the new issue is legalization of medical marijuana in Tennessee. The Tennessean reported on December 15 that Rep. Jeremy Faison R-Cosby and Sen. Steve Dickerson, R-Nashville, are sponsoring a bill to legalize medical marijuana in Tennessee. I queried Mr. Yarnell Beatty, JD the Vice President of Advocacy for TMA as to where TMA stands and he commented as follows:
"As an organization, TMA has no official policy on medical marijuana. Our members have varied opinions on the issue, but the fact remains, Tennessee's physicians cannot legally prescribe or administer the drug. Doctors must treat patients within the confines of state and federal law.
As the debate about whether to legalize marijuana for medicinal or recreational use continues among lawmakers, regulators and patients, TMA is calling for more clinical research to confirm or refute its medical efficacy. TMA would support limited changes to federal law to allow for the appropriate clinical trial research to take place. Medical research will drive our position on any changes to existing laws impacting patient care.
Our ongoing advocacy efforts remain focused on legislative issues that promote safe, quality healthcare for all patients and physicians across the state, and to ensure that no medical marijuana law passes in Tennessee that could potentially place our members in legal jeopardy."
I also queried the ACP for any current changes in previous policy. They issued a position paper in 2008 which has an addendum update in 2016 "Supporting Research into the Therapeutic Role of Marijuana" It may be located under the topic: Prescription Drugs and Public Health Related Topics .
The following five positions are noted in the executive summary:
Position 1: ACP supports programs and funding for rigorous scientific evaluation of the potential therapeutic benefits of medical marijuana and the publication of such findings.
Position 1a:ACP supports increased research for conditions where the efficacy of marijuana has been established to determine optimal dosage and route of delivery.
Position 1b: Medical marijuana research should not only focus on determining drug efficacy and safety but also on determining efficacy in comparison with other available treatments.
Position 2: ACP encourages the use of nonsmoked forms of THC that have proven therapeutic value.
Position 3: ACP supports the current process for obtaining federal research-grade cannabis.
Position 4 (see Addendum): ACP urges an evidence-based review of marijuana's status as a Schedule I controlled substance to determine whether it should be reclassified to a different schedule. This review should consider the scientific findings regarding marijuana's safety and efficacy in some clinical conditions as well as evidence on the health risks associated with marijuana consumption, particularly in its crude smoked form.
Position 5: ACP strongly supports exemption from federal criminal prosecution; civil liability; or professional sanctioning, such as loss of licensure or credentialing, for physicians who prescribe or dispense medical marijuana in accordance with state law. Similarly, ACP strongly urges protection from criminal or civil penalties for patients who use medical marijuana as permitted under state laws.
In the 2016 addenda the following statement occurs;
ACP's Health and Public Policy Committee (HPPC), on whose behalf the paper was commissioned, has carefully considered each of the comments received. It has concluded that the recommendations made in the original paper are sound and supported by evidence, and should continue to be the basis of the College's recommendations, with one revision to address misunderstanding about the College's position on reclassification.
I have taken the liberty to extract the bold highlights from the addenda so the current position of the College is clear, as I believe we will see much discussion of this at least at the state level this year.
1. Legalization of Marijuana
ACP has taken no position on increasing, reducing, or eliminating existing state and federal prohibitions and restrictions on use of marijuana for general use, and any representation of the College's views to suggest otherwise is inaccurate….ACP believes that the scientific evidence suggesting that there may be therapeutic value in marijuana or cannabinoids should not be overshadowed by the controversy surrounding legalization of marijuana for general use.
2. Marijuana's Schedule in the Controlled Substance Act
ACP believes that the evidence for the therapeutic value of cannabinoids for some patients is sufficiently strong to merit a review of marijuana's classification as a Schedule I controlled substance; any change in its classification would occur only if the evidence after such review was found to be sufficient to support such a change.
3. Protection for Physicians and Patients due to Inconsistency in Federal and State Laws
4. Smoked Marijuana as Medicine
ACP has not advocated for the long-term use of smoked marijuana; rather, the paper explicitly discusses the harm associated with chronic use of smoked marijuana and stresses the need for development of nonsmoked forms of cannabinoid delivery systems strictly for therapeutic purposes supported by the evidence.
Basically the positions of TMA, ACP and TNACP are the same: Document what evidenced based medicine would indicate are legitimate medical uses, protect our patients from misuses, and protect our patients and prescribing physicians from criminal or civil liabilities for use as permitted under state law. I have not done a literature review but did note two recent objective reviews in the journals I tend to scan, a review of use in chronic pain and a meta-analysis both in JAMA 23/30, 2015.
Before moving onto national issues I would remind those who would like to see how political sausage is made at the state level is to join your TNACP Health and Public Policy Committee and other politically interested internal medicine physicians and join with us when doctors from across our state don their white coats and visit their state representatives.
Day on the Hill will take place Tuesday, March 7, 2017.
Advocacy – National Legislative Focus 2017
With the results of the presidential election finalized we are poised for major changes in the political plan for health care. However, just as with the economic turndown in 2008, the best approach remains to stay with your long term guiding principles rather than making kneejerk responses. I attended a webinar on the AMA's Legislative Agenda for 2017 summarized on their slide as follows:
o Further MACRA/QPP refinements
o Expanded APM opportunities
CMMI and new model mandates
More relief for small and rural practices
Simplified scoring
Reasonable transition
HER barriers (certification, data blocking, registry integration, interoperability)
Continued QPP resource development for physicians
Statutory regulatory relief
Affordable access to care post-ACA
S-CHIP coverage
IPAB repeal
Graduate medical education
DACA protections for medical students
Drug pricing
Public health issues
Gun violence
Climate change
It comes as no surprise that ACP is focused on many of the same issues. Nitin S. Damle, MD, MS, MACP, the current President of ACP on November 17, 2016 sent out a letter to the membership indicating where ACP as an organization stands in the upcoming political arena and what will be our advocacy approach.
Specifically the following salient points are extracted:
"The College, as a matter of U.S. law and practice, is non-partisan. We engage in advocacy based on policies that have been adopted by our Board of Regents, through a deliberative, consensus-building process involving our policy committees, councils and elected Board of Governors and Regents, supported by a rigorous review of the evidence of how different policy options will affect patient care. We are obliged to pursue these policies no matter the results of any given election.
Accordingly, ACP will strive to engage in a constructive and bipartisan way with President-elect Trump and his administration, and with Congress, to achieve bipartisan progress on the College's policy objectives.'
He goes on to outline areas where we might expect bipartisan support and areas where it will be less likely and how we will approach the latter.
"…areas where we think bipartisan progress may be possible:
Implementing and funding initiatives to address the opioid epidemic, building on the bipartisan Comprehensive Addiction and Recovery Act signed into law earlier this year
Improving access to mental health services and integration of behavioral health into team-based primary care
Promoting policies to improve the prevention, treatment and management of chronic diseases
Expanding access to telehealth services particularly in underserved communities
Strengthening graduate medical education funding and primary care training programs to ensure that the U.S. is training a sufficient number of internists with the skills needed to provide the highest quality care
Supporting the successful transition to quality based payments and new physician-led alternative payment models, as authorized by the bipartisan Medicare Access and CHIP Reauthorization Act (MACRA)
Redesigning quality measurement to make it clinically relevant, actionable and meaningful for doctors and patients alike
Addressing the high cost of prescription drugs
Reforming the broken medical liability system, including innovative options like no-fault health courts and safe harbors for following evidence-based practice guidelines
Reducing administrative burdens that interfere with the patient-physician relationship
Areas where "ACP's policy objectives do not appear to be aligned with those of the new administration and Congress and may be more challenging:"
Concerns with maintaining gains under the Affordable Care Act
Concerns with health impacts of climate change
Advocacy advocate for evidence-based policies to reduce injuries and deaths from firearms included closing loopholes in the U.S. background check system, at both the federal and state levels.
The Advocates for Internal Medicine Network in their December 14, 2016 email stated things very succinctly as follows:
As we look ahead to January 3rd when the new Congress begins and the new Trump Administration takes shape, we look forward to working with them on policies that have bipartisan support, including: improving care for the chronically ill, reducing administrative burdens, increasing access to telehealth services and treatment for the mentally ill, reforming the medical liability system, and reducing the cost of prescription drugs. We also face challenges though that will put many ACP-supported policies at risk in the next year, including rolling back or eliminating the Affordable Care Act, which instituted land mark reforms for near universal coverage, and vital patient protections and essential benefits and potential cuts in Graduate Medical Education funding. Your involvement and participation in our advocacy efforts going forward will therefore be crucial. We will engage with you frequently, and with distinct purpose, in the new year. At times, we will need you to reach out to your members of Congress on matters of great importance, and on short notice, but we will also keep you well apprised of developments on our key issues as they unfold. To that extent, if you have direct ties or access to your members of Congress, including the incoming freshman members, please contact ShuanTomlinson and let her know.
Join more than 15,000 colleagues in the Advocates for Internal Medicine Network (AIMn) in advocating for the interests of internal medicine in Washington, D.C. The AIMn program is for ACP members interested in participating in federal advocacy. It is designed to help members engage with their federal lawmakers on policy issues important to ACP and internal medicine. There is no cost. To register go here.
---
What is Leadership Day?
Please Join Us for Leadership Day 2017 on Capitol Hill. If you are interested please contact our executive director Ms. Renee Arnott. TNACP provides a stipend to offset expenses if you are an approved delegate by the Governor. Our goal is to try to have delegates from each of our U.S. Representative districts as they are more responsive to their constituents then simply physicians.
* May 23-24, 2017 * Washington, DC at the Mandarin Oriental Hotel
Leadership Day is the College's annual two-day advocacy event in Washington, DC that enables our members from across the country to bring our issues of concern to U.S. lawmakers. This is a great opportunity for the College and our members to bring our policy priorities to Congress and try to influence the legislative process on behalf of internal medicine. For more information.
---
ACP Advocacy Blog
Follow the ACP Advocacy Blog authored by Mr. Bob Doherty. Bob Doherty is Senior Vice President, American College of Physicians Government Affairs and Public Policy; Author of the ACP Advocate Blog – See his comments of December 15, 2016 on effects of repealing the ACA.
---
Learn More about ACP Fellowship
Fellowship in the College is an honor. Being an FACP® is a distinction earned from colleagues who recognize your accomplishments and achievements over and above the practice of medicine. The most important considerations for ACP Fellowship are excellence and contributions made to both medicine and to the broader community in which the internist lives and practices. If you are a member apply for fellowship. If you are already a fellow encourage a member colleague to apply for fellowship. The process is easy.
---
DynaMed Plus: A New Benefit for ACP Members
ACP and EBSCO Health are collaborating to provide ACP members with free access to the most current, evidence-based clinical decision support tool, DynaMed Plus®, as a benefit of ACP membership. AS with other ACP clinical resources it is available on PC, IPad, and IPhone.
---
Upcoming Dates in 2017
TNACP Reading Retreat – Fall Creek Falls – March 3-5.
TMA Day on the Hill - March 7.
ACP Internal Medicine 2017 – San Diego -March 30-April 1.
TMA House of Delegates – Nashville Airport Marriott April 30.
ACP Leadership Day – Washington, DC – Mandarin Oriental - May23-24.
TriMED Healthcare Educational Seminar (TMA) – Music City Center – September 8-10.
TNACP Annual Scientific Session – Franklin Marriott at Cool Springs – May 27-28.
Personal thank you for letting me serve as your Governor for 2013-2017