You are here
GOVERNOR'S NEWSLETTER June 2014
GOVERNOR'S NEWSLETTER June 2014

---
---
From the Governor
Richard G. Lane, MD, FACP, ACP Governor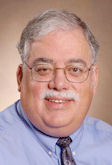 Greetings from your Governor. As promised, in keeping with our Strategic Plan, I am trying to provide increased communication on what we are doing at the state level on behalf of your ACP membership. As noted above it has been very busy since I communicated with you in my Governor's interim update in January. Highlights include the spring reading retreat; advocacy both with ACP leadership and with your legislators; developing an impressive fall program; and garnering a few awards along the way. This, however, is your chapter and we need active participation. Please heed the call for nominations.
---
TNACP Literature and Medicine Reading Retreat
The following is a report from Mark D. Anderson, FACP who has single-handedly taken responsibility for organizing and implementing our TNACP reading retreats for the past several years.
The 27th edition of the Tennessee ACP Literature and Medicine Reading Retreat was held March 7 -9, 2014. Twenty six physicians and their guests (many also physicians) convened at the Fall Creek Falls State Park - a beautiful place, even in the dead of winter. The teacher and leader of the course was Dr. Greg O'Dea again. He is the UC Foundation Professor of English and Director of the Honors Program at the University of Tennessee at Chattanooga.
Our topic this year was: Myth and Medicine: Translating Homer. In addition to The Iliad and The Odyssey, we read a series of articles by Marshall and Bleakley in Medical Humanities on how reading narrative in Homer can help us become better "story tellers" when we are constructing our patients stories into a meaningful narrative for our own use in diagnosis and treatment as well as communicating with our colleagues. Some were skeptical prior to our meeting but Dr O'Dea was able to guide us to understand that these 3000 year old works can in fact enrich what we do as physicians as we take our patients histories and use them as a crucial part of our work. Many expressed that this grows all the more important as the EMR actually erodes the skill of medical narrative.
There was great fellowship as well as great learning. Many have attended this retreat for multiple years and make it seem like a family reunion; however, first time participants were made very welcome and all agreed they would not want to miss future retreats!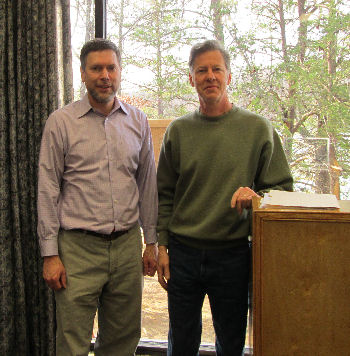 Mark and Greg
---
ACP Internal Medicine 2014 - Leadership Update
ACP met in Orlando, Florida this year. The Board of Governors (BOG) had a very active two days prior to the educational sessions. Two items of relevance to our chapter were actions on our submitted resolution and concerns from our membership regarding the current changes in the MOC (maintenance of certification). In respect to our resolution, concerns had been raised by two of our sister organizations in the state, the Tennessee Geriatrics Society (TGS) and the Tennessee Association of Long Term care Physicians (TALTCP), regards use of the Beers Criteria for Potentially Inappropriate Medication Use in Older Adults. As updated by the American Geriatric Society (AGS) its use was intended as a guideline to assist in clinical decision making to improve safety and quality of care when prescribing medication in older adults. However, it appears several of the large payers through their PBMs have simply excluded drugs in the Beer's list turning the guideline into a de facto regulation. Companion resolutions were developed that have gone to the respective national organizations of the TGS and TALTCP, the AGS and the American Medical Directors Association respectively, for consideration as well as through the Tennessee Medical Association to their AMA delegation to address the concern that guidelines are being used as regulatory directives by third party payers. Our resolution stated as follows:
14-S14. Using the Beers Criteria for Drug Utilization Review (DUR) and Medication Therapy Management (MTM)
Be It Resolved: TNACP maintains that Beers Criteria are intended to inform thoughtful prescribing decisions. Aggregate trending of Beers list medications may be helpful. In individual situations, however, use of Beers list medications may be clinically indicated and the prescribing physician should not be constrained. Beers Criteria alone should never dictate prescribing, nor should they be used punitively and be it further
Resolved: TNACP directs ACP bring this concern to CMS for recognition that the Beers criteria are a possible guideline for prescribing and not a regulation.
Action: Referred for Study and Report Back to the BOG
The discussions regards the MOC were much more heated. The Board of Governors clearly conveyed their members concerns with the cost and relevance of the MOC to their day to day practice and whether it even had any evidence supporting achieving certification correlated with better patient care.
The following resolution from the BOG: 2-S14. Conveying Membership Dissatisfaction with the Maintenance of Certification (MOC) Process resulted in adoption and referral for action by the Board of Regents. Visible evidence of the ABIM's (American Board of Internal Medicine) awareness of concerns and ACP's response are in the recent articles in the Annals of Internal Medicine: http://annals.org/article.aspx?articleid=1871128 and http://annals.org/article.aspx?articleid=1871129.
New issues continue to arise such as the recent change in the composition of the governing body of the ABIM to include non-physicians. While ACP continues to meet with the ABIM to try to get an examination format that is cost-effective and clinically applicable to the different sites and styles that internists now practice in, the membership has to accept the current era of medicine demands accountability and transparency and some format of continued education documentation and certification of clinical skills. The real concern is why it appears that ABIM is moving to become the sole authority of what is a "good doctor". A physician need only Google his/her name to find out what social media thinks. ABIM should stay with simply testing the core body of medical knowledge. I would refer you all to the ACP website for information on MOC and ACP resources to help you understand the requirements and how to achieve them.
The last aspect from ACP leadership is the ACP 2014-2015 Priority Initiatives reported by CEO Steve Weinberger, MD:
Develop and implement a Maintenance of Certification (MOC) Navigator
Help ACP members experience more joy in their professional lives
Expand ACP's reach internationally
Increase knowledge and use of High Value Care (HVC)
Increase the impact of ACP Smart Medicine
Increase ACP's visibility in academic centers/institutions
Support implementation of the Affordable Care Act
Improve the utility, safety, and quality of Electronic Health
Facilitate transitions to value based payment and delivery models
Support effective partnerships among patients, families and care teams
---
ACP Internal Medicine 2014 - Convocation Recognitions
New Fellows are invited to march in at the convocation within the first two years of being elected to fellowship. We had 65 new fellows over the past two years eligible for attending of which 13 new fellows were added this last 6 months. ACP Fellowship adds value to your professional life. It is a mark of distinction from colleagues who recognize accomplishments and achievements over and above the practice of medicine. Fellowship honors those physicians who have made contributions to medicine, to their community, or to ACP. The following 11 were able to attend and be recognized for their achievement: Haythem Adada, MD, FACP; Clement Aluyi, MBBS,FACP; Hadi E El Bazouni, MD,FACP, Mary Nell Ford, MD,FACP; Sonal Gupta, MD,FACP; Richard S. Gusso, MD,FACP; Ibrahim Nakhoul, MD,FACP; Victor C. Nwazue, MBBCh,FACP; Pitchar Theeratham, MD,FACP; Christopher H. Trabue, MD,FACP; and Daniel P. Vance, MD,FACP.
My apologies that all of these worthy Fellows did not get included in the photo below.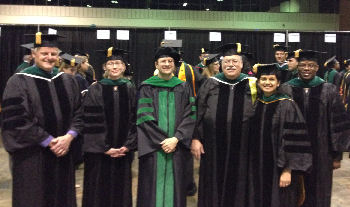 2014 New Fellows
A distinct honor was the advancement to master of James B. Lewis, Jr., MD, MACP. His write up in the Convocation program indicates:
Dr. Lewis, a general internist, has served as a faculty member at the University of Tennessee College of Medicine (Memphis) since 1980 teaching and caring for patients at Baptist Hospital, the Regional Medical Center and the VA Medical Center. He has served as Professor of Medicine since 2007 and was Program Director and Vice Chair for Resident Education, Internal Medicine, University of Tennessee, July 1, 2000 to December 14, 2007. The annual internal medicine teaching award is named in his honor. He has coordinated reading retreats and provided perioperative medicine lectures and SEP sessions for the Tennessee Chapter. He is a Laureate of the Tennessee Chapter of ACP. He has served on the Tennessee ACP Governor's council since 1989 and chaired the ACP Associates Committee from1989 through 1993. He has served on numerous ACP Annual Meeting program Committees. Dr. Lewis has served as a reviewer for MKSAP, Annuals of Internal Medicine, and National ACP Abstract Competition, and as a question writer for the National Board of Medical Examiners.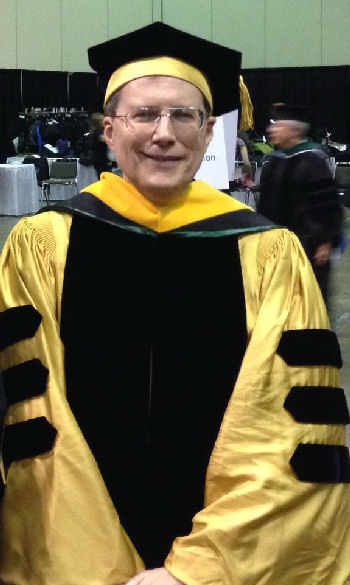 James B. Lewis, Jr., MD, MACP
---
Walter J. McDonald Award for Young Physicians - Ryan D. Mire, MD, FACP
His write up from the Convocation program follows:
The Walter J. McDonald Award for Young Physicians recognizes outstanding achievement by a physician member who is within 16 years of graduating medical school and who is not an ACP Medical Student Member or Resident/Fellow member, Dr. Mire completed his internship and residency at the Medical College of Virginia in Richmond , VA and also served as Chief Resident for the department of Internal Medicine. He is Assistant Clinical Professor at Vanderbilt University. He served as President of Heritage Medical Association from 2008-2009 and is presently Chair of the Medical Advisory Committee and Associate Chief of Medicine at Saint Thomas Hospital. For ACP, Dr. Mire chaired the Council of young Physicians (now Early Career Physicians) from 2010 to 2011, edited the eighth edition of the Young Physician Practice Management Survival Handbook, and currently serves as Treasurer and Chair of the Finance Committee for the ACP Chapter Governor's Council. (Dr. Mire also had a nice write up in the Spring 2014 UT Medical Alumni Newsletter).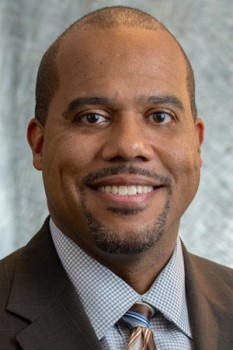 Ryan D. Mire, MD, FACP
Two additional recognitions included former TNACP Governor, Ken E. Olive, MD, FACP of Johnson City, TN for having been this past year's recipient of the Laureate Award and Donald E. Robinson, MD, FACP of Cleveland, TN for having been this past year's recipient of the Volunteer and Community Service Award. Both had been recognized at our fall state meeting last year.
---
ACP Chapter Awards 2014
Once again Tennessee was a recipient of the Chapter Excellence Award. The award recognizes chapters that successfully meet the standards for managing a chapter. I would recognize our past Governor, Dr. Ken Olive and our former executive director, Ms. Wilma Cooley, for the bulk of the work submitted through June of 2013 that allowed us to garner this honor. We were also a nominee for the John Tooker Evergreen Award under the category of Innovation in Chapter Management. This award recognizes chapters for their outstanding efforts and activities at the local level. Our submission was related to the organization of the strategic planning retreat last spring and the development of a strategic plan to provide a roadmap for chapter activities during my term as your Governor. Although we didn't win we did participate so thanks are due to your Governor's Council who took a weekend time away from family and practice to do the work and to Keith M. Sturges, PhD, who served as our facilitator.
The annual Internal Medicine session is a tremendous opportunity for continuing education and including MOC credits and collegial networking. For those who missed this year's, save the dates for next year's Internal Medicine 2015 in Boston, MA April 30-May 2, 2015.
---
Spring Governor's Council Meeting at MedTenn 2014
Your Governor's Council met Saturday morning April 26, 2014 at the Franklin Marriott in conjunction with the Tennessee Medical Association's annual meeting (MedTenn 2014) to help support more involvement of subspecialty member societies. The first part of the meeting was focused on where we were with the objectives set out by the Strategic Plan approved at the fall 2013 council meeting. Some additional realistic timelines and setting of goals to achieve before fall meeting of the council were discussed. Next committee reports were presented including the financial report which was approved. As Governor I reported on the items discussed above under ACP Internal Medicine 2014. The remainder of the meeting focused on the status and additional work to be done on the fall program. The fall program is essentially completed and the brochure should be coming out in the next few weeks. Steven M. Hegedus, MD, FACP is to be commended on the yeoman's work, he and his planning committee, have done in organizing an excellent CME event. The theme is High Value Care (HVC). This course has been approved for 11.5 CME credits with an additional 4.0 CME credits for the Saturday afternoon SEP sessions. As we have previously done, the SEP session can be registered for as a standalone CME should your professional obligations preclude you from being able to attend the entire CME event. Mark your calendars for the TNACP Annual Scientific Session on Friday/Saturday, October 10- 11, 2014 to be held in Franklin, TN at the Franklin Marriott.
Following the Governor's Council meeting, your Governor, Dr. Lane participated in a luncheon panel discussion at MedTenn 2014, entitled "Bringing Medicine Together". The topic was Tennessee's State Governor Haslam's "Tennessee Health Care Innovation". The executive branch of the Tennessee government has developed and is rolling out their own healthcare payment reform. It is focused on risk-based episode payments and aggressive use of patient-centered medical homes. The state intends to create up to 75 episodes covering almost all areas of medical practice, and to require their use in both TennCare and the state employee health plan. It is also encouraging commercial and self-insured plans to join in. As with all these cost saving innovations impact on the practicing physician will be dependent on awareness of one's own practice demographics and the transparency of the payer's financial disclosures. I would encourage you to watch the Tennessee Government website related to this to see how it evolves.
---
Legislative Update - TNACP
The following is a report from Robert Vegors, MD, FACP, and Chair of our Public Policy Committee.
As you have read in the April ACP Internist, it has been a frustrating year for ACP on the Hill. Congress decided to kick SGR down the road one more time - making a total of 16 patches in 11 years at a cost of over $150 billion. Senators Alexander and Corker voted NO to the can-kicking, and deserve our thanks. If you go to the Advocacy section of the ACP website, you can send them an e-mail asking them to stick to their guns on this.
And in Tennessee Medicaid expansion appears to be permanently stalled as our Governor Haslam takes a Don Quixote stance and jousts with the CMS windmill. That bit of political maneuvering has already cost the state over $250 million. And it's not just the money. It's the additional illness and deaths occurring in our state because of less insurance coverage for the working poor and others.
But there are some bright spots for TNACP. The governor's pseudoephedrine bill (SB1751/HB1574) made it to the finish line, limiting non-prescription purchases to 5.76 grams per month, and requiring a prescription for those under 18.
And the Healthcare Consumer Right to Know Profile bill (SB1853/HB 2171) passed. It allows a physician to petition to have his name removed as a supervising physician from the department of health profile for a nurse practitioner or PA. This may seem minor until one recognizes that 37 of the top 50 narcotic prescribers in the state last year were NPs and PAs, and that some of the physicians listed by the health department as supervising were unaware of their listing! And those 50 are just the tip of the iceberg. This is an important step in a state that has almost 50,000 patients prescribed 100 mg or more per day of morphine equivalent.
The one disappointment is the Payer Accountability bill (SB2427/HB2303) championed by Senator Bo Watson and Representative Jon Lundberg. It is still stuck in negotiations that will continue through the summer. This bill simply states that a healthcare insurance company cannot unilaterally change a contract with a physician or other provider, including payment for your services and other details. And the insurance companies have fought hard to defeat this, as it would be the first law of its kind in the U.S. if passed. Representative Lundberg has insisted on a letter of commitment from the highest levels of the involved health insurance companies, promising that they will this summer work on a solution to the problem rather than undermine the process. This requirement is unprecedented, and bodes well for an interesting summer of parlay.
If this sort of political drama piques your interest, you may want to consider being an ACP Key Contact. Go to the Advocacy section of the ACP website and sign up. On a state level contactBob Vegors at or Mary Headrick. Our goal is to have 2 key contacts for every state senator and legislator in Nashville, forming a network of support for TNACP positions.
---
Legislative Update - Your Governor's Activity
On behalf of TNACP, as well as being an active member of TMA, I participated in their March 12 PITCH (Physician's Involved in Tennessee's Capitol Hill). I discussed and presented leave behinds of ACP's position on increasing access to care, specifically expansion of Medicaid by states. As you are aware the Tennessee legislature is opposed to TennCare expansion. Governor Haslam also realizes it has no chance of occurring in Tennessee but has tried to see about a waiver to allow a privatization type arrangement to secure federal funding for expansion. However, the very afternoon of my visits to the legislators the House Insurance and Banking subcommittee defeated a measure to bring federal funding to Tennessee to expand TennCare by a 5-3 vote. House Bill 1723 would have expanded TennCare only for as long as all of the funds came from the federal government through the Affordable care Act. Tennessee potentially would have received as much as $1.4 billion in federal funds.
The other bill we focused on affecting internists is the Healthcare Provider Stability Act (SB2427/HB2303) which we support. This holds payers to contract terms as it relates to fee schedules and payment methodology until either the renewal date or the ending date of the contract. The recent mid-contract unilateral drastic BCBST reimbursement reduction on office laboratories is an example of why this legislation is needed for physicians to protect their practice solvency. The bill provides predictability for physician practices by keeping reimbursement rates consistent for at least 12 months. It is not a mandate for benefits nor does it require annual contract renegotiations.
On April 22, 2014 I was able to represent ACP at a fundraiser in Nashville sponsored by Dr. James Loden, an ophthalmologist, at his home across the way from Governor Haslam's in Nashville and visit with Senator Lamar Alexander. I did have time to personally talk with Sen. Alexander and establish contact with Ms. Mary-Sumpter Lapinski , his health policy director. I was able to thank him for voting against the SGR patch and he indicated that both he and Sen. Bob Corker were for a permanent fix of SGR. I specifically asked him if he felt despite the patch, that there was a chance that the bipartisan, bicameral SGR repeal bill had a chance of being passed in this legislation. He did indicate that he was talking with other senators and they had an interest in passing a permanent fix and planned to be working on this issue over the next few months. He also indicated if the Republicans won sufficient seats in the upcoming elections he would move up to chair of the HELP (Health, Education, Labor and Pension) Committee which impacts Medicare funding. He was clear that it took a 60% vote to get bills through the committee so even as chair he would need to build consensus. He also spoke briefly about the federal government trying to exert too much control over health care as well as education and was interested in returning that control back to the individual states.
---
Legislative Update - ACP Leadership Day 2014
Your stalwart Public Policy Committee, Drs. Mary Headrick of Maynardville, TN and candidate for the U.S. 3rd congressional district; Robert Vegors of Jackson, TN current chair of your Public Policy Committee and incoming Chair of the TMA Board of Trustees; Fred Ralston of Fayetteville, TN and past ACP President; and myself from Franklin, TN your current Governor represented you in Washington, D.C. May 21-22. We had the added good fortune of two third year medical students from Meharry Medical College, Ms. Ayeetin Azah, representative of the ACP Council of Student Members for the southeast region and Mr. Jamar Slocum who has mentored with Dr. Ryan Mire, your treasurer.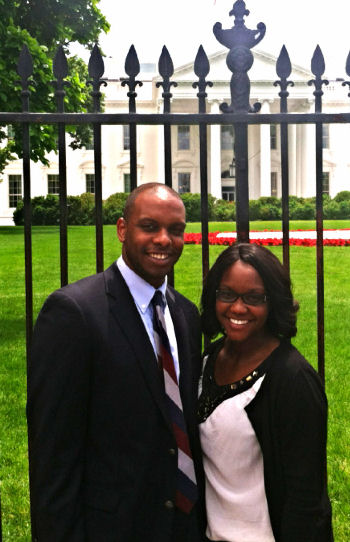 Mr. Jamar Slocum and Ms. Ayeetin Aza
On day 1 they attended a political primer ACP puts on for medical students, residents and fellows in training. We all attended the remainder of the day sessions on background information on medical issues of priority to ACP and what the congressional environment referable to these issues was likely to be. Mr. Robert Doherty, SVP, Governmental Affairs and Public Policy for ACP gave a superb overview and I have included the URL to his presentation. This really puts the current health picture in perspective. Later in the day your Governor, moi, was honored with a Special recognition 2014 from AIMn (Advocacy for Internal Medicine network) for the previously stated activities on behalf of TNACP and ACP. I would encourage all TNACP members to join AIMn, even if only to get the The Capitol Key, the advocacy newsletter to keep updated on political issues impacting internists and our ability to care for our patients. Their website also provides an effortless way through cut and paste technology to contact your congressmen on legislative barriers interfering with your ability to deliver care the way you were trained.
The second day is the most interesting as it is the time you have scheduled visits to your legislators or more commonly their health aides. It is actually somewhat worrisome to realize the legislative aides synthesizing the information to shape our legislators opinions and actions on health care issues are on average less than age 30. Most of our practice demographics are patients greater than age 50 and for some of us much older. We did get to visit with legislative aides to Senators Lamar Alexander and Bob Corker and Representatives Phil Roe, Marsha Blackburn, and Jim Cooper. We also had a brief chat and Kodak moment with representative Roe.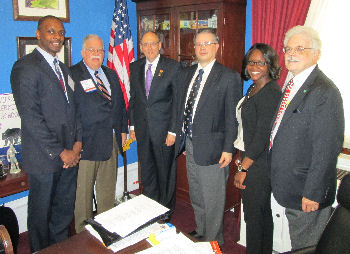 Leadership Day 2014
The four priority issues we discussed with these folks and asked them to act on included: 1) SGR (Sustainable Growth Rate) patch repeal and enactment of the bipartisan, bicameral bill already approved through three committees (S. 2000/H.R. 4015 - SGR Repeal and Medicare Modernization Act) and to resolve the current partisan barrier on how to fund this legislation; 2)Extend the current Medicaid (TennCare) parity with Medicare payment policy that expires at the end of 2014 until 2016; 3) Enact bipartisan medical liability "safe harbor" legislation (H.R.4106 - Saving Lives, Saving Cost Act) with the "safe harbor" meaning the physician had followed current guidelines, and to initiate a pilot study of "health courts"; 4)Reform and sustain GME (graduate medical education ) financing and realign GME with workforce needs. This also included a request to fully fund Title VII and the National health Service Corp programs, the National health Care Workforce commission and enact legislation to increase the number of GME training positions in primary care (S.577, H.R. 1180, and H.R. 1201). For those of you desiring further information about these wants I would refer you to the ACP leadership Day website that had the leave behinds we provided to the legislative aides summarizing the issues and our specific asks of their congressmen.
---
Calling for Awards Nominations
The Tennessee Chapter of the ACP is proud of our members and their accomplishments. Tennessee internists are a dedicated group of individuals who have dedicated their lives to the health and wellbeing of Tennessee patients.
Dr. Ken E. Olive chairs the TNACP Awards Committee and would welcome nominations for the Laureate Award and Volunteerism Award. Please contact our administrative assistant,Ms. Renee Arnott or (615)385-2100 to nominate a colleague.
The Laureate Award is designed to honor those Fellows and Masters of the College who have demonstrated, by their example and conduct, an abiding commitment to excellence in medical care, education, and research, and service to their community, their chapter, and the ACP. A Laureate nominee is usually a senior physician who has been a Fellow or Master of the College for at least 15-20 years and meets all other categories of eligibility.
The Chapter Volunteerism Award recognizes the work of members who are involved in volunteerism and community service activities. This award enables our Chapter to raise the level of awareness and promote dialogue and action in volunteerism within our region.
The Tennessee Chapter award is awarded to a Tennessee internist who has made a great impact in the state of Tennessee. For both awards the candidate must have provided volunteer service post-training. Self-nominations are not permitted. The services must have been performed on a voluntary basis and not required for the completion of teaching, training, or position requirements. Volunteer work must have been done as a physician and be medically related.
---
ACP Tools and Resources
Annals of Internal Medicine Launches Interactive CME- and MOC-accredited Medical Education Tool
Annals of Internal Medicine released a new interactive medical education tool designed to test physicians' decision-making skills. Annals Virtual Patients uses a unique "if this, then that" format, so each learner goes down his or her own path through a complex clinical simulation. Each simulation covers the examination, diagnosis, and treatment of a virtual patient. Upon completion of each case, physicians may earn Continuing Medical Education (CME) and Maintenance of Certification (MOC) credits.
Annals Virtual Patients is uniquely formatted to allow physicians to learn from mistakes as they proceed through the simulations. Selecting a response prompts a detailed explanation of the medical consequences based on the answer chosen. At the end of each case, the physician is presented with a complete summary of the clinical problem and solution.
The cases were developed by Annals of Internal Medicine editors in collaboration with faculty of the Division of General Internal Medicine at the University of Pittsburgh.
New 'Toolkit' Aims to Ease and Improve Care Coordination
Whether for hand-offs or advice, ACP initiative offers aids for doctor-to-doctor communication
In an effort to improve communication about specific patients between doctors, subspecialists and hospitals, the American College of Physicians has created a new "toolkit" to help coordinate care.
ACP unveiled the High Value Care Coordination Toolkit in April, urging primary care and specialty doctors to use its components to improve their back-and-forth communication regarding patients.
The toolkit is intended to make sure that subspecialists get accurate and appropriate information about patients referred to them and that they pass back to primary care physicians the information they need to monitor the care of their patients.
The toolkit includes five components:
A checklist of information to include in a primary care referral to a subspecialty practice
A checklist of information to include in a subspecialist's response to a referral request
Lists of additional pertinent data that should be included with referrals for 33 specific medical conditions, developed by participating subspecialty societies
Templates of model care coordination agreements between primary care and subspecialty practices, and between a primary care practice and a hospital care team
Recommendations to physicians on how to prepare a patient for a referral
The High Value Care Coordination Toolkit is available on the ACP website.
---
Online High Value Care Cases
Learn how to eliminate unnecessary healthcare costs while improving patient outcomes with these interactive cases on high value care. The 30- to 60-minute topics can be completed on your desktop, laptop, tablet, or smart phone. Review the cases, answer the associated multiple-choice questions, and read through the critiques. You can also download the take-home tools to help you incorporate HVC principles into your practice. The cases offer free online CME and may fulfill risk management/patient safety CME required by some states. They have also been approved by ABIM for 13 MOC medical knowledge points and patient safety credit.
---
Parting Reminders
Nominees - In addition to the Laureate and Volunteerism Awards I would ask if you have a physician in your practice, on your medical staff, in your society that you think would make a good Governor's Council member please submit his or her name to Ms. Renee Arnott. This should be an active member of 5 years or longer. We are also looking for a student member as well as a resident or fellow in training member to serve on the Council so should you be aware of a qualified individual in your training program speak to him or her and if they have an interest let Ms Arnott know.
New Logo - Dr. Weinberger unveiled at Internal Medicine 2014 this past April our new logo. . Our new brand identity is especially timely as we approach ACP's 100th anniversary in 2015.The intent of this re-branding is to increase awareness and recognition of ACP and our family of products and services. By presenting ACP products and services under a common visual identity system they will be more easily recognized as being from ACP. Further, the new brand system will convey identity characteristics that are common to ACP's corporate brand as well as to our product/service brands-particularly our tradition of excellence in internal medicine. Our new tagline, "Leading Internal Medicine, Improving Lives," speaks to the professional identity of our members as well as to ACP's role in the field of Internal Medicine. The new ACP corporate and product logos present ACP in a contemporary, vibrant style, while maintaining a link to our rich history. Clear, cohesive; improve awareness and understanding of all that we do.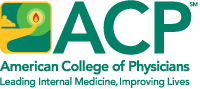 New ACP Logo and Tagline
---
Save the Dates
October 10- 11, 2014 - TNACP Annual Scientific Session on High Value Care to be held in Franklin, TN at the Franklin Marriott.
April 30-May 1, 2015 - Internal Medicine 2015 in Boston, MA. Early registration will save you money.