You are here
Governor's Newsletter: July 2015
Governor's Newsletter: July 2015

---
---
From the Governor
Richard G. Lane, MD, FACP, ACP Governor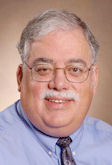 Greetings! There have been many happenings to report to you since my last newsletter. Our annual Fall Creek Falls Literature in Medicine Reading Retreat took place. We had a Council meeting and participated with a presentation at MedTenn 2015. The ACP Board of Governors met before Centennial Year Internal Medicine 2015 meeting in Boston, new Fellows and a Master were inducted at the convocation, and the state chapter had a social gathering. Politically Insure Tennessee did not get out of committee however the Supreme Court of the United States (SCOTUS) decision in King vs. Burwell in support of subsidies through tax credits for health marketplace exchanges whether state or federally run may breathe new life into Governor Haslam's Insure Tennessee plan to increase access to care for the uninsured. Nationally SGR is gone but Leadership Day still had ample asks to support primary care and graduate medicine. From a recertification standpoint ACP continues ongoing discussions with ABIM and from educational standpoint ACP has several new tools for its members. When I was in training as an internal medicine resident I was advised there were three A's of a being a good physician or consultant: Availability, Affability, and Ability. It seems that currently the three A's have changed to Accountability, Affordability, and Access. In keeping with a three A rubric I have subdivided the major themes of this newsletter into Advocacy, Achievement, and Action.
---
The annual ACP Leadership Day on Capitol Hill was a major success. There were 287 attendees, including 34 members of the BOG and 9 members of the BOR. Your Tennessee Chapter was represented by Ms. Ayeetin Azah, a medical student at Meharry Medical School, who just completed her term as representative for the southwest region of the ACP Council of Student Members and attended last year's leadership day with us. In addition were veteran members our meeting photographer Catherine R. Womack, MD, FACP from Memphis, your chair of the Health and Public Policy Committee, Robert A. Vegors, MD, FACP from Jackson, and your Governor Richard G. , MD, FACP from Franklin. Your current ACP President, Wayne J. Riley, MD, MPH, MBA, MACP, from Nashville was able to join us for our visit with Senator Lamar Alexander's legislative aide.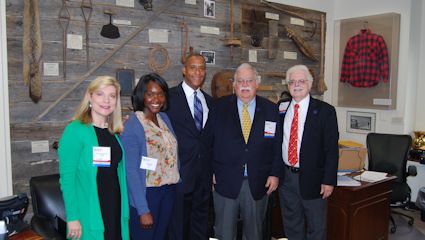 Drs. Womack, Azah, Riley, Lane, and Vegors at Senator Alexander's office - May 21, 2015
Main agenda items included a big "thank you" for eliminating the flawed SGR formula, and advocating for continuation of the Medicare Primary Care Incentive Program, Medicaid Pay Parity, and adequate GME funding to sustain the primary care workforce. The group completed a total of 302 congressional visits. An impressive 25% of these were with congressmen/women and the remainders were with staff. Great work was evidenced by ACP's staff and leaders in promoting issues important to internists and our patients.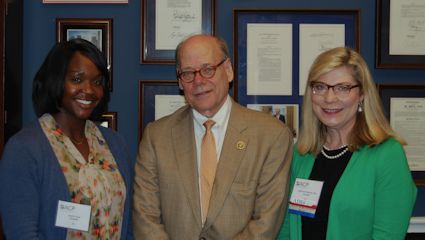 Ms. Azah, Rep. Steve Cohen, and Dr. Womack - Leadership Day - May 21, 2015
Our team was able to visit with legislative aides of Senators Lamar Alexander and Bob Corker as well as legislative aides of Representatives Marsha Blackburn and Stephen Fincher. In addition, Dr. Womack along with Ms. Azah, was able to visit personally with her congressman from Memphis, Representative Steve Cohen.
Later in the newsletter is reference to an opportunity for medical students to apply in August for a health policy internship. For additional information on political issues ACP is focused on, go to the following in the ACP Online section on advocacy: Dynamic Health Care Guide for Congress and the Media
---
Supreme Court of the United States (SCOTUS) Decisions
As I am putting together this newsletter the SCOTUS decisions have come down on two issues of relevance to ACP and TNACP. The first is the decision in King vs. Burwell to uphold tax credits in states like Tennessee who chose to default to federally run health marketplaces under the ACA. As most of you know Governor Haslam's Insure Tennessee plan failed to get out of committee to have any debate on the legislative floor. Recall the intent of Insure Tennessee was to provide an opportunity for health insurance to Tennessee citizen's who made too much money to qualify for Medicaid (TennCare) but too little to qualify for the tax credits now affirmed by SCOTUS to be authorized under ACA to be paid regardless of whether the state or federal government created the exchange. There are roughly 400,000 eligible Tennesseans of whom about 270,000 would be likely to apply (Tennessean -June 28). Funding would be from federal tax already being paid by Tennesseans and an assessment of taxes on hospitals in Tennessee which the Tennessee Hospital Association already indicated hospitals agreed to. The supermajority Republican controlled Tennessee legislature used the pending King vs. Burwell decision as part of their argument to prevent Insure Tennessee from being considered. U.S. Rep. Jim Cooper D.-Tenn. and Saint Thomas Health are planning a renewed push to bring lawmakers to a full vote on Insure Tennessee. Democrats will likely encourage Governor Haslam to convene a second special session to reopen debate on this.
The second landmark decision of SCOTUS was affirmation by a narrow one vote margin to grant legal authority for same sex couples to marry. This is obviously a personal and controversial issue which I have no intention to debate. I bring it up to remind the membership of a recent position paper from ACP appearing in the Annals of Internal Medicine May 12, 2015 addressing the topic of lesbian, gay, bisexual, and transgender (LGBT)health disparities. I have received member concerns about ACP endorsing behaviors that fly in the face of personal religious convictions. Reading of the position statement, however, indicates the focus is not endorsing any particular lifestyle but addressing a different aspect of access to care. Much like the flurry of articles on HIV appearing in the Annals in the '90's any reference to lifestyle here relates to specific health issues that may be a higher risk in a population subset and how to best recognize and address such issues. It is also about recognizing and appropriately confronting health disparities experienced by the LGBT community. Whether one believes a given cultural behavior is right or wrong as medical professionals we are ethically required to provide non-judgmental care and by internal medicine training we are to be knowledgeable about what patient characteristics be it gender, age, race, ethnicity, occupation, hobbies, environment, co-morbid illness, or lifestyle might predispose to a given disease and how that might affect our management of it. The core of this paper as stated is "understanding of how to provide culturally and clinically competent care" whether to the LGBT community or any other population with unique health care needs. ACP is an international organization representing internists all over the world and as such a huge cultural diversity. Despite the changing mores of our patients and the evolving corporatization of medicine we as internal medicine specialists must maintain our professional integrity or sacrifice our privilege of being physicians.
---
Disturbance in the Force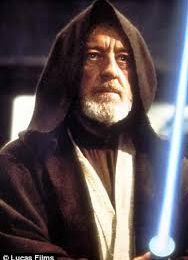 April 16, 2015 President Obama signed the Medicare Access and Children's Health Insurance Program Reauthorization Act (MACRA) which repealed the annual threats of Medicare payment cuts under the Sustainable Growth Act (SGR). However, MACRA may bring a whole new set of concerns to primary care physicians as we transition from a volume-based model of reimbursement to a value-based model. It is obvious to even the most obtuse that the present system of health care financing is not sustainable and it had to change. The Affordable Care Act (ACA) signed into law March 23, 2010 is arguably one of the most significant changes in healthcare policy since Medicare was signed into law July 31, 1965 by President Johnson.
The ACA has set into motion two major objectives:
Expansion of health insurance to increase access to care of previously uninsured Americans. Depending on what source you read at what point in time the number of uninsured Americans was 43+ million and the ACA has reduced this by 7+ to 16+ million.
Reformation of the healthcare delivery system. The focus is now on quality and cost and managing health of populations not simply the individual patient in front of you. Both these initiatives are in concert with ACP's long standing themes of moving toward universal access to healthcare and providing high value, evidenced -based cost-effective care. I would recommend as a brief overview, the recent Health Policy Report on "The Affordable Care Act at 5 Years" in the June 18, 2015 New England Journal of Medicine
MACRA has done two things affecting Medicare reimbursement. In place of SGR we now have a stabilized payment increase beginning July 1 of this year through the end of 2018 of 0.5%. Not a significant offset on the rate of increase of overhead expense, especially for Internists with a large Medicare demographic in their practice, but at least a known level of revenue to budget practice growth. However things will get dicey starting January 1, 2019 when annual updates on physician payment are based on successful participation in either a Merit-Based Incentive Payment System (MIPS) or an alternative payment model (APM). While these are CMS initiatives, expect private insurers to follow in these outcome driven payment models. I do not have the time much less the expertise to elaborate on these payment vehicles but in broad terms the MIPS will replace the current PQRS, Meaningful Use, and Value Modifier with measurement of clinical quality, meaningful use, resource use, and practice improvement. The APM pathway will involve either shared risk models such as accountable care organizations (ACOs), bundled payments, and perhaps models like the Tennessee Health Care Innovation Initiative or Patient Centered Medical Homes (PCMHs) provided they improve quality without increasing costs or lower costs without decreasing quality. ACP will continue to provide up to date information on the newer healthcare delivery and reimbursement models as well as practice management tools to assist physicians in transitioning their medical practices. For a more informed over view from a real health policy expert see Bob Doherty's commentary , "Goodbye, Sustainable Growth Rate - Hello, Merit-Based Incentive Payment System," under Ideas and Opinions in the May 15 Annals of Internal Medicine. I have had some members comment to me that they feel ACP is not representing their interest and is selling them out by abandoning traditional fee for service and the patient physician relationship. From my vantage point as your Governor and conduit of information between TNACP and ACP, I see ACP as recognizing this change has already occurred and continues to evolve from forces outside the field of medicine (the dark side of the force) and ACP is focusing on enabling its members to adapt to and survive these changes without losing an ability to earn a living, have time for family, and maintain the physician-patient relationship with a minimum of third party intrusive dictates.
---
Tennessee Medicine Update
Some new laws have been passed in Tennessee of pertinence to physicians. I have only highlighted a few of interest to Internists but a more comprehensive review is available at the TMA website for those who are TMA members. Since our statewide advocacy efforts are through the assistance of TMA's legislative affairs department much of the information I provide is through their auspices.
Telehealth or Telemedicine - PC 261
This act defines telehealth or telemedicine, the standard of professional practice for telemedicine (the same as an in-person encounter) and states that a licensing board may not establish more restrictive standards for the practice of telemedicine.
Tennessee Right to Try Act - PC 376
A patient meeting the requirements listed in the definition of "advanced illness" may access investigational drugs, biological products or devices. The manufacturer may or may not require the patient to pay for the drug or device.
THC Cannabis Oil Possession - PC 352
A person may possess cannabis oil with less than nine-tenths of one percent of THC that is legally obtained in another state. The possessor of the oil must retain proof that he/she has been diagnosed with intractable seizures or epilepsy by an M.D. or a D.O. who is licensed to practice medicine in the state of Tennessee. A physician in Tennessee is still not allowed to write a prescription or order for cannabis oil. (I would anticipate more discussion in the legislature over the next year on legalizing marijuana. I would also refer you to a recent review in JAMA June 23/30 2015 addressing indications with objective support based on a Grand Rounds at Beth Israel Deaconess Hospital in Boston June 2014.
I have discussed the status of Insure Tennessee and the renewed interest following the SCOTUS King vs. Burwell decision. One other healthcare policy of Governor Haslam's to watch is the Tennessee Health Care Innovation Initiative. As presented by him to the National Governor's Association in July 2014 when Tennessee Health Care Innovation Initiative began in February of 2013 its intent was to shift a majority of health care spending both public and private away from fee for service to three outcomes based payment strategies. The three strategies although currently applying to TennCare are anticipated to be adopted in some form by private health insurers in Tennessee. The first is primary care transformation focusing on PCPs role in delivering preventive services and managing chronic diseases over time, stock and trade of internists, through models of care such as patient centered medical homes as well as improved management of hospital and emergency department admission/discharge/transfers. Second is an episode of care based payment system. While physicians will receive fee for service on the front end there will be a shared risk model that will assess overall cost of care for the specific episode and determine if there is a shared reward or shared loss to be given or assessed down the road. Currently the first wave of three episodes of care initiated in May 2014 has generated the data and payment. TMA, hospitals and physician groups are looking at the data now for transparency and accuracy. In the meantime other groups of episodes of care our being rolled out quarterly. The third strategy will address long-term services and supports such as Nursing Facilities and Home and Community Based Services. How this plays out and how this will affect control of health care costs and access to care for involved patient groups remains to be seen. I would refer you to the Tennessee Government website for details and updates.
---
Award Nominations
Each year at our annual state chapter meeting in addition to recognizing our new fellows and encouraging current active members to seek fellowship status we also like to recognize individual members who have served the chapter or the community in an exemplary fashion. In order to identify these worthy individuals we need you, as a member, to nominate an appropriate candidate for our awards committee to consider. Please review the following criteria and submit your recommendations to our executive director, Ms. Renee Arnott.
Laureate Award - Criteria:
Fellow or Master
Senior physician
Demonstrated excellence to medical care, education, or research
Excellence and peer approval in the field of internal medicine
Service to community, chapter, and the ACP Nominations must document attributes and accomplishments which fulfill the above criteria.
Volunteerism and Community Service - Criteria
Member, Fellow, or Master
Distinguished volunteer work done as a physician and medically related.
Activity does not represent service performed as part of training or job

Nominations should document:
The range and scope of the volunteer and community services
Whether the nominee been a leader in initiating, developing, or implementing volunteer programs.
Whether the nominee's contributions been sustained over time.
How have the characteristics of the nominee that have made him/her a role model inspired other physicians or medical trainees to participate in volunteer and community service.
TNACP Leadership - Expect a Blast Email announcing the two nominees for Governor-elect with their bios. While my term of office doesn't end until the close of the ACP annual Internal Medicine 2017 the election will occur with our fall meeting in Chattanooga this September so the to be elected Governor-elect will begin his training year starting with the spring Board of Governors' meeting in 2016.
We still require additional members to my Governor's Council elected by the general membership. This needs to occur at the annual state chapter meeting in September so it is essential that nominations to the Nominations and Awards committee be submitted soon so a slate can be posted. Details of the Council composition and duties may be found under article V in the Tennessee Chapter bylaws at our website. Council members are elected for staggered four year terms and should be active members who have been in TNACP for at least 3 years and in practice about 5 years. Having served on a committee is a plus. Exceptions include our student and resident member representatives who are full voting members and selected individuals to comply with appropriate diversity requirements. If you have a willing candidate in mind or if you wish to be considered yourself, please forward a name, contact information, and curriculum vitae to Ms. Renee Arnott so she can direct it to the nominations committee as soon as possible. There are also opportunities to serve on any of our committees including the Scientific Program and Education Committee, Membership Committee, and Health and Public Policy Committee.
---
Internal Medicine - 2015
This year marked the College's 100th year celebration. There were several special events focused on this. Serving Our Patients and Profession: A Centennial History of the American College of Physicians 1915-2015 contributed to by two of our own past Tennessee Governors and ACP Presidents, Clifton R. Cleaveland, MD, MACP and Fred Ralston, MD, MACP was given out. As detailed in my last newsletter Dr. Cleaveland received a Centennial Legacy Award and his name was displayed with other award winners at the meeting. Recall, the award celebrates ACP's centennial by recognizing one seminal chapter member whose service to the chapter had a significant impact on the chapter's viability. This individual exemplifies ACP's core values including leadership, excellence, respect, compassion, professionalism, and responsibility. The meeting occurred April 30-May 2 in Boston. The Scientific Program Sessions were preceded by 2 days of pre-course sessions. There was a track for physicians who limit their practice to inpatients as well as tracks for residents, fellows, and early career physicians. My perennial favorites are the Clinical Pearl sessions hosted by Scott Linn, MD, FACP of Mayo Clinic, Multiple Small Feedings of the Mind, and the Update sessions on General Internal Medicine and Geriatrics.
Several highpoints included our winners from our state meeting who participated in the poster sessions and the Doctor's Dilemma competition.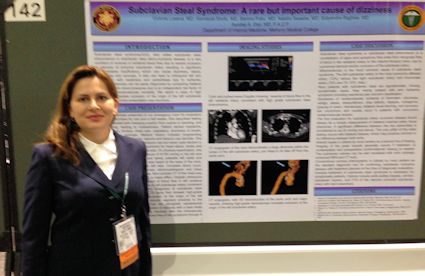 Victoria Loseva, MD - Resident at Meharry - Subclavian Steal Syndrome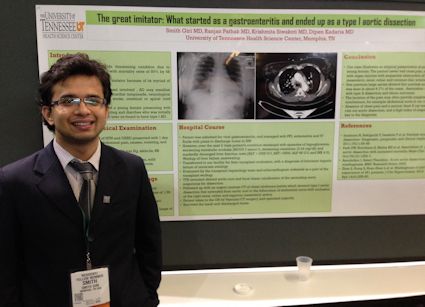 Smith Giri, MD - Resident U.T. Memphis - Aortic Dissection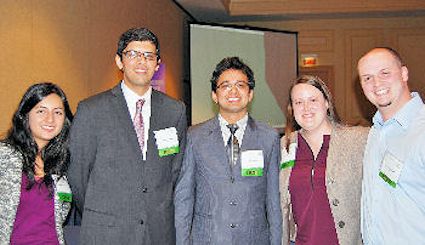 Our Doctor's Dilemma Team was University of Tennessee Health Science Center, Memphis: Krishmita Siwakoti, Omer Jamy, Smith Giri, Britney Friesen, Brent Hayden.
---
Convocation 2015 - Advancement to Master and Fellow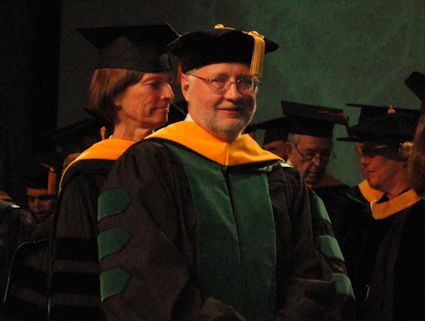 Master - Ken E. Olive, MD, MACP immediate past Tennessee Chapter Governor was advanced to Master.
New Fellows - ACP Convocation 2015
The Chapter recognizes and congratulates the following physicians who have been elected to Fellowship in the College in the past six months including Wesley C. Halford, MD, FACP; David G. Liddle, MD, FACP; Dorcas L. Mansell, MD, FACP; Richard A. Orland, MD, FACP; S. Bobo Tanner IV, MD,FACP; and Maria E. Tudor, DO, FACP. Several new fellows over the past year were able to be present to march in the convocation.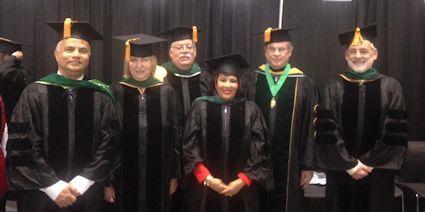 Drs. Choudhury, Mansell, Lane, Churchwell, Ralston, and Anderson
---
Tennessee Chapter Reception - ACP 2015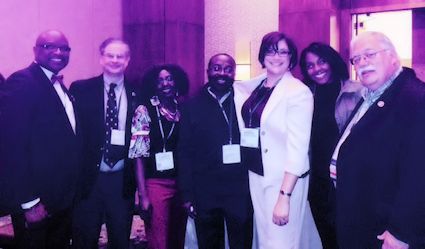 Drs. Ralston, Lane, and the Meharry attendees

ETSU attendees: Ms. Caryn Brehm , Dr. Ken Olive, Ms. Markizu Cooper, Dr. Steve Geraci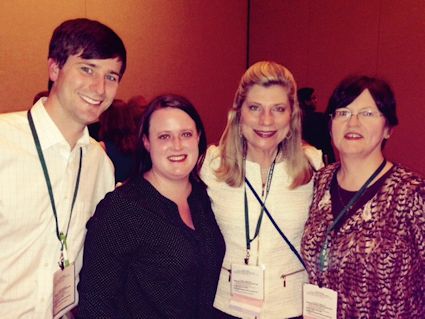 Memphis attendees: Drs. Scott Duncan, Brittany Freison, Catherine Womack, Laura Spraberry
---
ACP's New President is from Tennessee
The current 2015-2016 ACP president, Wayne J. Riley, MD, MPH, MBA, and MACP is a Tennessee physician. All though he serves all of ACP he has a particularly strong connection to our Tennessee Chapter and our concerns. No, it is not due to the charisma of your current chapter governor as I am sure most of you thought. His wife, Charlene Dewey, MD, FACP, is an associate professor in Internal Medicine at Vanderbilt, is a busy practicing clinical educator, and is an active ACP member having spoken at several of our ACP state chapter meetings over the years. Along with their two daughters, she fulfilled the role of first lady and attended the recent early career physician social event detailed elsewhere in this newsletter. As a result of this strong affiliation with the Tennessee chapter, Dr. Riley, took time out of his already busy advocacy activities in Washington D. C., to join our Tennessee legislative contingent at the recent leadership day on May 21 and participated in our meeting with Senator Lamar Alexander's legislative aide. (see photo under Leadership Day) . The following is extracted from the ACP Advocate of May 22 and gives an insight into the skill set Wayne brings to ACP and what he wants to accomplish during his tenure.
Dr. Wayne J. Riley, ACP's new president, said that his experience working for the mayor of New Orleans as a young man has helped prepare him for working the levers of power. "I learned how public policy can have an impact on our lives," Riley said. "I'm familiar with the legislative process, the political aspects of how things get done in our country, and I'm very comfortable walking the halls of Congress or state capitals to advocate for our priorities."
After his work for the mayor of New Orleans from 1981 to 1986, Riley pursued a career in medicine. He was president and chief executive officer of Meharry Medical College in Nashville from 2007 to 2013 and is currently a clinical professor of medicine at Vanderbilt University School of Medicine. He also holds a master's in public health and a master's in business administration.
Specifically, Riley said, he looks forward to the upcoming Supreme Court decision regarding subsidies for people who get health insurance coverage through the federal marketplace. ACP supports health care reform, and "it's a priority for us to get as many Americans covered as possible," he said.
In addition, Riley said that ACP will continue to push the American Board of Internal Medicine to reform its certification system to better reflect the ways that internists practice and will focus on improving the office environment in physician practices.
"We want internists to enjoy their practice life," he said. "We know that there are a lot of impediments to that. The implementation of electronic health records, for example, has been a huge source of dissatisfaction in some parts of the country."
"It's the honor of a lifetime to be elected to lead one's specialty," he said, "and I look forward to being a great ambassador for the largest medical specialty society in the country."
---
Governor's Council Meeting April 2015
Your council met during the TMA meeting at Opryland Hotel. As part of our specialty society participation with the state medical association in addition to holding a face to face council meeting Tracey Doering, MD, FACP provided the ABIM SEP module on Geriatrics qualifying for 2 hours of AMA CME and 10 MOC points. She is a council member and director in the expanding University of Tennessee internal medicine residency training program affiliated with Saint Thomas Health System in Nashville. She was highlighted in my last newsletter. The council reviewed the goals of the strategic plan to be sure we stay on track. As an aside, Dr. Lane gave a presentation at the April ACP Board of Governors meeting just prior to Internal Medicine 2015 in Boston on how we organized and developed our strategic plan retreat and what our experience has been to date in implementing it. The annual Medicine in Literature Reading Retreat held the last week in February at Fall Creek Falls was reviewed. The books were children's fairy tales and similarities of children being guided through a strange and at times frightening "wonderland" was compared to patients being guided through medical illnesses or hospital and emergency department environments. Gregory O'Dea, PhD who has facilitated these workshops for the past 18 years was nominated by our chapter to ACP for the Nicholas E. Davies Memorial Scholar Award for Scholarly Activities in the Humanities and History of Medicine. The next reading retreat is scheduled for March 4-6, 2016 and information on this will be forthcoming from Mark Anderson, MD, FACP who organizes these for TNACP later this year. Ryan Mire, MD, FACP provided our financial report which was approved as well as proposed guidelines for funding and reimbursing TNACP activities such as delegate attendance to TMA House of Delegates and Leadership Day in Washington. Another funding activity is supporting Medical Student Special Interest Groups (SIG) in Internal Medicine. Upon a written request from a TNACP member faculty representative outlining proposed uses for funding TNACP will provide funding up to a maximum of $2000 to one SIG from each medical school in Tennessee. Membership activities were reviewed by your membership chair, M. Kevin Smith, MD, FACP, and letters have recently been sent out to residency training program directors to encourage them to have their trainees join ACP/TNACP. Thomas J. Atwater, MD from Vanderbilt is our resident representative on the Council and Mr. Craig L. Washington from Meharry is our student member representative. Dr. Lane had provided a presentation to the Meharry SIG in March focused on what ACP/TNACP was doing for students, residents, and fellows.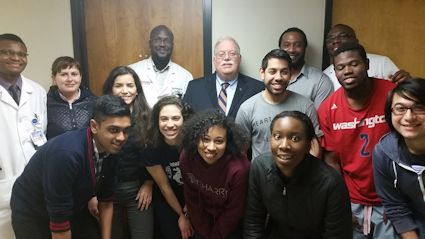 Meharry Internal Medicine SIG March 2015
Special thanks to Ms. Rachel Cooper to my immediate right and Ms. Vivian Ortiz, president of the SIG to her immediate right who invited me. Ms. Cooper gave a presentation at our last year's state meeting on her experience as a Robert Woods Johnson medical student in Health Policy. Also discussed at the council meeting by Santosh Kale, MD, FACP chair of the Early Career Physicians (ECP) Committee were plans for an ECP summer social event. This occurred Saturday June 13 at the Adventure Science Center. Phil Kuo, MD, FACP organized and coordinated the free luncheon and tour of the science center and Fred Ralston, MD, FACP gave a brief overview of the history of ACP and internal medicine. Mr. Andy Ridinger, service manager with MyHealthDirect and husband to Dr. Heather Ridinger, an assistant professor of medicine at Vanderbilt and TNACP member sponsored the event.
---
Opportunities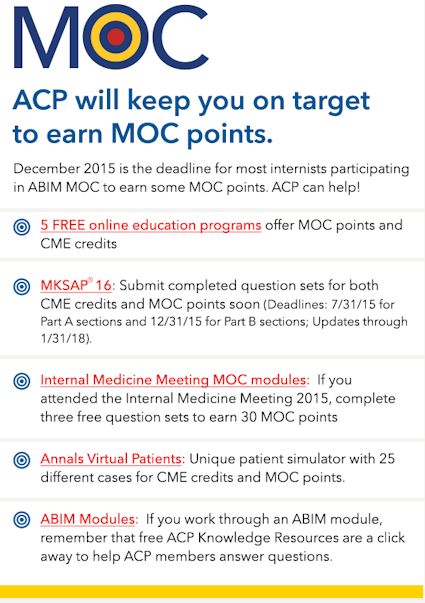 Although I did not allude to current status of the ACP and ABIM I will assure you at the Board of Governors meetings ABIM and the MOC were topics of several discussions. MOC is not going away since the public demands accountability, however, it is clear from the ongoing emails to ABIM certified physicians from Dr. Richard Baron, the ABIM CEO, that ABIM has received loud and clear the message that the current MOC requirements need significant revision to keep pace with what internal medicine physicians do and not to create barriers of cost and time constraints to what should be an educational recertification process. ACP has been at the forefront along with AMA and multiple medical subspecialty societies calling for a rethinking of how physicians need to be assessed and what costs should be incurred. Major controversy still exists on the every 10 year exam. Be assured this is high on ACP's priorities to address as exemplified by Dr. Weinberger's email to the membership of July 5.
---
Health Policy Advocacy Internships
Each spring, ACP gives a resident and a medical student doses of health policy advocacy, Washington, D.C.-style, in a month-long internship -- a chance to learn the legislative ropes and be introduced to life inside the Beltway.
Those interested in an internship next spring can begin submitting materials -- including a CV, letters of reference, a personal essay, and a health policy essay -- in August. Look for upcoming information from ACP on their website.
---

Coming in August: A New Member Benefit
ACP and EBSCO Health are collaborating to focus on delivering the most current, evidence-based clinical decision support tool - DynaMed Plus™. As a result of this partnership, ACP members will receive free access to DynaMed Plus. This clinical decision support resource is updated daily and analyzed systematically through the lens of an expert editorial team, providing relevant information in an easy to digest format for fast implementation at the point-of-care.
DynaMed Plus will replace ACP Smart Medicine as a member benefit on August 3, 2015.
The Next-Generation Clinical Decision Support Resource
DynaMed Plus has been redesigned from the ground up for busy clinicians, focused on providing a comprehensive clinical decision resource, optimized to deliver the fastest time-to-answer possible. Content is written by a world-class team of physicians who synthesize the evidence and provide objective analysis. Beginning in the summer of 2015, ACP will collaborate with EBSCO Health on the development of internal medicine topics for DynaMed Plus. Daily updates ensure you are always getting the most current information available.
Key Features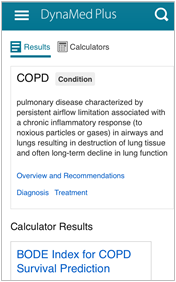 Precise Search Results mean clinicians get relevant search results every time. The redesigned search delivers a high level summary of available clinical information enabling you to quickly access your area of interest and minimizing the time-to-answer. An Image and Calculator filter is also available to further customize the search results.
Overviews and Recommendations provide clinicians with concise, accurate summaries for the most common conditions as well as evidence-based recommendations for action.
Graphics and Images include more than 4,000 medical graphics and images, with more than 1,000 images from ACP including:
Tables
Clinical photos
Radiological imaging
Algorithms
Illustrations
Microscopic images
Expert Reviewers are an integral component of the DynaMed Plus editorial process. Subject-specific experts review topics using the DynaMed Plus proprietary evidence-based methodology and quality assurance processes.
Specialty Content includes thousands of topics covering emergency medicine, cardiology, oncology, infectious diseases, pediatrics, obstetrics and gynecology and much more.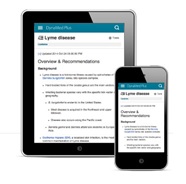 Mobile Access is fast and easy, providing users an intuitive and elegant experience from their smartphone or tablet. A complimentary mobile app is included to access information offline, bookmark favorites, email topics, and write and save notes.
Micromedex® Clinical Knowledge Suite* Drug Content is included in DynaMed Plus. Content includes drug dosing, interactions, off-label uses, and lab recommendations.
*only select products are included.
---
Internal Medicine Meeting 2015 Digital Presentations

Choose from over 170 recorded Scientific Program Sessions and Pre-Courses. Available in a variety of packages and formats so you can choose the combination that works best for you.
See all available packages or preview sessions.
---
Medical Student Text- IM Essentials Now Available in Print or Online
Check out sample pages from IM Essentials Text and IM Essentials Questions.
---
Trust the best to do your best!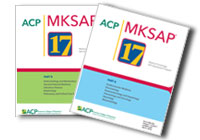 The newest edition of the Medical Knowledge Self-Assessment Program® (MKSAP) – MKSAP 17 – will be available in print on July 31, 2015.
Order by July 31 and save 15% on MKSAP 17 Complete or 10% on MKSAP Print or Digital!
MKSAP has been trusted by internists since 1967 as the best resource for updating knowledge and preparing for ABIM Board exams.
MKSAP 17, available in Complete, Digital, and Print packages, consists of 11 comprehensive text chapters with related multiple-choice questions. You'll find 1,200 completely new questions to help you identify learning gaps, stay current, and gain the knowledge you need to provide the best possible patient care. MKSAP 17's original and high-quality questions evolve out of case studies and patient scenarios based on the latest evidence.
Additional features:
Hundreds of figures, charts and tables to heighten your learning experience.
Hospital Medicine content is highlighted across all specialty areas.
High Value Care recommendations are also highlighted.

MKSAP 17 is specifically intended for physicians who provide personal, nonsurgical care to adults, including:
General internists and primary care physicians.
Subspecialists who need to remain up-to-date in internal medicine.
Residents preparing for the ABIM Certification Exam in internal medicine.
Physicians preparing for the Maintenance of Certification Exam in internal medicine.
ABIM Exam Prep
Trust the best to do your best on the ABIM Certification and MOC exams.
Learn more about using MKSAP 17 for Board prep.
Note: If you are taking your ABIM certifying exam before January 31, 2016, you still need MKSAP 16 for your board prep.
Editor-in-Chief Philip A. Masters, MD, FACP worked with several committees of contributors to produce the new MKSAP 17. Full MKSAP 17 Committee list.
Ordering more than 1 copy? MKSAP 17 Multiple Order Form.
---
---
Physician Burnout - 2015 AMA Annual Meeting
As mentioned in my previous newsletter, one of the priorities ACP has been involved with is returning the joy of medicine to practicing internists. The AMA has also been focusing efforts on reducing physician burnout so I have included a link to AMA Wire, an AMA blog, on what they are doing.
Burnout busters: How to boost satisfaction in personal life, practice 6/5/2015, 6:04 PM
Burnout is an all-too-common problem among physicians, but that doesn't mean the problem isn't reversible. Here are expert-recommended solutions and wellness strategies to help improve physician satisfaction and resiliency.
Studies have shown that individuals with burnout and depression remain independently associated with liability lawsuits, higher rates of suicidal ideation, depersonalization, medical errors and sub-par patient care, Lotte Dyrbye, MD (pictured below), said during a presentation at the 2015 AMA Annual Meeting.
Dr. Dyrbye has studied burnout in medical education since 2004 and is a member of the consortium of 11 medical schools that are part of the AMA's Accelerating Change in Medical Education initiative.
Dr. Dyrbye urged physicians to understand the key drivers for burnout and then consider a "two-bucket" approach for addressing the issue in practice.
This first bucket of burnout solutions revolves around individual coping strategies physicians can implement to improve self-care and build resiliency, she said.
But solutions in the first bucket have to be paired with ones from the second bucket in order to produce long-term results.
"If you only talk about individual strategies, when you get back to your practice, you're going to breed cynicism, and that can backfire. So [we have to] combine these personal strategies with discussions about the detrimental aspects of our work environments and wellness programs that will facilitate positive behaviors."
Bucket No. 1: Taking personal responsibility for self-care, happiness "Individuals who pursue hobbies and engage in things outside of medicine are not only less likely to develop burnout, but they are more likely to report higher quality of life, so it's important to schedule that time … for the things that really matter," Dr. Dyrbye said.
While balancing personal interests with the demands of practice can be difficult, she said even taking just one day a week to pursue a hobby can lower rates of depersonalization and keep physicians from the clenches of cynicism.
Ways to boost your personal well-being include:
Set time each week to pursue a duty at your practice that you enjoy. "We all have that one thing we like to do at work, whether it involves patient care or something administrative," Dr. Dyrbye said. "Individuals who find meaning in their work develop a higher sense of satisfaction and are less likely to burn out."
Actually take vacations. In previous research, Dr. Dyrbye said she was surprised to find that physicians left multiple days of vacation on their calendars in favor of prioritizing work over personal satisfaction-a practice that can kick burnout into overdrive.
Maintain a healthy diet and exercise. Dr. Dyrbye noted that physicians who are compliant with the Centers for Disease Control and Prevention's aerobic guidelines are less likely to have burnout.
Talk to your spouse. While medical marriages have their benefits, managing the potential stress of two physician workloads can be challenging. However, communication can help minimize work-home conflicts, one of the key drivers of burnout, Dr. Dyrbye said.
Avoid delayed gratification. This can begin as early as medical school and occurs when physicians routinely deny personal interests-like playing the violin or volunteering at an organization they enjoy-to pursue medicine, Dr. Dyrbye said. Avoid this by finding time for your hobbies now, instead of saving them for retirement.
Bucket No. 2: Establishing an environment of wellness "There's something about the work environment for those on the front lines of care, where tasks just seem to be increasing every day," Dr. Dyrbye said. "And it's really hard to find meaning in those tasks."
She recommends that hospitals and practices build supportive communities and wellness programs that meet these parameters:
---
TNACP Annual State Chapter Scientific Session
The annual Tennessee state chapter meeting and scientific session will be held September 11-12, 2015 at the Chattanoogan in Chattanooga, Tennessee. On the evening of September 10, 2015 prior to our session the University of Tennessee at Chattanooga will be hosting a guest lecturer at the Aquarium which will be an added feature to our CME offering this year. Follow the following link to register:
Future Directions and Updates in Internal Medicine
American College of Physicians Tennessee Chapter
2015 Annual Scientific Meeting
September 11-12, 2015
Chattanooga, Tennessee
For meeting details and hotel accommodations please use registration link above.
The live activity has been designated for 11.25 CME Credits. An additional 4 credits can be earned if you attend the SEP post-course.
---
Internal Medicine Update UTC
Part of TNACP's strategic plan was to be more involved with other medical organizations of similar interests and with academic medical centers and residency training programs. We are holding this meeting in conjunction with the Internal Medicine Update sponsored by the University of Tennessee College of Medicine at Chattanooga on September 10, 2015. Click here for full details on the Internal Medicine Update.