You are here
South Dakota Governor's Newsletter February 2018
South Dakota Governor's Newsletter February 2018

---
---

Matt Bien, MD, FACP, FAAP, ACP Governor
---
Governor's Message
Dear ACP Colleagues,
I hope that your 2018 is off to a great start. Each new year offers an opportunity to reflect and to look ahead with anticipation. Please take a few minutes to read this newsletter and catch up with your chapter and fellow SD ACP members.
The ACP continues to work locally and nationally for you and your patients. One could argue that this is perhaps the most significant benefit of membership – an organization large enough and determined enough to get a seat at the table, share in the important conversations and debates, and ultimately improve patient care and our practice environment.
So, as you look ahead to 2018, I challenge you to stay engaged. Maintain your membership in the ACP, invite colleagues to join, volunteer for a position in the organization, present at a chapter workshop or conference, advocate when called upon, and share your time and wisdom with students and residents.
As always, please contact me with any suggestions, questions, concerns, or simply good news to share about our chapter or profession. I look forward to hearing from you.
---
2018 Annual Scientific Meeting
– Kevin Simonelic, MD, Chair Program Committee
The planning committee has been hard at work organizing the South Dakota ACP Chapter Annual Meeting (aka "the best meeting of the year") which will take place September 12th - 14th in Deadwood, SD.
We are very excited to include many interactive presentations that cover a wide variety of Internal Medicine topics in both the inpatient and outpatient setting. The planning committee has focused our attention on topic requests from previous meeting attendees as well as practice gaps identified by the ACP. We have quite a diverse range of speakers and have included a two-hour hands-on bedside ultrasound training session.
Not only will the meeting be educational it will also be fun and relaxing! Deadwood, SD is a vacation destination and we will incorporate a spouse/significant other/family agenda as well as other wellness activities including running and mountain biking for those participants who want to make a weekend getaway to the beautiful Black Hills.
Mark your calendars now as this will be a meeting that you will not want to miss.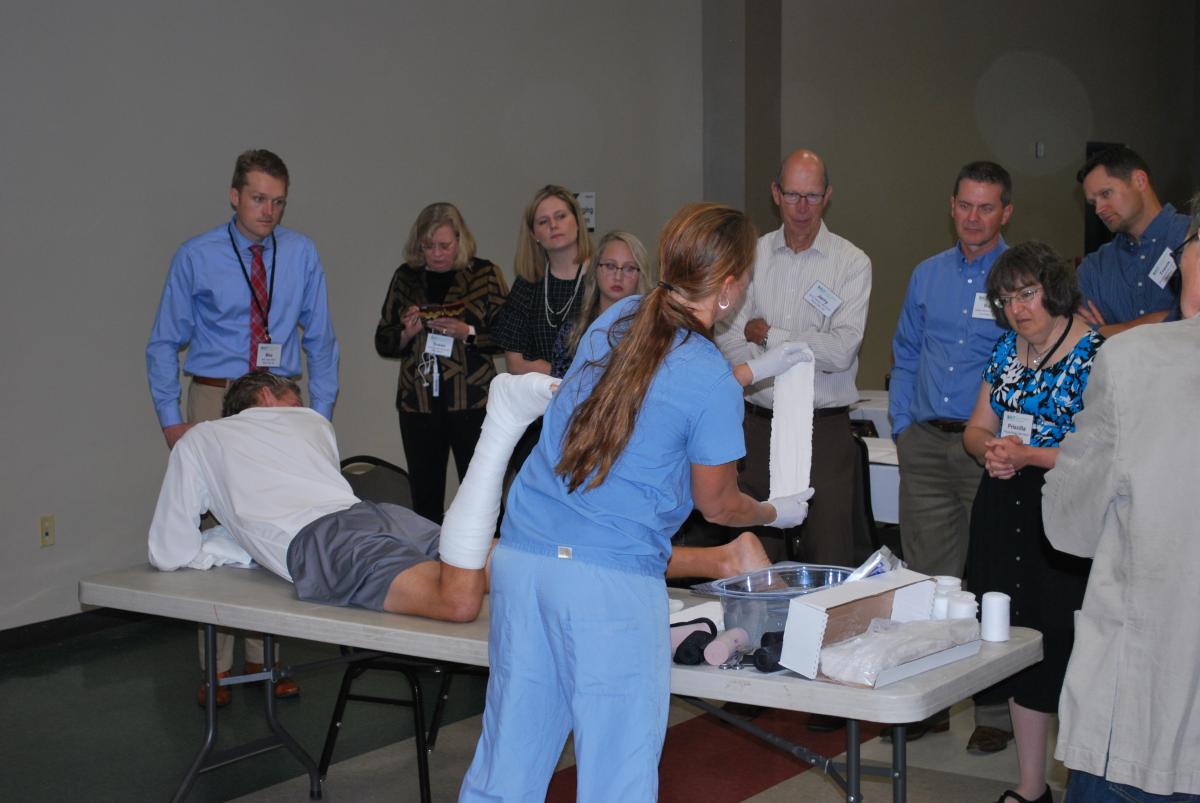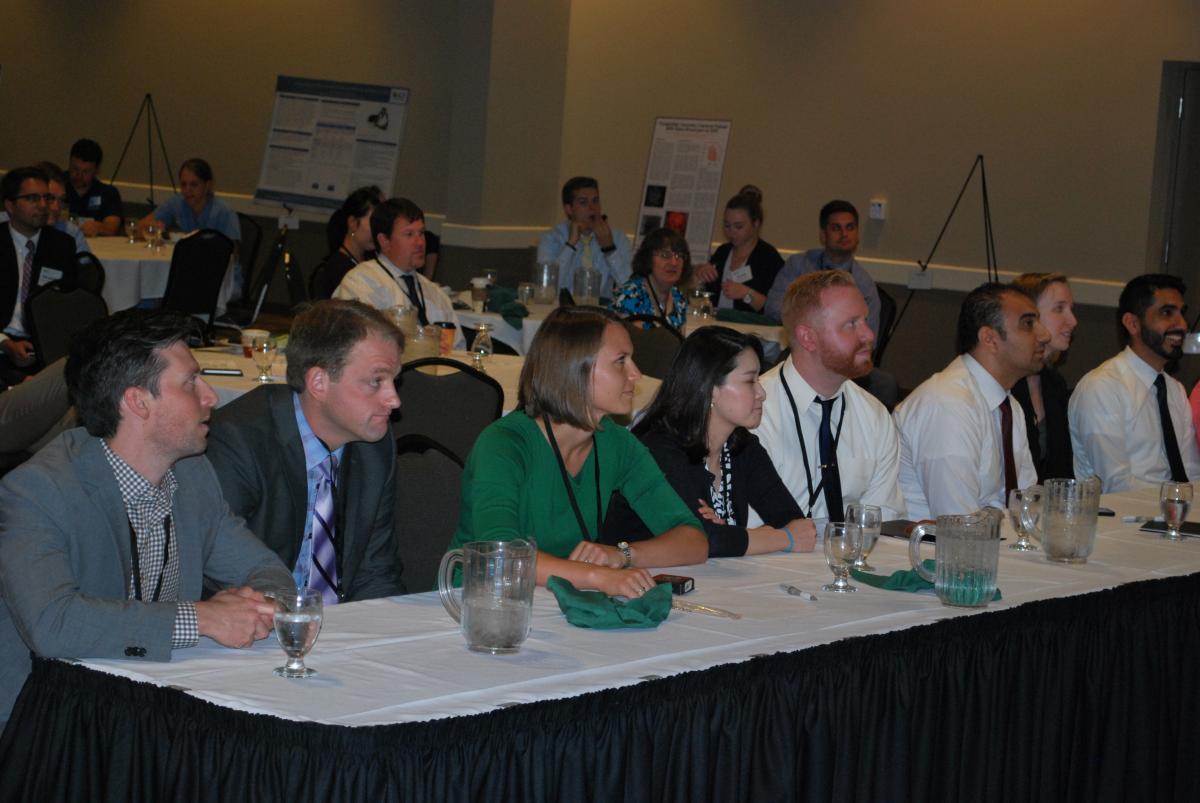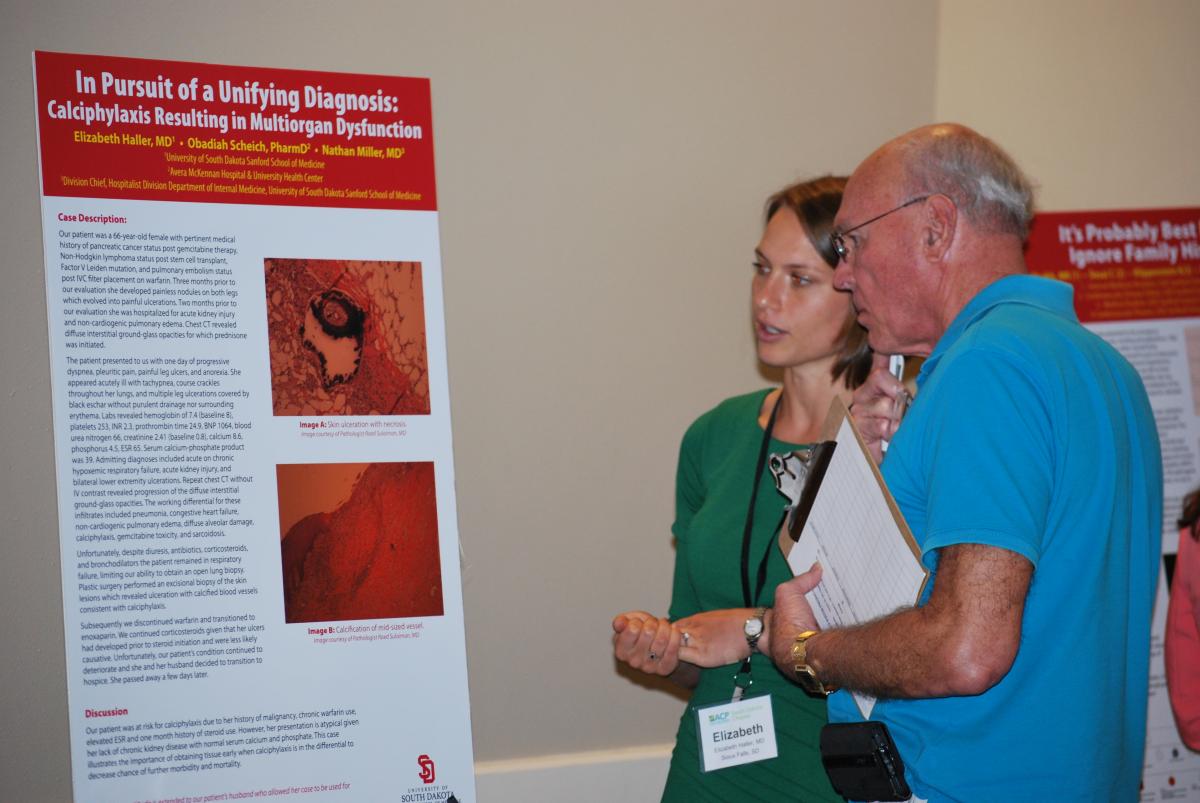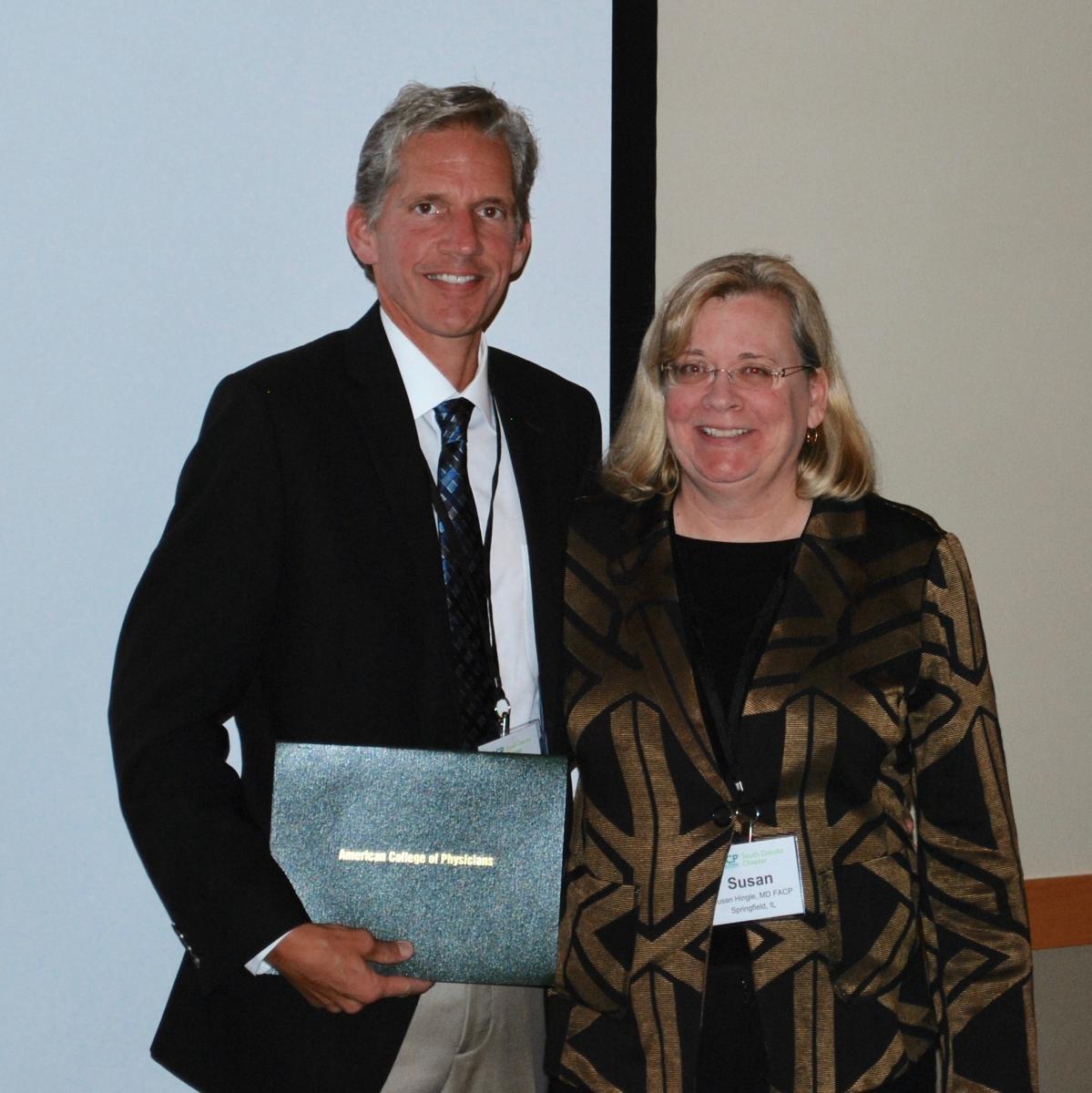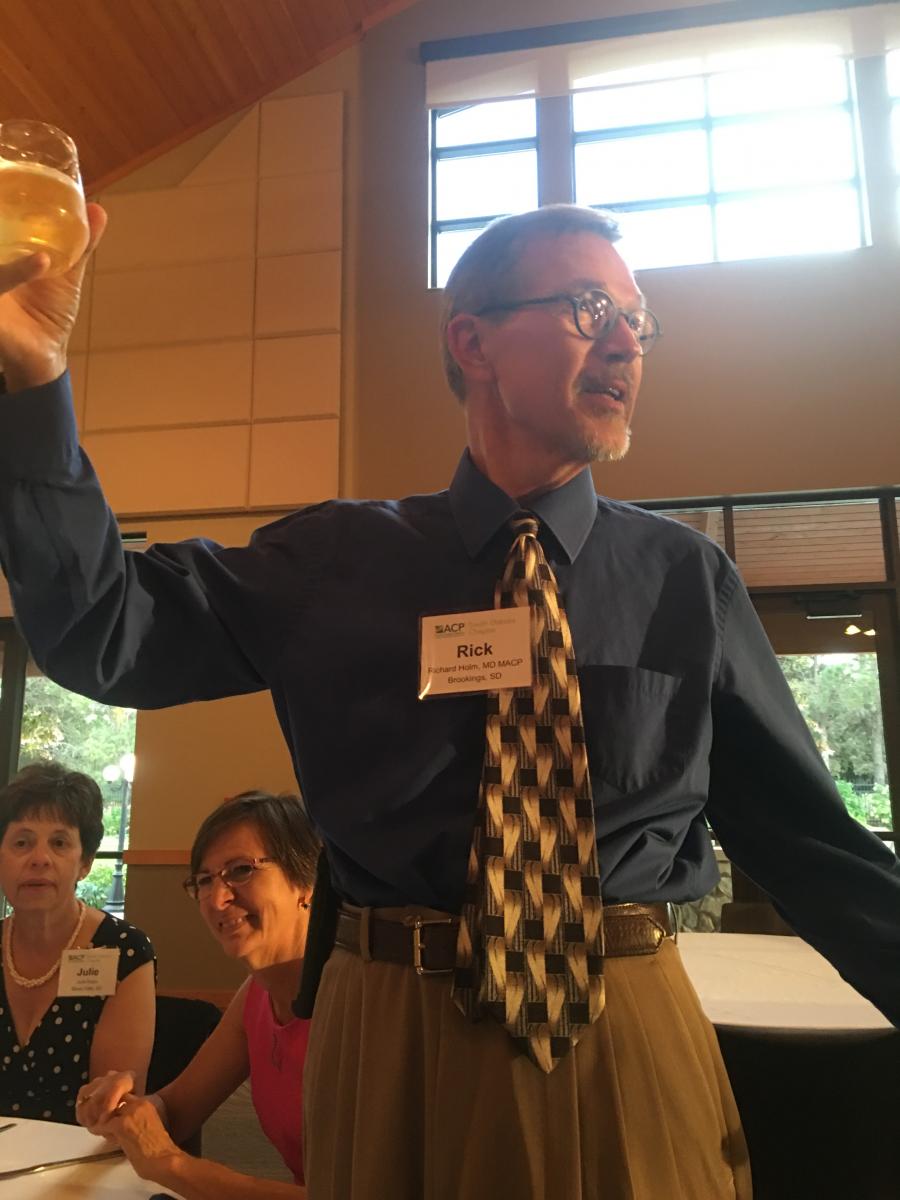 ---
Meet our New Governor-Elect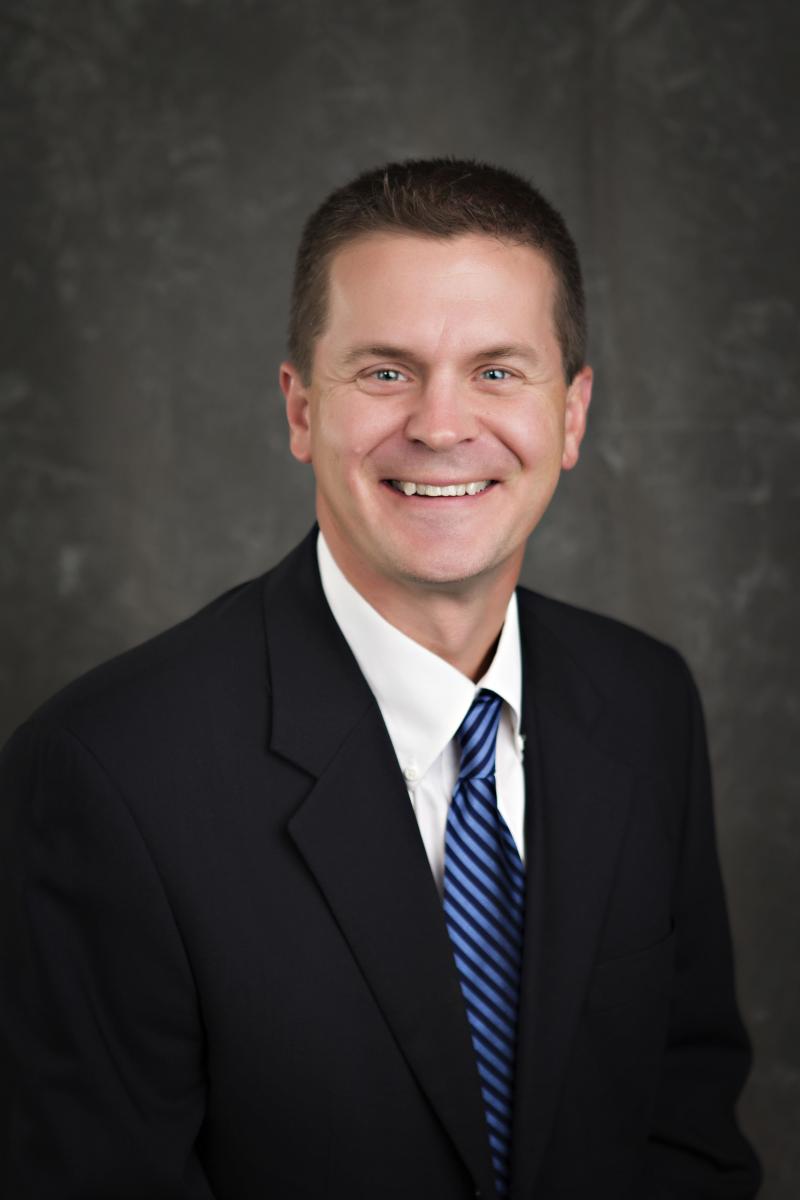 – Rob Allison, MD FACP
Congratulations to the South Dakota Chapter Governor-Elect Designee, Robert L. Allison, MD, FACP. After a year of training as our new Governor-elect Designee (GED), he will start his four-year term as Governor in the Spring of 2019. As Governor, Dr. Allison will serve as the official representative of the College for the South Dakota Chapter, providing a link between members at the local level and leadership at the national level. In the meantime, Dr. Allison will be working closely with current Governor Dr. Bien and College staff to learn about the College and his duties as Governor. To learn more about the new GED, read his bio below.
Certification: Internal Medicine Present Position: Practicing physician, Avera Medical Group Pierre,
SD ACP Chapter Involvement and Leadership Activities: Chair, Health and Public Policy since 2003; I have organized two state chapter meetings in my home town as a lead member of the Annual Meeting Committee
ACP National Activities: Fellowship 2002; Recipient, Richard Neubauer Advocate for Internal Medicine Award 2015; National Key Contact Special Recognition Winner 2006
Other Appointments/Activities: Past President, South Dakota State Medical Association 2012; Chair, Pharmacy and Therapeutics Committee, Avera St Mary's Hospital, Pierre, SD 2017
Areas of Professional Interest and Expertise: General Internal Medicine; Advocacy; Teaching students
---
Health & Public Policy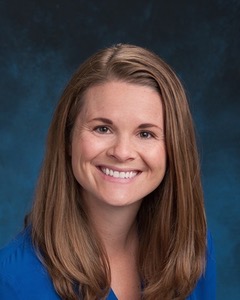 – Kelly Evans-Hullinger, MD
Greetings College membership, and happy 2018! I will be taking over for Dr. Robert Allison of Pierre as Chair of Health and Public Policy for our chapter in May. This will be a difficult act to follow, but Rob is moving on to bigger things as Governor-Elect. My goal here is to keep you all informed of legislative issues at the federal and state levels that are important to the ACP, and you as a physician.
In health care, as in many arenas of public policy, 2017 was an eventful year. According to Bob Doherty, Senior Vice President for Governmental Affairs and Public Policy for the American College of Physicians, it was "the most challenging year I've ever seen" in nearly 40 years of advocating for internists. As we are all aware, Republicans in Congress did not come up with the necessary votes to "repeal and replace" the Affordable Care Act in 2017, and they appear to have tabled this issue for the time being.
The ACP lobbied firmly against any repeal last year and saw this as a major victory. More recently, Congress did pass tax reform which may ultimately affect Medicare and Medicaid down the road, though exactly how, and how much, remains to be seen. This legislation did repeal the individual mandate for health insurance, a cornerstone of the ACA; this action is predicted to not only affect coverage numbers but also increase insurance premiums going forward. The ACP will continue to advocate for our patients first and foremost, and improving access to health care is a priority. You can see more details on the year in review here: http://advocacyblog.acponline.org/2018/01/what-did-acp-advocacy-achieve-in-year.html and in the Advocacy Achievements section below.
2018 is also off to a hot start of legislative issues affecting health care at the federal level. The recent government shutdown ended with a deal that included funding to the Children's Health Insurance Program (CHIP) for six years, which was ultimately a huge victory for the ACP and other advocacy groups. That being said, government funding for many other programs, including funding set aside for community health centers and the National Health Service Corps, is set to again expire on February 8 without further action by Congress. The ACP will continue to advocate for long term funding of these and other programs. A permanent solution for the Dreamers (undocumented immigrants who arrived in the US as children, nearly 800,000 in number at last count) has not yet been found, with DACA (Deferred Action for Childhood Arrivals policy) set to expire in March. The ACP stands for an agreement that gives security in the United States to the Dreamers, as many of them are medical students and physicians in training. We will continue to monitor actions in Congress that affect health care and try to be proactive in pushing new legislation where we see benefit for both patients and physicians.
At the state level, our 2018 South Dakota Legislative Session is in full swing. We follow legislation closely along with the SDSMA, who is currently actively supporting five bills and opposing one, but the SD ACP has not taken an official stance on any active state legislation. If, and when, bills are introduced that affect us directly, we will work closely with our membership and national representatives to respond with advocacy at the State Capitol. When that occurs, we hope we can count on you to contact your state senators and/or representatives to advocate for our patients and profession.
Wishing you all a healthy 2018! I look forward to serving our organization in this capacity, and I thank Rob Allison for all his leadership and hard work on our behalf as Chair of Health and Public Policy.
---
Top ACP Advocacy Achievements 2017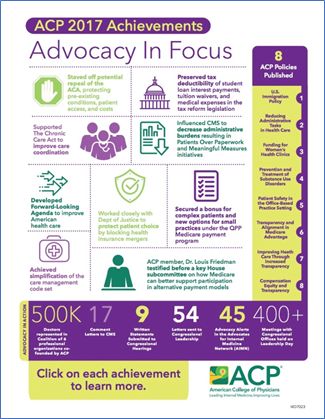 ---
You Can Attend Leadership Day in May 2018
If you are looking for a chance to influence policy and speak directly to our state's senators and representative, then Leadership Day is just for you! There are many benefits to attending this two-day Washington, DC, event:
Updates and orientation on the latest ACP legislative priorities
Training on advocacy skills
Networking with SD colleagues, internists from across the nation, and ACP leadership
Contact Kris Rahm for more information and join us in DC in 2018.
---
SD Chapter Excellence
South Dakota Chapter Receives 2017 Chapter Excellence Award
The award recognizes chapters which successfully meet the standards for managing a chapter. In order to achieve the Chapter Excellence Award, chapters must meet all basic criteria and ten optional criteria. Criteria include such activities as formulating an effective Governor's Council and committees, communicating frequently with membership, providing educational opportunities, recruiting and advancing members and celebrating membership through local awards.
---
Review of 2017 Annual Meeting
Early Career Physician of the Year - Catherine "Cassie" Hajek, MD
Teacher of the Year - Randall Lamfers, MD
Humanitarian of the Year - Binod Dhungana, MD, FACP
Laureate Award - Robert Allison, MD, FACP
Student Poster Winners: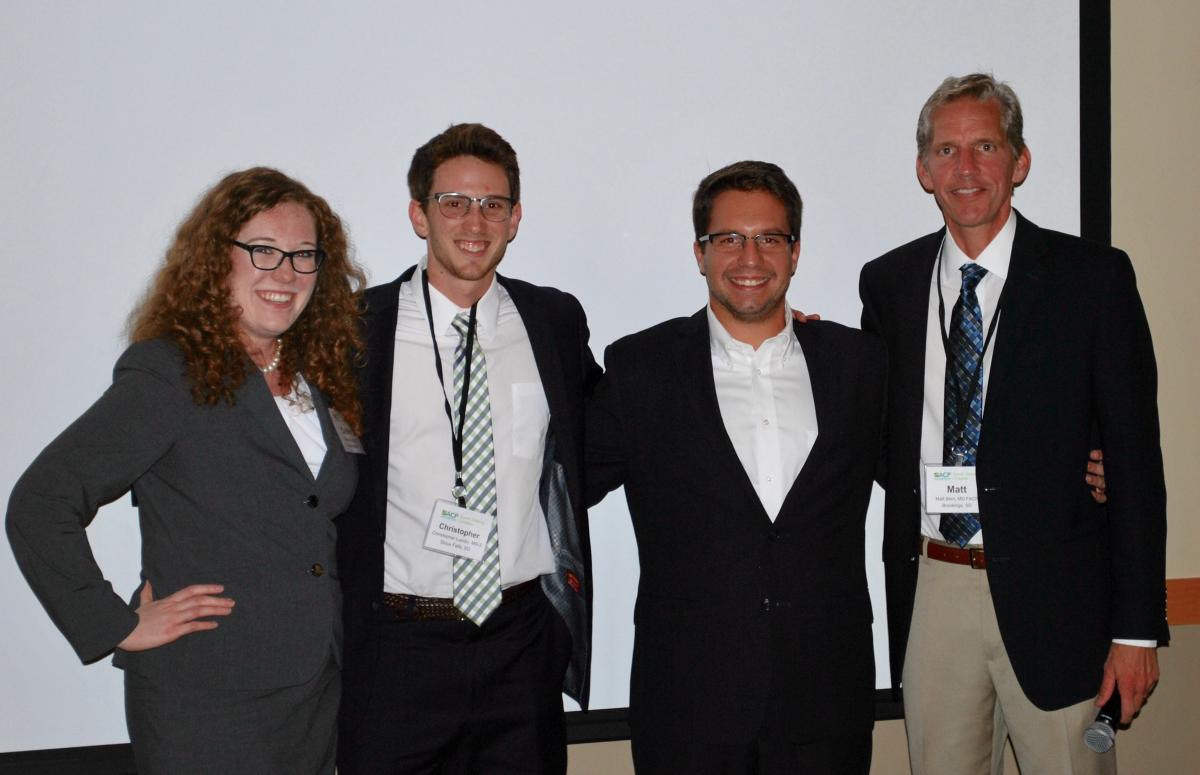 L/R: Caitlin Hof, Christopher Lucido, Benjamin Arbeiter, Matt Bien
#1 - Caitlin Hof
Clinical Vignette: Oral Infections and Brain Abscesses: A Case Study
#2 - Christopher Lucido
Research: Utilization of β-blockers in the Treatment of HPV(+) Head and Neck Squamous Cell Carcinoma
#3 - Benjamin Arbeiter
Clinical Vignette: Giant Right Coronary Artery Aneurysm with Fistula to Superior Vena Cava
Resident Poster Winners: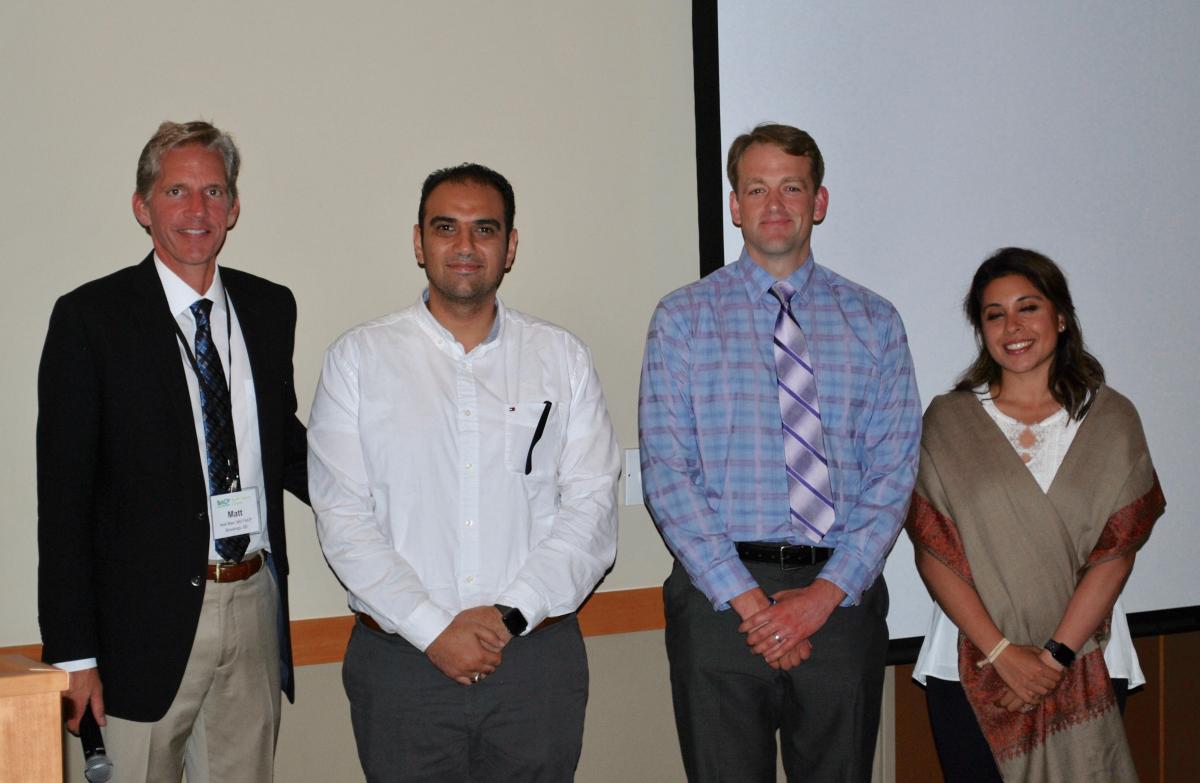 L/R: Matt Bien, Khalil Aloreidi, Matthew Muller, Maryam Sheikh
#1 - Maryam Sheikh
Clinical Vignette: It's Best Not To Ignore Family History
#2 - Matthew Muller
Clinical Vignette: Pneumonic Tularemia Secondary to the Ulceroglandular Form
of the Disease: A Case Report
#3 - Khalil Aloreidi
Clinical Vignette: Unusual Cause of Duodenal Ulcer: A Large Gastrointestinal Stromal Tumor
---
SD ACP Calendar of Events
SD Governor's Advisory Council Meeting - March 21 (Teleconference)
Spring Board of Governors – April 17-18 (New Orleans, LA)
IM 2018 – April 19-21 (New Orleans, LA)
SD, IA, NE & KS Combined Chapter Reception April 20 (New Orleans, LA)
Leadership Day – May 22-23 (Washington, DC)
SD ACP Annual Scientific Meeting – September 12-14 (Deadwood, SD)
Regional ACP Meeting (SD, ND, NE, WY in Deadwood, SD) – October 2-4, 2019
---
Welcome New Members
Anup Shrestha, MBBS
Aisha Abdelrahman, MD
Adham M Mohsen, MBCHB