You are here
GOVERNOR'S NEWSLETTER August 2015
GOVERNOR'S NEWSLETTER August 2015

---
---
From the Governor
Greetings ACP Colleagues,
With summer underway, I hope that you find a few days to relax, recharge, and spend time with family. As you will read in this newsletter, our chapter has been busy over the past few months.
Historical Boston offered a great setting for the 2015 annual meeting, with the ACP celebrating its 100-year anniversary. South Dakota native Tom Daschle provided this year's keynote, outlining the "unprecedented transformation" underway in America's healthcare system. In addition to a great scientific meeting, highlights included the convocation ceremony, where Dr. Richard Holm received his Mastership and Dr. Michael Pietila his Fellowship designation.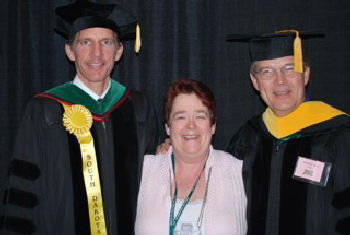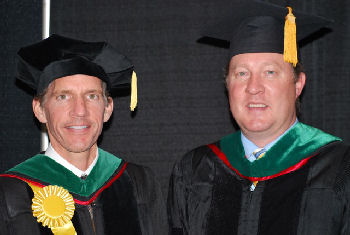 The week wrapped up with a reception on Boston Harbor for 23 SD ACP members and guests.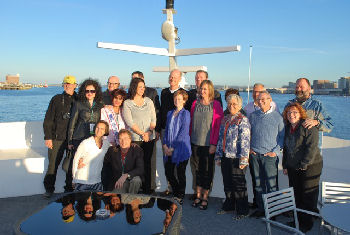 After years of hard work, advocacy truly paid dividends this spring with the long-awaited repeal of the SGR. Ambitious and committed leaders from small states can truly make a difference in local and national policy. Such efforts were recognized at a special ceremony at Leadership Day where Dr. Rob Allison received the Richard Neubauer Advocate for Internal Medicine Award - the first South Dakotan to receive this honor (see full article later in the newsletter)! Congratulations Rob and thank you for your time and dedication.
Membership is key to accomplishing all goals of the chapter, advocacy and otherwise. While our state leads the nation in many member categories, we have significant room to grow, especially among hospitalists and subspecialists. I would encourage each of you to seek out a colleague and share with them the benefits of membership in the ACP and invite them to join you at our next state meeting.
On that note, fall is fast approaching. A special combined South Dakota/Nebraska meeting will be held in Omaha, Nebraska, September 16-18. See the special section in this newsletter for all of the details. We have a great meeting planned, so invite a colleague or make it a fall weekend getaway with your family.
In closing, I am truly honored to serve as your ACP Governor. Please be in touch if you have concerns to raise, ideas to share, or would like to be more involved in the chapter. I hope to see you in Omaha!
Matt Bien, MD FACP FAAP, Governor, South Dakota Chapter ACP
---
Health & Public Policy Update
Leadership Day 2015 has come and gone. Prior to our visit to Washington DC the world was already a better place for the practice of medicine - The SGR had been repealed! For years I feared that those words would never be uttered and we would be doomed to beg Washington, DC for another patch fix as there was never enough money to go around. The agony that started in 1997 finally gained enough momentum from both houses of Congress and by a huge majority was repealed as if the legislation was a "no brainer" to fix.
I was fortunate to attend the meeting with Dr. Kelly Stacy, my Health and Public Policy co-chair from Rapid City, and Kate Branick, a second year medical student from the Sanford School of Medicine at the University of South Dakota. Getting to DC from South Dakota is not easy. For some reason it makes sense to go West and then South to head East. Travel was even more difficult for Kate as mechanical delays caused her to miss all of our South Dakota meetings. Despite the failure to give Kate the 'experience' of Washington DC South Dakota style we did get her visits with our brethren in the Nebraska Chapter and I look forward to her report (see her article below) on her visits and experience.
Our delegation met face-to-face with Senator Rounds and Senator Thune. Representative Noem was unable to attend, but her staff made special effort to meet with us and answer questions. I'll give my thoughts on how they viewed the ACP agenda in a few paragraphs.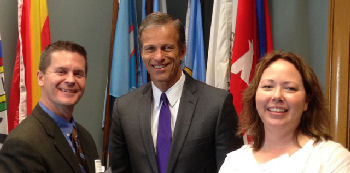 Rob Allison, Sen. John Thune, Kelly Stacy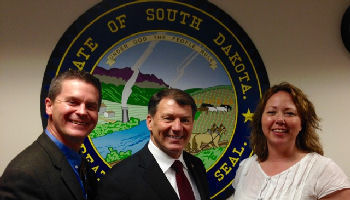 Rob Allison, Sen. Mike Rounds, Kelly Stacy
The ACP agenda covered four main topics:
Extension of the Medicare Primary Care Incentive Program (active from 2010 thru the end of 2015),
Restoration of Medicaid Primary Care Pay Parity that expired in Jan 2015,
Graduate Medical Education Funding, and
Annual appropriations requests for vital federal health care programs.
Many of us will be affected by the expiration of incentives to provide Medicare primary care physician services at the end of this year. This program has been paying a 10% bonus to physicians, who in their practice, bill at least 60% of their Medicare-allowed charges on primary care services, such as office visits and nursing home visits. It was intended to be an incentive for medical students to see primary care as a viable practice career choice. This incentive has allowed South Dakota providers to achieve better outcomes, lower costs, and invest in their own practices. We need Congress to continue this incentive program and prevent a 10% cut in pay for these physicians which otherwise will create deeper physician shortage areas in rural South Dakota. We may have survived another SGR patch, but this 10% reduction in a huge part of physician codes will be devastating to practices.
Medicaid pay parity expired in January of this year and we need to bring it back. Having Medicaid coverage doesn't guarantee access to care. Medicaid patients improved access to care by 7.7% when the government paid physicians Medicare rates for Medicaid services. Providers were willing to take on new patients because of this incentive. South Dakota primary care physicians were 27th in the nation with a rate of .69, compared to South Dakota OB providers at .84 and other providers at 0.82. With removal of this legislation providers of Medicaid services are already taking deep discounts of $.31 versus the Medicare equivalent reimbursement. We need Congress to bring this back to prevent further access to care issues.
The topic of GME funding has received a lot of press recently. It is clear that physician workforce limits will be decided not on the number of medical students in the pipeline but by the number of residency training slots available. Medical schools have proliferated but resident slots are still capped at 1996 levels. GME funding comes primarily from Medicare and is $9.5 billion annually. Recent criticism on how GME money is distributed through direct GME payments and indirect GME payments has caused heartburn in DC. President Obama is planning a $16.3 billion reduction over 10 years in GME payments based on flawed reports from the IOM (Institute of Medicine) and misinterpretation of data from MedPAC reports. We need Congress to see the value of GME funding. Several pieces of legislature are working to get 3,000 new residency training slots each year, for 5 years, to infuse the workforce. As Congress looks for money, the ACP has suggested looking to the private sector for funding of GME as all payers benefit from GME training one way or another.
Congress needs to pass its yearly appropriations bills and needs to increase funding for vital healthcare programs such as the Title VII Health Professions program and the National Health Service Corps. These funding programs for primary care scholarships and loan forgiveness, in exchange for service in underserved areas, are critical to care in South Dakota. Sequestration across the board cuts in 2013 and partial sequestration due to caps in 2014 and 2015 have significantly reduced funding in these programs. The numbers are a bit staggering on the underfunding and it will be a hard to ask for money in DC after the recent SGR reversal. Congress created a National Workforce Commission in 2010 but never funded it. It is time to fund that commission and give it oversight to develop and review a national workforce policy.
Our South Dakota Congressional delegations were very attentive to our requests during our visit. We thanked them for their SGR votes as all three voted in favor of repeal. Bringing back the Medicare Primary Care Incentive Program and Medicaid Primary Care Pay Parity both seemed like a large obstacle to overcome with the recent SGR reversal. Money is tight in DC but they were willing to look over the legislation. I received no commitments to cosign on as a sponsor from any of our representatives. The national speakers and Washington DC insiders at the round table lectures also confirmed that asking for these programs to be funded would be difficult if not impossible, nevertheless I am optimistic.
GME funding needs to happen. It is critical to the workforce in our small state. A large percentage (70%) of South Dakota residents that train in-state stay in-state to practice. I have been participating on Governor Daugaard's Primary Care Task Force and we are in the exploration phase of the costs and regulations of expansion in South Dakota. When I have more to share I will report to you and our Congressional representatives.
Finally I would like to thank the South Dakota Chapter of the ACP for their nomination for the 2015 Richard Neubauer Advocate in Internal Medicine Award (Please read more about Dr. Allison's award below). I was humbled to win this award and was presented the award at Leadership Day on May 20th. Robert L Allison, MD, FACP
---
Dr. Robert Allison Receives ACP's Advocate of the Year Award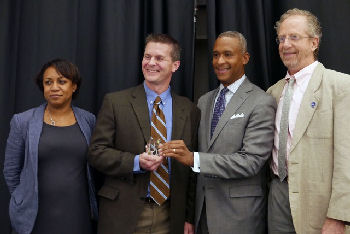 Shuan Tomlinson, Rob Allison, ACP President Wayne Riley, BOG Chair-Elect Doug DeLong
To Dr. Robert Allison, advocating for legislation is like treating a chronic disease: The persistence and creativity needed to treat chronic conditions also apply in the state house and halls of Congress.
This year's recipient of the Richard Neubauer Advocate for Internal Medicine Award, Allison was singled out for the role he has played in support of the American College of Physicians' advocacy efforts on the federal level as well as in his home state of South Dakota.
"I have learned to treat the SGR, and other pieces of legislation, like a chronic disease," Allison said in accepting the award during ACP's Leadership Day festivities in Washington, D.C. "New treatments arise, setbacks may occur, but sometimes -- like with the SGR -- there may even be a cure. The legislators need the education, just like our patients do, and we are the only ones who can deliver the message with such authority."
An advocacy effort that ACP noted in Allison's selection was his work as a member of South Dakota Governor Dennis Daugaard's Primary Care Task Force, actively championing the need for more rural residency and medical training opportunities.
ACP was pleased to learn that Allison's efforts "helped to influence the governor's opinion on the federal importance of Graduate Medical Education," Bob Doherty, ACP's senior vice president for governmental affairs and public policy, wrote in a letter to Allison informing him of the award. "The success of this task force eventually led to the addition of 44 students to the medical school class at the University of South Dakota School of Medicine."
Allison said that his commitment to "making a difference on a local and national level" grew out of the first time he dipped his toes into the political pool.
"Most physicians view themselves as having limited political experience and clout, and I started out being no exception to that rule," Allison said in his acceptance speech. Then one day he decided to sit in on a hearing on smoking legislation. "I listened to the proponents, rose and gave my personal testimony, listened to the opponent arguments and then saw the committee close the hearing and make their vote," he said. "As I walked out, I remembered being surprised at who was considered an 'expert' and what was considered 'factual' information. After the meeting, one of the physician legislators on the panel approached me and thanked me for taking time to come and give testimony. He then said something that set me back: 'You know, not enough physicians are willing to take time out of their day to help us out -- and we really need that help.'"
"That was a day that would change my willingness to participate for years to come," Allison said.
In the years since, Allison said, he's developed several strategies to make his advocacy more effective.
"I bend my advocacy to what legislators have been assigned or what they are interested in," he said. For example, before meeting legislators, he researches their committee assignments, stated interests and recent health-care-related bills or votes. Then he builds a connection based on that information.
"If a legislator is interested in small business issues, I stress that, as a physician, I am also running a small business," he said. "If a legislator is working on veterans affairs, I emphasize that I also treat veterans."
He also tries to personalize an issue, such as when he's working on one of his priorities -- enhancing rural medical residency training.
That means pointing out to legislators -- who are likely to have friends and family who depend on a rural physician or clinic for their care -- that "if we can't train physicians to come back to Pierre, South Dakota, we are going to have a different care team."
He also emphasizes the importance of continuing to maintain relationships with legislators over time. After meeting with a legislator, he immediately sends a thank-you note. He also reports back to his fellow South Dakota physician advocates about the meeting and its results.
To Allison, advocacy "comes down to the work I am willing to do for my patients and for future physicians," he said. "Patients deserve the ability to seek care from the provider of their choice, and physicians deserve the ability to practice medicine with fair compensation for the work provided."
Dr. Allison's full acceptance speech.
---
Student Member Attends Leadership Day
Dear South Dakota ACP Members,
My name is Kate Branick, and I am a third year medical student on the Avera campus in Sioux Falls. I am the class representative for the ACP, and I was chosen to attend Leadership Day in Washington D.C. this last April. My trip did not exactly go as planned. After having multiple flight delays while still in Sioux Falls, I made it to Minneapolis only to find out I had missed my plane by minutes. Naturally, there were no more planes going to Washington D.C. that night, so I got to spend ten hours enjoying the comforts of the Minneapolis airport. The flight the next morning took off half way through my first meeting with Senator Thune, and it landed in Washington right after my meeting with Representative Noem.
Despite this rough start, I still had hope I could make it to the meeting with Senator Rounds. After two different taxi drivers took me to the wrong hotel, I finally ended up in the correct place about twenty minutes after all my meetings had concluded. I was able to watch part of the talks given directly to the ACP members, but I still felt defeated. I was ready to give up on this trip all together, but luckily Dr. Allison knew a few of the Nebraska ACP members. He requested that I accompany them on their meetings.
We attended five meetings with five very different people. The meetings usually began with thanking the person for finally getting rid of SGR. Then, we began to explain our position. Instead of attempting to cover all the available bills that are in both the House and the Senate, we focused in Graduate Medical Education. I was surprised at the number of people who did not know about the residency process. They were aware that many of their constituents want more health care access, and they were aware that there is a shortage of physicians. Hopefully, after having a discussion with them, they will understand how they can help their constituents get access to more health care.
Overall, the experience in Washington D.C. was amazing. I did not realize how focused I had become about medical-political issues, and I just assumed everyone else had that same level of focus. This was a wonderful opportunity for me to learn to advocate for my cause. Our representatives and senators have to have a little knowledge about a wide range of topics. They are only going to learn more about what is important to me if I tell them.
The advocating process takes patience and practice, but, as seen with SGR, the hard work will eventually be worth it. Now that I am home, I have started explain to my fellow students what I have learned. We all need to learn to advocate for our position as physicians. I am also planning on meeting with Senators Thune and Rounds and Representative Noem later this summer in order to follow up on the meetings I missed in April.
I would like to thank the South Dakota Chapter of the ACP for providing me with the opportunity to attend the ACP conference. I would also like to thank the Nebraska Chapter of the ACP for taking me in after a few setbacks.
Kate Branick, MSIII
---
Membership Committee Update
Hello friends! Summertime with its family reunions reminds me of the wonderful get-togethers with our Internal Medicine family through the ACP. The feeling of belonging was particularly poignant at our recent annual meeting celebrating 100 years of physicians dedicated to our ACP mission: "to enhance the quality and effectiveness of health care by fostering excellence and professionalism in the practice of medicine." I was awed by the 6000+ members present and the influence of all those who came before us. Think how many lives we have touched as a group throughout this century!
Today, with our specialty so fast-paced and diverse, maintaining our Internal Medicine roots is crucial. I find I'm most fulfilled professionally when I attend our chapter meetings full of kindred spirits with a similar love for this amazing discipline. As chair of our SD Chapter Membership Committee, I urge you to invite your colleagues, sub-specialists, and locums physicians alike to join our fold. This website is an excellent starting point, outlining the benefits of ACP and containing a link for membership.
If you haven't already registered for the September joint SD/NE chapter meeting in Omaha, I urge you to do so. It will be a wonderful opportunity to learn side by side with old friends and acquaintances, or-if you are a young'un-make new connections that will last a lifetime. See you there!
Catherine A. Leadabrand, MD, FACP
---
Annual Scientific Meeting - September 16-18, 2015 - Omaha, NE
It's that time of year again…..time to start planning to attend the South Dakota ACP Scientific Meeting. This year we are partnering with Nebraska, and I want to personally invite each of you to our joint meeting on September 16-18 in Omaha.
Meeting highlights include:
ABIM MOC module on Geriatrics.
ACP Regent Bob Centor provides a College update and speaks on "Cognitive Psychology of the Diagnostic Process".
MACP Donna Sweet presents "HIV & Primary Care" and "What Is, and Who Defines, Quality Medicine."
ACP Sr. Vice President Bob Doherty speaks on the latest in ACP advocacy efforts.
Other great sessions and topics include Doctor's Dilemma, Have I Got A Case For You!, Liver Diseases and Their Treatment, Rheumatology Update, Cutaneous Manifestations of Systemic Disease, Physician Burnout, Update in Hospital Medicine, COPD Diagnosis and Management and Clinical Management of Patients with Ebola, and more.
Many opportunities to network and share ideas. Meeting details can be found in our brochure.
Here is a direct link to the registration site.