You are here
South Carolina Governor's Newsletter July 2016

---
---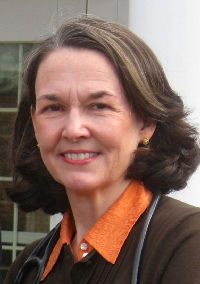 Patricia E. Sadler, MD, FACP, ACP Governor
---
Governor's Newsletter
Dear colleagues,
Below is a collection of topics I wanted to share with you:
Internists testify about rising prescription drug prices and their impact on patients
ACP provides physician perspective in testimony to Subcommittee on Antitrust, Competition Policy and Consumer Rights of Senate Judiciary Committee
(Washington, June 21, 2016) – The American College of Physicians (ACP) today provided physician perspective on the escalating cost of prescription drugs, the impact of the costs on internal medicine physicians and their patients, and support for the intent of the bipartisan Creating and Restoring Equal Access to Equivalent Samples (CREATES) Act of 2016 to reduce anti-competitive practices.
Testifying before the Senate Committee on the Judiciary, Subcommittee on Antitrust, Competition Policy and Consumer Rights, Nitin S. Damle, MD, MS, FACP, president of ACP, an assistant professor of medicine at Brown University, and a practicing internal medicine physician, spoke on behalf of ACP's 143,000 members.
"ACP recognizes that ensuring and improving patient access to prescription drugs is a growing need," Dr. Damle said. "Over the past several years, we have seen a dramatic rise in the cost of prescription drugs in this country. These increases apply not only to specialty drugs that treat life-threatening illness like cancer, but also common drugs like antibiotics that treat bacterial infections. That, coupled with several recent high-profile price gauging cases, has vaulted the issue of rising prescription drug costs into the forefront of our everyday conversations, including among those in Congress.
ACP strongly supports using multiple approaches—such as cost and price transparency, greater flexibility for public programs to leverage volume purchasing, and encouraging competition, among others—to stem the increasing cost of prescription drugs, Dr. Damle noted. In fact, ACP recently developed a series of specific positions and recommendations that were published just three months ago in in its position paper on escalating drug prices, "Stemming the Escalating Cost of Prescription Drugs. " ACP supports policies and proposals that give patients the best available information and access to prescription medications at the lowest cost possible, while acknowledging the need for a strong pharmaceutical market that fosters investment in and development of new treatments.
"ACP believes it is important that policies addressing the increase in prescription drug prices cover not only new entrants to the market, but also drugs that have been on the market and may be generic or single-source drugs," Dr. Damle emphasized.
Dr. Damle told the subcommittee about experiences from his own practice, teaching and from colleagues from around the country he's talked to as ACP president. "I see firsthand the choices that patients must make about their health."
A 67-year-old patient with diabetes, hypertension and heart disease can no longer afford his medications, as he has fallen into the "doughnut hole" of drug coverage. He must take brand name drugs due to lack of cheaper generic alternatives to control his diabetes and prevent another heart attack.
A 40-year-old patient with asthma cannot afford his preventive and rescue inhalers because of the high cost and his high deductible plan. There are again no generic alternatives. His non-compliance with medication will lead to an asthma exacerbation that may lead to an emergency room visit and even admission to the hospital.
A patient with rheumatoid arthritis cannot afford the immune modulating medications that are the standard of care due to the cost of the brand name medication with no generic alternatives. The inability to treat early rheumatoid arthritis with these medications will lead to more serious joint problems including joint replacement surgery and other medical complications of the disease.
"These examples from just one day in my office are repeated day in and day out," Dr. Damle said. "Advances in medicine have been lifesaving but they need to be affordable to society. Non-compliance with medication regimens can lead to more serious health complications, more patients suffering from disease and more costs to society. The pharmaceutical industry needs a reasonable return on investment but there needs to be a balance between profits and the service they provide in treating and maintaining the health of our patients."
Dr. Damle concluded his remarks by expressing appreciation to the Subcommittee for asking for input from the physician community during introduction of the CREATES Act. "Our hope is that the information shared today will give that provider perspective. We stand ready to continue to serve as a resource and welcome the opportunity to continue to work with you as you continue to advance this bill through the 114th Congress.
---
36 Medical Students, Young Physicians Recognized as Future Leaders
6/29/2016, 5:10 PM
Three dozen students, residents and early career physicians from around the country are being recognized for their commitment to reducing health care disparities and their non-clinical leadership in advocacy, community service and education. Find out who has been awarded this year's honors.
One of the 36 national winners was one of our own, Kelsey Williams, a student at USC School of Medicine in Greenville. Congratulations!!
Minority med students receive equity honors
Minority Scholars Award, part of the AMA Foundation's Excellence in Medicine program.
Scholarship recipients were honored June 10 in Chicago at the 2016 AMA Annual Meeting.
The 21 recipients this year come from groups historically underrepresented in the medical profession, including African-American, American Indian, Native Hawaiian, Alaska Native and Latino. Less than 9 percent of U.S. physicians come from these groups.
Since 2014, one student also has been honored by a scholarship to promote diversity specifically in cardiology. The Dr. Richard Allen Williams and Genita Evangelista Johnson /Association of Black Cardiologists Scholarship recognizes a first- or second-year African-American student with an expressed interest in cardiology.
This year's Minority Scholars Award list includes students from schools throughout the nation, with a range of cultural experiences:
Jemma Alarcon, University of California, Irvine School of Medicine
Anya Bazzell, Morehouse School of Medicine
Shakira Burton, Drexel University College of Medicine
Amanda Compadre, the University of Arkansas for Medical Sciences
Elizabeth Dalchand, Stony Brook University School of Medicine
Aaron Doctor, Morehouse School of Medicine
Mariana Gomez, University of California, Irvine School of Medicine
Gerard Holder, Alabama College of Osteopathic Medicine
Maseray Kamara, Michigan State College of Human Medicine
Bianca Lizarraga, David Geffen School of Medicine at UCLA
Joana Loeza, University of California, San Francisco
Mariela Martinez, Ponce Health Sciences University
Ana Ortiz Ilizaliturri, University of California, San Diego School of Medicine
Maricruz Rivera, Case Western Reserve University School of Medicine
Nancy Rodriguez, University of California, Davis School of Medicine
Zena Salim, Michigan State College of Human Medicine
Javier Sotelo, Jr., Keck School of Medicine of University of Southern California
Ashley White-Stern, Columbia College of Physicians and Surgeons
Kelsey Williams, University of South Carolina School of Medicine, Greenville
Shannon Zullo, University of Arizona, College of Medicine
Paris Austell, Rush Medical College (recipient of the Dr. Richard Allen Williams and Genita Evangelista Johnson /Association of Black Cardiologists Scholarship)
---
Call for Spring 2017 Board of Governors Resolutions
Are you concerned about a practice or clinical issue or have an idea you'd like to suggest? If so, you might consider submitting a resolution to your Governor or chapter council.
Initiating a resolution provides ACP members an opportunity to focus attention at the ACP national level on a particular issue or topic that concerns them. Participating in the Board of Governors resolutions process provides the ACP grassroots member a voice and allows you to shape College policy that impacts the practice of internal medicine. When drafting a resolution, don't forget to consider how well it fits within ACP's Mission and Goals. . In addition, be sure to use the College's 2016-2017 Priority Initiatives to guide you when proposing a resolution topic.
Not sure how to begin drafting a resolution? Researching the College's position on an issue can give you a start. Visit the ACP Online homepage and click the "Advocacy" link in the right-hand, top margin to access ACP policy positions, read about recent ACP advocacy activities, or search ACP's library of policies and recommendations. Visit your chapter website, too, and click the link under "Advocacy" to access Electronic Resolutions System (ERS) where you can search past or proposed resolutions. A copy of the resolutions process is available on the ERS, which furnishes more details on formatting resolutions, as well the process for submission, review, and approval.
Members must submit resolutions to their Governor and/or chapter council. A resolution becomes a resolution of the chapter once the chapter council approves it. If effecting change interests you, the deadline for submitting new resolutions to be heard at the Spring 2017 Board of Governors Meeting is September 28, 2016.
Share your good idea with us. Draft a resolution.
---
Recruit-a-Colleague Chapter Rewards Program
The American College of Physicians and the South Carolina Chapter encourages all members to help strengthen our chapter by recommending ACP membership to colleagues. By joining the College, your colleagues will enrich their clinical knowledge and skills and have access to all of the ACP member benefits that you enjoy.
To thank you for your dedication to our organization, ACP offers incentives to members and their chapters that recruit new members through the Recruit-a-Colleague Chapter (RACC) Rewards Program.
As with the national Recruit-a-Colleague Program, the RACC Program rewards successful individual recruiters with dues credits for each new full Member or Physician Affiliate member recruited and a chance to win a trip to the annual Internal Medicine meeting. In addition, the RACC Program also provides rewards to the recruiters' chapters, including funding for chapter activities and complimentary registrations to the annual Internal Medicine meeting.
The 2016-17 Recruit-a-Colleague Chapter Rewards Program runs until March 1, 2017.
To participate, simply forward to your colleagues a membership application . To qualify for the program, your name must be listed on the recruiter line of the application, and the form must include the code RACC.
Thank you for your help in strengthening our chapter!
---
Watch, Learn, and Land the Job!
ACP still offers members assistance in preparing for their job search. Preparing for a job interview can be stressful. There are many factors to consider when trying to make the best possible first impression with a potential employer. Our 20 short CareerSpot videos have you covered whether you need advice in email etiquette, how to prepare for an interview, how to dress, or how to negotiate a fitting salary. Members have free access at Career Videos.
---
Washington, DC May 2016
Board of Governors meeting
The meeting was robust and informative. Dr. Steve Weinberger, EVP and CEO, reviewed the priorities of the college, which include our obligation to society, to physicians, and to our patients; he noted we are really here for our patients. Regarding physicians, efforts continue to address quality of life and satisfaction, addressing the needs in our changing environment, and making maintenance of certification less burdensome. Regarding our patients, efforts continue to improve quality of care, partnering with patients and families to improve health, and controlling costs within our health plans. Regarding society, efforts continue to educate about and provide high value care to our patients, address our workforce needs such as EMR, and address important issues such as LGBT care, reducing gun violence as a public health issue, and climate change and its impact on health around the globe through policy development and dissemination. International growth and outreach continues as we build our global network of internists.
Our challenges include membership and engagement, meeting the educational needs of our seasoned professionals as well as our early career physicians, and shaping the healthcare environment to provide high value to our patients.
ACP's Support and Alignment Network (ACP SAN) is recruiting practices to participate in the Transforming Clinical Practice Initiative. This initiative aligns well with the High Value Care initiative.
This is a great opportunity for chapters to engage members and provide them with FREE resources to meet patient/family centered care, population health, high value care, and quality improvement requirements for value based payments and MACRA. For more information, contact grant manager, Cheryl Rusten or 215-351-2622 or Daisy Smith or 215-351-2562.
Bob Doherty's presentation focused on the resources ACP has developed to help members succeed in MACRA and other value-based payment programs.
ACP has full information on MACRA .
---
Leadership Day 2016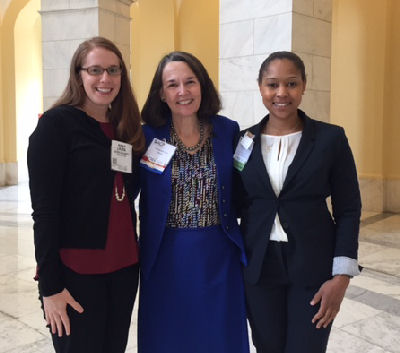 We were well represented on the Hill with Dr. Kizer Crum, newly graduated from University of South Carolina School of Medicine –Greenville and Dr. Laura Dal Santo, an early career physician. Leadership Day priorities included:
Health information technology
ACP supports bills that advance interoperability, examine meaningful use data, and exempt physicians from having to buy expensive interfaces to eliminate information blocking.
Telemedicine
ACP supports the bill that relaxes restrictions such as geographic restrictions and to allow use for some Medicare beneficiaries with chronic conditions.
Behavioral/Mental Health
ACP supports introduction of legislation to strengthen the behavioral health workforce and integrate these services in the primary care settings.
Opioid Abuse
ACP supports the CARA, which includes expanding educational efforts to prevent abuse and understand addiction as a disease and best practices for pain management.
Graduate Medical Education
ACP supports legislation to reform GME so as to fund specialties facing shortages, increase the number of GME slots, combine direct and indirect medical education funding into a single more functional payment program, and broaden GME financing to include all payers.
---
Internal Medicine 2016
This was the most well attended meeting in our history with thousands converging in Washington, DC for three days of astounding lectures and presentations. Convocation was equally remarkable with Dr. Bill Boulware of Florence being recognized as a new Master in the College. Congratulations to Dr. Boulware for recognition of his years of contribution to the art and science in the practice of internal medicine.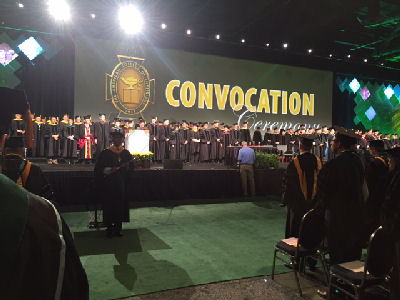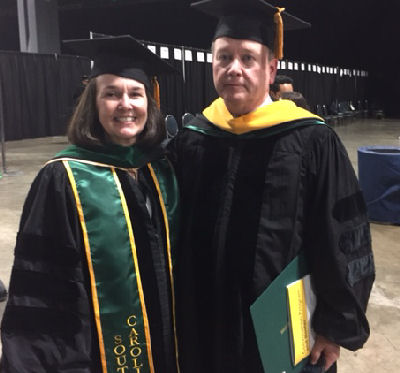 ---
Resolutions Fall 2016
I will share the resolutions to be discussed at the Fall Board of Governors meeting shortly. Please review and share your thoughts with me so I can take them forward.
---
Thanks to Our Council Members
Below is a roster of our council members. On behalf of our chapter, I thank them for the work they do for this chapter:
Residents/Fellows Committee Chair
Mary Beth Poston, MD, FACP
At Large members
Bill Boulware, MD,MACP
Dawn Clancy, MD, MSCR, FACP
Council of Residents and Fellows Chair
Laura Dal Santo MD
Council of Early Career Physicians Chair:
Caroline Powell, MD, FACP
Council of Students Chair
Matthew Aussprung, USC Columbia
Members: Kizer Crum, USC Greenville
Kelsey Wilson, USC Greenville
Emily Molina, VCOM
Credentials and Membership Chair(s)
Paul Richardson, MD, FACP
Joanne Daniel-Saunders, MBBS, FACP
Diversity and Outreach Committee Chair
James Adamson, MD, FACP
Finance Committee Chair
Mac Chapman, MD, FACP
Health and Public Policy Committee Chair
Joe Messina, DO, MBA, FACP
Hospitalists Committee Chair
Steve Saunders, MBBS, FACP
Interspecialty Council Representatives
Joe Messina, DO, MBA, FACP
Mary Beth Poston, MD, FACP
Nominations Committee Chair
Mike Hawkins, MD, FACP
Scientific Program Committee Chair
Kim Davis, MD, FACP
Secretary
Anne Cook, MD, FACP
Treasurer
Mac Chapman, MD, FACP
Quality of Care and Patient Safety Committee Chair
Joe John, MD, FACP
---
SC Chapter Meeting, October 27-30, 2016
I look forward to seeing you in Charleston at our chapter meeting October 28-30, 2016. We are happy to be able to provide ABIM MOC points with this meeting.
Wishing you a happy summer,
Patricia Sadler, MD, HMDC, FACP