You are here
Governor's Corner May 2015

| | |
| --- | --- |
| May 2015 | Patricia E. Sadler, MD, FACP, ACP Governor |
---
---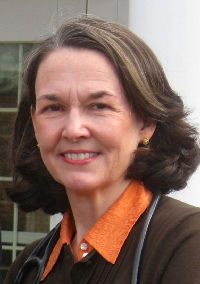 Greetings, colleagues!
I hope to see you at our meeting in Charleston, October 30- November 1, 2015. It will be a great meeting with more than 12 hours of CME and a very reasonable registration fee!
Please take a look at our chapter Facebook page, South Carolina Chapter of the American College of Physicians. Forward any information you would like shared there to me and will get it posted.
It was a wonderful meeting in Boston with the usual excellent smorgasbord of workshops, lectures, and hands-on events. This was the most well-attended session with more than 8,000 attendees. Dr. Steve Weinberger, Executive Vice President and CEO, presented the ACP priorities for 2015-2016 under the leadership of Dr. Wayne Riley, our new ACP president:
Increase membership and engagement of our members
Increase physician satisfaction

Via wellness education,
streamlined health information technology,
less onerous reporting requirements,
relevant performance measures.

Facilitate transitions to value based models
Advocate for ABIM improvements with significant reform
Multi-year strategy to increase ACP visibility in major academic centers
Redesign ACP role in clinical standards
Below are last year's priorities for your perusal:
Establishing a MOC navigator for each member to get help with the requirements and to know what resources are available from the ACP, like Turbo Tax™.
Helping ACP members experience more joy in their professional lives by identifying those administrative burdens and complexities that complicate our practices and how we can advocate to reduce some of these and what resources can ACP provide to help overcome some of these obstacles. Also, help increase efficiencies for our practices with better team-based care, to use scribes to help with documentation and finally to decrease the professional isolation many of our physicians have in small practices and rural areas.
Expand ACP's reach internationally with our new Southeast Asia chapter and anticipated new chapter in India
Increased knowledge and use of high value care with our High Value Care initiative including curriculum in our residency programs as well as online high value care cases for practicing clinicians that allow them to receive maintenance of certification credit and patient safety credit.
Increase the impact of ACP's Smart Medicine, our web-based clinical decision support with expansion of use and content, eg., integrated in EMR, and partnering with other medical societies to adopt and endorse it.
Increase ACP's visibility in academic centers and institutions
Support of implementation of the Affordable Care Act and advocate for refinements of the ACA with focus on narrow networks, the restrictive drug formularies, and increase access to care through state expansion of Medicaid.
Improve the utility, safety, and quality of electronic health records with improving the usability of EHR and improve the interoperability.
Facilitate transitions to value-based payment and delivery models with elimination of SGR10.
Support effective partnerships among patients, families, and care teams with implementation with Center of Patient Partnership in Healthcare and focusing on how to work with consumers and industry to engage our patients in their healthcare.
---
Congratulations New Fellows!
We proudly congratulate ten South Carolina physicians for their election to Fellowship:
Laurie J. Griffin, DO, FACP
Clifford E. Medina, MD, FACP
Alvin L. Reaves, III, M.D., FACP
Muhammad I. Shaukat, MBBS, FACP
Tonia M. Youmans, MD, FACP
Joanne F. Daniel Saunders,MBBS, FACP
Muhammad Y. Ebrahim, MD, FACP
Joseph W. Mathews, MD, FACP
Ralph B. Piening, MD, FACP
Christopher S. Vagnoni, MD, FACP
Fellowship is an honor achieved by those recognized by their peers for personal integrity, superior competence in internal medicine, professional accomplishment, and demonstrated scholarship.
Drs. Griffin, Medina, and Youmans attended the Convocation Ceremony in Boston as did our Centennial Legacy Awardee, Dr. Charles Bryan. It was a wonderful celebration of achievement!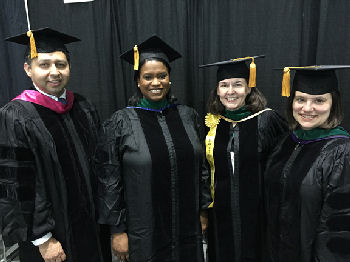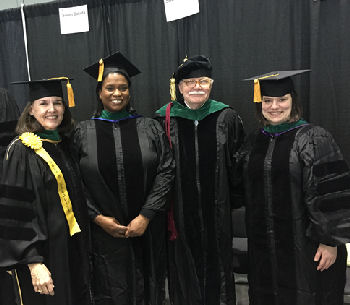 ---
Welcome New Members!
SC ACP welcomes all new Members! We look forward to meeting you and we extend an invitation to join us at our Chapter meeting in October 30-November 1, 2015 in Charleston:
Sarah L. Allen, MD
Miguel Antonatos Rodriguez, MD
Mohammad A. H. Emran, MD
Melanie L. Gerrior, MD
Cristina Lara-Castro, MD
Robin Qubty, DO
Rubina Wadud, MBBS
Elma Whidby, MD
Eddie M. Williams III, MD
Welcome to our new Resident/Fellow member, Robert O Drutel, MD!
---
Leadership Day, May 21-22, 2015, Washington, DC
Kizer Crum, a third year medical student at the USC School of Medicine-Greenville and member of the national Council of Student Members, joined me in Washington for Leadership Day. We visited every office of our South Carolina members of Congress to share the priorities of ACP with them. Kizer is an articulate spokesperson for our College and for our future physicians.
Post SGR, ACP priorities included:
introducing legislation to continue the Medicare Primary Care Incentive Program due to expire 1/1/2016restoring Medicaid Primary Care Pay Parity by co-sponsoring and supporting legislation that is currently on the table (HR 2253 and S 737)
cosponsoring and supporting legislation ( S 1148/ HR 2124 and HR 1117) to strategically increase the number of GME training positions in primary care specialties and other specialties facing shortages as well as broaden the GME financing base by establishing an all payer system
funding for vital federal healthcare programs such as the National Health Service Corps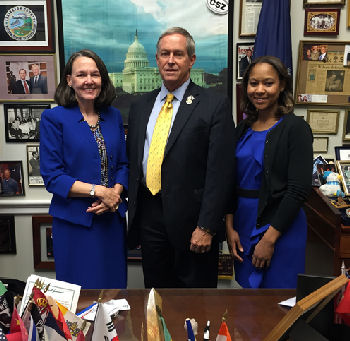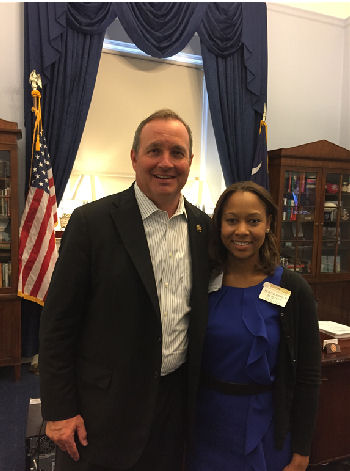 Please enroll with Advocates for Internal Medicine Network if you haven't done so already. Through this enrollment, we are contacted for advocacy issues that typically require less than two minutes to respond.
---
Recent publications from the American College of Physicians:
Annals of Internal Medicine - Medicine and Public Issues
Firearm-Related Injury and Death in the United States: A Call to Action
From 8 Health Professional Organizations and the American Bar Association
Steven E. Weinberger, MD; David B. Hoyt, MD; Hal C. Lawrence III, MD; Saul Levin, MD, MPA; Douglas E. Henley, MD; Errol R. Alden, MD; Dean Wilkerson, JD, MBA; Georges C. Benjamin, MD; and William C. Hubbard, JD
Deaths and injuries related to firearms constitute a major public health problem in the United States. In response to firearm violence and other firearm-related injuries and deaths, an interdisciplinary, interprofessional group of leaders of 8 national health professional organizations and the American Bar Association, representing the official policy positions of their organizations, advocate a series of measures aimed at reducing the health and public health consequences of firearms. The specific recommendations include universal background checks of gun purchasers, elimination of physician "gag laws," restricting the manufacture and sale of military-style assault weapons and large-capacity magazines for civilian use, and research to support strategies for reducing firearm-related injuries and deaths. The health professional organizations also advocate for improved access to mental health services and avoidance of stigmatization of persons with mental and substance use disorders through blanket reporting laws. The American Bar Association, acting through its Standing Committee on Gun Violence, confirms that none of these recommendations conflict with the Second Amendment or previous rulings of the U.S. Supreme Court.
Ann Intern Med. 2015;162:513-516. doi:10.7326/M15-0337 www.annals.org
For author affiliations, see end of text.
This article was published online first on 24 February 2015.
***********************************************************************************************
Internal Medicine residency match in 2015 increases slightly from last year
Philadelphia, March 20, 2015 -- The number of U.S. senior medical students choosing internal medicine residencies increased by about 5 percent in 2015. During this time, the number of new internal medicine positions increased by about 4 percent. According to the 2015 National Resident Matching Program, 3,317 U.S. medical school seniors matched for residency training in internal medicine.
"The American College of Physicians is pleased to see that the number of internal medicine positions offered in 2015 increased to 6,770, or about one in four of the available residencies," said Patrick Alguire, MD, FACP, ACP's senior vice president for medical education. "ACP remains concerned, however, that the financial burden on medical students from the cost of medical education, along with problematic payment models and administrative hassles for physicians, are barriers to general internal medicine and primary care careers, which are the heart of a high performing, accessible, and high quality health care system."
Internal medicine enrollment numbers have increased every year since 2010: 2,772 in 2010, 2,940 in 2011, 2,941 in 2012, 3,135 in 2013, 3,167 in 2014, and 3,317 in 2015. The percentage of U.S. seniors matched to postgraduate year one (PGY-1) positions has increased from 18.9 percent in 2011 to 19.8 percent in 2015. The percentage of internal medicine positions filled by U.S. seniors has remained steady at approximately 49 percent over the last four years.
The 2015 match for internal medicine is still below the 3,884 U.S. medical school graduates that chose internal medicine residency programs in 1985. The great majority of current internal medicine residents will ultimately enter a subspecialty of internal medicine, such as cardiology or gastroenterology. Only about 22 percent of internal medicine residents eventually choose to specialize in general internal medicine, compared with 54 percent in 1998, according to ACP.
The 2015 match also showed an increase of U.S. medical graduates who matched in Internal Medicine-Primary Care (156 in 2010, 166 in 2011, 186 in 2012, 200 in 2013, 202 in 2014, and 206 in 2015, ) and in Medicine-Pediatrics (299 in 2010, 309 in 2011, 276 in 2012, 312 in 2013, 284 in 2014, and 319 in 2015).
***********************************************************************************************
Clinical Guideline
Cardiac Screening With Electrocardiography, Stress Echocardiography,or Myocardial Perfusion Imaging: Advice for High-Value Care From the American College of Physicians Roger Chou, MD, for the High Value Care Task Force of the American College of Physicians*
Background: Cardiac screening in adults with resting or stress electrocardiography, stress echocardiography, or myocardial perfusion imaging can reveal findings associated with increased risk for coronary heart disease events, but inappropriate cardiac testing of low-risk adults has been identified as an important area of overuse by several professional societies.
Methods: Narrative review based on published systematic reviews; guidelines; and articles on the yield, benefits, and harms of cardiac screening in low-risk adults.
Results: Cardiac screening has not been shown to improve patient outcomes. It is also associated with potential harms due to false-positive results because they can lead to subsequent, potentially unnecessary tests and procedures. Cardiac screening is likely to be particularly inefficient in adults at low risk for coronary heart disease given the low prevalence and predictive values of testing in this population and the low likelihood that positive findings will affect treatment decisions. In this patient population, clinicians should focus on strategies for mitigating cardiovascular risk by treating modifiable risk factors (such as smoking, diabetes, hypertension, hyperlipidemia, and overweight) and encouraging healthy levels of exercise.
High-Value Care Advice: Clinicians should not screen for cardiac disease in asymptomatic, low-risk adults with resting or stress electrocardiography, stress echocardiography, or stress myocardial perfusion imaging.
Ann Intern Med. 2015;162:438-447. doi:10.7326/M14-1225 www.annals.org For author affiliation, see end of text.
***********************************************************************************************
ACP Releases High Value Care Screening Advice for Five Common Cancers
In a paper published in Annals of Internal Medicine, Screening for Cancer: Advice for High-Value Care From the American College of Physicians, ACP issued advice for screening average risk adults without symptoms for five common cancers: breast, colorectal, ovarian, prostate, and cervical.
In a companion piece also published in Annals, ACP outlined a framework for thinking about the value of varying intensities of cancer screening.
Warm regards,
Patricia E. Sadler, MD, HMDC, FACP
Governor, SC Chapter
American College of Physicians