You are here
Governor's Corner December 2014

| | |
| --- | --- |
| December 2014 | Patricia E. Sadler, MD, FACP, ACP Governor |
---
---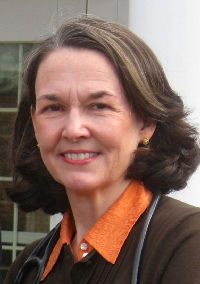 As the saying goes in Al-Anon, take what you like and leave the rest. This is a lengthy newsletter with multiple informational items from the College…take what you like and leave the rest.
---
Board of Governor's Meeting in Chicago
Dr. Mark Linzer presented a lecture titled "The Epidemic of Clinician Burnout: We Can Turn This Around!". He delivered 10 bold policy suggestions outlined below:
Develop clinician "float pools" for life events.
Decrease EMR stress by "right-sizing" EMR-related work (longer visits and scribes).
Address challenging work conditions in clinics serving minority patients (access to clinical resources and specialists, insufficient exam rooms).
Ensure that metrics for success include clinician satisfaction and well-being.
Prioritize clinician self-care as an element of medical professionalism (work control, work-home balance, coping strategies, healthy lifestyle).
Assure 10% FTE for clinicians to do what they are passionate about (turnover costs $250,000/FTE).
Develop schedules with predictability, flexibility, and clinician control (a 4:40 appt slot and the need to pick up kids at day care at 5:30 is a recipe for burnout).
Promote satisfying careers for part-time MDs (part-time MDs are satisfied, connected and loyal).
Incorporate mindfulness and teamwork into medical schools, residencies, and clinical practices.
Support manageable practice sizes and enhanced staffing ratios (provide enough rooms to do this).
Dr. Linzer further recommended measuring stress and addressing it in the workplace and included a tool to measure burnout. His talk was fascinating and relevant as well as backed by data. This lecture will be available to the membership via a webinar in the near future; he presents a very compelling argument for examining our workplace dynamics.
---
South Carolina Chapter Annual Session
Our thanks to our program co-chairs, Dr. Kim Davis and Dr. Mary Beth Poston, and our Executive Council for producing a robust session with excellent speakers and a wonderful bedside sonography workshop with Dr. Richard Hoppmann. The meeting was further enhanced with a medical jeopardy competition between medical schools following the Residents/Fellows presentations. The Students/Residents/Fellows winners are listed below:
Students
Over all Student Winner - Katie Anderson - Medical University of South Carolina
First Place Research - Eric Singhi - Medical University of South Carolina
First Place Clinical Vignette - Mackenzie Gwynne - USC School of Medicine
Residents
Oral Clinical Vignette
First Place - Teresa Williams, MD - Greenville Hospital System
Second Place - Kelly Kays, MD - Greenville Hospital System
Third Place - Joe Collins, MD - University of South Carolina School of Medicine
Poster Clinical Vignette
First Place - Lee Day, MD - University of South Carolina School of Medicine
Second Place - Amanda Northup, MD - Medical University of South Carolina
Third Place - Justin Woodlief, Medical University of South Carolina
Poster Research
First Place - Michael Simpson, MD - Greenville Hospital System
Second Place - Gabriel McCoy, DO - Greenville Hospital System
Third Place - Shannon Burgess, MD - Greenville Hospital System
Oral Research
Overall Resident Winner - Gabriel McCoy, DO - Greenville Hospital System
Second Place - Julie Daniel, DO - Greenville Hospital System
Third Place - Tim Maddux, MD - Greenville Hospital System
Look up South Carolina Chapter of ACP on Facebook™ for pictures!
Our chapter awardees include Dr. Mike Hawkins for our Chapter Excellence Award, Ms. Debbie Shealy for recognition of more than 30 years of service to our chapter, Dr. Neal Axon for Early Career Physician Award, Dr. Richard Hoppmann for the Dr. James McFarland Award, and Dr. Mac Chapman for our Laureate Award. Our congratulations and gratitude go to each of our awardees.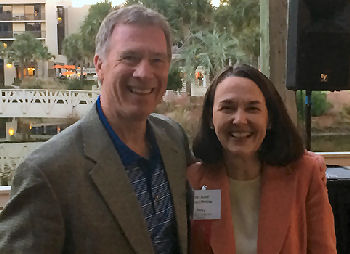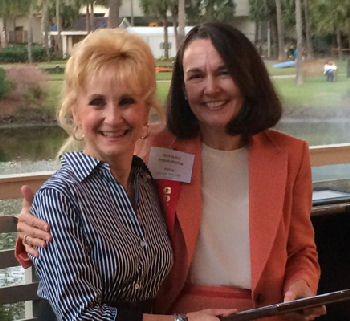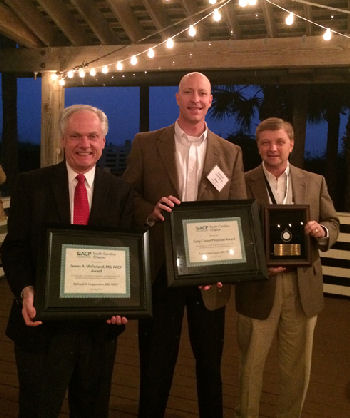 ---
ACP MOC Navigator: Another Perk of Membership
ACP is pleased to announce the launch of the ACP MOC Navigator, a new interactive tool developed to help guide ACP members through the MOC process and select ways to meet requirements and earn points.
The MOC Navigator provides an easy-to-use, step-by-step interface to help make decisions about participating in the program, learn about enrollment in the program, understand the requirements, and discover resources to help earn points and prepare for the final examination. It also provides recommendations for ways to meet the requirements that fit best with your specific preferences and professional situation. You will find the navigator on the website.
---
The 2nd Annual Teaching Value & Choosing Wisely Challenge
Around the world, the capabilities of modern medicine are being delivered inside of health systems with staggering complexity. Too often this complexity leads to avoidable harm and unsustainable cost. Moreover, clinicians rarely have the training and support necessary to deliver value, defined as the best possible care at the lowest possible cost.
To help address this gap, Costs of Care (an American nonprofit) is launching the second annual Teaching Value & Choosing Wisely® Challenge to identify the most promising innovations and bright ideas that can be successfully implemented on a larger scale. The challenge is open to students, postgraduate trainees, and faculty of any health profession. Participants will submit short abstracts that either describes a project they have already implemented or an idea for a project they believe could have promise.
Submissions are due by January 15, 2015 and will be reviewed by five internationally renowned healthcare luminaries (to be announced). Three participants will be invited to share their innovations at a marquee event, "Award-Winning Innovations in High-Value Care" at the 100th anniversary meeting of the American College of Physicians (to be held April 2015 in Boston, MA).
---
Annals Personae Photographs for ACP's Centennial
In recognition of the American College of Physicians' 100th anniversary, Annals of Internal Medicine is seeking photographs of internal medicine physicians to feature on each issue of the journal during 2015, the ACP's centennial year. In choosing from among submitted photographs, we will seek photos that capture personality and celebrate the diversity of individuals who devote their professional lives to the practice of internal medicine. Readers and others are encouraged to submit photographs of internal medicine physicians for consideration. In an effort to bring people to the pages of the Annals of Internal Medicine, the editors began publishing photographs of people in 1999. Annals published photographs in a section of the journal called "Personae" from 1999 to 2000, and photographs have appeared on the cover since 2000.
Written permission to publish the photograph from the subject (or subjects) of the photograph or the subject's guardian or next of kin must accompany submissions. The subject must understand that, if selected for publication, the photograph will not only appear on the cover of the journal but also in digital versions of the journal and associated publications. Photographs can be published without the subject's permission only under the following circumstances: 1) the subject is unidentifiable in the photograph or 2) the photograph was taken in a public venue, is not potentially damaging to the subject, and is accompanied by a written statement from the photographer vouching that the photograph was taken in a public venue with the subject's consent. A cover letter ensuring no prior publication of the photograph and providing permission from the photographer for Annals to publish the image should accompany all submissions. In addition, the letter should indicate the name and specialty of the internist depicted and the photographer's name, academic degrees, institutional affiliation, mailing address, telephone number, and e-mail address. Photographers must relinquish copyright to the American College of Physicians before publication. Pictures from photographers unwilling to do so will not be considered.
Please submit high-resolution, digital copies of photographs to Nicole Briglia for consideration in our special 100th-anniversary issues. Please mention this special venue when submitting your work. We look forward to receiving your photographs.
---
ACP Course Helps Prescribers Safely Prescribe Opioids, Meeting FDA Requirements
In April 2011, the U.S. Food & Drug Administration's (FDA) Risk Evaluation and Mitigation Strategy (REMS) issued a mandate to ensure that the benefits of a drug outweigh its risks (in patients whose clinicians have determined ER/LA opioid analgesics to be an appropriate treatment option).
The FDA has determined that a single, shared REMS is required for all brand and generic extended-release (ER) and long-acting (LA) opioid (narcotic) pain medicines. Under this REMS, the companies producing ER/LA opioid analgesics are required to make independent, accredited education/training available to all ER/LA opioid analgesic prescribers. The FDA required manufacturers of ER/LA opioid analgesics, known as the REMS Program Companies (RPC), comprised of 11 pharmaceutical companies, to support education for prescribers of these medications. RPC-supported REMS education is to be provided through accredited continuing education (CE) activities supported by independent educational grants from these ER/LA opioid analgesic companies.
To assist in this effort, the FDA has developed a Blueprint for Prescriber Education for Extended-Release and Long-Acting Opioid Analgesics ("FDA Blueprint") that is posted on the website. More than 30 CME and CE providers-including ACP and its curriculum partner Pri-Med-have been approved by the RPC to deliver the FDA's REMS-compliant curriculum.
ACP and other CME and CE providers are required to deliver the curriculum as provided by the FDA and created by their experts with no deviation, including the use of brand names. The FDA's intent was to standardize the curriculum and have the exact same message and content delivered regardless of the CME or CE provider. It is the provider's responsibility to ensure that their program maintains compliance with Blueprint requirements. The ACP course launched on June 15, 2013. It offers CME credit and is available through ACPOnline.org and Pri-Med.com/safeopioidprescribing.
---
Strengthen Our Chapter: Participate in ACP's Recruit-a-Colleague Chapter Rewards Program!
The American College of Physicians and the South Carolina Chapter encourages all members to help strengthen our chapter by recommending ACP membership to colleagues. By joining the College, your colleagues will enrich their clinical knowledge and skills and have access to all of the ACP member benefits that you enjoy.
To thank you for your dedication to our organization, ACP offers incentives to members and their chapters that recruit new members through the Recruit-a-Colleague Chapter (RACC) Rewards Program.
As with the national Recruit-a-Colleague Program, the RACC Program rewards successful individual recruiters with dues credits for each new full Member or Physician Affiliate Member recruited and a chance to win a trip to the Annual Internal Medicine Meeting. In addition, the RACC Program also provides rewards to the recruiters' chapters, including funding for chapter activities and complimentary registrations to the Annual Internal Medicine Meeting.
The Recruit-a-Colleague Chapter Rewards Program runs annually from April 1 through March 15.
To participate, simply forward to your colleagues a membership application. To qualify for the program, your name must be listed on the recruiter line of the application, and the form must include the code RACC.
Thank you for your help in strengthening our chapter!
---
ACP's Special Interest Groups
ACP's Special Interest Groups provide members with opportunities to engage in discussions online, share ideas, and support one another professionally and personally.
Participate by joining as many groups as you would like, then connect with ACP members from all over the world with similar interests. Groups include:
ACOs/New Practice Models | African American Members | Caring for Adults with Developmental Disability | Clinical Problem-Solving | Clinical Research | Emerging Technologies | High Value Care | Hospital Medicine | LGBT Health | Maintenance of Certification | Medical Students | MKSAP | Perioperative Medicine | Physician Educators |Re-entry Physicians | Sex- and Gender-Specific Medicine | Small Practices | Volunteerism | Women in Medicine | Work/Life Balance | Working Abroad
Interested in a topic not listed? Contact ACP to ask about forming a new group.
---
Meaningful Use Regulations Released for 2015
CMS has released a new rule on the meaningful use of electronic health records (EHR) systems. The rule added some flexibility to the requirements for reporting in 2014, allowing physicians different options to successfully complete reporting. However, the rule also established onerous requirements for 2015, requiring reporting for the entire year. Under the meaningful use program physicians demonstrate that they are using certified EHR systems in their practice to improve patient care. Read more about what ACP has to say about the Meaningful Use program and the new rule.
---
ACP Offers Resources on Ebola
In response to the outbreak of the Ebola Virus in West Africa, ACP is offering free clinical information and resources to all members of the healthcare community and the public at large.
Several articles about the virus published in Annals of Internal Medicine can be found on an emergency access initiative page. In addition to the Annals articles, ACP's web-based clinical decision support tool, ACP Smart Medicine, offers a module on Ebola and Marburg Viruses that includes evidence-based information about prevention, diagnosis, and therapy. The Ebola module is designed to help physicians advise patients who present with symptoms and who traveled to rural sub-Saharan Africa or had occupational exposure.
Be sure to check with the Centers for Disease Control and Prevention website for the latest news and information on Ebola.
---
South Carolina Chapter Calendar of Events
| | | |
| --- | --- | --- |
| Date | Event | Location |
| January 2015 | Executive Council Meeting | Columbia, SC |
| April 30-May 2, 2015 | Internal Medicine 2015 | Boston, MA |
| May 20-21, 2015 | Leadership Day | Washington, DC |
The South Carolina Chapter is now on Facebook!
Be sure to like our Facebook page.
Finally, if you want to get involved in our chapter, please let me know. We can work to align your expertise and interest within our committees and council.
Warm regards,
Patricia E. Sadler, MD, FACP
Governor
South Carolina Chapter of the American College of Physicians