You are here
Governor-elect's Corner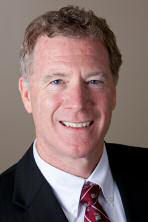 Michael M. Hawkins, MD, FACP, SFHM, ACP Governor
---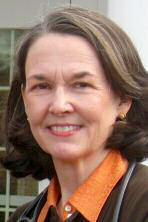 I am looking forward to representing our membership on the Board of Governors and continuing to work with our council and membership to produce robust educational opportunities in our state. The town hall meeting elicited many concerns and ideas that will help our chapter strategize to meet the needs of our membership and our patients. Dr. Hawkins and I hope to develop a strategic plan with our council over the next weeks to months to take an indepth look at where we are and where we want to go. As we transition our roles in governance, I will continue to work towards completing and implementing that plan. I will hope to get input not only from our council members but from the membership as well as it regards recruitment, outreach to medical schools and residency programs, better representation at the national level, and modifying the current ABIM requirements for maintenancy of certification, for example.
I look forward to working with all of you.
Patricia E. Sadler, MD, FACP
---
Annual ACP Conference
It was a great experience attending the Annual ACP Conference in San Francisco. My first order of business is to thank, and to congratulate Helen Stockinger, MD, from Spartanburg, and Brad Keith, MD, from Charleston, for having achieved FACP status in the college, and for attending the Convocation for the induction of new Fellows.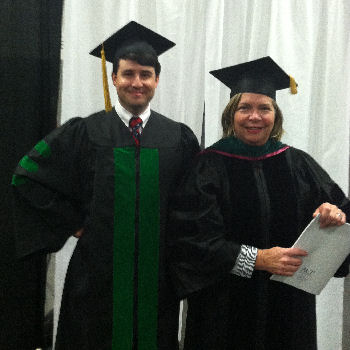 Drs. Brad Keith and Helen Stockinger, new Fellows at Convocation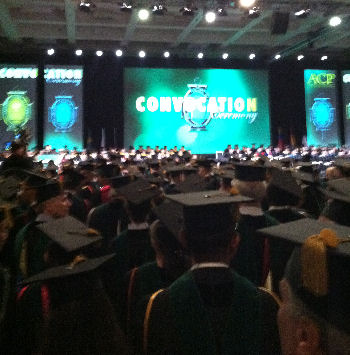 Convocation in San Francisco
Together, we listened to the moving keynote address delivered by Dr. Ezekiel Emanuel. The theme of his talk was that doctors, more than anyone else will shape the future of the United States in general. In his presentation, Dr. Emanuel presented data with regards to U.S. healthcare expenditures being way out of control, and not sustainable. He pointed out that our expenditures in healthcare "threatens everything that we care about." He indicated that we as physicians must begin to take an interest in healthcare costs, and that the key to healthcare reform will be in our decision to transform the way we practice medicine. He emphasized that we will need to practice with a cost value focus, patient centric focus, and working together in medical teams, as opposed to individuals practicing alone together. Success will mean to develop far different delivery systems that we are used to today. We will all need to pay close attention to costs, processes standardization, and transparency. Healthcare delivery systems will need to be reengineered, and to succeed all physicians must work together to improve quality while at the same time reducing costs. He presented data on the medical waste resulting from physicians ordering excessive tests and procedures that are not evidence based, and furthermore do not improve outcomes. My initial reaction was that maybe we need to talk, then, about tort reform in addition to evidence based medicine. As I was beginning to feel somewhat depressed, Mr. Emmanuel uplifted the audience with the idea that we as physicians are the ones who can solve this problem. One example of how we can get this problem of excessive spending under control is the ACP supported Choosing Wisely initiative.
The ACP has embarked on a program to educate providers on tests and imaging studies that many routinely order, but are not indicated under certain circumstances. I urge each of you to go to the ACP web site to learn more about the Choosing Wisely Campaign. Also, be reassured, that your ACP is working very hard on the tort reform issue by recommending health courts, which will eliminate the threat of frivolous lawsuits and attorneys playing the healthcare lottery on behalf of their plaintiffs. As we walked away from the Convocation Ceremony, I think that each physician in the room felt the essence of the challenge that we are the ones who will shape the future of America going forward. Our future literally depends on getting healthcare costs under control, while at the same time providing high quality care. I urge you to consider attending the national Annual Session in the future. The educational sessions there are phenomenal, and it is always held in great cities so as to blend some down time with learning and networking with other physicians and providers from all over the world. I especially recommend that any new Fellows attend the Convocation Ceremony, as you deserve the recognition, and it is a special achievement in your professional career.
---
Congratulations to those of you who achieved ACP Fellowship status this year:
Caroline D. Brownlee, MD, FACP
Nathan A. Henderson, DO, FACP
William C. Logan, MD, FACP
Thomas M. Philip, MD, FACP
Brent M. Powers, MD, FACP
As my tenure as your state ACP Governor winds down, I want to thank the membership for giving me the opportunity to serve in this capacity. This experience has been a highlight of my career in medicine, and I appreciate the help that I have received from many of you along the way. I am confident that we are in very capable hands as Patsy Sadler, MD takes the helm as your new Governor. We are presently in the transition phase in which Patsy is being trained so as to have a smooth handoff. She attended her first Board of Governors' meeting with me prior to the national meeting, where time was set aside for training new Governors. Any suggestions for Patsy are welcome, and I am sure that she would welcome anyone within the membership who expresses an interest in getting involved on the committee level. I would also like to thank my Council members for their service: James Adamson, MD, FACP; Bill Boulware, MD, FACP; Mac Chapman, MD, FACP; Dawn Clancy, MD, FACP; Anne Cook, MD, FACP; Kim Davis, MD, FACP; Mary Beth Poston, MD, FACP; Shak Rehman, MD, FACP; Paul Richardson, MD, FACP; Patsy Sadler, MD, FACP; Steve Saunders, MD, FACP.
---
Leadership Day:
Patsy Sadler, MD (Governor-elect for the SC ACP Chapter) and I represented you in Washington, DC for Leadership Day on Capitol Hill. We met with representatives of our SC legislative delegation, including the offices of Sen. Lindsey Graham, Sen. Tim Scott, Rep. H. Thomas Rice, Rep. Trey Gowdy, Rep. James Clyburn, Rep. Jeff Duncan, Rep. Mick Mulvaney, and Rep. Joe Wilson. We were able to speak personally with Rep. Joe Wilson, and Sen. Tim Scott. We were not able to get an appointment with Rep. Mark Sanford, but we did leave materials at his office for his review.
ACP's key priorities on Capitol Hill this year were as follows:
Elimination of Medicare's SGR formula, and transition to better payment systems.
Ensure full funding for essential health programs: National Health Services Corps, Section 747-training in primary care medicine, National Healthcare Workforce Commission, Agency for Healthcare Research and Quality, National Institutes of Health, Health Resources and Services Administration, and Centers for Disease Control.
Authorize and fund a national pilot of no fault health courts.
Reform and sustain GME financing and re-align GME with workforce needs.
We found our leadership on the Hill to be very receptive to ACP ideas and recommendations, and hopefully this effort will make a difference.
---
S.C State Annual Session:
For those of you that missed our Annual state Scientific Session in Charleston, we missed you and hope that you will make plans to join us at the October, 2014 meeting to be held in Hilton Head. We had another successful meeting this year. The residents and students from our teaching institutions presented posters as well as oral presentations which were all superb. The winners of the competition were as follows:
Overall Student Poster Winner: Sonia Bhandari, MS, USC School of Medicine
Overall Oral Research Presentation Winner: Gabriel D. McCoy, DO, Greenville Hospital System
Thank you to all of the students, residents and fellows who participated, and to Mary Beth Poston, MD, for organizing this extraordinary event. As I have expressed in previous newsletters, this is a highlight of our state gathering. We will have strong representation at the national meeting, and hopefully will win the prize. We have won the national competition in the past, and hopefully will repeat at the 2014 Annual Session in Orlando. A magnanimous thanks also goes out to Anne Cook, MD and Council members for organizing yet another first class Annual Session. And finally, a huge thank you to Debbie Shealy, our Executive Director who is the glue that holds our state chapter together.
During the annual state meeting, we had a panel of expert speakers, and all of them were excellent. All of us continued our lifetime commitment to learning, and received a good bolus of CME credits as well. I had many comments in the hallway that this was one of the best panels yet. We also enjoyed time together at the reception and town hall meeting, opportunities to share views on healthcare and ACP topics or issues. We received great input which will help make us stronger going forward. The awards reception was held on Friday night. It was my pleasure to recognize some very special physicians for their professionalism in medicine and for their dedication to our patients, education, society, and medicine in general.
Congratulations again to the following award recipients:
The Young Physicians Award: Caroline K. Powell, MD, FACP, MSCR, USC School of Medicine
James A. McFarland, MD, FACP Award: Kimberly S. Davis, MD, FACP, Medical University of South Carolina
The Laureate Award: Shakaib Rehman, MD, SCH, FACP, FAACH, Ralph H. Johnson VA Medical Center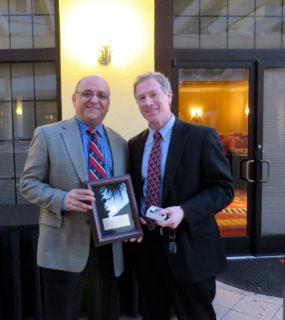 Dr. Rehman on left and Dr. Hawkins on right. Rehman received the Laureate Award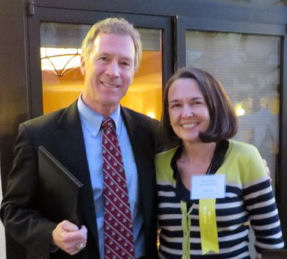 Dr. Hawkins receiving his certificate as outgoing Governor.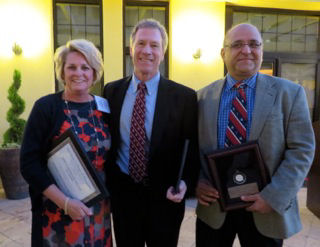 Dr. Kim Davis (McFarland Award Recipient), Dr. Mike Hawkins, and Dr. Rehman (Laureate Award recipient).
Dr. Powell was not able to attend the awards ceremony to receive her award. It was presented at a later date.
Governor's Council: As Patsy Sadler takes over; we will be reshaping the Governor's Council Committees to serve during her tenure as Governor, as well as doing some strategic planning for the future. Please contact me if you have an interest in serving, or perhaps chairing a committee, and I will get your contact information to Patsy. Committees to choose from include:
Treasurer's/Finance Committee
Associates Committee
Interspecialty Council
Annual Symposium Committee
Diversity and Outreach Committee
Hospitalist Committee
Health and Public Policy Committee
Young Physicians Committee
Membership Committee
---
Strengthen Our Chapter: Participate in ACP's Recruit-a-Colleague Chapter Rewards Program!
The American College of Physicians and the South Carolina Chapter encourages all members to help strengthen our chapter by recommending ACP membership to colleagues. By joining the College, your colleagues will enrich their clinical knowledge and skills and have access to all of the ACP member benefits that you enjoy.
To thank you for your dedication to our organization, ACP offers incentives to members and their chapters that recruit new members through the Recruit-a-Colleague Chapter (RACC) Rewards Program.
As with the national Recruit-a-Colleague Program, the RACC Program rewards successful individual recruiters with dues credits for each new full Member or Physician Affiliate member recruited and a chance to win a trip to the annual Internal Medicine meeting. In addition, the RACC Program also provides rewards to the recruiters' chapters, including funding for chapter activities and complimentary registrations to the annual Internal Medicine meeting.
The Recruit-a-Colleague Chapter Rewards Program runs annually from April 1 through March 15.
To participate, simply forward to your colleagues a membership application. To qualify for the program, your name must be listed on the recruiter line of the application, and the form must include the code RACC.
Thank you for your help in strengthening our chapter!
Mike Hawkins, MD, FACP, SFHM