The Chapter Centennial Legacy Award celebrates ACP's centennial by recognizing one seminal chapter member whose service to the chapter had a significant impact on the chapter's viability. This individual should exemplify ACP's core values including:

Leadership
Excellence
Respect
Compassion
Professionalism
Responsibility
Read about the state awardee and join us in congratulating him.
---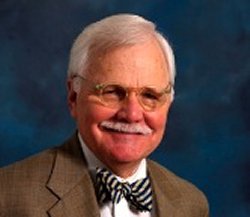 Dr. Charles S. Bryan, MACP, FRCP, arrived in Columbia, S.C., in 1974 to begin his career as the only infectious disease specialist in Columbia at Richland County Hospital and ultimately served as Chair of the Infectious Disease Department at USC as well as Chair of the Department of Medicine. As a leader in modern infection control and hospital epidemiology, he published a landmark article in the Journal of the South Carolina Medical Association on the over-prescribing of antibiotics. Over the past 40 years, Dr. Bryan intertwined his interests in Oslerian bedside diagnosis, medical humanities, and analysis of antimicrobial use. Due to his working groups and constructs, the stage was set for infection control programs culminating in implementation of modern technology, and interprofessional cooperation and collaboration to manage and reduce hospital-associated infections. Dr. Bryan has been recognized with many auspicious awards including the Lifetime Achievement Award from the American Osler Society and the prestigious Order of the Palmetto Award in 2013. The USC Department of Medicine created the Charles S. Bryan Scholar Award to recognize an outstanding internal medicine resident yearly.
More about the Chapter Centennial Legacy Award:
Award Booklet - full listing of winners
Press Release Template - for Chapter use