You are here
The WAVE: September 2016
The WAVE: September 2016

---
---

---
Brown/Lifespan Advocacy Curriculum Expands
Is political advocacy a professional responsibility? This subject has recently gotten some serious attention in the Brown Internal Medicine residency program at Rhode Island and the Miriam Hospitals. This excellent 5-part Advocacy Curriculum series was developed by recent graduates and ACP members Pam Egan, Megha Garg, and Zoe Tseng and is delivered during the Ambulatory Block month for both General Internal Medicine and Categorical residents. It has been very well received and starts out with the fundamental question above, reviewing a 2011 article in Academic Medicine by Thomas Huddle. He posits that civic virtues are outside of the professional realm, in part arguing that attention to such issues would necessarily interfere with other professional responsibilities that are more important, viz., excellence and dedication in professional work.
Happily, the residents eagerly embraced the opportunity to add advocacy to their areas of professional expertise over the course of the month, researching and writing Op-Ed pieces and letters to the editor as well as arranging, preparing for and then participating in a visit to the office of Rhode Island Senator Jack Reed.
The fact of the matter is that our legislators exercise tremendous legislative influence on the environment in which our profession operates, and they need our expertise to help them bring the best laws into existence. The residents had the opportunity to utilize the impressive store of data driven policy and position papers that the College has developed in preparing for their writing and congressional visit. They were welcomed in part as representatives of the College because of the credibility that the ACP has developed in Washington over the years.
---
RI Health and Public Policy Committee Up and Running, New Members Sought!
An excellent opportunity for you to get involved in Advocacy efforts is for you to join the RI ACP Health and Public Policy Committee. This committee meets quarterly for highly focused, action-oriented discussion and planning, with a number of new members!
Over the course of the last year, this committee has been reinvigorated. Its members have been active in coordinating activity with the College's Washington advocacy efforts and has also worked in concert with the College's State Health Policy Network and the Rhode Island Medical Society on advocacy efforts at the state level.
The first meeting of the RI ACP Health and Public Policy Committee will be scheduled for early October with a plan to review available resources related to Election 2016. We will also begin the process of identifying topics of interest in advance of the Rhode Island state legislative season which kicks off in January. Another topic for discussion is how the residents' Advocacy Curriculum might be presented at other residency programs. The RIMS legislative planning process gets underway in December, so our October meeting will be charged with identifying priorities to bring to the Medical Society on behalf of RI ACP members and the Chapter.
Please get in touch with Chapter Executive Director Hilary Sweigart if you are interested in participating on this committee. A poll will go out shortly to identify a date for the first meeting of the year.
All Chapter members are encouraged to join the College's Advocates for Internal Medicine Network (AIMn) for updates from time to time on national political issues of interest to the College, our profession and most importantly, our patients. You may sign up here. The ACP Advocate is also a terrific resource which is focused on two or three issues and is published monthly. More details on that here.
---
Leadership Day 2017/ACP Health Policy Internship for Residents!!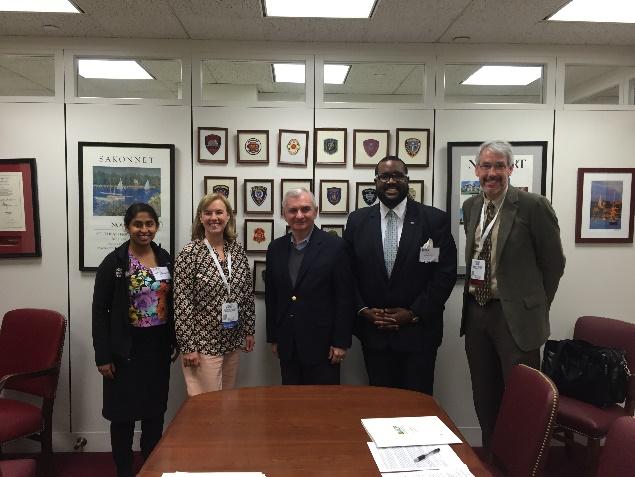 Leadership Day is an annual activity that brings hundreds of ACP members from Chapters in every state to Washington for a day of information and education about the College's policy positions and legislative priorities. This is followed by a day of visits to the Rhode Island Congressional delegation. More on this later but efforts to prepare the RI ACP delegation to Leadership Day will be coordinated through the HPPC. This year, Leadership Day is scheduled for May 23-24, 2017.
Medical students and house officers interested in Health Policy should think about applying for the College's Health Policy Internship, which offers a month-long internship in the College's Washington office during the month prior to Leadership Day. The application cycle for the 2017 internship has opened, the application cycle will close on October 28, so don't delay! Please let Chapter Governor Audrey Kupchan know if you are applying so she can advocate for you! More information on the internship is available here.

Tom Bledsoe MD FACP
Regent, American College of Physicians
Governor-emeritus, RI ACP Chapter