You are here
THE WAVE: March 2016
THE WAVE: March 2016

---
---

THE WAVE
---
Annual Chapter Meeting coming soon
The Annual RI Chapter Meeting is coming soon! The meeting is being held at the Warren Alpert Medical School of Brown University. We have an excellent line up of speakers, and one of the breakout sessions includes topics which meet this spring's RI MD License Requirements. Click here to register.
Come join us and reconnect with peers, update your knowledge, learn new information, support local Medical Residents and Students, and get involved with ACP, all while earning CME credits. We also will be honoring two of our colleagues with Chapter Laureate awards, Dr. Mark Fagan and Dr. Fred Crisafulli. Join us for the noontime luncheon to congratulate them!
---
New RI Chapter Governor
For those who don't yet know me, I am in my first of four years as the Governor of the ACP RI Chapter. I am a general internist at Coastal Medical, and have been in practice in RI since I completed my Residency at RIH in 1984. Thus far this year we have had a successful Medical Jeopardy event with 5 teams competing. The winners are set to compete at the Annual Meeting in Washington, DC in May. This year's winners were from the Lifespan program: Drs. Jonathan Wang, Dionne Rebello, and Jimmy Martin. We've also had 2 successful events with the Medical Students. In December we sponsored a well-attended panel of practicing internists to discuss practice options, and in January we participated in the IM Subspecialty Fair.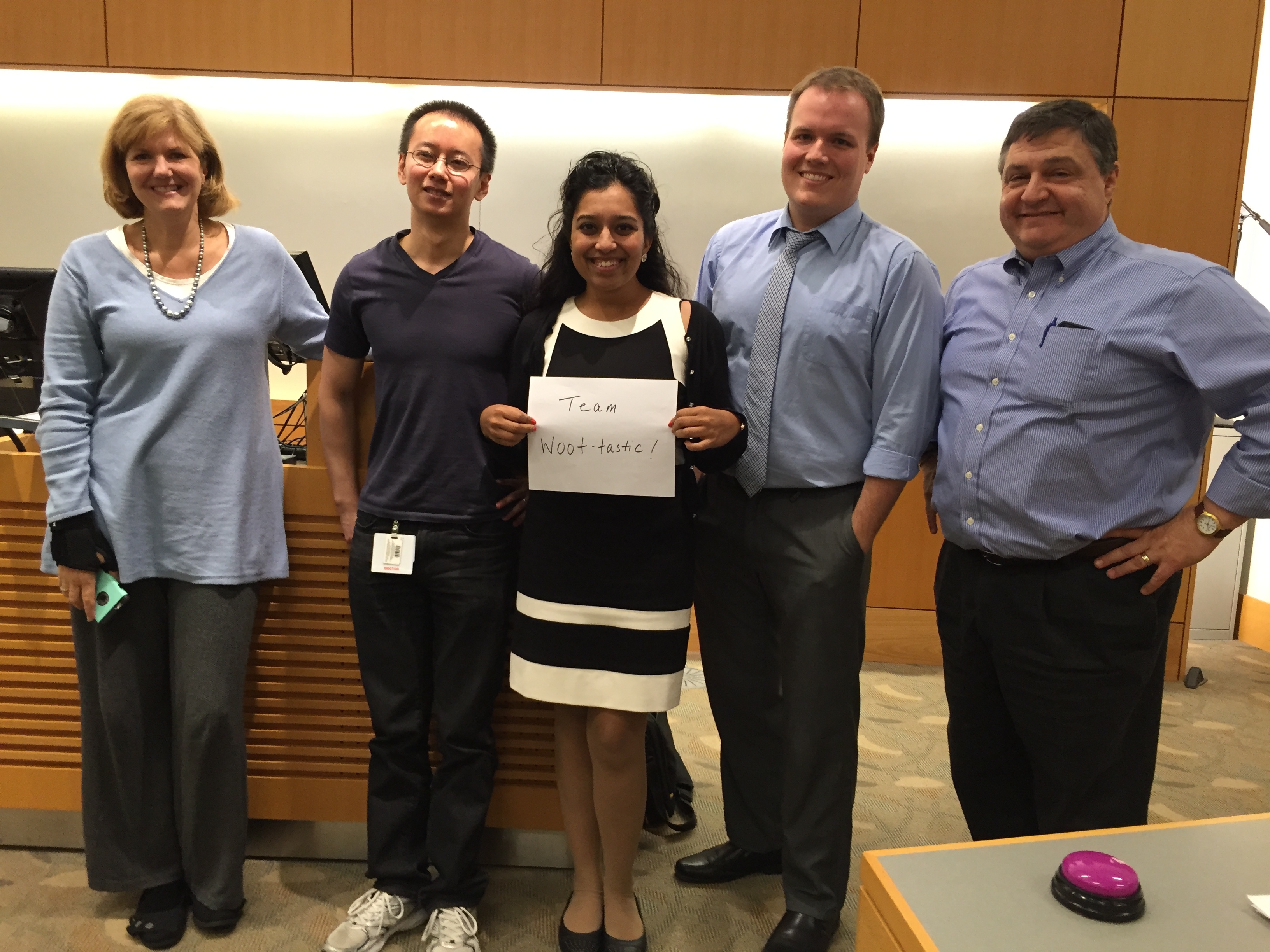 L to R: Jennifer Jeremiah, Jonathan Wang, Dionne Rebello, Jimmy Martin,
and Dom Tammaro.
---
Resident Mixer
Our next event in the planning is an informative Resident Mixer to be held on April 20 at the Brown Faculty Club. Dr. Yul Ejnes will be speaking about "ACP and ABIM: What Residents Should Know". We will have current members talk about why they are involved with ACP and what ACP can do for you. There will also be opportunity for Residents from various programs to meet and have discussions with ACP practicing physicians and program directors.
---
New ACPonline website
I want to make sure everyone is aware of the new ACPonline web site. It is new and improved, and very user friendly. Check it out! There's a wealth of information available there.
---
Advocacy/Membership
Our Health and Public Policy Committee has started to meet under the Chairmanship of Dr. Tom Bledsoe. If anyone has interest in this area, please contact Tom. Our current Chapter membership is holding strong and growing. We currently have 200 Medical Students and 151 Residents, along with 422 Members. Spread the word and get your colleagues to join!
---
Resolutions Spring '16
At the upcoming IM2016, the Board of Governors will be addressing 16 new Resolutions which can be found here. Please take a few moments to look these over. Any and all feedback would be appreciated so I can bring the opinions of RI members with me as I represent our state in Washington, DC. Feel free to email me about this or anything else.
Hope to see you all on March 30!!
—Audrey Kupchan, MD, FACP, ACP Governor, Rhode Island Chapter