You are here
Puerto Rico Governor's Newsletter April 2019
Puerto Rico Governor's Newsletter April 2019
---
---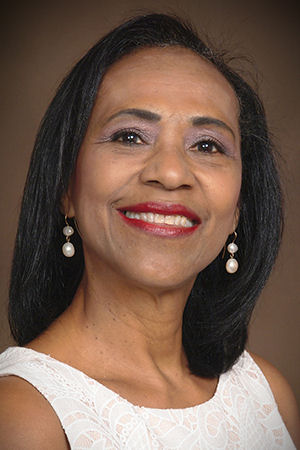 Myriam Z. Allende-Vigo, MD, FACP, ACP Governor
---
Governor's Message
The ACP Puerto Rico Chapter last month celebrated its annual meeting. This sounds pretty ordinary, but it was indeed a great celebration. First among all, there was a record high attendance of members, Fellows, Masters, residents and students. We had the privilege of hosting Ana María López, MD, MACP, ACP President, who presented the Mastership Award to Dr. Germán Malaret. The educational program was conducted by visiting faculty from the Mayo Clinic and a mix of senior and young local physicians. They were all commended on their performance.
Dr. Adriana Marzán, an Internal Medicine resident member, received the ACP Puerto Rico Chapter for Volunteerism and Community Service Award after her incredible activities organizing a distribution chain of much needed medical supplies after hurricanes Irma and María. Dr. José Lozada received a Chapter Laureate Award for his high professional standards and engagement to ACP.
During Achieving Excellence in Patient Care, the American College of Physician Annual Meeting and Internal Medicine Update & Board Review, held March 8 to 10, 2019 at La Concha Renaissance Hotel, there were plenty of opportunities for networking during the social activities. At the business meeting, members celebrated the sound fiscal status of the chapter.
And last, but not least: The chapter is celebrating the achievement of ACP 2018 Chapter Excellence Award after meeting all areas of successful chapter management during the 2017-2018 fiscal year.
This newsletter is a recollection of this celebration.
---
2019 Annual Meeting
On March 8-10, 2019, we celebrated our 2019 annual Meeting with an unprecedented attendance of 270 participants. This year's annual meeting, Achieving Excellence in Patient Care, offered a comprehensive internal medicine board review and a discussion of common and evolving issues of Hospital Medicine with frequent clinical situations in the outpatient setting. Distinguished faculty members from Mayo Clinic and prominent local speakers were responsible for providing an outstanding scientific program. We would like to extend a special thanks to the Scientific Committee Chairman, Dr. Francis Baco, and the committee members for an outstanding job coordinating this scientific meeting.
Attendees at the educational program
Chapter meeting break
Faculty from Mayo Clinic, along with Myriam Allende, MD, FACP, ACP Puerto Rico Chapter Governor, and Francis Baco, MD, FACP.
---
Puerto Rico Chapter Business Meeting
While at the 2019 Annual Meeting, we celebrated our Chapter Annual Business Meeting. The chapter's governor summarized the chapter activities including a Strategic meeting, an activity for medical students interested in internal medicine in Caguas, a medical Grand Round for internal Medicine Residents in Ponce, the Poster & Research Competition in San Juan, the Doctors Dilemma competition and continuous medical education activities in San Juan. Dr. Ana Maria Lopez, President of the American College of Physicians, was in attendance and delivered the 2019 Mastership Award to Dr. Germán Malaret. Dr. Francisco Joglar, Past Governor of the chapter and master, delivered the ACP 2018 Chapter Excellence Award.
It was a very special occasion, because at the meeting, we recognized important members that have contributed on extraordinary ways to the success of our Chapter and to the benefit of our country.
Mastership in the American College of Physicians: Dr. Germán Malaret
Laureate Award: Dr. José Lozada (past Governor of the Puerto Rico Chapter)
Community Service and Volunteerism Award: Dr. Adriana Marzán
Community Service and Volunteerism recognitions to: Dr. Angel Comulada, Dr. Francisco Díaz Lozada, Dr. Judith Roman and Mr. Yadier O. Brito (medical student)
---
Get Acquainted with the Chapter Awardees
Dr. Germán Malaret received his medical degree from Harvard College. After an internship in the Pennsylvania Hospital, he completed a residency in Internal medicine and a fellowship in Cardiology at Charity Hospital and Tulane School of Medicine. Upon his return to Puerto Rico, he held various teaching appointments in hospitals, including the University of Puerto Rico School of Medicine. He was instrumental in the foundation of the Cardiovascular Center of Puerto Rico and the Caribbean, where he was medical director as well as an active faculty member. Dr. Malaret has been a leader in many organizations, including the PR Heart Association, the PR Society of Cardiology, the PR Medical Association, the American Heart Association, the American College of Cardiology, hospital boards, community organizations, and a trustee for the University of Puerto Rico. Close to his heart and a lifetime commitment has been the American College of Physicians. A former Governor of the ACP, his leadership, support, and constant presence have made him a champion and a role model of what an internist is. For his service to ACP, he was honored with the Laureate Award. He has served the community with his expertise and high moral standards, setting an example and educating on what an ethical and professional practice of medicine should be, free of commercial and political pressures in the service of society. His legacy lives on in the many physicians he has taught, befriended, counseled, or merely inspired. For his lifetime achievements, he has been selected for the distinction of Master of the American College of Physicians.
Drs. Ana M. López, Germán Malaret and Myriam Allende
Dr. José Lozada Costas received his medical degree from the University of Puerto Rico School of Medicine. He trained as an Internist and Oncologist at Baylor College of Medicine in Texas. He became an ACP Fellow in 2011. He has been in clinical practice as an oncologist in San Juan, Puerto Rico and is affiliated with Auxilo Mutuo Hospital. He has provided excellent care to his patients and served as mentor to fellows, residents and students. He served as Governor of the ACP Puerto Rico Chapter from 2014 to 2018. As a member of the ACP Board of Governors, he served on the Clinical Skills Committee, Post-Graduate/Chapter Education Committee, and the Volunteerism Committee. Dr. Lozada has upheld the high ideals and professional standards for which the College is known, making him an excellent candidate to receive the most prestigious honor bestowed to a member at the local level.
Dr. Myriam Allende presenting Dr. José Lozada with his chapter Laureate Award.
Dr. Adriana Marzán Loyola is an Internal Medicine resident at the Veteran's Administration Caribbean Health System. Hurricane María forced her to postpone her wedding. So instead, she set out to seek relief organizations. Her efforts led her to Doctoras Boricuas and a large shipment of supplies that needed someone to receive, organize and distribute them. Dr. Marzán mobilized residents from the VA and other programs to help with this job. As more supplies arrived, Dr. Marzán joined forces with other physicians, and #MedicosporPuertoRico was formed. A larger warehouse, multiple collaborations and a growing chain of distribution reached with essentials, insulin and medications more than a hundred places, almost all municipalities and homes for the elderly. Dr. Marzán's initiative, leadership, teamwork and altruism in the face of a disaster make her worthy of the Puerto Rico Chapter's Volunteerism and Community Service Award.
Dr. Myriam Allende and Dr. Adriana Marzán
Mr. Yadier Brito, Dr. Myriam Allende, Dr. Germán Malaret, Dr. Adriana Marzán, Dr. Angel Comulada, and Dr. José Lozada
---
Internal Medicine Grand Rounds Program
On March 16, 2019, the ACP Puerto Rico Chapter celebrated the second lecture of our projected Grand Round Series. This event took place in San Juan, at the University of Puerto Rico Medical Science Campus, where the chapter's Governor and endocrinologist, Dr. Myriam Z. Allende, were the keynote speaker. Dr. Allende presented an update in the evaluation and management of obesity. We were pleased to have the participation of over 52 Internal Medicine residents and numerous faculty members.
We look forward to continuing with this initiative across the island during 2019.
---
Upcoming Event
Registration is now open for the educational program A Practical Approach Optimizing the Glycemic Control in the Outpatient with Type 2 Diabetes. This event will be held on May 4, 2019 at The Hyatt Place, San Juan.
This live activity will offer a maximum of 3 AMA PRA Category 1 Credit(s)TM and up to 3.0 MOC points in Medical Knowledge in the American Board of Internal Medicine's (ABIM) Maintenance of Certification (MOC) program. Physicians should claim only the credits and MOC points commensurate with the extent of their participation in the activity.
View the full agenda on the Chapter's website: Program Information
How to Register: Register Online Today!
---
Save the Date: Well-Being Forum for Women Internists
Food for the Mind and the Soul of Women in Internal Medicine
Saturday, June 1, 2019 at Casa del Libro in Old San Juan. See the flyer for more information.
Join us for a morning dedicated to wellness and health, featuring:
Practical routines to begin the day: Lisa Boscarino, Personal Trainer
Strategies to a healthy and creative cuisine: Ana Mercedes & Yamila Azize Vargas, Authors of Delicias Panchita, Puertorrican and Lebanese Cuisine.
Stress Management Strategies: Lilly Garcia, Recognized Life Coach and Author.
Space is limited and pre-registration is required. Please contact Rina Vega at 787-409-6497 or info@rivsmarketing.com to register.
---
Become a Fellow
ACP Members are encouraged to review the requirements for advancement to Fellow of the American College of Physicians. Do not hesitate to contact us for information at rinvavega@rivsmarketing.com We are working on updating our members list. Please review your membership status and contact us!
Get involved with the ACP activities and participate in our mission for education and service in Internal Medicine.
April, 2019
Editorial Committee:
Dr. Myriam Allende
Dr. Melba Feliciano
Mrs. Rina Vega