You are here
Governor's Newsletter Puerto Rico May 2012
Governor's Newsletter Puerto Rico May 2012

| | |
| --- | --- |
| May 2012 | Francisco J. Muniz, MD, FACP, ACP Governor |
---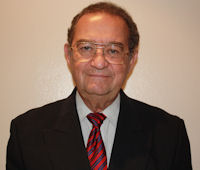 This is the first newsletter of my term as Governor of the Puerto Rico Chapter of the American College of Physicians (ACP) which began on April 22, 2012. I would, first of all, like to thank you for the trust you have given to me to administer and continue developing this very important medical organization. ACP is the largest and most prestigious medical specialty association and the second largest medical society in the United States. In three years, it will be one hundred years old. Its claim of institutional excellence rests on the great importance given for almost a century to academic, scientific and clinical practice excellence. Another reason is its known ability to identify medical distinction and recognize it by its system of awarding its notable members the position of fellows, masters and awardees of the college. Finally, ACP is truly dedicated to the education, development and growth of its members, in the entire world. It is indeed a great honor to be a part of the American College of Physicians.
Being such a complex institution it is necessary to have the cooperation of all its members working together under a strategic plan. You are the College. You are the persons that make it great. You are the models of the new generation of internists. You are responsible for keeping the tradition of excellence and distinction of the College and are the persons responsible for the future of internal medicine and its sub specialties in our island.
For this reason, we ask your help by volunteering to serve in the College committees, identifying and giving support to new and responsible leaders, communicating and letting the organization know about your needs and recommendations, promoting and helping to educate the associate members, that is, the medical students and residents who look up to you as their role models. We ask for your help, advice and support in maintaining the level of excellence of our College.
And now, for your information, following is a short summary of what we have been doing in your behalf.
We have started to create a chapter Governor's Advisory Council. The initial group has already met twice for many hours to discuss strategic planning for our chapter. We will continue identifying ACP P.R. chapter leaders, from the entire island, to participate in this Advisory Council and maintain the chapter's long time tradition of excellence. We will very much appreciate your help and recommendations in identifying potential new leaders to continue this practice.
We plan to retain the services of AMEC - Advanced Medical Education Consultants, a management consultant organization, to ensure we are fully aware of the academic, clinical and medical practice needs and interests of our members and are able to provide an excellent support and service to all. AMEC president is Ms. Sandra Sotomayor, a microbiologist and former pharmaceutical company representative for 16 years who has an MBA in Marketing and 8 years of successful experience working with many local medical organizations.
The Governor's Advisory Council has been working with former Director of the San Juan VA Hospital Department of Mental Health, and strategic planning expert, Dr. Luis Raul Rios, to help the P.R. chapter organize, as soon as possible, a strategic planning retreat and committee, to ensure we have a four year plan for the growth and development of our chapter. This is an important project for all, in which we hope new goals and new chapter leaders are identified which will have a chance to provide innovative ideas to protect the future and the excellence of internal medicine in Puerto Rico. Kindly communicate with us and provide us your ideas and recommendations of subjects to be discussed, matters to be considered and ACP potential leaders to be approached and asked to participate in this exercise.
We are, at present, identifying potential members and presidents of the chapter committees. We have begun with the following:

Governor's Council
Scientific Committee
Sub-committee for Events Committee (if necessary or applicable)
Membership Committee
Finance Committee
Health & Public Policy Committee
Strategic Planning Committee
Credentials and Awards Committee
The President of the Governor's Council is the current Chapter Governor.
The President of the Scientific Committee will be the nephrologist and former Medical School Dean and Chapter Governor Dr. Francisco Joglar, and its Vice President will be Dr. Hector Gorbea, a distinguished specialist in infectious diseases and Fellow of the ACP.
The President of the Membership Committee will be the pneumologist and former Governor Dr. William Rodriguez.
Dr. Edwin Alicea, FACP, a well known pneumologist and past chapter treasurer has agreed to continue in this position.
The UPR School of Medicine medical students recently elected third year medical student, Ms. Muay C. Hernandez Pons, as president of their medical school ACP student's council. The creation of similar organizations in the other medical schools in P.R. should and will be encouraged for students and residents.
We intend to take the College to the different districts of the island. We will be coordinating meetings with their internists and coordinate activities in different parts of the island.
Finally, we would like to create councils of Education Programs Directors, Internal Medicine Department Directors, students, associates and young physicians. Please help us in making these projects a reality by ensuring you update your profile and address and make us know your interests.
These are rather interesting times. It is our intention to keep you regularly informed of changes occurring in national medicine which affect your practices as internists.
You can communicate with us at: fjmuniz09@gmail.com or:
PR ACP Chapter
C/o AMEC
161 San Jorge St, Suite 402
San Juan, P.R. 00911

787-289-8989
Francisco J. Muñiz, MD, FACP
Governor, ACP Puerto Rico Chapter