You are here
Pennsylvania Governors' Newsletter January 2017

---
---
---
Note from your Governors
Southeastern Region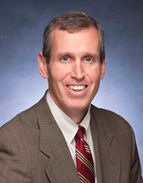 Dear Members:
One of the privileges of serving as your ACP Governor is meeting students at our IMIG dinners or regional student council meetings. In November, Aleesha Shaik (our PAS student member on PA-ACP council) of Drexel, convened a meeting of students from the majority of our southeastern region schools.
Students at the southeastern region IMIG dinner.
Our students continue to impress me with their organizational talent and passion, depth and breadth of their intellect and character, and the clarity of their commitment to improving patient care! They are incredibly talented and want so much to give back to their families, communities, and their country.
Just as inspiring is the level of engagement that I have witnessed at our ACP regional resident competitions. This year's posters were perhaps the most outstanding I've seen in my career as an academic physician. As I viewed the amazing work of our resident trainees, I was struck by level of discourse and the detail of knowledge which the students showed in defending their work.
I am not worried about the future of medical care in this country. The talent and commitment of our students and residents will provide a cadre of superb practitioners to carry the mantle of patient care forward for the next generation of patients. The students and residents have a strong commitment to the ACP values as the bedrock of their budding careers.
If you have not yet visited our regional resident competitions, I invite you to think about coming in the years ahead to witness the incredible talent and commitment of these young men and women.
On behalf of the ACP, I thank you for your membership, all you do for patient care, and all you do to support young students and trainees across our region and across our chapter.
Sincerely,
Gregory Kane, MD, FACP, Chapter President
Eastern Region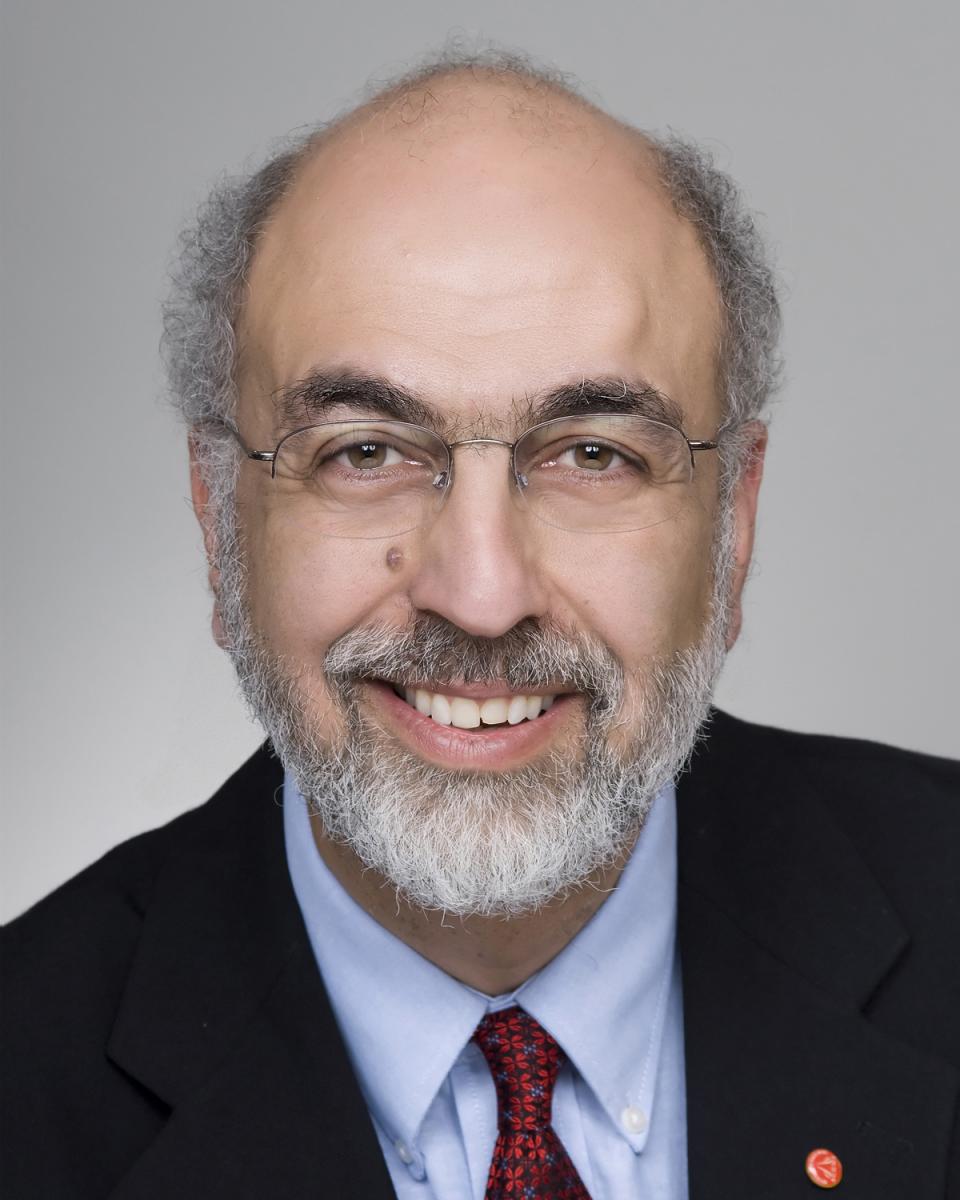 We have just wrapped up a holiday season where themes focus upon hope. Four physicians from Eastern Pennsylvania were honored at the recent PA-ACP Awards Dinner. They are all very special people in many ways, but most inspiring is their capacity to remain positive and constructive, despite a host of adversities. Each has served as a moral compass for his/her practices and communities. Despite many personal and professional barriers, they exude a sense of positivity and hope in their daily interactions. Their display of hope and caring strengthens them and empowers those around them. I know that many of you play this critical role each day. Thank you for continuing the good fight. I hope everyone had a happy holiday season!
Our award winners from Eastern PA:
Susan Baroody, DO- Scranton
Rashid Makhdomi, MD- Easton
John King, MD- Lancaster
Francis Salerno, MD- Allentown
Sincerely,
David George, MD, FACP, PAE Governor

Western Region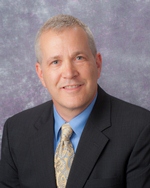 2017 is shaping up to be a busy year for the ACP at both a national and regional level. The recent elections will likely result in significant changes to healthcare policy. The ACP will continue to advocate for responsible policies that benefit our patients, our members, and the public. Your input will be important in helping the ACP in our advocacy efforts.
A few updates from the past few months.
In September, the PA-ACP council held a strategic planning session. We came up with a number of issues that we want to address in the next few years. Among them are reestablishment of a statewide PA- ACP annual educational meeting, bringing ACP sponsored MOC sessions to Western Pennsylvania, expanding our awards program outreach to insure we recognize outstanding ACP members in all areas of the state, and enhancing our communication to membership including increasing our use of social media. If you are interested in working on any of these initiatives, please let us know.
Our annual Western PA-ACP Resident Poster and Jeopardy competition was help on November 5th at UPMC McKeesport. Dr. Ibrahim Ghobrial once again did an outstanding job as the Meeting Chair. The resident jeopardy team from UPMC Medical Education Program at University of Pittsburgh won both the regional and state competitions and will be representing Pennsylvania at the ACP Annual Meeting in San Diego. Read the remainder of the newsletter for more detailed information on the meeting.
Dr. Ibrahim Ghobrial was selected as our ACP Laureate and Dr. Frederick DeRubertis of the Pittsburgh VA Medical Center was selected for the Clinical Practice Award. Each of these winners has been instrumental in advancing medical education and patient centered care at their institutions and throughout Western PA. They were recognized at our Annual Awards banquet on December 3nd at the Hershey Country Club.
I would like to finish with a request that you consider two things in the coming year:
Consider nominating a Pennsylvania ACP member for either a PA-ACP or National ACP award
Consider serving as a poster judge at our 2017 Western PA-ACP Resident Poster and Jeopardy competition. It will be held at UPMC Mercy on November 4, 2017.
Finally, for those of you planning to attend the ACP Annual Meeting in San Diego, please join us at the PA reception! Details on this informal gathering will be forthcoming.
Respectfully,
Thomas Grau, MD, FACP, PAW Governor
---
Outstanding PA Chapter Members Honored as 2016 PA-ACP Awardees
PA-ACP membership was invited to Hershey on December 3rd for an engaging day featuring the PA Chapter State Doctor's Dilemma finals, a meeting with chapter leadership, and an opportunity to dialogue and network with the PA Physician General, Dr. Rachel Levine, who briefed attendees on what Pennsylvania is doing to combat it's opioid epidemic and how physicians can do their part by accessing and utilizing the Prescription Drug Monitoring Program (PDMP) database. The evening concluded with the Annual Awards Dinner at the Hershey Country Club. See the list below for this year's PA-ACP award recipients and photos from the event.
2016 PA-ACP Award Recipients
Laureate
Francis Salerno, MD, FACP (Eastern Region)
Ibrahim Ghobrial, MD, FACP, MRCP (Western Region)
Christine Laine, MD, MPH, FACP (Southeastern Region)
Clinical Practice
Rashid Makhdomi, MD, FACP (Eastern Region)
Frederick DeRubertis, Jr., MD, FACP (Western Region)
Andrew Ulichney, MD (Southeastern Region)
Special Recognition
John King, MD (Eastern Region)
Allison Ferris, MD, FACP (Southeastern Region)
Herbert S. Waxman
Narendra Desai, MD (Southeastern Region)
Pressman
Charles Cutler, MD, MACP (Southeastern Region)
John Derrickson Early Career Physician Service Excellence
Susan Baroody, DO (Eastern Region)
Emily Stewart, MD, FACP (Southeastern Region)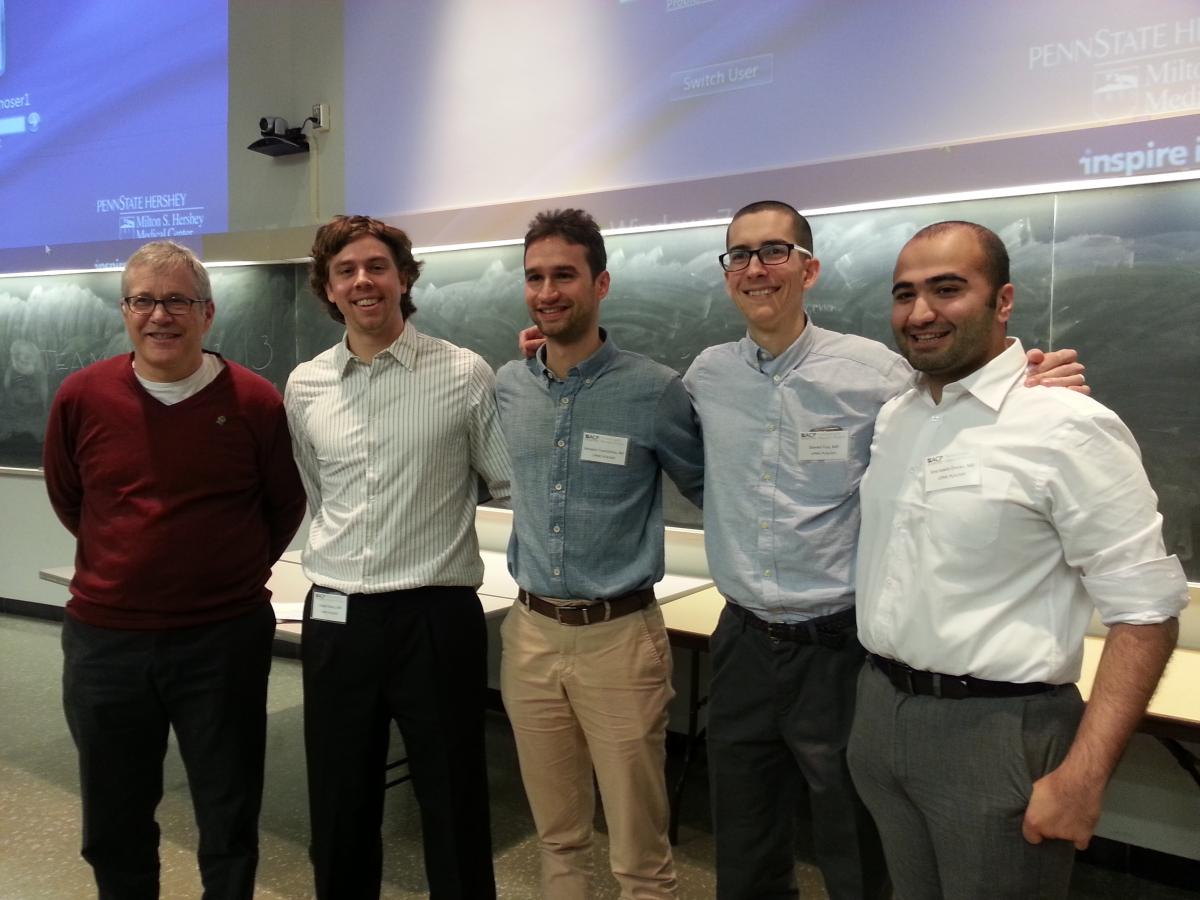 State winning team from UPMC PUH/SHY.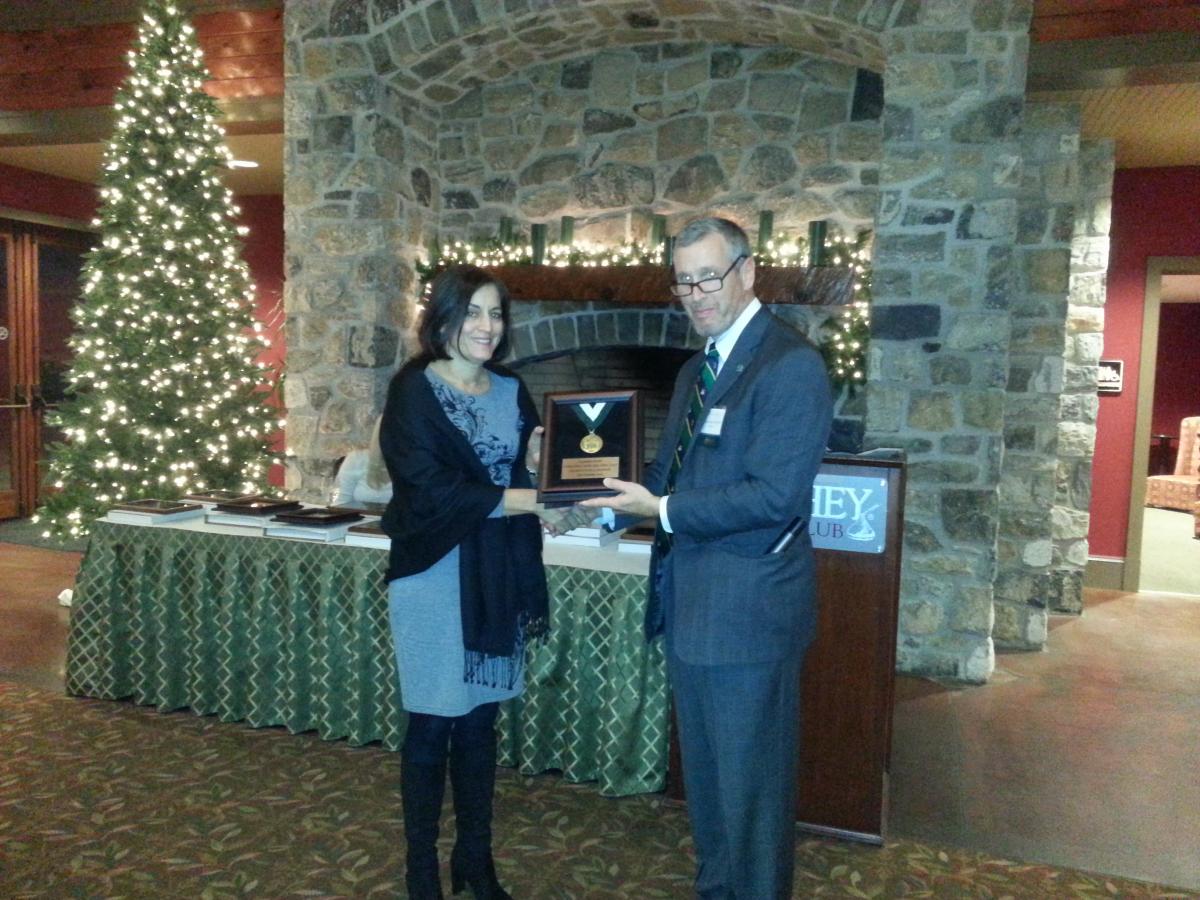 Christine Laine, MD, MPH, FACP accepts the Laurate award.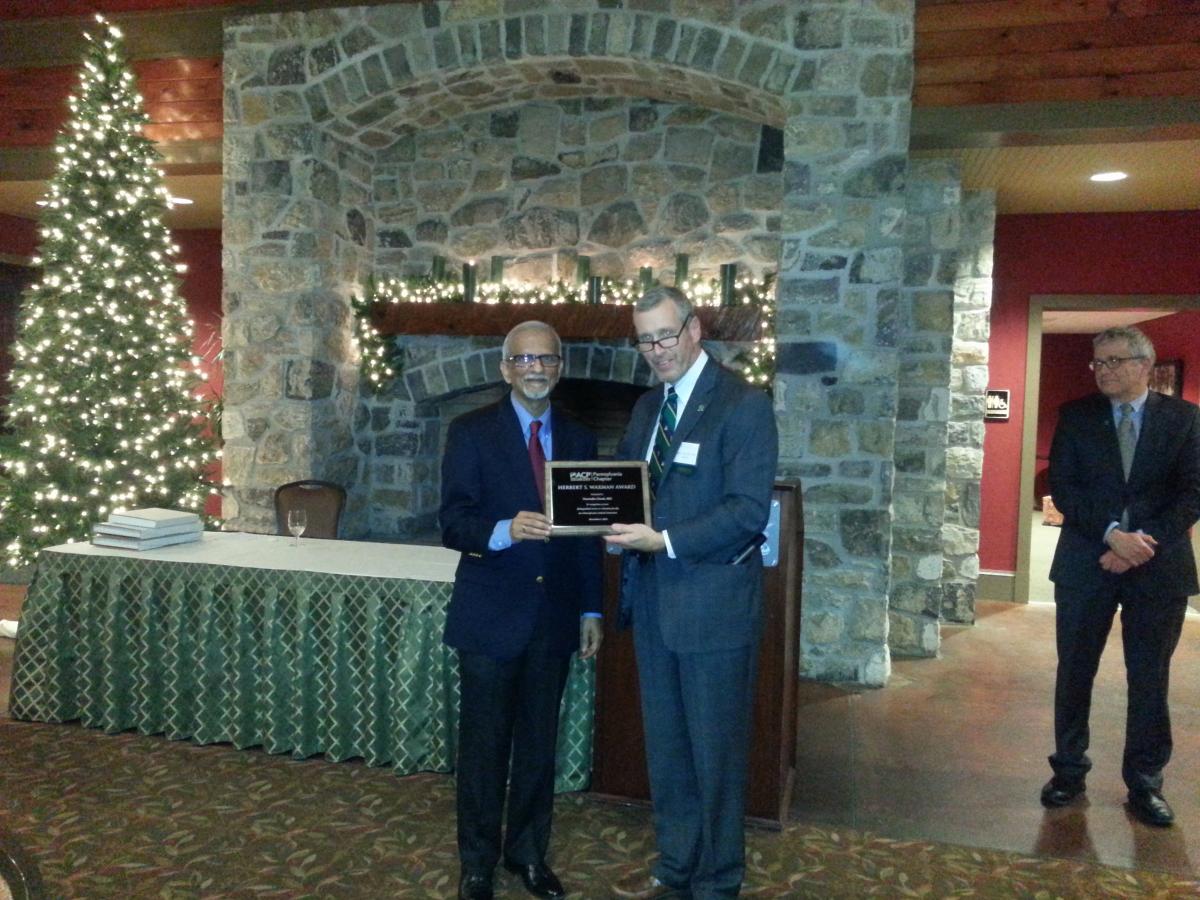 Narendra Desai, MD accepts the Waxman award.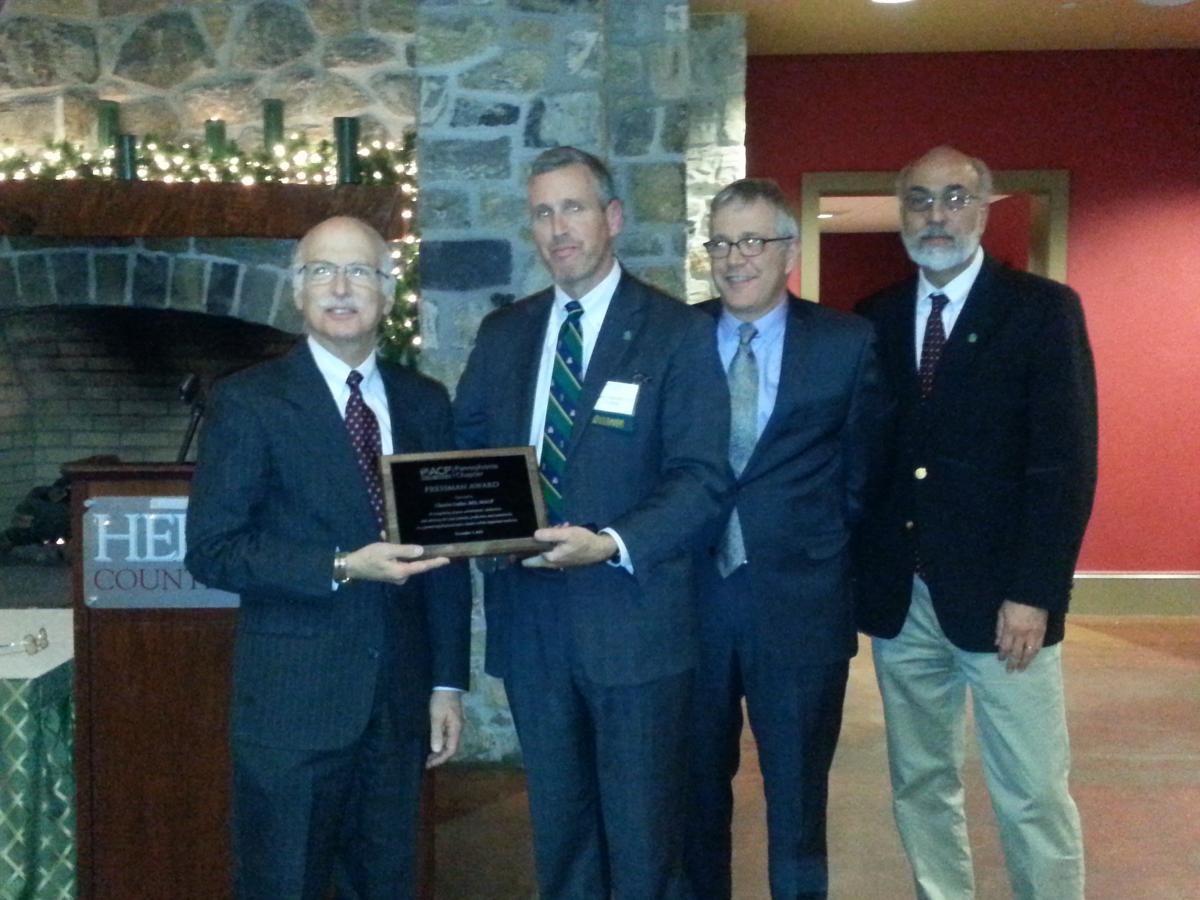 Charles Cutler MD, MACP accepts the Pressman award.
---
Advocacy Update
From John Nikoloff, ERG Partners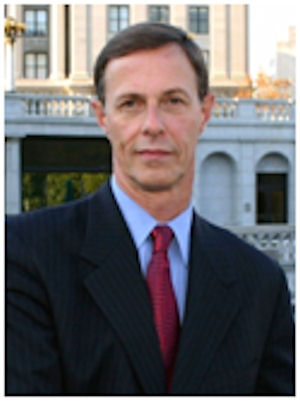 Patients before Profits
PA-ACP prides itself on representing members' interests in both Washington and Harrisburg. This fall, we were successful in advocating for patients and internists on more than 30 separate bills.
At the national level, PA-ACP works hand-in-hand with the ACP Advocacy staff and will continue meeting with the state's Congressional delegation. Our goal is to ensure the transitions of power and any changes made to the Affordable Care Act do not limit access and quality of patient care, nor reduce reimbursements for internists.
In Harrisburg, the 2016 elections saw Republicans gain three seats in the PA Senate; a veto-proof 34 members. In the House, Republicans picked up three seats and control 122 of 203 districts. When the legislature returns for the 2017-2018 session, new members and at least four new committee chairs will impact internists. ERG Partners will continue to be your eyes and ears in the Capitol.
Health Care Legislation
The General Assembly took on a large package of bills to curb the state opioid epidemic, and sent four bills to the Governor for his signature. The bills limit the amount of opioids prescribed in emergency rooms and urgent care centers to a 7-day supply and would require caretakers to refer patients to treatment if they exhibit signs of addiction, require CME on opioid prescribing and addiction treatment, limit opioid prescriptions to minors and require parents or guardians sign a consent form, and require the State Boards of Dentistry, Medicine, Nursing, Optometry, Osteopathic Medical, and Podiatry to develop a curriculum on safe opioid prescribing for medical schools by August 2017. We are already working with legislative leaders on several additional bills being considered in early 2017.
PA-ACP also worked for passage of the Interstate Medical Licensure Compact Act/telemedicine rules, and successfully lobbied for a priority bill limiting retroactive denials of reimbursements to two years. Following through on the patients before profits concept, PA-ACP supported legislation to provide coverage for oral chemotherapy drugs, regulate pharmacy benefit managers, and establish maximum allowable costs for pharmaceuticals under PACE and PACENET.
We also sought and got amendments to a bill limiting naturopaths' scope of practice and were successful in opposing SB 717, which would have allowed nurse practitioners to practice without a collaborative agreement. In 2017, we will continue support for expanded access to health care, liability protection for emergency medical care, expediting provider credentialing, and further regulation of health care insurers. The late fall approval of significant rate hikes for insurers under the ACA and withdrawal of some insurers from the Pennsylvania market has raised many eyebrows in the Capitol, and we plan to continue the ongoing dialogue over the role of these insurers.
Finally, the State Supreme Court ruled significant sections of Act 13 unconstitutional, including provisions that covered disclosure of information by physicians relative to natural gas industry trade secrets. We anticipate the General Assembly revisiting this legislation, and will be engaged on your behalf when those discussions over health impacts, transparency and trade secrets take place.
Regional Meeting Recap
Thank you to all of our participants for this year's regional poster competition and to all of the Doctor's Dilemma teams! A special thank you to faculty who helped make these events possible.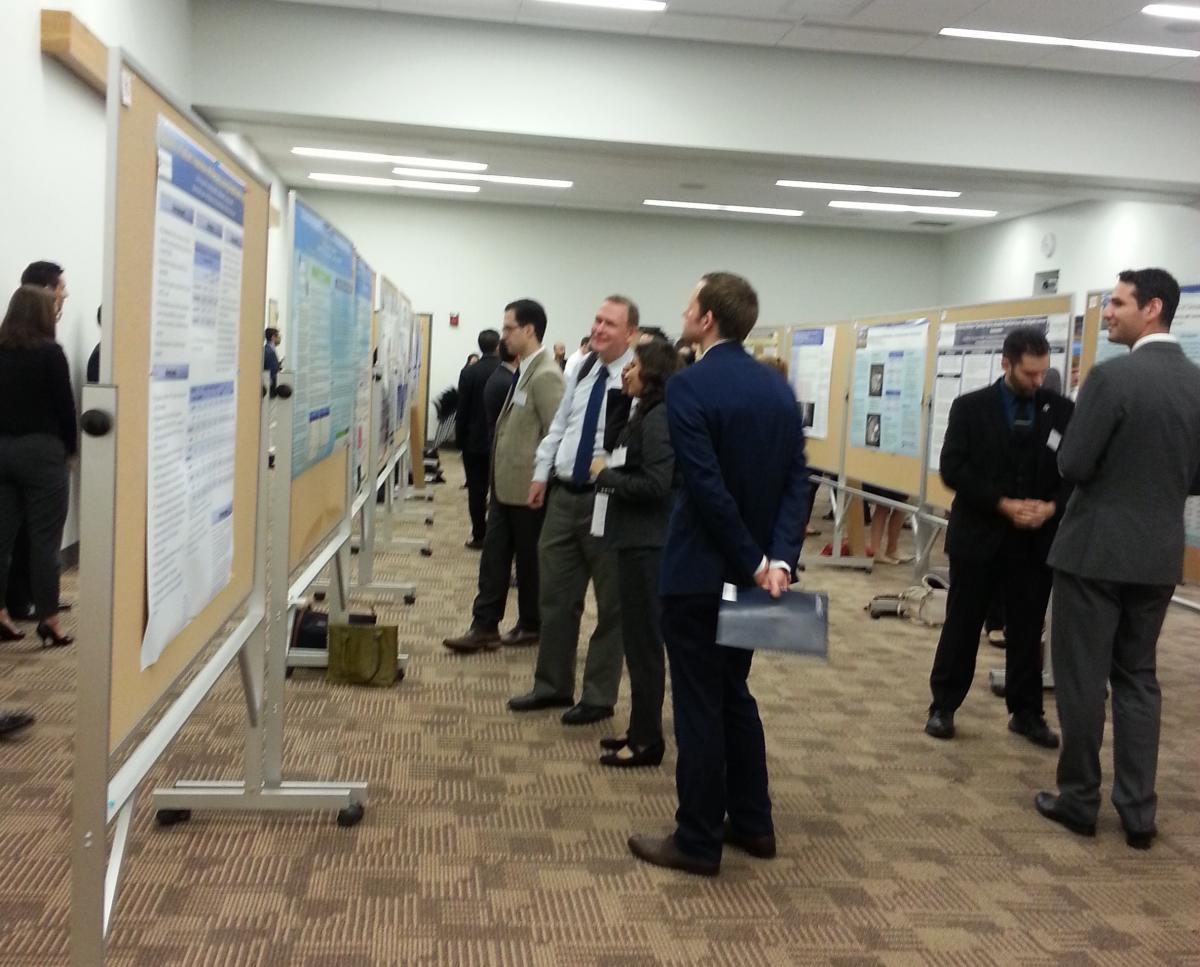 Students and faculty participate at regional poster competition.
We are pleased to announce and congratulate the following PA-ACP Regional Poster Competition Winners:
Southeastern Region
Clinical Vignette- Krista Isaac, DO
Patient Safety/QI/Research (tied)- Shaismy Kudakachira, DO
Patient Safety/QI/Research (tied)-Krista Isaac, DO
Top Medical Student Poster- Elizabeth Messenger
Eastern Region
Clinical Vignette (tied)- Samer Bolis, DO
Clinical Vignette (tied)- Shivtaj Mann, DO
Research- Ryan D'Souza, MD
Patient Safety/QI- Muhammed Jamal, MD
Top Medical Student Poster - Alexander Bruscke
Western Region
Clinical Vignette- Adil Wani, MBBS
Patient Safety/QI/Research-Nicole Bane, DO
2016 Regional Doctor's Dilemma
Additional congratulations to the winning teams. The winning team from each region Lankenau Hospital (PAS), Reading Hospital (PAE), and the University of Pittsburgh, Presbyterian/Shadyside (UPMC PUH/SHY) (PAW), competed during our Annual Meeting on December 3, in Hershey, PA. UPMC PUH/SHY won the state final competition and will be heading to San Diego, CA to compete in the national Doctor's Dilemma competition.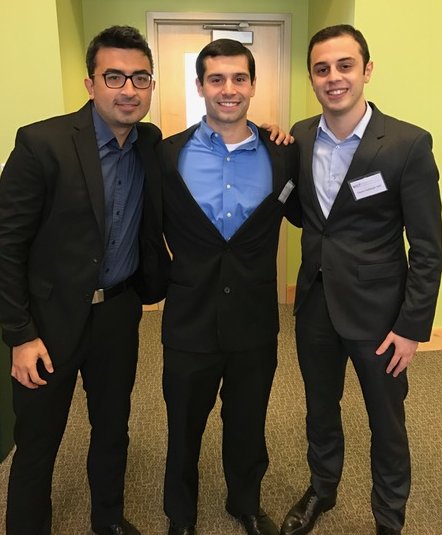 PAS winning team from Lankenau Hospital: Khalil Anouti, MD; William Johnson, DO; Hasan Fadlallah, MD; David Cohen, MD, FACP (team advisor- not pictured)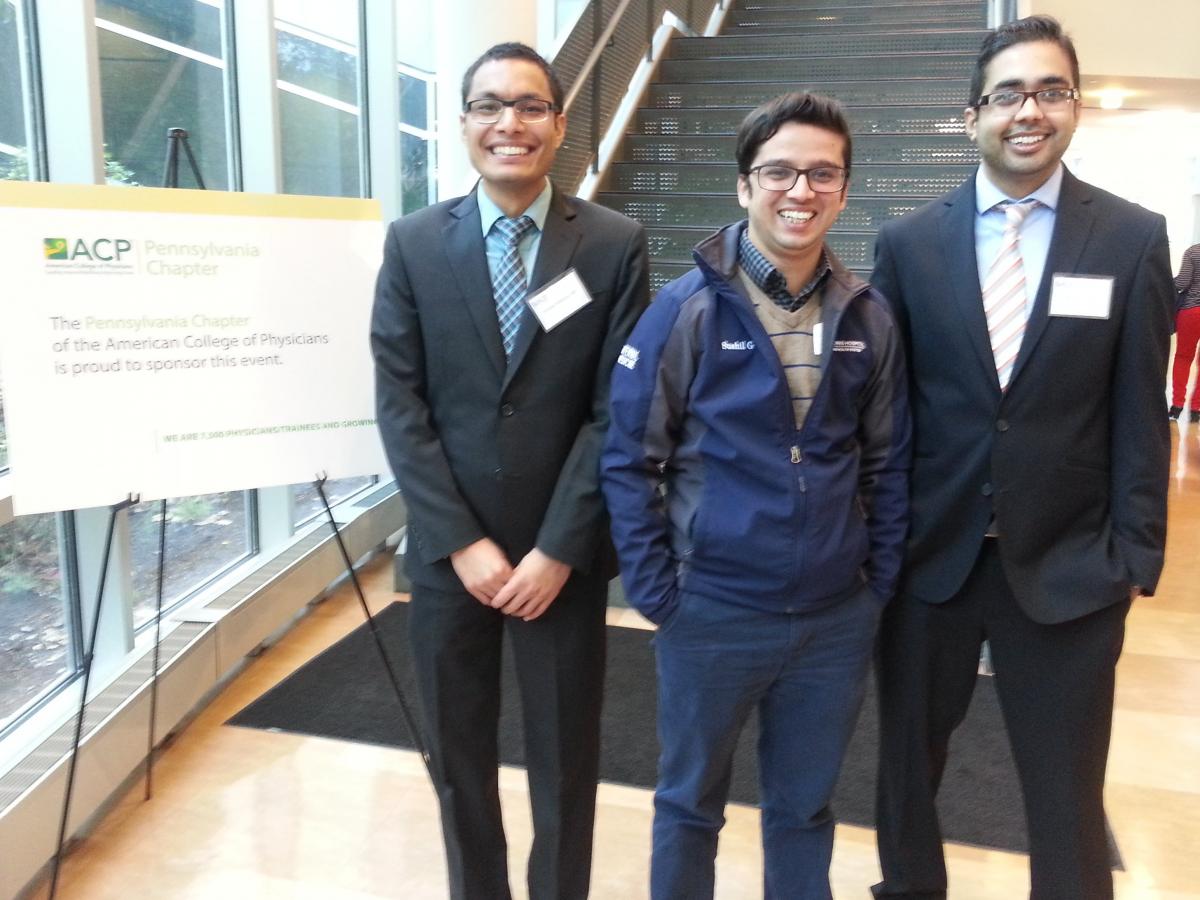 PAE winning team from Reading Hospital: Niranjan Tachamo, MD; Sushil Ghimire, MD; Saroj Lohani, MD; Anthony Donato, MD (team advisor- not pictured)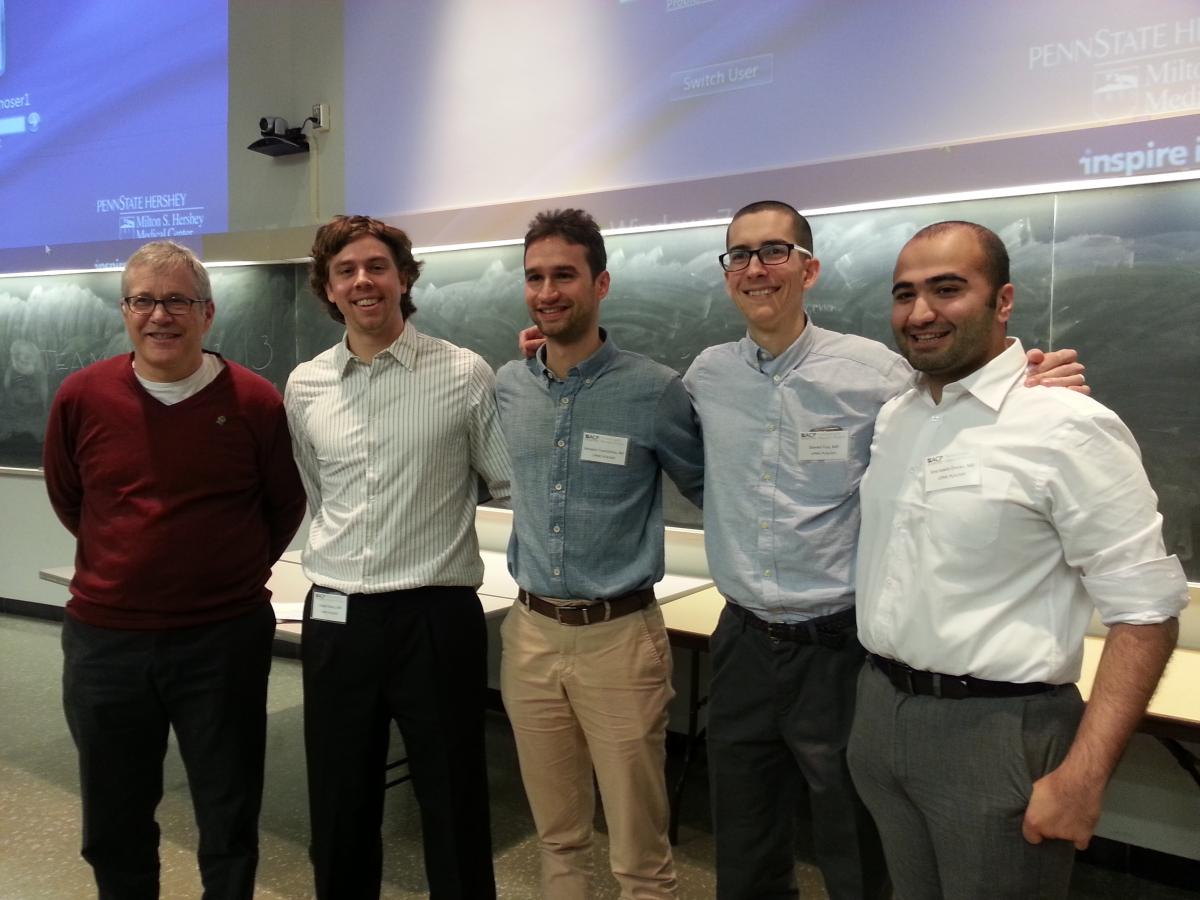 PAW winning team and state winner from UPMC PUH/SHY: Thomas Grau, MD, FACP, PAW Governor, Joseph Rocco, MD; Georgios Triantafyllou, MD; Steven Fox, MD; Sina Salehi Omran, MD; Jennifer McComb, MD (team advisor- not pictured)
---
PA Chapter Members Acknowledged by National ACP
Congratulations to the following Chapter members who were recently recognized by the American College of Physicians.
ACP Award for Science
Daniel J. Rader, MD, FACP
Phillips Award
J. Larry Jameson, MD, MACP
Mastership
John B. Bulger, DO, FACP
Mastership
Gary H. Tabas, MD, FACP
On October 22, 2016, PA-ACP chapter member and past-Governor, Charles Cutler, MD, MACP was sworn in as the 167th president of the Pennsylvania Medical Society. Read more information here.
Charles Cutler, MD- past PAS Governor, 2016 PA-ACP Pressman Award winner, and current PAMED President-provides commentary on cost and access to health care, prior authorization, and need to remove barriers on Pennsylvania Newsmakers. Watch the video here.