You are here
Leadership Day 2015 Recap
Leadership Day 2015 Recap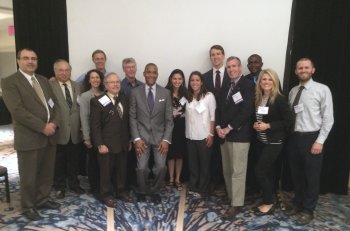 Pictured, left to right, Gela Mchedlishvili, Ralph Schmeltz, Amy Davis, John Nikoloff, Arnie Eiser, Larry Jones, Wayne Riley (President, ACP), Christine Prifti, Katherine Clark, Graeme Williams, Greg Kane, Zola Mate, Danielle Krol, and Jonathan Gotfried. Christine Prifti is a fourth year student at Drexel and Katherine Clark is a fourth year resident at Penn. Not pictured are Dan Kimball, Darilyn Moyer and Michelle Matzko.
During the third week of May 2015 I joined a legion of medical students, residents, primary care physicians, and internal medicine subspecialists on Capitol Hill to advocate for the "House of Medicine". I was particularly buoyed by the presence of several students and residents who were taking early steps through participating in the democratic process to enhance patient care by visiting lawmakers.
I'd like to briefly highlight some of the initiatives which were the focus of our visit.
First, we commended Congress for enactment of bipartisan legislation that finally eliminated the flawed SGR formula and moved us toward a new value-based payment and delivery system.
Second, we asked Congress to introduce and pass legislation to continue the current Medicare 10 percent primary care incentive program that is set to expire at the end of this year. This program, which began in 2011, pays eligible internal medicine specialists, family physicians, and geriatricians a 10 percent bonus on designated office visits and other primary care services. It will sunset on January 1, 2016.
Third, we asked Congress to help improve access to primary care for patients enrolled in Medicaid by enacting legislation to ensure that Medicaid payments for primary care and immunization services are reimbursed at no less than what Medicare pays by requesting they cosponsor Senate Bill "Ensuring Access to Primary Care for Women & Children Ac" (S. 737) or House Bill (H.R. 2253).
Fourth, in the area of Graduate Medical Education, we requested that Congress ensure that overall GME funding for FY2016 is sufficient to train enough physicians and urged a GME financing plan though an all-payer system where Medicare, Medicaid and private payers would contribute to GME funding as a public good. We also advocated for passing legislation that will increase the number of GME training positions in primary care specialties (including internal medicine) and others facing shortages, such as in the Resident Physician Shortage Reduction Act (S.1148 and H.R. 2124), the Creating Access to Residency Education (CARE) Act (H.R. 1117).
Finally, you may have heard about the emerging 21st Century Cures legislation by the House Energy & Commerce Committee. This bill would reauthorize funding for the National Institutes of Health (NIH) research and establish an NIH innovation fund, as well as new programs to support young, emerging scientists. It will also support telemedicine as a method of health care delivery and the movement toward true interoperability of health records. We encouraged the House Energy and Commerce Committee to take bold action to address the critical scientific pipeline by increasing funding to the NIH and restoring our global leadership in biomedical research.
All the best in ACP,
Greg Kane, MD, FACP
Governor, ACP Pennsylvania Chapter, Southeastern Region