You are here
GOVERNOR'S NEWSLETTER January 2016

---
---
Greetings and Notes from Your Governor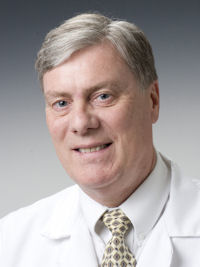 G. Alan Yeasted, MD, FACP, Governor
As the saying goes, "The only constant is change."
Four years ago, when I assumed the position of ACP Governor for Western Pennsylvania, my goal was to change the perception that ACP was a "top down" organization not in touch with the challenges facing its general membership. As my term as Governor nears its completion (May 2016), I am very pleased to report that not only has ACP changed, but from everything that I am hearing from members, so has the perception that ACP doesn't understand them.
Your ACP leaders have heard you and they have tirelessly worked on your behalf. The struggle and ultimate victory with the ABIM was perhaps their greatest accomplishment. Every time I spoke with Internists during the past four years, I heard repeatedly that ACP must make the ABIM change…and it did. Your ACP listened and effected this change. Additionally, the ACP website has changed. MKSAP has changed. Even our logo has changed!
Each of you in Western Pennsylvania has experienced remarkable changes in the practice of medicine in the past four years. With the ongoing changes related to the Affordable Care Act and with the never-ending insurance battles in Western Pennsylvania, all of us have seen changes that we could not have imagined.
And now, as we approach a change in the Western Region, with Dr. Thomas Grau assuming the position after the Spring Internal Medicine 2016 meeting in Washington, DC, let me reflect on some of the things which have not changed. First, our patients' expectations that we maintain our clinical excellence and practice in a compassionate and ethical manner remain constant. The need for us to work together as colleagues and to speak with one voice has not changed and is now more important than ever. The need to maintain a work/life balance and remember the needs of our families, in addition to those of our patients, will never change. And finally, the understanding that we are still a profession and need to conduct ourselves professionally if we expect to be respected as such will not change.
Finally, I wish to thank all of you for the trust you placed in me four years ago. I implore you to continue to be active in the American College of Physicians. Direct it. Lead it. Support it. And, assist Dr. Thomas Grau, our Governor-elect, as he assumes the role of Governor next year. Dr. Grau will do a superb job as Governor, but he needs the active support of the Western Pennsylvania members.
Again, thank you and good luck!
G. Alan Yeasted, MD, FACP
Governor, Western Region
---
Capitol Update by John Nikoloff
Transitions and Successes - 2015 ACP Advocacy

Last year was a year of transition in PA, with a new Governor, new legislative leadership, and new cabinet leaders. One of the Governor's first actions, encouraged by PA-ACP, was statewide Medicaid expansion and acceptance of federal funding, and elimination of the state's tiered programs and screening requirements. This led to more than 500,000 Pennsylvanians being added to Medicaid coverage in 2015.
Legislatively, several bills supported by the PA-ACP were passed into law, including amendments to limit pharmacists to providing influenza vaccines for children, legislation governing health insurance exchanges and navigators, tort reform legislation and legislation making impersonation of a physician illegal.
After a record six-month impasse, the Governor signed most of a budget bill, releasing funds for school districts, counties and social service agencies, and funding most of government operations. However, he vetoed or reduced many items, about $7 billion in programs, with the bulk of the cuts coming from the basic education subsidy, state prisons, and medical assistance capitation. He also cut about $200 million in legislative initiatives, including funding for hospital systems and disease education programs in the Department of Health. While all parties agree that releasing some funding is a step in the right direction, there still remains significant work to be done to ensure government operations, and no one is certain how that will happen. The Governor's 2016-2017 budget proposal is due in February.
PA-ACP has revisited its legislative priorities, because of the ongoing battles over budget and state funding/revenue increases. For 2016, those priorities include:
Protect health care services and products from additional sales and other taxes.
Oppose legislation eliminating collaborative agreements for CRNPs and specialist APNs.
Support fair contracting, prohibition of non-compete clauses in physician contracts.
Support legislation/regulations to promote the physician-led Patient Centered Medical Home.
Support tort reform and MCare fund reform legislation.
We expect the House and Senate to take up credentialing legislation in 2016, and have hopes that the Insurance Committee will also consider several bills actively supported by the PA-ACP including limits on retroactive denials of payments beyond 12 months, and non-compete agreements.
After several years of pressure from CRNPs, the House Professional Licensure Committee held a hearing on legislation to eliminate collaborative agreements and effectively allow CRNPs to practice independently. PA-ACP has been actively working this issue on your behalf, and worked with other medical professional organizations to effectively make the case for maintaining current practice. This remains a priority for 2016.
PA-ACP also made its presence known in Washington, DC on your behalf in 2015 and plans to expand that work in 2016. The major accomplishment was elimination of the Medicare Sustainable Growth Rate formula in April. During Leadership Day in May, 17 Pennsylvania physicians attended our national event, and met with members and staff of all members of the Pennsylvania Congressional delegation. These meetings helped develop relationships which have been maintained at home in the districts. The 2016 Leadership Day will be held May 3-4.
The Health and Public Policy Committee will also undergo a transition in 2016, as Arnold Eiser, MD, MACP has retired as chairman after a very successful six years. Evan Pollack, MD, FACP has agreed to serve as chairman going forward. If you have interest in helping develop and advocate for government policies, please contact PA-ACP and we will ensure you receive information and invitation to participate in HPPC meetings.
---
Congratulations! Pennsylvania Chapter Wins 2015 Tooker Evergreen Award
Our Chapter was one of seven chapters awarded the 2015 Tooker Evergreen Award. Our efforts to engage our medical students in advocacy and education to enhance medical student career success was recognized by the Award committee. The John Tooker Evergreen Awards Program provides recognition and visibility to chapters that have successfully implemented programs to increase membership, improve communication, increase member involvement, enhance diversity, foster careers in internal medicine and improve management of the chapter.
---
2015 Chapter Excellence Award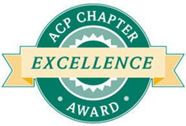 The PA Chapter also received the 2015 Chapter Excellence Award! The award recognizes chapters which successfully meet the standards for managing a chapter. In order to achieve the Chapter Excellence Award, chapters must meet all basic criteria and seven optional criteria. Criteria include such activities as formulating an effective Governor's Council and committees, communicating frequently with membership, providing educational opportunities, recruiting and advancing members and celebrating membership through local awards. Special thanks are extended to those chapter members who assisted in all of these endeavors.
---
MOC Training - March 5, 2016
Pennsylvania's Eastern Region is holding their Annual Maintenance of Certification (MOC) training on March 5, 2016 at the Pennsylvania State University College of Medicine in Hershey, PA. Register online and view the flyer for details of this event. We hope to see you in Hershey!
---
State Medical Jeopardy Finals
The State Medical Jeopardy Finals were held on December 5, 2015 at the Penn State College of Medicine in Hershey, PA. The winning Western Region Medical Jeopardy team was from Allegheny Health Network. Khaled Nashar, MD was the team advisor along with the following members:
Nisarg Shah, MD
Pavithra Indramohan, MD
Salahuddin Siddiqui, MD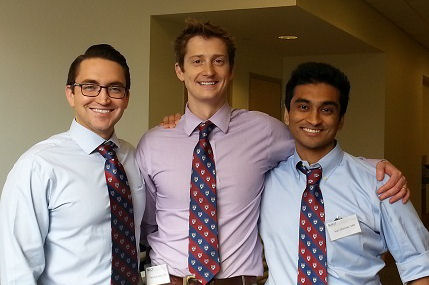 The State Champions hail from the University of Pennsylvania, and include Team Advisor, David Aizenberg, MD, and Michael Ayers MD, Hari Shankar, MD and Christopher Reilly, MD. Our state champions will proceed to the national competition held at the National ACP Internal Medicine Meeting in Washington, DC, May 5-7, 2016.
Congratulations to the following medical students who were acknowledged at the PA-ACP Western Region Medical Jeopardy/Poster Competition:
1st Place Clinical Vignette - Erin Lowe, Lake Erie College of Osteopathic Medicine
1st Place QI/Patient Safety - Anita Lyons, University of Penn
1st Place Research - Amy Kennedy, University of Pittsburg Medical Center
The Resident Professionalism Awards were presented to the following residents of the Western region. These residents exemplify all that we hope for in our future leaders in the health care profession.
Western Regional Winners:
Elizabeth Phung, DO Allegheny Health Network
Awais Javed, MD McKeesport Hospital
Martin D. Bolinger, DO Conemaugh Memorial Medical Center
Riaz Rahman, MD UPMC Mercy
---
2015 Annual Awards Dinner
The PA-ACP annual Awards Dinner was held on December 5, 2015 at the Hershey Country Club, Hershey, PA. John Derrickson was recognized for his outstanding leadership during his tenure as Executive Director of the ACP Pennsylvania Chapter 2001-2015. The Governors of the Chapter dedicated an award in his name, "The John Derrickson Early Career Physician Service Excellence Award of the Pennsylvania Chapter of the American College of Physicians.'' Stay tuned for more details about this award.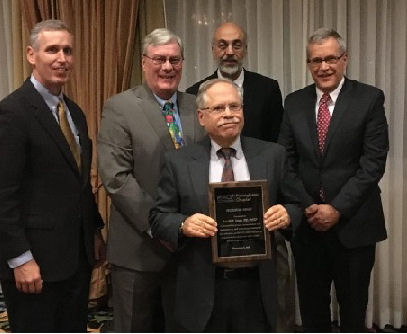 Arnold Eiser, MD, MACP named winner of the Pressman Award for Distinguished Service and Advocacy.
Dr. Arnold Eiser received the prestigious 2015 Pressman Award, which recognizes members who are committed to their patients and community as a practicing physician, a leader in organized medicine, as an advocate for his patients and profession and for extraordinary dedication to the specialty of internal medicine.
---
2015 Physician Member Awards - Western Region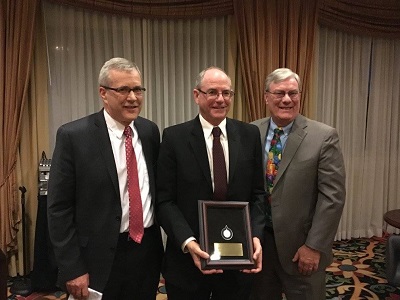 Pictured here (l to r) Thomas Grau, MD, FACP, Gary Tabas, MD, FACP and Alan Yeasted, MD, FACP.
Gary H. Tabas, MD, FACP received the 2015 Laureate Award for the Western Region. The Laureate Award is given to Fellows or Masters of ACP who have demonstrated an abiding commitment to excellence in medical care, education, or research, and in service to their community, their Chapter and the American College of Physicians.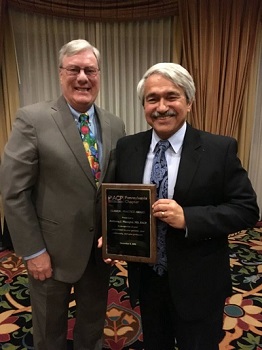 Pictured here (l to r) Alan Yeasted, MD, FACP and Anthony Maniglia, MD, FACP.
Anthony J. Maniglia, MD, FACP received the 2015 Clinical Practice Award, which recognizes a member internist for service as a clinical practitioner to patients, community and profession.
---
PA-ACP Member Elected as Chair, State Board of Medicine
Congratulations to Marilyn J. Heine, MD, FACP of our Eastern region. Members of the current Pennsylvania Board of Medicine elected Dr. Heine as their new Chair effective December 21, 2015.
Dr. Heine was appointed by PA Governor Tom Corbett as a Member of the State Board of Medicine on October 1, 2013. Dr. Heine recently stated that the State Boards goal "is to protect the public" and looks forward to her continued work with the Board of Medicine as they regulate the practice of medicine.