You are here
GOVERNOR'S NEWSLETTER Eastern Region June 2015

---
---
Greetings and Notes from Your Governor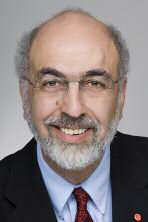 David L. George, MD, FACP, ACP Governor
Keep it simple and relevant."
National ACP and PA ACP support generalist and subspecialist internal medicine physicians, practicing in all environments. We are all so busy; it becomes difficult to get a handle on what resources are available and how they might improve your and your patients' quality of life. In the coming months, I hope to learn more about the needs of Eastern PA physicians and help you and your practice benefit from the ACP and the collective knowledge of its members.
We will focus on the four key areas of ACP emphasis: Advocacy (for internists AND their patients), Education, Practice Management, and Quality.
For example:
You've all heard of the repeal of SGR (sustainable growth rate), through the Medicare Access and CHIP reauthorization Act of 2015 ("permanent doc fix"), but there is more to come from that Act related to meaningful use and quality measures. How will ACP help to support programs that actually improve quality and reduce burden on the physician?
How is ACP negotiating with ABIM in order to make the Maintenance of Certification process and the re-certification examination more relevant to the care you provide?
What's new and really cool about MKSAP 17 and other knowledge base materials from ACP?
How are groups in PA utilizing the High Value Care curriculum to cut medical costs?
How are practices utilizing "scribes" to improve efficiency and counter some limitations of the current generation of electronic health records?
What are other ways that ACP and its members are working to reduce physician "burn out" and improve the "joy of practice"?
What's your area of interest/concern? Please let me know. Email me your top concern.
Best Regards.
David George, MD, FACP
---
PA Chapter Announcement
The Pennsylvania Chapter has announced the retirement of John Derrickson, effective July 1, 2015. Derrickson has served as Executive Director for the past 14 years.
The Governors' decided it would benefit the membership to separate administrative, educational and membership services (our C-3 corporation) from policy and advocacy services (our C-6 corporation.) Beginning July 1, 2015, Specialty Society Management Services (SMSS), a division of the PA Medical Society in Harrisburg, will staff the Chapter's educational and membership components. Cicely Elliott will lead the new PA-ACP team.
ERG Partners of Harrisburg, led by John Nikoloff, will administer management of policy, advocacy and government relations that our PA-ACP Services, Inc. provides for its members. Nikoloff has worked with the Pennsylvania Chapter and led PA internists' advocacy efforts for 28 years.
"PA-ACP is in a position of leadership in Harrisburg on critical issues such as patient safety, GME funding, scope of practice, and quality of care," said Nikoloff. "Along with my partner, Tracy Wingenroth, and Sarah Gulick, ERG's Manager of Public Affairs, we will play key roles on your behalf, working with state and federal officials. ERG Partners looks forward to helping you further strengthen ACP's grassroots advocacy."
If you have any questions about PA-ACP's policies or advocacy activities, contact ERG Partners by email or by calling (717) 233-8606.
---
Greetings from Specialty Society Management Services
PA-ACP Governors selected Specialty Society Management Services (SSMS) a department of the Pennsylvania Medical Society (PAMED) to provide to our C-3 Corporation the needed membership, recruitment, management oversight and meeting planning services, starting July 1.
The SSMS staff will be led by Cicely Elliott, Executive Director and a team that includes Kelley Richwine. Other team members will support them in PA-ACP's governance, communications, meeting planning, membership outreach and retention, and coordination activities.
Please note: as of July 1, 2015, the official PA-ACP email address will be changed to pa-acp@pamedsoc.org and the administrative office phone number will be 888-817-3813.
Elliott introduced her team, saying, "We look forward to collaborating with you all to ensure that the mission, direction, and goals of the Chapter's members and leaders continue to be met, that you are all provided with the continued and proven benefits of ACP membership, including the CME and MOC opportunities, and that the stature of the Chapter continues to grow and develop. While you will mainly see me and/or your meeting manager at Chapter events, remember that you have a dedicated team working on your behalf." "We look forward to hearing from you! Feel free to contact us."
Cicely Elliott, Executive Director
(717) 909-2699
Kelley Richwine, Assistant Executive Director
(717) 909-2683
---
Dr. Dan Kimball Honored for Years of Service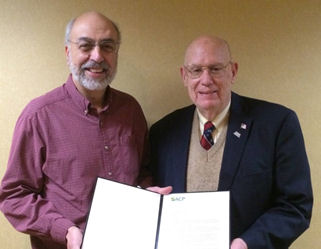 Dan Kimball, MD, FACP of Reading was honored at the PA-ACP March Governing Council meeting for his years of service to the Chapter, including the last four years as Governor of PA's Eastern Region. Presenting the honor is David George, MD of Reading, incoming Governor of the Eastern Region.
---
Capitol Update by John Nikoloff

Harrisburg Notes
The General Assembly and Wolf Administration are currently in the annual budget dance, where each excoriates the other while negotiating a final solution, but this year's samba looks different than most. A new Governor who made a novel budget proposal and asked for multiple tax increases is facing a General Assembly controlled by the other party but split in its priorities. This has made the discussions more difficult, and at times quite heated. Republicans are opposing the widespread increases and offering their own plans for reducing property taxes in the state. The likelihood of an on-time budget in 2015 is minimal.
The State Senate has finally begun to confirm Governor Wolf's cabinet nominees, and in mid-May approved Secretary of Health Dr. Karen Murphy, Secretary of Aging Teresa Osborne, and Secretary of Drug and Alcohol Programs, Gary Tennis by unanimous votes. The Senate has yet to vote on Ted Dallas for Secretary of the Department of Human Services or Rachel Levine, MD for Physician General.
Health-Related Legislation Moving
The Senate surprised many by passing legislation to legalize medical marijuana for patients with more than a dozen diseases and conditions, and Governor Wolf has said he would sign the bill. But the House has no plans to move the bill at this time. Medical professional organizations have been urging removal of marijuana as a Class I drug, and calling for additional independent studies of marijuana variants for treatment and pain management.
Legislation (SB 717) that would allow certified registered nurse practitioners (CRNPs) to practice as independent practitioners without direction or supervision by a physician has been introduced by Sen. Pat Vance (R, Cumberland). CRNPs have been to the capitol on several occasions pushing for elimination of the current requirement for collaborative agreements. They are focusing on the need for expanded access to care, the lack of primary care physicians, and financial claims to push their agenda forward. PA-ACP supports continuation of collaboration and the agreements within the Patient Centered Medical Home. Look for more information as the bill gets further consideration.
Federal Action, Plans Developed
After passage of the SGR fix, a major win for the ACP, priority federal issues include Medicare incentive payments for primary care, Medicaid/Medicare parity, GME funding, support of funding for vital federal health care programs, and 21st Century CURES legislation.
Sixteen PA-ACP members, residents, fellows and students attended Leadership Day in Washington this month, giving PA the largest delegation on hand. We enjoyed a series of good meetings with staff or members in every Pennsylvania Senate and Congressional office and helped move these issues forward. Several Pennsylvania Congressmen have agreed to co-sponsor the legislation.
Kudos to the members who took the time to participate and help educate these public officials! We encourage all members to consider becoming Advocates for Internal Medicine. You can do that online.
---
Leadership Day 2015
PA-ACP's delegation represents Pennsylvania patients and internists on Capitol Hill in Washington during the ACP's Leadership Day, May 20-21, 2015. Delegates urged support of legislation that would improve quality and access to medical care, workforce development.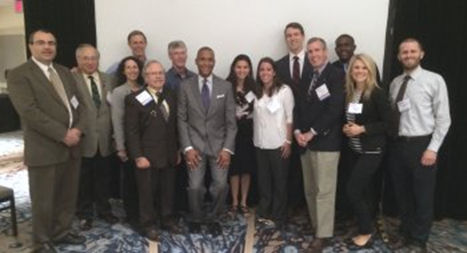 Pictured above, left to right, are internists Gela Mchedlishvili, Ralph Schmeltz, Amy Davis, John Nikoloff, Arnie Eiser, Larry Jones, Wayne Riley (President, ACP), Christine Prifti, Katherine Clark, Graeme Williams, Greg Kane, Zola Mate, Danielle Krol, and Jonathan Gotfried. Christine Prifti is a fourth year student at Drexel and Katherine Clark is a fourth year resident at Penn. Not pictured are Dan Kimball, Darilyn Moyer and Michelle Matzko.
---
Have You Heard?
The Pennsylvania Chapter was presented a John Tooker Evergreen Award for their winning submission: "Advocacy, Knowledge, Assessment and Education: A Timeless Subject for Medical Student Career Success". The John Tooker Awards Program provides recognition and visibility to chapters that have successfully implemented programs to increase membership, improve communication, increase membership involvement, enhance diversity, foster careers in internal medicine and improve management
Internal medicine specialists and subspecialists will be able to update their knowledge, earn CME credit, or prepare for board certification with the 17th edition of the Medical Knowledge Self-Assessment Program (MKSAP 17) is being released by the American College of Physicians this summer.
We thank everyone who took time to contact our Congressional delegation and Sens. Casey and Toomey on HR 2, the SGR will be fixed! Final vote in the Senate was 92-8. This is great news for internists.
SAVE THE DATE! The Eastern Region will hold the annual abstract competition on October 24, 2015 at Penn State/Hershey. Details will be emailed to all residents and students who are members of the ACP.
The ACP annual National Abstracts Competition, a part of the ACP Internal Medicine Meeting 2016, will take place May 5-7, 2016 in Washington, DC.
---
Charles Cutler, MD, FACP Receives ACP Centennial Legacy Award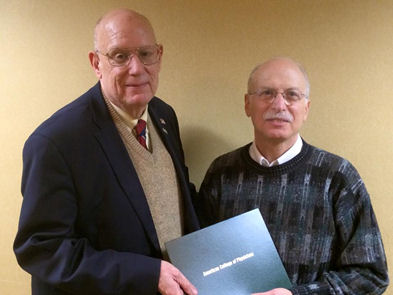 Dr. Charles Cutler of Norristown, a former Governor of the Pennsylvania Chapter, is presented with the Centennial Legacy award from the American College of Physicians. Presenting the award is PA-ACP East Governor Dan Kimball, MD.
The award is an honor and celebrates ACP's centennial by recognizing one seminal chapter member whose service to the chapter had a significant impact on the chapter's viability. This individual exemplifies ACP's core values including leadership, excellence, respect, compassion, professionalism, and responsibility. Dr. Cutler served as SE Governor from 2006 - 2010. He subsequently served as Chairman of the ACP's Board of Governors and then Chairman of the ACP's Board of Regents.
---
PAE Prize Winning Resident, Reflects on Boston and ACP's National Meeting
By Dr. Shelini Sooklal
My journey to the national ACP poster competition in Boston began quite unexpectedly several months earlier, on a quiet Saturday in a hospital nestled in the heart of Harrisburg. The morning was a blur of poster presentations and lively discussions with judges and fellow competitors. As the poster competition winded down, we shuffled to an adjoining lecture hall for concluding speeches and announcements. I was awakened from my reverie by my name being announced as the winner. Winner of the Quality Improvement portion of the poster competition! "Congrats on going to Boston!" I heard as the announcer shook my hand vigorously, and clamorous applause filled the air.
On a cool Boston morning the following April, I hurried to the hotel curb and boarded the ACP conference bus. As it slowly crawled through the morning traffic, I admired the charm of this historic but vibrant city. As I stepped in the convention center, it was abuzz with activity. A throng of attendees had converged on the registration booth, and were attempting to wrestle a spot close to the front to secure a signature canvas conference tote bag and identification badge. I made my way to the elevators and the musical sound of numerous world languages coming together reached my ears. I was able to decipher snippets of French, Spanish, Hindi, maybe? As I began the long trek to the far end of the conference hall to the poster section, I could pick out my fellow poster presenters easily. The long cardboard tubes under the crook of their arms, neat black suit, and their slightly bewildered expression mirrored mine.
I walked through the rows of neatly arranged poster boards and arrived at mine: Number 115. I pinned my poster, and stepped back to admire the colorful display. For a moment, I recounted the months of painstaking data collection and careful analysis. As I glanced over my charts and tables, the final product made me proud. Before long, fellow poster presenters, conference attendees and judges began strolling through the maze of posters. The questions posed by the judges were thought-provoking and insightful. I grabbed free moments to review the work of others, and the scope of research performed by colleagues exceeded my expectations.
That evening as the last rays of sun began to fade, I strolled through the streets of Boston and reflected on my experience. I caught a glimpse of Faneuil Hall in the distance. The dichotomy of a city which played such a pivotal role in American history yet has morphed to a place renowned for advances in innovation, development and scholarship intrigued me. It seemed to be a fitting place to hold a conference which embraced new research, and sought to keep physicians abreast on advances in medicine. I was humbled by the opportunity to represent the Pennsylvania Eastern chapter, and use the results and recommendations of my research to facilitate positive change in the care delivered to Pennsylvania residents.
(Dr. Sooklal just completed her internal residency at Easton, and will be starting a Gastroenterology Fellowship at Drexel University/Hahnemann Hospital in Philadelphia in June 2015.
She won first place in the PA poster competition held last November at PinnacleHealth, and presented her work at the ACP's national competition recently in Boston.)
---
Pennsylvania National Poster Winners
ACP Internal Medicine Meeting 2015
EAST
Clinical Vignette: Beth A Foreman, DO, Penn State Milton S. Hershey Medical Center Novel use of total artificial heart: Terminating refractory arrhythmias in hypertrophic cardiomyopathy
SOUTHEAST
Medical Student: Clinical Vignette Abdul-Razaq Adeniyi, Jefferson Medical College Diffuse lymphadenopathy and weight loss of unknown etiology: A case of HLH in the outpatient setting
WEST
Medical Student Clinical Research: Joy Siting Trybula, University of Pittsburgh School of Medicine Autotaxin is an Independent Predictor of Insulin Resistance in Overweight and Obese Females.
---
Einstein Medical Jeopardy Team Wins Seventh National Championship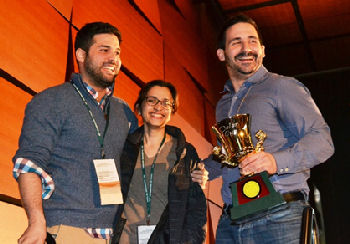 Einstein's unconquerable team celebrated their fourth consecutive national victory and their seventh overall national win at ACP Internal Medicine Meeting 2015 in Boston. Pictured (L to R) team members Jean Bustamante, Chitra Punjabi, and, holding the coveted Osler Cup, Apostolos Perelas. Team alternates, Kene Mezue and Nellowe Candelario are missing from the photo.
A sincere thank you to Team Coaches Guillermo Garrido Rosa and Jedrzej Wykretowicz who led the team to an unprecedented fourth victory. See the separate story of Einstein's climb to the top by Coach Guillermo Garrido Rosa.
The top four teams in the 2015 tournament were: Albert Einstein Medical Center, Walter Reed National Military Medical Center, the Cleveland Clinic, and the University of Washington. The Einstein team won by one point by answering this final question, "Migraines that occur with every menstrual period." The answer was catamenial migraine.
Congratulations to the Einstein Team and all their supporters!!
---
No Retreat, No Surrender: Lessons Learned from Doctor's Dilemma
By Guillermo A. Garrido Rosa, MD
Doctor's Dilemma, also called Medical Jeopardy, is the ultimate medical trivia contest. This is our trade, skill and craft. After five years on the team, it is quite bittersweet for me to leave. Einstein has a strong Medical Jeopardy tradition: we have accomplished the most trophies in the history of the sport with seven cups, and we are the only team that has won four times in a row. For us, this is a source of pride, joy but also a humbling honor to represent our residency program.
I was initially recruited as a team player and we were runner-ups at the regionals. During my second year, we managed to get our fourth national trophy, and first of this shining stretch, thanks to the addition of two great new players and friends, Drs. Jedrzej Wykretowicz and Praveen Ramkrishnan, but also due to the wonderful coaching of Dr. Riyaj Kasekar. After he left, I had the privilege to use Riyaj's method to coach the team to three more victories, along with Jedrzej. We were also proud to welcome new star players such as Chitra Punjabi, Apostolos Perelas and Jean Bustamante.
We always get approached by many people, inside and out of the competition, asking what our secret is, how do we "do it". Of course we will never reveal our formulas and recipes. However, I am proud to say that our key to success is a mixture of passion, dedication, hard work and support from our peers. We are competitive, we are zealous knowledge seekers, we have fast minds, good memories and fast buzzers. We practice consistently, we mock each other, we challenge each other. We rely on many residents and attendings of all ranks that make questions for us, spar with us, take our pictures, cheer for us and support us in every possible way with tribal loyalty. We never underestimate any opponent and we always go out to do our best. We strategize, anticipate and adapt to the changes of the game format.
Frequently people ask us: "Do you think being Jeopardy elite makes you better doctors?" Although we have differing views on this, I believe undoubtedly it makes us better people. It makes us more humble as we realize how much we have yet to know, it makes us more driven and selfless as we play for glory and not personal gain. We have bonded not only as a team, but with our peers and supervisors in the program in a way we wouldn't have otherwise. The experiences and memories of our travels and outings while at the ACP nationals will be cherished and prized by us forever. It also makes us grateful, as we see and feel the group that is standing by us from high leadership to rank and file, to non-medical staff who stop us in the hallways to congratulate us with a warm smile. We have had the fortune to count on spouses, family and friends who are along for the ride just to be a part of something special. Who knows, maybe we have been made better as doctors as well.
This year, Boston was the latest chapter in a familiar saga. We wrestled through regionals and the Pennsylvania state competitions only to qualify for the grueling Nationals affair. In an almost masochistic fashion, we participate in a face-off with 40 plus teams, where natural selection gets vividly displayed at high speed. The ritual is the same. We fly into town, check in, and then search the hotel for a place to study as a group. Sometimes we sneak into an empty conference room, sometimes we lay siege in the lobby, ignoring probing and reproaching glares from the other guests. We send a scout to figure out our draw for the tournament and locate the time and venue. Morning practice, nerves. Lunch, more nerves, go to the venue. Utter our war cry: "No Retreat, No Surrender", Warm up, play, fight, win. Brief bliss, check out the night life, oh wait, second round tomorrow… more nerves. Rinse, Repeat.
This experience has enhanced our academic life, and these fond memories and relationships have complemented our professional and personal lives in a marvelous way. We have expanded our horizons in many areas and have visited wonderful cities and places. I can't overstate the gratitude we feel toward our leaders, families and spouses, colleagues and friends, and the Pennsylvania chapter of the ACP for all the support we have received. I leave now, knowing the team is in good hands and with strong new blood to carry on the torch.
You get joy, you get pride, you get friends, you have fun: What is Medical Jeopardy?
(Guillermo A. Garrido Rosa, MD, now starts a Pulmonary/Critical Care fellowship at Stanford.)
---
Welcome Aboard
We are pleased to welcome the following physicians from the Eastern Region who have joined the College during the past six months:
Alison Post, MD
Anamika Goenka, MD
Anthony Perre, MD
Bruck A. Yemenu, MD
Daniel Forman, DO
David Yoder, MD
Eugenia Kevelyuk, MD
Helen F. Makinde, MD
James C. Wasson, MD
Kanesh Kumar, MD,MBBS
Leslie A. Teeple, MD
Magda Gabriely, MD
Michael A. Mandarano, DO
Neetu P. Reddy, MD
Priyanka Bhatia, MBBS
Shazia Nazir, MBBS
Shoma Singh, MD
Susan S. Kim, MD
Uyen Hoang, DO
Vincent M. Pestritto, MD
---
Recruit a Colleague
Thank you to the following members for recruiting their colleagues as part of ACP's Recruit a Colleague Campaign.
Adam J. Albert, MD
Elmer J. Holzinger, MD, MACP
Gregory C. Kane, MD, FACP
Leo J. Motter, MD
Nina Mingioni, MD, FACP
Seth M. Quartey, MD, FACP
Sunjeet Kaur, MBBS
---
Derrickson Retires, Praises Hundreds of Volunteers
As many of you know, I am retiring on June 30 after 14 very enjoyable years as your executive director. Together with Jackie Franco, my assistant for the past nine years and Joy Crist, our invaluable chapter liaison, we worked with the greatest group of volunteers in the entire American College of Physicians. We continue to be amazed at how many of you volunteer to lead and take part in dozens of activities offered by our Pennsylvania Chapter. We fully appreciate how busy your lives are. Still you find the time to work with our Chapter!
There are too many volunteers to thank here individually. Dozens have chaired our three regional abstract and poster competitions and our regional Medical Jeopardy competitions. Hundreds of volunteers mentor at our many student dinners. But one group of volunteers is very special: the Governors! Being a Governor for the ACP is a demanding, time-consuming and potentially very rewarding four year commitment. During my tenure, I have had the pleasure to work with fifteen Governors. Each represented one of our three regions. Our chapter is very indebted to each of them and I would like to recognize them here: Serving from the Western Region: Ralph Schmeltz, Herb Diamond, Alex Gonzalez, Alan Yeasted and Tom Grau (Tom is Governor-elect until next April, but is already very involved.) Serving from the Eastern Region: Herb Reynolds, Bob Aber, Jack Fitzgibbons, Rich Simons, Dan Kimball, and David George. Serving from the Southeastern Region: Paul Epstein, Chuck Cutler, Darilyn Moyer, and Greg Kane. I have learned so much from these talented and generous internists.
Since I began in 2001, I have had a front row seat to the sea-change in America's healthcare system, and I wonder when we will see the next wave. Many think additional change is needed if we are to match the healthcare results found in other comparable countries. Patients' access to care may have improved, but there are still major hurdles to address. Two worth mentioning are patient outcomes and affordability.
With the passage of time, there often comes a need for new ideas and energy. I know you will have positive change with my successors, SSMS, led by Cicely Elliott and ERG Partners, led by John Nikoloff. Cicely will administer the educational, membership, recruitment and retention, and general administrative activities. John's duties will be enlarged to include all advocacy and legislative activities. He will continue to serve as our lobbyist, a position he has held for most of the last 28 years. I know the Chapter will continue to expand, add value to our 7,500 members, and attract new members.
Farewell and thank you,
John Derrickson
---
Calendar of Events
Mentoring Opportunities
June-July CCYP (Council of Early Career Physicians) - Summer Family Picnic event. Date is TBD
September 12, 2015 Saturday in Harrisburg
IMIG dinners - Penn, Temple/PCOM and Jefferson in Sept, Oct.
Oct. 24, 2015 - PAE regional competition, at Penn State in Hershey, Nicole Swallow is program chair, Simon Mucha is Abstract and Poster Chair, and Brian McAllister is Medical Jeopardy Chair.
Nov. 7, 2015 - PAW regional competition, at UPMC McKeesport in Pittsburgh. Ibrahim Ghobrial is Abstract and Poster Chair, Jen McComb is Medical Jeopardy Chair and Tom Grau is Program Chair.
Nov. 14, 2015 - PAS regional abstract competition at Drexel.in Philadelphia. Allison Ferris is Program and Poster Chair, and David Bernstein is Medical Jeopardy Chair.
December 5, 2015 Saturday, in Hershey, Awards and Jeopardy Finals.
Jan. 2016- IMIG dinners at TCMC in Scranton and Penn State in Hershey
March 5, 2016- MOC in Hershey
March 12, 2016 Council in Harrisburg