You are here
From Your Governor
| | |
| --- | --- |
| February 2012 | Daniel B. Kimball, Jr., MD, FACP, Governor |
---
Greetings to all of our members. I, like most of you I'm sure, are looking forward to a better year in 2012 on many fronts.
The strength of our organization is you, our members. There are approximately 4,400 Internists practicing in our ACP Eastern PA Region and about 44% of them are members of our ACP. While that ranks as well with other ACP Chapter regions, I ask myself why cannot we do better? I recently sent an email communication to former members who have allowed their membership to lapse over the previous two years and asked them to take a few minutes and share with me one major reason for their dropping of their membership. I received only three responses! I realize that receiving an email from someone they do not know personally may have led to the email not even being opened or quickly ignored. Of the three responses, two identified issues of misunderstanding or poor communication that were potentially remediable, and one identified "cost" as the major reason. If these three responses are representative of the whole group, it suggests that we have work to do to retain our current members.
I certainly recognize that the economic challenges for colleagues and practices are tremendous but I believe that the value of membership is well worth $1.33/day! Many of us spend more than that for a cup of our favorite coffee each day. It is a matter of priority for each one of us. The response to my email message is a reminder to me that recruiting and retaining members is very much of a personal contact sport! I need your help to reach out and touch one or more of your non-member colleagues. As I paraphrased in my first newsletter message, if we are not part of the solution, we are part of the problem! To encourage your recruiting initiatives, the ACP provides you a financial incentive to be part of our recruitment efforts.
Speaking of the value of membership, how many of you have visited the ACP website, specifically the ACP Medical Home Builder site? This is a very useful tool for those of you interested in establishing a Patient Centered Medical Home for your practice.
A major focus of our organization is education, and there is no better example of that than our Annual meeting, coming up in New Orleans on April 19-21. Plan on joining us for the meeting and our annual reception which is always a time to renew friendships with fellow ACP members. Another focus of our continuing educational efforts is our single day SEP/MOC meeting at Penn State Hershey scheduled for March 31 this year. Please join us for this very interactive review of hospital based and office based medicine led by Drs. Marc Shalaby and Ted Bollard. It is well worth your investment in time.
Another value of membership is our advocacy efforts led by Mr. Bob Doherty at ACP and Mr. John Nikoloff in Harrisburg. You can be a part of this effort by serving as a Key Contact for ACP, by meeting with your local congressional or state representative in his or her office in your town, by joining us at our National Leadership Day event in Washington DC on June 6-7 where we will discuss the major legislative issues and meet with our elected representatives and their staffs on Capitol Hill.
A vital part of our advocacy effort is to take your issues to our Board of Governors' meeting twice each year. We do this by submitting resolutions reflecting your concerns to that meeting. Dr. Susan Borys, a general internist from Lewisburg, PA authored a resolution related to concerns about opioid pain management which was recently approved by the BOG and BOR and is now being studied for the best approach to implementation. You are invited to suggest topics for possible resolution to our PA-ACP Governors' Advisory Council and/or be part of our state Health and Public Policy Committee under the leadership of Dr. Arnie Eiser and Dr. Evan Pollock. Contact our executive director, Mr. John Derrickson (jd@pa-acp.org) for additional information.
We welcome a new medical student Internal Medicine Interest Group at The Commonwealth Medical College (TCMC) in Scranton, and we look forward to working with Dr. Valerie Weber, Chair of the Clinical Sciences Department, and the student leaders as we host their 2012 Dinner meeting in February.
As always, I welcome your suggestions.
Dan Kimball, Governor, Eastern Region, PA Chapter, ACP
Email: drdankimball@gmail.com Phone: 610-406-7753 (mobile)
---
Capitol Update by John Nikoloff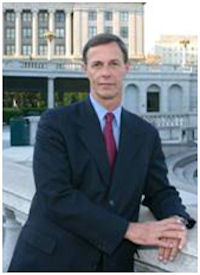 State Electoral Politics
2012 is a major election year, with the offices of President, US Senator, State Attorney General, Auditor General, Treasurer, the US Congress, State Senate and State House of Representatives all on the fall ballot. The primary ballot will include these offices as well as selection of party delegates to the National Conventions.
In Congressional elections, the new reapportionment of the state forced loss of one seat, and the new map significantly changes many districts. Congressmen Jason Altmire and Mark Critz will face each other in a new 12th district, and Congressman Todd Platts has announced his retirement in the 4th district.
Four State Senators have announced their plans to retire: Sens. Jane Earll (R-Erie), Jeff Piccola (R-Dauphin), John Pippy (R-Allegheny) and Mary Jo White (R-Venango). At least 18 new members will be elected to the PA House of Representatives. Six current members have already resigned to take other elected positions, and another 12 have announced their plans to retire.
Special elections will be scheduled to fill the six vacant seats, but because the State Supreme Court ruled the legislative Reapportionment Plan was unconstitutional, those elections - and the districts for the fall elections - are up in the air.
Legislative Updates
Insurance Rate Review
In late December, major insurance reform legislation was signed into law as Act 134, establishing state review of ALL health insurance contracts, and rate reviews including small groups and individual contracts. Previously, the state was only able to review group rates for products issued by HMOs or Blues. Commercial insurers and commercial subsidiaries of the Blue entities were exempt. With passage of this legislation, PA insurance department can continue to regulate rates for Pennsylvanians, rather than the Department of Health and Human Services, which would have taken over that role under the Affordable Care Act.
Genetic Counselors
Late in December, legislation was signed that provides for licensing and regulation of genetic counselors.
Fair Contracting
PA-ACP and other physician organizations succeeded in getting a public hearing on HB 1763, the Physician Fair Contracting Act. The bill would put the provisions of the Love Settlement - including a standard definition of medical necessity, clean claims payment requirements, prohibitions against automatic downcoding of E&M services and all products clauses, and limits on retroactive audits - into law in Pennsylvania. We are working with the Corbett Administration to seek its acceptance of this legislation, as the national agreement expires. And we will continue to work with House Insurance Committee members and others to get the Chairman of that committee to schedule a vote on the bill.
Physician Credentialing
Similarly, the PA Chapter is working for passage of Physician Credentialing legislation (HB 1551), which would allow new physicians to begin practice and be eligible for reimbursement 15 days after a complete request for credentialing is filed. The insurance companies would have to reach a credentialing decision within 60 days of receipt of a completed application.
Highmark and UPMC
The House passed HB 2052 by a 186-6 vote, and the bill is now in the Senate Banking and Insurance Committee. HB 2052 establishes a system where any failure to renew an existing insurer/hospital contract becomes subject to investigation by the Insurance Department, automatic extension for six months, a process of public hearings, recommendations for terms, extended negotiations, and finally, should other means fail, independent mediation and binding arbitration. The announcement that Highmark would continue to honor UPMC physician contracts through June 30, 2013 confirmed an agreement reached in late December, but does not fundamentally solve the overriding issues.
Caps on Punitive Damages
The House passed HB 1907 in January by a 103-89 vote, setting the stage for a battle over caps on punitive damages. The bill amends the MCARE act to set a cap at $200,000 for a medical liability lawsuit against any personal care home, assisted living community, or long term care nursing facility. In many ways, this bill was a test vote for further tort reform, but even if the bill is passed and signed into law, it's certain lawsuits will be filed. The state Constitution prohibits the General Assembly from placing limits on punitive and noneconomic damages.
Naturopathic Medicine
PA ACP is opposing HB 1717, introduced by Rep. Mark Mustio (R, Allegheny) which recognizes the practice of naturopathic medicine and that naturopathic physicians comprise a distinct health care profession. The bill creates a naturopathic licensing system within the Board of Medicine. Naturopaths argued that they have four years of postgraduate training, and that 16 other states, DC and Puerto Rico have legislation similar to HB 1717. We are opposing the legislation because the science of medicine does not support the suggestions made by naturopaths, and because the proposed scope of practice is too broad, the education standards pale in comparison with medical training, and ordering of tests in the legislation is beyond the scope of a naturopath's practice.
Federal Issues
Congress Passes Short-term SGR Fix
Late last year, the House and Senate passed HR 3765, providing a short-term extension of the Sustainable Growth Rate (SGR) fix. With the signing of the bill into law, the 27.4 percent cut to Medicare payments to physicians scheduled for Jan. 1, 2012 was pushed back, and a conference committee was named to reach agreement on how to offset the cost of extension. Both Senator Bob Casey and Congresswoman Allyson Schwartz were named to the Conference Committee. A more permanent solution will be attempted in discussions over real tax reform which will not take place until 2013.
---
Four Resident Focus Groups Look at ACP Membership, Education and Value
Florence Momplaisir, MD, MSHP, General Internal Medicine Fellow, Health Policy Research Program, University of Pennsylvania, and Danielle Krol, MD Candidate, MSIV, St. George's University School of Medicine.
The SE chapter of the PA- ACP organized focus group sessions at major internal medicine (IM) training programs in Philadelphia from November 2011 to February 2012 in order to assess awareness of the ACP and its membership benefits among interns and residents and to come up with ways to better meet the needs of IM trainees. Participation in the focus groups was voluntary and the sessions were logistically coordinated by the chief residents in each respective training program. Participating programs included Temple, Drexel, University of Pennsylvania and Jefferson. In general, participation varied from 5 to 12 residents, the majority was second and third year residents, most were interested in subspecialty care and most were not current ACP members.
Overall, the majority of residents had heard about ACP but they didn't know exactly what the benefits of membership were and what the organization stood for compared to other organizations like the AMA. Knowledge of the specific role of ACP in education and health policy varied by institution. Among members, motivation to join included presenting their research in the regional or national conference and receiving discounts for the Medical Knowledge Self-Assessment Program (MKSAP). Barriers to ACP membership included cost, the perception that there was no added value to membership (they can access the Annals of Internal Medicine at no cost) and time constraints. In order to increase their involvement in ACP, they suggested having an ambassador at each training program that could disseminate updates about the organization.
They thought that getting generic emails are impersonal and they generally don't read them. There was a moderately strong interest for getting the ACP newsletter and getting bullets on health policy updates. Some would be interested in Smart Phone Apps that easily access their more specific needs. They also wanted to know more about leadership day and the health policy internship.
Despite the majority of residents going into subspecialty medicine, they voiced the need for stronger primary care and were willing to advocate for that. For research, they didn't think that learning about research opportunities nationally would be interesting since they are bound to the Philadelphia area but if ACP wanted resident involvement in the literature review process of clinical guidelines, they would be interested to participate in that. There were mixed feelings about having an online network of ACP mentors that they could reach for advice: some felt that they get appropriate mentorship in-house and that having an online network of mentors is impersonal, others felt that it would be helpful and suggested having the mentors by category (academic medicine, private practice and government).
We welcome additional comments and suggestions. Please email them to jd@pa-acp.org.
---
ACP Leadership Day 2012
Leadership Day is set for June 6-7, 2012. This event gives us an opportunity to have our voices heard on Capitol Hill. Dramatic changes in the Healthcare Reform Act are expected. For an update on the status of reform, what the reform provisions are and how they will impact you as a physician, simply visit the ACP web page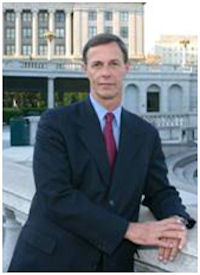 .
Bob Doherty directs the College's advocacy efforts on Capitol Hill and provides excellent insight into the workings of the government. See a current recap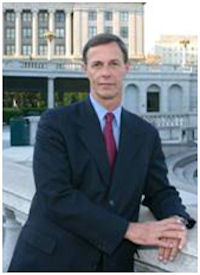 of the presidential candidates' positions on healthcare.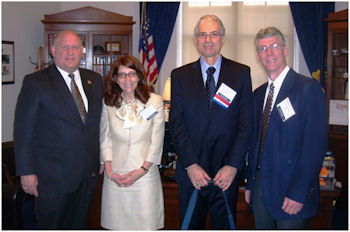 Visiting Pennsylvania legislators during Leadership Day 2011 was a delegation from the ACP-PA chapter. Standing (left to right) Representative Glenn GT Thompson, Pennsylvania 5th Congressional District. Susan Borys, MD, FACP, Evan Pollack, MD, FACP and Larry Jones, MD, FACP.
Dr. Borys works in the Congressman's district, so following her visit to his office, he visited her clinic. Representative Thompson is a former physical therapist and nursing home administrator from Williamsport.
On June 6, a delegation from the Pennsylvania Chapter will travel to Washington, DC to participate in Leadership Day 2012.
---
Good News! Wright Center Will Host 2012 Residents Eastern Poster Competition
The Pennsylvania Chapter sponsors THREE regional abstract competitions that offer residents an opportunity to compete with and meet their peers. In collaboration with his/her program director, a resident may write an abstract on research, case study, or quality improvement based on their experience. The abstracts receive professional critiques and the best are presented as posters at the annual Residents Day.
The East's Residents Day is set for October 6, 2012 at the Wright Center for Graduate Education in Scranton. Residents who want to submit an abstract must be a member of the ACP. All residents who have provided the ACP with an email address will receive emails about the 2012 abstract competition.
Last fall, 75 abstracts were submitted for review and 37 were selected to be presented as posters. Eleven residents received prize awards for their outstanding work and podium presenters Dr. Julian Diaz Fraga and Dr. Joy Montes were selected to present their posters at IM 2012 set for New Orleans on April 19, 20 and 21, 2012.
Residents Day is a challenging, fun and worthwhile experience. We hope you will join us in Scranton on October 6, 2012. The abstract competition is open to all residents who are ACP members.
---
Congratulations Eastern Region Poster Winners
| | | | |
| --- | --- | --- | --- |
| Julian Diaz Fraga | Podium QI | 1st Place | Reading Hospital |
| Joy Montes | Podium Research | 2nd Place | Easton Hospital |
| Srikant Kumar | CV | 1st | Wright Center |
| Leena Jalota | CV | 1st | Reading Hospital |
| Hyo Lee | CV | 1st | Reading Hospital |
| Suman Thapamager | CV | 1st | Easton Hospital |
| Archana S. Chaudhary | CV | 1st | Reading Hospital |
| Srikant Kumar | CV | 2nd | Wright Center |
| Srividhya Lakshmanan | CV | 2nd | Easton Hospital |
| Nonihal Singh | CV | 2nd | Easton Hospital |
| Arash Pasha | CV | 2nd | Easton Hospital |
| Christopher Weller | CV | 2nd | Reading Hospital |
Thank You to All Our Judges! This competition values them and their generosity.
Eastern Region, Pennsylvania Chapter
American College of Physicians
Hosted by Lehigh Valley Health Network, Oct. 29, 2011
Dr. Anthony Donato, Reading
Dr. Cara Ruggeri, St. Luke's
Dr. Carlos Acuna, Wright Center for Graduate Education
Dr. Dan Bucaliou, Geisinger
Dr. Dwight Stapleton, Packer/Guthrie
Dr. Edward Bollard, Penn State/Hershey
Dr. Gloria Fioravanti, St. Luke's
Dr. Harvey Hakim, Easton
Dr. JayaKrishna Chintanaboina, Wright Center for Graduate Education
Dr. Jim Ross, Lehigh Valley
Dr. John Blotzer, York
Dr. Mahesh Krishnamurthy, Easton
Dr. Martin Matsumura, Lehigh Valley
Dr. Matthew Novak, Packer/Guthrie
Dr. Nicole Swallow, Penn State/Hershey
Dr. Rajinder Sahi, Pinnacle Health
Dr. Rena Lambert, Lehigh Valley
Dr. Richard Alweis, Reading
Dr. Sandhya Samavedam, Wright Center for Graduate Education
Dr. Shadia Santos, Geisinger
Dr. Sharon Maynard, Lehigh Valley
---
Albert Einstein Medical Jeopardy Team Wins PA State Championship
Congratulations to the Albert Einstein Medical Jeopardy Team in Philadelphia for winning the 2011 PA Medical Jeopardy championship held in Hershey. They beat teams from Lehigh Valley Medical Network and West Penn/Alleghany General on Dec. 3, and will compete in New Orleans for the national title during IM 2012. Einstein has been to the national tournament four times and has won three of those four times.
Presenting the newly implemented SE Regional Medical Jeopardy Trophy is Chairman Dr. David Cohen (right) to Dr. Glenn Eiger, IM Program Director for Einstein. Team members are (left to right) Dr. Mahasweta Gooptu, Dr. Praveen Ramakrishnan, Dr. Riyaj Kaskar (Team Coach), Dr. Jedrzej Wykretowicz, Dr. Guillermo Garrido and Associate Program Director Dr. Nina Mingioni. She will chair the SE Competition November, succeeding Dr. Bill Surkis and Dr. David Cohen.
---
Eight Medical Jeopardy Teams Competed in the East
Congratulations to All!
Geisinger Health System
Lehigh Valley Health Network
Packer - Guthrie
Penn State - Hershey
Pinnacle Health
Reading Hospital and Medical Center
York Hospital
Wright Center for Graduate Education
---
Eastern Region Photo Gallery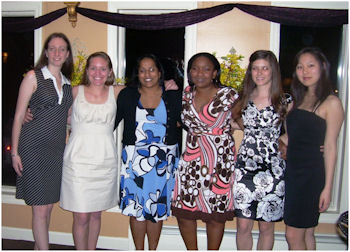 The Eastern Region hosted an Internal Medicine Interest Group Dinner at Penn State - Hershey. Standing left to right are IMIG leaders and members Erica Bates, Ashley Weber, Sucharita Mukherjee, Sheryl Purrier, Audrey Stokes and Kara Kwon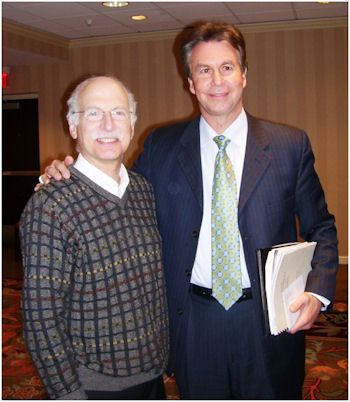 Charles Cutler MD, FACP (L) past Governor of the Southeast region and Richard Simons, MD, FACP (R) past Governor of the Eastern Region attended the Chapter Council meeting in December. Dr. Cutler completed his term as Chairman of the Board of Governors, ACP and is currently Chair-Elect Designee of the Chair of Regents. Dr. Simon soon will receive a Mastership from the College.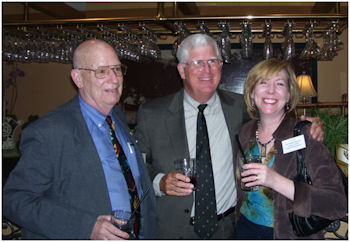 Dan Kimball, MD, FACP (L) Governor of the Eastern Region chats with Dennis Shaberg, MD, MACP and Eileen Moser, MD, FACP during the Penn State/Hershey IMIG dinner.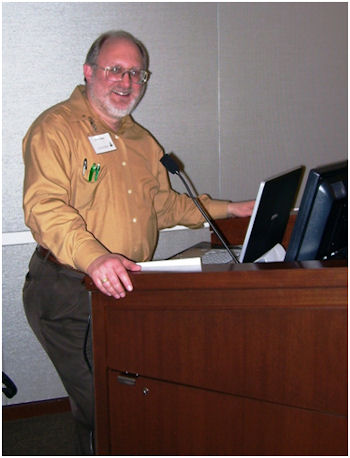 Martin Evers, MD, FACP, moderating the PA-ACP statewide Medical Jeopardy Competition held in Hershey. Dr. Evers often explains relevant "teaching points" during these tournaments.
---

Recruit a Colleague Program
The Pennsylvania Chapter thanks Joseph M. Romano, MD, FACP for recruiting his colleagues as part of ACP's Recruit-a-Colleague program.
---
PA Chapter Presented With ACP Excellence Award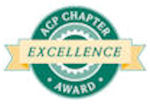 We are pleased to announce that our chapter received a Chapter Excellence Award for 2011! It is presented to chapters that meet all basic criteria and seven optional criteria. Criteria include such activities as formulating an effective Governor's Council and committees, communicating with members, providing educational opportunities, recruiting and advancing members and celebrating membership through local awards. The PA Chapter would like to extend a special thank you to our active members! For your hard work and dedication, we received this award.
---
PA-ACP Wins Tooker Evergreen Award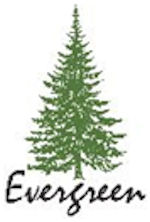 At Internal Medicine 2011, ACP presented a John Tooker Evergreen Award to our PA Chapter of the ACP. The Pennsylvania Chapter was recognized for its recruiting initiatives at the Pri-Med Access with ACP educational programs held in Pittsburgh and Philadelphia.
The award provides recognition and visibility to those chapters that have successfully implemented programs to increase membership, improve communication, increase member involvement, enhance diversity, foster careers in internal medicine and improve management of the chapter.
---
Pennsylvania Chapter Recognizes Eleven Exceptional Members
An exceptional group of Pennsylvania physicians were honored for their commitment, dedication and excellence in leadership and service during the Pennsylvania Chapter's annual Awards Dinner held at The Hershey Country Club on December 3, 2011.
Laureates Awarded to Three Extraordinary Physicians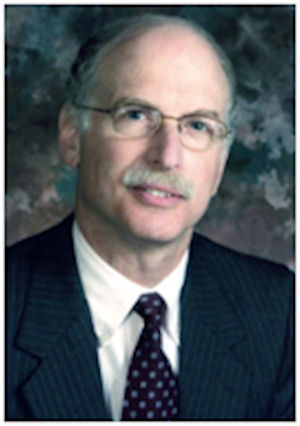 Charles Cutler, MD, FACP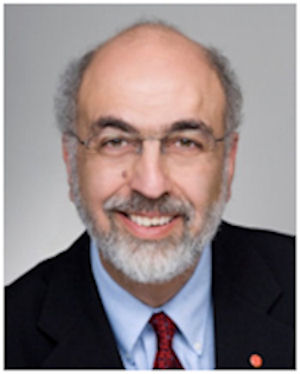 David L. George, MD, FACP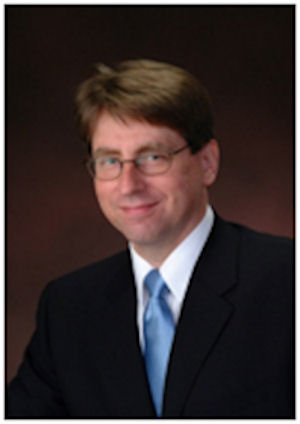 Keith T. Kanel, MD, MHCM
The Laureate is the highest honor awarded by the Pennsylvania Chapter to its members. This year, Drs. Charles Cutler, David George and Keith Kanel were selected for a Laureate based on their dedication and commitment to excellence in medicine, education and research.
Dr. Gerald Tracy Awarded a Pressman and Drs. Karl Bushman and Michael Korman Received the Clinical Practice Award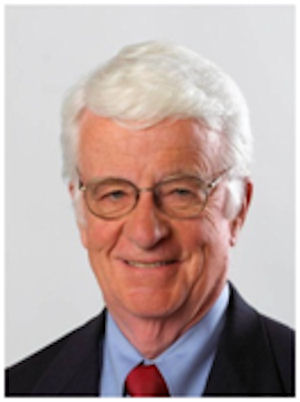 Gerald P. Tracy, MD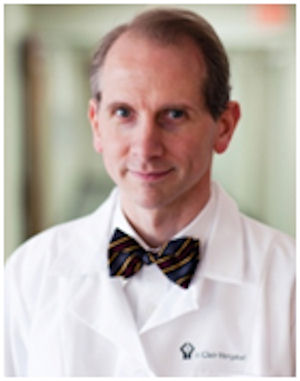 Karl E. Bushman, MD, FACP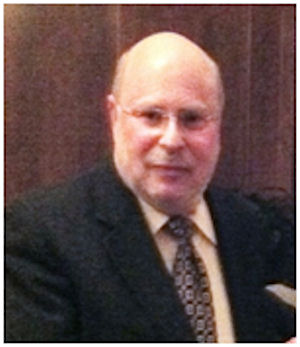 Michael Jay Korman, MD
Gerald P. Tracy, MD, FACP (East) was granted the Pressman Award for distinguished service to Internal Medicine.
Karl E. Bushman, MD, FACP (West), and Michael Jay Korman (SE) received the Clinical Practice Award in recognition of exceptional service to patients, community and profession.
Five Members Were Presented a Chapter Special Award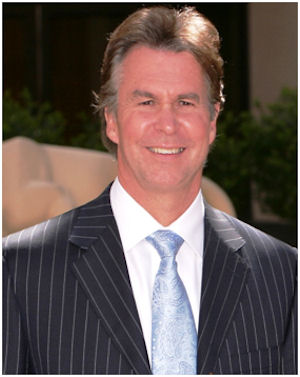 Richard J. Simons, MD, MACP

John Nikoloff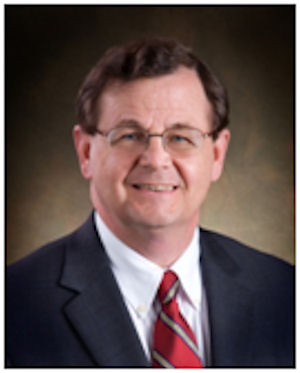 Douglas F. Clough, MD
Richard J. Simons, MD, MACP, immediate past Governor of the Eastern Region, was recognized for his dedication and commitment to the Pennsylvania Chapter and the ACP.
John Nikoloff, a founding partner and president of ERG Partners, was recognized for his exceptional dedication, vision and advocacy to our PA Chapter of the ACP. Mr. Nikoloff has been a vital component of our state-wide advocacy for the past two decades. .
Douglas F. Clough, MD, FACP (West) was recognized for his on-going leadership and grass-roots involvement in advocacy activities.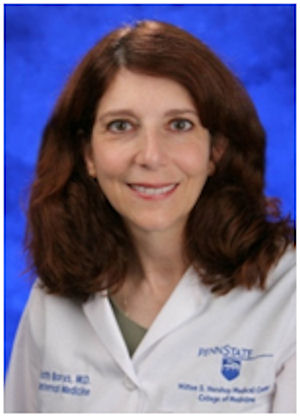 Susan Borys, MD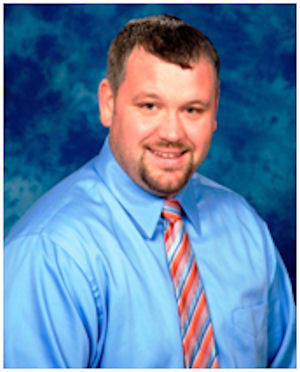 Andrew Adams, MD
Last but not least, two members received special recognition for their ongoing commitment to our Chapter. Susan Borys, MD, FACP (East) for her legislative involvement on behalf of patients and physicians in Pennsylvania and Andrew Adams, MD, FACP (West) was recognized for his dedication to the Western Region's Abstract and Poster competitions. Sincere congratulations and thank you to all.
---
Pennsylvania Chapter Calendar of Events January 2012 - June 2012
| Date | Event | Location |
| --- | --- | --- |
| February 1 | Jefferson IMIG Dinner | Philadelphia |
| February 8 | Scranton IMIG Dinner | Scranton |
| Feb. 16 | CCYP Social Hour | Philadelphia |
| March 17 | Council Meeting | Harrisburg |
| March 20 | Penn State/Hershey IMIG dinner | Hershey |
| March 31 | Single-Day Maintenance of Certification | HMC, Hershey |
| April | ACP - IM 2012 | New Orleans |
| April 19 | Tools Workshop (Practice Managers) | Radnor |
| April 20 | Pennsylvania Chapter Reception | New Orleans |
| April 28 | Medical Student Forum | Temple |
| May 7 | Council Webinar | Home or Office |
| June 6 - 8 | Leadership Day | Washington, DC |