You are here
Einstein Medical Jeopardy Team Wins PA State Championship
Einstein Medical Jeopardy Team Wins PA State Championship
Congratulations to the Einstein Medical Jeopardy Team for winning the 2011 Southeast Region competition and the Pennsylvania State Championship. They will compete in New Orleans for the national title during Internal Medicine 2012. Einstein has been to the national tournament four times and has won three times.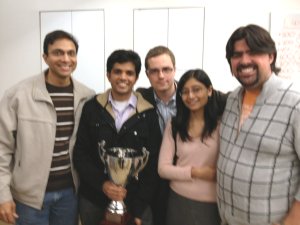 Left to right: Riyaj Kasekar (team coach), Praveen Ramakrishnan, Jedrzej Wykretowicz, Mahasweta Gooptu and Guillermo Garrido
We also congratulate the Southeast teams from Abington, CCMC, Drexel, Lankenau, Mercy Catholic, Pennsylvania Hospital, Temple, Jefferson, U of PA and Christiana Hospital, as well as the competitors in the State tournament: Allegheny General Hospital (West) and Lehigh Valley Hospital (East). We are looking forward to see you at the 2012 competitions.