You are here
Compass Award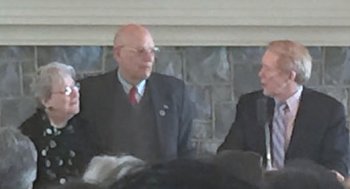 Past PAE governor and longtime ACP member, Daniel B. Kimball, Jr., MD, MACP and his wife C. Eve Kimball, MD were recognized with the Compass Award by the Berks County Medical Society (BCMS) on Sunday, January 31, 2016.
The Compass Award recognizes a physician whose career and commitment embodies the ideals of the Society's four point compass emblem – advocacy, professionalism, education and collegiality. In addition to the presentation of the award, a generous donation is made in honor of the awardees to the Society's Educational Trust. The money is used to further their scholarship program, community outreach endeavors, and weekly educational talk show.
This is the first year the Award was given, and the BCMS Executive Committee felt that the first honors should be presented to the Kimballs for their years of hard work in the field and community.
Congratulations from PA-ACP!