You are here
Chapter Centennial Legacy Award

The Chapter Centennial Legacy Award celebrates ACP's centennial by recognizing one seminal chapter member whose service to the chapter had a significant impact on the chapter's viability. This individual should exemplify ACP's core values including:

Leadership
Excellence
Respect
Compassion
Professionalism
Responsibility
Read about the state awardee and join us in congratulating him.
---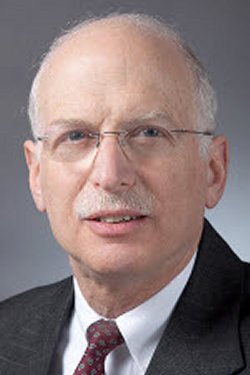 Dr. Charles Cutler has had a remarkable influence on the Pennsylvania Chapter over the last three decades through his leadership, ability to stimulate volunteerism, and dedication to the core values of the ACP.
First, as a leader, Dr. Cutler has served as Council member, Governor-elect, Governor, Chair of the Board of Governors, Regent, and Chair of the Board of Regents. This remarkable record of leadership has advanced the College and the activities in the Pennsylvania Chapter. While this record alone might be enough to warrant recognition for the Centennial Award, it is Dr. Cutler's ability to encourage participation among the chapter members that has really set his contribution apart. He has stimulated volunteerism on the Chapter's HPPC, among its local residency programs, among future leaders of the chapter which includes the past two Governors, and among statewide contributors to our PAC. True leaders achieve not only during their tenure but influence a whole generation that comes after; Chuck has done just this while reinforcing those core values that define who we are as Internists- respect for each other, commitment to excellence in patient care, and commitment to our patients.
We are honored to nominate Dr. Cutler for this award from the Pennsylvania Chapter.
More about the Chapter Centennial Legacy Award:
Award Booklet - full listing of winners
Press Release Template - for Chapter use