You are here
Oregon Governor's Newsletter September 2017
Oregon Governor's Newsletter September 2017

---
---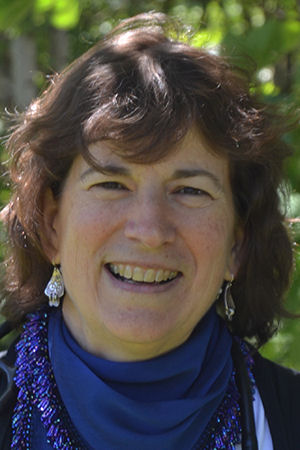 Marianne C. Parshley, MD, MACP, ACP Governor
---
Governor's Message
Greetings All on Eclipse 2017 Day,
I hope you all were able to step outside and see the eclipse, whether in the totality zone or not. Amazing!
This last quarter, as you all are aware, healthcare was front and center in the national and state news, and ACP has played a big role in publicizing the issues and advocating for our patients. As part of this effort, in May, our Chapter sent a delegation of members, residents and medical students to ACP's Leadership Day in Washington DC where we learned about the current policy issues in front of Congress, ACP's key policy goals, and about how to advocate from ACP leadership, staff, Congressional staffers from both sides of the aisle and from Congressional Representatives. The next day, we spent a busy day visiting the offices of all five Representatives and both Senators. In dialogue with them, we were able to advocate for protection of affordable coverage and consumer protections, for reducing unnecessary administrative tasks on physicians and patients, and for improving the care of patients with chronic diseases. We also discussed the opiate epidemic in Oregon and how it is impacting all communities and how to best combat it. Finally we urged them to support funding of primary care workforce initiatives.
https://www.acpservices.org/leadership-day/policy-priority-issues
Our Leadership Day Attendees include:
Adam Obley, MD - Chair, Health Policy Committee Oregon Chapter
Laura Holton, MD – Hospitalist, Legacy Health
Angela Gibbs, MD –Resident, Providence St. Vincent & ACP Health Policy Intern
Jeffrey Wagner – Medical Student, OHSU
Anantnoor Brar – Medical Student, OHSU
Helen Duewel, MD- Kaiser Permanente, Geriatrics
Jim Gajewski, MD MACP- Health Policy Committee Oregon Chapter
Tom Cooney, MD MACP - Chair, Board of Governors ACP
Marianne Parshley, MD FACP - Governor, Oregon Chapter
Following our return, various members of the delegation have been able to attend town halls given by Representative Blumenauer and Senator Wyden, and Helen Duewel was able to greet Senator Merkely as he visited one of the long-term care facilities where she is attending.
---
Chapter News
Our chapter now has a new Twitter account @OregonACP and a new Facebook Group: Oregon ACP Chapter where we hope to post news of both the chapter and ACP national. Look us up and follow us.
We are looking at our Committee structure, and our bylaws and will be posting these in the next few months. Stay tuned!
You can also read and react to our statement on the events in Charlottesville and in support of the ACP Virginia Chapter.
https://www.facebook.com/groups/1404093136293323/permalink/1430748250294478/
---
New Fellows
Congratulations to our new Fellows!
Stephen Bump, MD, FACP
Stacy Chance, MD, FACP
Brinton Clark, MD, FACP
Linda Hungerford, MD, FACP
Kristy Jessop-Shankowski, MD, FACP
Joel Papak, MD, FACP
Sean Tushla, MD, FACP
Eduardo Vides, MD, FACP
Jeff Youker, MD, FACP

Interested in Fellowship in the College? Checkout the link:
https://www.acponline.org/membership/physician-membership/acp-fellowship
I look forward to seeing you all in November at the Chapter Meeting in Salem, OR!
Marianne
---
Chapter Council of Women's Physicians
Our participation in the August 26th "Heroes in Recovery" 6K Run/Walk, in Portland, OR was great!! We had a good turnout of ACP members including Avi O'Glasser, Elizabeth Sazie, Marianne Parshley, Kaleb Keyserling, Mohammed Taher, David Nardone and Lisa Sanders. Kaleb Keyserling came in First out of 284!! Proceeds from this charity event raised funds for Hooper Detox of Central City Concern.
Heroes in Recovery has a simple mission: to eliminate the social stigma that keeps individuals with addiction and mental health issues from seeking help, to share stories of recovery for the purpose of encouragement and inspiration, and to create an engaged sober community that empowers people to get involved, give back, and live healthy, active lives. It takes a heroic effort to live clean and sober each day, and a Heroes 6K* celebrates that effort. The sixth kilometer separates a Heroes race from a typical 5K to symbolize the extra effort it takes to sustain recovery. The six kilometers also represent the six letters in the word HEROES. The Portland Heroes Race is presented by Oregon Trail Recovery, Awakenings Recovery, and Foundations Recovery Network.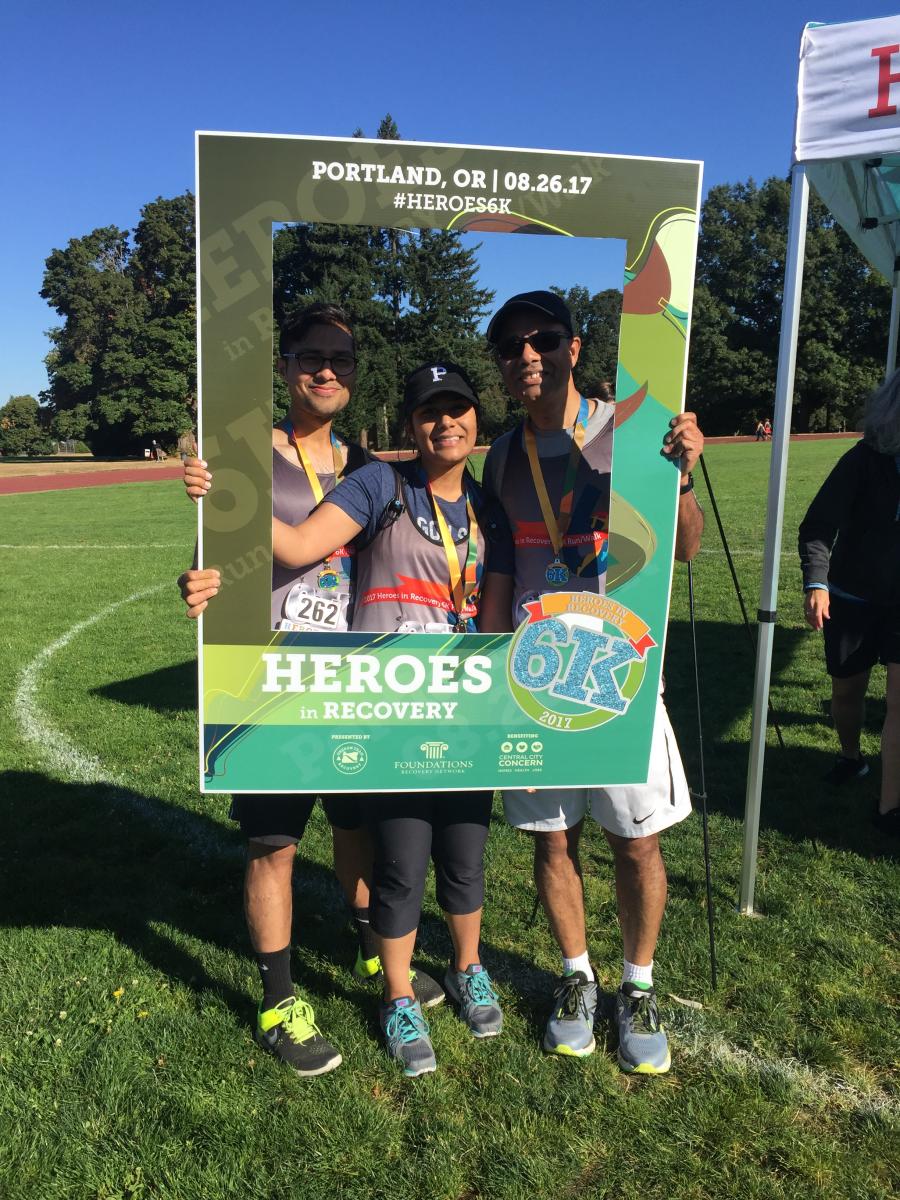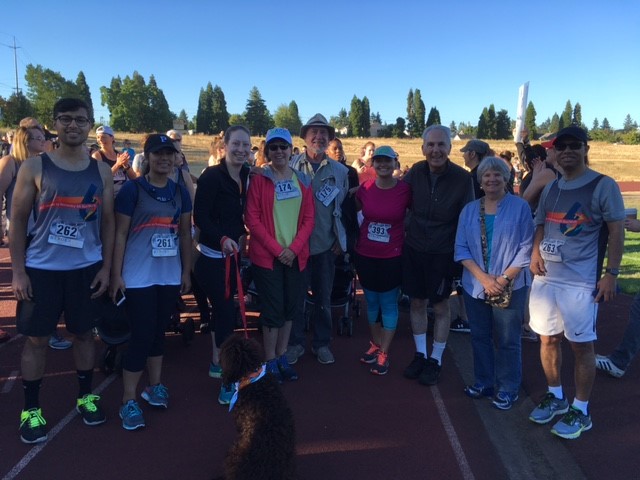 Thanks and stay-tuned for our next event!!
Avi and Elizabeth - CWP Oregon Chapter ACP Co-Chairs
---
Celebrate Women in Medicine Month
September is Women in Medicine Month – celebrating achievements and contributions of women in the medical profession. ACP honors women physicians throughout history - Reflecting on the first woman to receive a medical degree in the United States, Elizabeth Blackwell, to present-day accomplishments. Join the discussion on Twitter and in the ACP member forum. From the ACP Facebook Page:
In honor of this, we recognize extraordinary female physicians, including Dr. Darilyn Moyer. Appointed in 2016, Dr. Moyer became ACP's first female CEO/EVP in its 100+ year history. #WIMmonth.
Each September, the AMA Women Physicians Section (WPS) honors physicians who have offered their time, wisdom and support to advance women with careers in medicine.
Mary Herald, MD (Summit, NJ): Nominated by Susan Hingle, MD
Darilyn Moyer, MD (Philadelphia, PA): Nominated by Susan Hingle, MD
Donna E. Sweet, MD (Wichita, KS): Nominated by Darilyn Moyer, MD
Congratulations to the 2017 Alliance For Academic Internal Medicine (AAIM) Award Program Recipients:
Wendy Levinson, MD: APM Robert H. Williams, MD, Distinguished Chair of Medicine Award
Choosing Wisely Canada
Cynthia "Daisy" Smith, MD: AAIM Special Recognition Award
American College of Physicians
Susan Hingle, MD: CDIM Ruth-Marie E. Fincher, MD Service Award
Southern Illinois University School of Medicine
---
Oregon Chapter Health Policy Committee Update
Greetings from the Oregon Chapter Health Policy Committee! It's been a busy spring and summer monitoring federal and state developments in health policy. We wanted to provide a quick update on a few of the key issues. Obviously, the biggest news of the summer was the congressional debate to repeal the Affordable Care Act. The final failure of the so-called "skinny repeal" bill on a narrow Senate vote has put ACA repeal plans on hold for the moment. Official estimates from the Congressional Budget Office had suggested that even under the skinny repeal bill, 16 million additional Americans would be without insurance by 2026. ACP has consistently opposed changes to the ACA that would result in loss of insurance coverage or diminish access and applauded the outcome of the Senate vote.
While the structure of the ACA survives, the debate over federal funding of cost-sharing reduction payments continues. These cost-sharing reduction payments are used to defray the costs of deductibles and co-pays for people at certain income levels who buy insurance on an exchange. The non-partisan Kaiser Family Foundation has estimated that eliminating the cost-sharing reduction payments would affect 12.2 million people who bought and ACA marketplace plan and lead to an average premium increase of 19%. There is currently a bipartisan effort to extend funding the cost-sharing reduction payments and this position is supported by ACP.
At the state level, the major news was the passage of legislation to fund a substantial shortfall in the state Medicaid budget. HB 2391 relies on a so-called "provider tax" on health plans and hospitals to generate revenue for the Medicaid program that will be eligible for the usual federal match rate. The bill passed on a near-party line vote, and some opponents have begun collecting signatures in an attempt to put the provider tax to voters on a special ballot in January 2018.
In other state news, the legislature increased the age for buying tobacco products to 21. ). The legislature also passed a bill that would have permitted psychologists to prescribe certain mental health medications, but the bill was vetoed by Governor Brown in early August.
The Oregon chapter health policy committee is always interested in hearing from members. Let us know what's on your mind and what local, state, and national health policy issues we should be keeping an eye on. If interested in serving on the Oregon HPP Committee, please contact Adam Obley. Our current Committee includes:
Adam Obley
Jeff Absalon
Anantnoor Brar
Jeffrey Wagner
James Gajewski
Angela Gibbs
Laura Holton
Logan Jones
Marianne Parshley
Tom Cooney
---
ACP Health Policy Internship Program
The 2018 Health Policy Internship application cycle is open.
Applications will be accepted through October 31, 2017.
The American College of Physicians is pleased to offer the Health Policy Internship for Residents/Fellows and Medical Student Members. This internship represents a unique opportunity for one Resident/Fellow Member and one Medical Student Member to develop legislative knowledge and advocacy skills by working directly with ACP's Washington, D.C., staff and participating in ACP's annual Leadership Day.
The ACP Health Policy Internship provides a multifaceted opportunity to learn about the legislative process, health policy, and advocacy in organized medicine. Interns will provide assistance with researching and analyzing current issues in health and medical education policy, assisting with on-going advocacy initiatives, and the development of advocacy materials. Interns will have the opportunity to attend Congressional hearings, coalition meetings, and accompany government affairs staff on lobby visits to members of congress and their staff. The interns will be responsible for hosting and assisting in leading a panel discussion on issues of interest to medical students and residents at ACP's Leadership Day and assisting with Resident/Fellow and Medical Student related events during the two-day meeting. At the end of the internship period, we hope that the interns will have learned much about health policy and the importance of advocacy.
Eligibility: Candidates should be enrolled in an LCME or AOA accredited medical school or an internal medicine training program and be a member in good standing of the American College of Physicians at the time of application and for the duration of the fellowship. All ACP Resident/Fellow and Medical Student members interested in health policy and advocacy are encouraged to apply. Relocation at your own expense to Washington, D.C., for the month is required.
Duration and Salary: The Internship will last four weeks starting April 30, 2018 and concluding on May 25, 2018. Attendance at ACP's Leadership Day May 22 and 23 is required. A stipend of $2,000 will be paid.
The following documents are required at the time of application:
An updated curriculum vitae
Letters of recommendation:

A letter of endorsement from your ACP Governor
A letter from your medical school or training program:

For medical students, please include a letter from the dean of your medical school or designee that confirms you are in good academic standing and that your medical school is supportive of your application.
For Resident/Fellows, please include a letter from your Program Director or designee that confirms that your training program is supportive of your application.
Personal statement of interest

Please write a personal statement that demonstrates your experiences in health policy or legislative matters, and why you would like to pursue this opportunity. (less than 750 words).

Legislative Essay

Please identify an area of interest in national health policy and lobby this issue as an informed advocate for organized medicine. This writing sample should be substantive and concise (no more than 2 pages).
Interested candidates should direct questions to Hilary Daniel at hdaniel@acponline.org EOE.
https://www.acponline.org/advocacy/advocacy-in-action/acp-health-policy-internship-program
---
Resolutions! We Want to Hear From You!
We request your feedback regarding Resolutions that will be heard at the Fall ACP Board of Governors Meeting. Feel free to reply with– simply indicate whether or not you support a resolution, and/or include comments/feedback about any resolutions. The resolutions have been posted on the Chapter's website for your review, at https://www.acponline.org/about-acp/chapters-regions/united-states/oregon-chapter. Thank you for taking time from your busy schedule to provide important feedback regarding these resolutions – you've helped to shape College policy that impacts the practice of internal medicine. Alternatively, you can send comments to Mary Olhausen at omary52@comcast.net NOTE Resolution #11——Sponsored by Oregon!!
RESOLUTIONS:
#: 1-F17. Redoubling Efforts to Achieve RVU Reimbursement for Currently Uncompensated Physician EHR Work (Sponsor: District of Columbia Chapter)
#: 2-F17. Updating ACP Policy to Oppose Fail First or Step Therapy Policies (Sponsor: Florida Chapter)
#: 3-F17. Updating ACP Policy on Drug Formularies and Pharmacy Benefit Managers to Increase Transparency of Drug Cost and Rebate Incentives (Sponsor: Florida Chapter)
#: 4-F17. Updating ACP Policy to Oppose Non-Medical Switching of Medications by Insurance Companies and Pharmacy Benefit Managers (Sponsor: Florida Chapter)
#: 5-F17. Advocating to Remove Falls from the List of Hospital-Acquired Conditions (HACs) with Financial Penalties to Promote Mobility (Sponsor: New York Chapter)
#: 6-F17. Advocating for Appropriate Training/Expertise for Disability Claim Reviewers (Sponsor: District of Columbia Chapter)
#: 7-F17. Eliminating Mandatory Additional Training to Prescribe Buprenorphine-Naloxone (Sponsor: Council of Resident/Fellow Members)
#: 8-F17. Addressing the Impact of and Establishing Guidelines for Changing Patient – Physician Communication Methods (Sponsor: BOG Class of 2021)
#: 9-F17. Developing a Means of Publicly Recognizing Excellence in American Health Care as a Component of Combating Physician Burnout (Sponsor: District of Columbia Chapter)
#: 10-F17. Developing ACP Policy on Physician Impairment and Rehabilitation Towards Re-integration (Sponsor: Council of Early Career Physicians; Co-Sponsor: So California Region II)
#: 11-F17. Reviewing ACP's Position on Physician Aid in Dying From a Legal and Health Policy Standpoint (Sponsor: Oregon Chapter)
#: 12-F17. Amending ACP Policy for a National Medical Tort System Based on 1975 MICRA of California and 2003 MMTRA of Texas (Sponsor: District of Columbia Chapter)
#: 13-F17. Invoking Patent Law to Make Direct Acting Antivirals Accessible to Medicaid Populations (Sponsor: Council of Resident/Fellow Members)
#: 14-F17. Adopting ACP Policy Protecting Access to Essential Reproductive Health Services including Abortion (Sponsor: New Mexico Chapter)
#: 15-F17. Advocating for LCME Policy Regarding Parental Leave for Medical Students (Sponsor: Council of Student Members)
#: 16-F17. Updating the 2015 ACP Policy Recommendation Regarding Immunization Laws and Quickly Implementing a Public Education Campaign (Sponsor: District of Columbia Chapter)
#: 17-F17. Advocating for Medical Licensure Process Reform to Lessen Fears of Stigma Regarding Mental Health Disclosures (Sponsor: Council of Resident/Fellow Members)
#: 18-F17. Updating ACP Policy to Oppose Purchasing of Tobacco Products by Individuals Under the Age of 21 (Sponsor: Florida Chapter)
#: 19-F17. Querying States Attorneys to Evaluate Fraudulent Activities Related to Misuse of Mental Health and Substance Abuse Treatment Policies (Sponsor: Florida Chapter)
---
Participate in ACP's Recruit-A-Colleague Program
The American College of Physicians and the Oregon Chapter encourages all members to help strengthen our chapter by recommending ACP membership to colleagues. By joining the College, your colleagues will enrich their clinical knowledge and skills and have access to all of the ACP member benefits that you enjoy. To thank you for your dedication to our organization, ACP offers incentives to members and their chapters that recruit new members through the Recruit-a-Colleague Chapter (RACC) Rewards Program. As with the national Recruit-a-Colleague Program, the RACC Program rewards successful individual recruiters with dues credits for each new full Member or Physician Affiliate member recruited and a chance to win a trip to the annual Internal Medicine meeting. In addition, the RACC Program also provides rewards to the recruiters' chapters, including funding for chapter activities and complimentary registrations to the annual Internal Medicine meeting. The 2017-2018 Recruit-a-Colleague Chapter Rewards Program runs until March 1, 2018. To participate, simply forward to your colleagues a membership application found at: https://www.acponline.org/about-acp/chapters-regions/recruit-a-colleague-chapter-rewards-program-2017-2018.
To qualify for the program, your name must be listed on the recruiter line of the application, and the form must include the code RACC.
Thank you for your help in strengthening our chapter!
---
Chapter Social Media
Find us on Twitter and Facebook!
TWITTER: @OregonACP (http://twitter.com/OregonACP)
FACEBOOK: Oregon ACP Chapter. https://www.facebook.com/groups/1404093136293323
Twitter for chapter related news, including highlights of policy and advocacy work at the National ACP level, as well as photos of chapter activities and news about chapter members.
Facebook for private group: Oregon ACP Chapter
Meet our new Communications Chair, Avi O'Glasser, MD, FACP.
---
12th Annual NW Regional Hospital Medicine Conference
September 28-29, 2017 – World Trade Center - Portland, OR
This course is directed to hospitalists and other practitioners of inpatient medicine. The course was developed through the sponsorship of the OHSU Division of Hospital Medicine and the Oregon Chapter of the Society of Hospital Medicine. The course planning committee represents both academic interests and the needs of the active practitioner. Thursday and Friday talks are eligible for ABIM MOC 2 points. Topics include: Inpatient Rheumatology Consult; Peri-Operative Literature Review; Sepsis And Vitamin C; Hospitalized Patients With Opioid Use Disorder; Acute GI Bleeds; How To Prepare Patient For Surgery; Unbefriended Patients Without DCM Needing Treatment; Hospital Medicine Literature Review; Acute Respiratory Disease; Eye Urgencies & Emergencies; Inpatient Infectious Disease Consult; Visual McNuggets: Cases To Snack On; Hemolysis Made Simple; Patients With Suspect Intracranial Infections; Acute Neurologic Weakness; Wide-Complex Tachycardias; New Diabetes Medications; Inpatient Glycemic Management; Balancing Life, Loans, & Retirement; Pharmacologic Issues In Transplantation; Inpatient Hepatology Consult; A Day In The Life Of A Hospitalist; Nausea/Emesis In Cancer And Select Non-Oncologic Disorders; Infectious Issues In Transplantation, and ECG Quiz Show.
American Medical Association: Oregon Health & Science University School of Medicine designates this live activity for a maximum of 14.5 AMA PRA Category 1 Credits™. Physicians should claim only the credit commensurate with the extent of their participation in the activity.
At the conclusion of the course, participants will be able to:
Assess and manage acute neurologic weakness in the hospitalized patient. Discuss infection and pharmacologic issues in transplantation. Incorporate new therapeutic approaches in the care of patients with wide-complex tachycardias. Maintain appropriate glycemic control in their hospitalized patients.
Additional Information: For more information, or to subscribe to the CPD Newsletter, contact the Division of Continuing Professional Development at 503 494-8700, e-mail cme@ohsu.edu or visit www.ohsu.edu/som/cme
---
Oregon Chapter ACP – 2017 Awards Program
THERE'S STILL TIME TO NOMINATE!
The Oregon Chapter ACP Awards Committee is soliciting nominations for Chapter Awards. Nominate your deserving colleagues for their excellence and distinguished contributions. Awards will be presented at the Oregon ACP Chapter Scientific Meeting in Salem, OR, November 2-4, 2017.
Howard P. Lewis Distinguished Teacher Award – recognizes outstanding achievements in teaching. Nominees have been internists though not necessarily members of ACP.

Howard P. Lewis Distinguished Service Award – recognizes outstanding achievement in service. Nominees not limited to internists or physicians and the service for which they were recognized was not necessarily related to the Chapter or ACP directly.

Laureate Award – recognizes those who have demonstrated an abiding commitment to excellence over an extended period of time and have served with distinction in some clearly definable manner. Nominees must be a Fellow or Master in ACP.

Outstanding Early Career Physician Award – recognizes outstanding clinical skills in internal medicine, highly respected by peers, and role model in the community. Nominees can be no more than 16 years out from medical school graduation and must be either Members or Fellows of ACP.
Please identify nominees for specific awards and include a brief background/biosketch regarding the candidate's qualifications. Please forward your nominations to:
Anne Hirsch, MD, FACP - Chair, Awards Committee – amhirsch@comcast.net
or Mary Olhausen, Chapter Executive Director – omary52@comcast.net
Thank you very much for your support of the Chapter and your colleagues.
Anne Hirsch, MD, FACP - Oregon Chapter ACP Awards Committee Chair
---
Oregon Geriatrics Society 18th Annual Conference
October 6-8, 2017 – Sunriver, OR
Join us this year for the 18th Annual Geriatrics Conference - at Sunriver Resort, October 6-8, 2017. Our keynote speaker this year is John Abramson, MD, from Harvard Medical School. Other topics include Diabetes, Aging Eye, Substance Use Disorders, Geriatric Literature, Statin Use, Antipsychotics, Elder Abuse, Dementia, Adapting to Major Life Transitions Of Aging, Venous Leg Ulcers, Osteoporosis, Home-Based Primary Care, Lessons From Geriatric Practices Around The World, Oregon Advance Directives, Healthcare Policy, Environmental Design For The Aging, Mobility Devices And Bracing Considerations For Aging, and Nutrition. Lodging-Sunriver Resort. 1-800-547-3922. Reserve early! Sunriver Resort is located 16 miles south of Bend, OR. Mention the Oregon Geriatrics Society room block for your lodging. We encourage you to register online now (if you need a paper reg form, please email us).
REGISTER ONLINE: https://cmetracker.net/OHSU/Login?FormName=RegLoginLive&Eventid=33518
OREGON GERIATRICES SOCIETY INFORMATION: www.oregongeriatricssociety.org
---
Infectious Diseases Society of Oregon – Annual Meeting 2017
NOVEMBER 2, 2017 – SALEM CONVENTION CENTER
The Infectious Diseases Society of Oregon 27th Annual Meeting will be held November 2nd, at Salem Convention Center, Salem, OR. You can make your room reservations now by calling The Grand Hotel at 1-877-540-7800. Please mention the IDSO Meeting. General session topics include C. difficile Current Patient Care Guidelines, Rapid Diagnosis of Everything: The Lab Ain't What It Used To Be, Vaccine For HIV, Report From The State-Oregon – with several other topics being presented in afternoon breakouts and ending with Stump The Stars.
---
ACP Oregon Chapter – Scientific Meeting
NOVEMBER 2-4, 2017 - SALEM CONVENTION CENTER
The Oregon Chapter Scientific Meeting will be held November 2-4, at Salem Convention Center, Salem, OR. You can make your room reservations now by calling The Grand Hotel at 1-877-540-7800. Please mention the ACP meeting when making room reservations.
General session topics include Breast Density-Screening And Risk Assessment, Treatment of Insomnia, Opioid Use Disorders And Treatment, Perioperative Medicine, Wound Care, Bariatric Medicine Issues And Complications, Thieves Market-Great Case Solving, Transgender Patients-Strategies To Improve Care, COPD Management, Update In Hospital Medicine, Medical Reversal, Pharmacogenetics: Promise of Personalized Medicine, Fatty Liver, Thyroid Nodules, Update Management Systolic Heart Failure, Cancer Immunotherapy, and Ambulatory Medicine Update.
The Chapter Meeting showcases Resident & Medical Student Posters and Resident Oral Presentations on Thursday evening. Two full days of scientific presentations on Friday and Saturday. Enjoy networking at our annual Friday evening Chapter Reception & Trivia Game.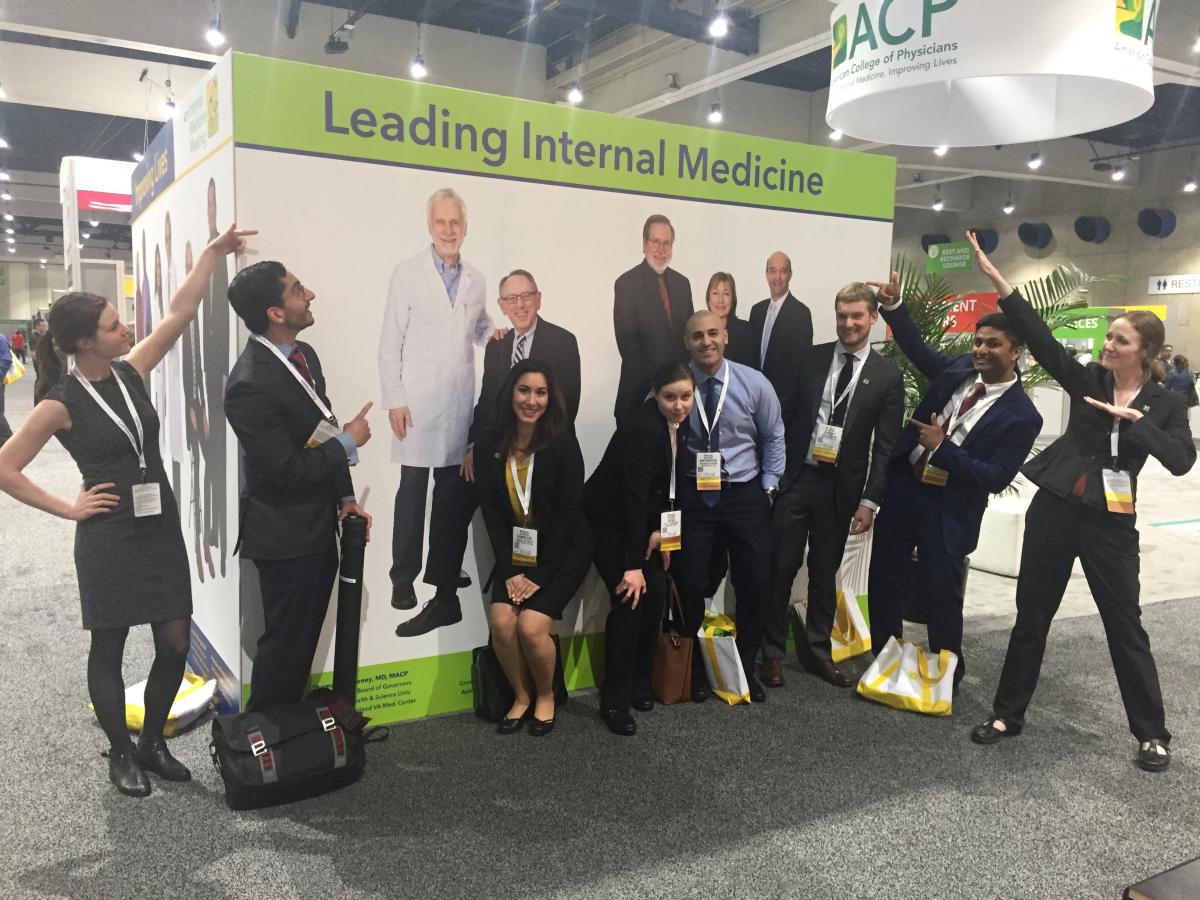 Follow this link to register online:
https://store.acponline.org/ebizatpro/ProductsServices/ACPEventsCalendar/MeetingDetails.aspx?productId=160652230
---
ACP MKSAP 17 Update Subscriber
The third of your four MKSAP 17 Updates is now ready for you to access online (you have purchased either MKSAP 17 Complete or MKSAP 17 Digital). Each Update provides at least 50 new multiple-choice questions that test your knowledge of recent changes and best practices in medicine and that allow you to earn up to 5 AMA PRA Category 1 Credits™ and or 5 MOC points. A maximum of 20 CME credits and MOC points are made available through all four updates between July 31, 2016, and January 15, 2021. If you have already created a username and password for ACP Online or MKSAP 17 Digital, you may log in at mksap17.acponline.org to access the third of the four MKSAP 17 Updates. If you do not have an ACP Online or MKSAP 17 Digital username, you may create one on the ACP website by going to store.acponline.org nd clicking on "Register" in the upper-right corner. Thank you for subscribing to MKSAP 17 Digital, which includes the Updates. You will receive another notification by email when the fourth Update is released in January 2018. We are delighted that you have placed your trust in the American College of Physicians and our flagship Medical Knowledge Self-Assessment Program to meet your medical education needs.
---
ACP Member Forums
We're happy to announce ACP Member Forums, formerly known as ACP Special Interest Groups.
The new Member Forums are fully integrated into our current ACP Online platform, meaning you'll no longer need to use a different login. Any member logged into ACP Online will already be logged into the Member Forums on their initial visit. ACP Member Forums allow you to instantly participate in whichever discussions you wish - no need to "join" specific groups. You can also subscribe to alerts to receive daily email digests showing new posts and linking you directly back into the discussions.
Clinical Topics : Forums covering a wide range of clinical topics and clinical practice issues like hospital medicine, high value care, and much more - must be logged in member to view
Community : Forums dedicated to specific communities of physicians like Women in Medicine and African American Physicians - must be logged in member to view
Education and Training : Forums related to medical education and training, including graduate medical education and continuous professional development - must be logged in member to view
Practice Issues : Forums related to a wide range of issues related to the practice of medicine like physician wellness, emerging value-based payment systems (MACRA/QPP), alternative practice models, health information technology, and more - must be logged in member to view
---
Oregon Geriatrics Society – Scholarship Program
ASSISTING STUDENTS, RESIDENTS, AND FELLOWS
IN GERIATRIC HEALTHCARE TRAINING
The Oregon Geriatrics Society Scholarship Program was established in 2010 to assist students, residents, and fellows in geriatric healthcare training, who have been selected to present a geriatric themed topic for poster or presentation at a national meeting. Funding for this program is provided from proceeds from an annual Silent Auction held in conjunction with the OGS Annual Conference. The OGS board of directors will determine the amount and number of scholarships distributed depending on funds available and number of applications received in a given year. Typically, we are able to cover travel and some miscellaneous expenses, for one to two scholarships per year. If you are a Student, Resident, or Fellow – we encourage you to apply for funding to assist with presenting your geriatrics-themed work at national meetings. Please find more information at the OGS website www.oregongeriatricssociety.org
---
Oregon Medical Association News

OMA Annual Conference | October 28, 2017
"Putting The Joy Back Into Medicine"
The OMA Annual Conference—formerly the Annual Meeting—is back, and this year we're bringing you a message of optimism! Join your OMA colleagues on October 28, 2017 at The Nines Hotel in Portland for this full day of motivating, high-energy speakers and breakout sessions that will remind you why you entered the practice of medicine. Community Engagement and Team Building; Advocating For Your Profession and Patients; Mentorship and Leadership; Provider Wellness and Resiliency; Narrative Medicine and Storytelling; Change Management.
For questions about this conference: editorial@theoma.org
Katie Dobler, Chief Operating Office, The Portland Clinic
Barry Egener, MD, Medical Director, The Foundation for Medical Excellence
Megan Furnari, MD, MS, Instructor of Pediatrics, Oregon Health & Science University
Carla McKelvey, MD, Medical Director, Coast Community Health Center
Sharon Meieran, MD, JD, Multnomah County Commissioner, District 1
Samuel Metz, MD, Oregon Anesthesiology Group
Jim Shames, MD, Medical Director, Jackson County Health & Human Services
Divya Sharma, MD, MS, Clinical Quality and Value Medical Director, Mosaic Medical
Elizabeth Lahti, MD, Oregon Health & Science University
Michael Tutty, PhD, American Medical Association
Robert Dannenhoffer, MD, Douglas Public Health Network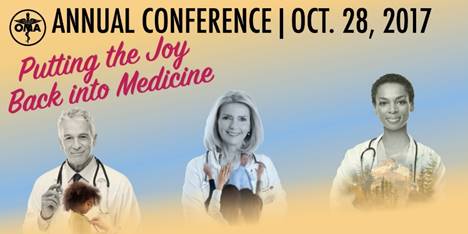 Breakfast, lunch and refreshments are included in your Annual Conference registration fee. Dinner options—not covered by the registration fee—include Urban Farmer, located in The Nines, or any of downtown Portland's excellent dining options. Parking not included in registration fee.
Evening OMEF Fundraiser Event with Dr. Lucy Kalanithi: For additional $40, lan to attend the Oregon Medical Education Foundation ' s evening fundraiser event featuring Dr. Lucy Kalanithi . Kalanathi was married to Dr. Paul Kalanithi, who detailed his struggle with Stage IV lung cancer in the New York Times bestseller When Breath Becomes Air. Dr. Lucy Kalanithi wrote the epilogue to her husband's memoir, and will deliver a message of hope in memory of her husband.
---
ACP Internal Medicine Meeting 2018
JOIN YOUR COLLEAGUES IN NEW ORLEANS, LOUISIANA

INTERNAL MEDICINE MEETING 2018
The American College of Physicians will host Internal Medicine Meeting 2018, the premier meeting for internal medicine, in beautiful and sunny New Orleans, LA April 19-21, 2018. Internal Medicine Meeting 2018 is the only meeting of its kind—combining clinical skills with over 200 scientific sessions to update your knowledge in all facets of internal medicine and the subspecialties. You will have the chance to refresh your internal medicine knowledge, sharpen your practice management skills, and network with the best and brightest physicians from around the globe. Also, be sure to get out and enjoy the merriment of New Orleans —a city rich with history and culture.
Don't forget—–Chapter Reception on Friday evening. Resident and Medical Student Posters!
For more information about Internal Medicine 2018 visit https://im2018.acponline.org/.
---
Fellowship in ACP
NEW – GUIDED FELLOWSHIP PROGRAM
Fellowship in the American College of Physicians is an honor. The FACP credential distinguishes internal medicine physicians from their peers and is recognition of accomplishments and achievements over and above the practice of medicine. The new ACP Guided Fellowship Program provides early career physicians with an opportunity to gain the experience and skills needed to attain Fellowship and lead in internal medicine. This three-year program will provide you with a framework toward meeting professional development goals, along with guidance and mentorship. You will be asked to document your progress toward achieving Fellowship, and ACP leaders will provide you with activity suggestions and advice for how to best succeed in this early part of your career.
Enroll Now The ACP Guided Fellowship Program will help you advance professionally while providing you with opportunities for deeper engagement within the internal medicine community. If you have any questions, please call us at 800-ACP-1915, direct at 215-351-2600 (M - F, 9 a.m. - 5 p.m. ET), or e-mail us at facp@acponline.org
---
Upcoming Events / Meetings/ Conferences
OHSU – Bedside Ultrasound Workshop (limited spots)
September 27, 2017
OHSU – Portland, OR
www.ohsu.edu/cme
OMA – Oregon Medical Association – Practice Management 101
September 28, 2017
OMEF Event Center – Portland, OR
www.theoma.org
OHSU – 12th Annual Regional Hospital Medicine Conference
September 28-29, 2017
World Trade Center, Portland, OR
www.ohsu.edu/cme
City Club of Portland Friday Forum – Addiction, Recovery & Public Policy With William Moyer
September 29, 2017. 12:15-1:15
Sentinel Hotel – Portland, OR
s@samuelmetz.com
OGS - Oregon Geriatrics Society – Annual Conference – Sunriver Resort, Sunriver, OR
October 6-8, 2017
October 5-7, 2018
October 4-6, 2019
360-892-1814
Oregon Rural Health Conference
October 18-20, 2017. Sunriver Resort – Sunriver, OR
October 3-5, 2018. Riverhouse – Bend, OR. October 2-4, 2019. Riverhouse – Bend, OR
www.ohsu.edu/xd/outreach/oregon-rural-health
OMA – Oregon Medical Association Annual Conference 'Putting The Joy Back Into Medicine"
October 28, 2017. Location TBD
www.theoma.org
ACP Oregon Chapter - Annual Scientific Meeting
November 2-4, 2017. Salem Convention Center – Salem, OR
https://www.acponline.org/about-acp/chapters-regions/united-states/oregon-chapter
IDSO – Infectious Diseases Society Of Oregon – Annual Conference
November 2, 2017. Salem Conference Center – Salem, OR
Stephanie.munoz@providence.org
OHSU – 49th Annual Primary Care Review
February 12-16, 2018
Sentinel Hotel – Portland, OR
www.ohsu.edu/cme
OHSU – 2nd Annual Mental Health: Challenges & Treatment In Adult Primary Care
March 16, 2018. Sentinel Hotel – Portland, OR
www.ohsu.edu/cme
OHSU – 25th Annual Internal Medicine Review
April 19-20, 2018. Sentinel Hotel – Portland, OR
www.ohsu.edu/cme
American College of Physicians – Internal Medicine Meeting
April 19-21, 2018. New Orleans, LA
OHSU – Sommer Memorial Lectures & OHSU Alumni Scientific Sessions
May 10-11, 2018. Multnomah Athletic Club – Portland, OR
www.ohsu.edu/cme
ACP Oregon Chapter – Annual Scientific Meeting
November 8-10, 2018. Salem Conference Center
ttps://www.acponline.org/about-acp/chapters-regions/united-states/oregon-chapter
American College of Physicians – Internal Medicine Meeting
April 11-13, 2019. Philadelphia, PA
ACP Oregon Chapter – Annual Scientific Meeting
November 7-9, 2019. Salem Convention Center – Salem, OR
https://www.acponline.org/about-acp/chapters-regions/united-states/oregon-chapter
American College of Physicians – Internal Medicine Meeting
April 23-25, 2020. Los Angeles, CA
ACP Oregon Chapter - Annual Scientific Meeting
November 5-7, 2020. Salem Convention Center – Salem, OR
ttps://www.acponline.org/about-acp/chapters-regions/united-states/oregon-chapter