You are here
Oregon Governor's Newsletter May 2017
Oregon Governor's Newsletter May 2017

---
---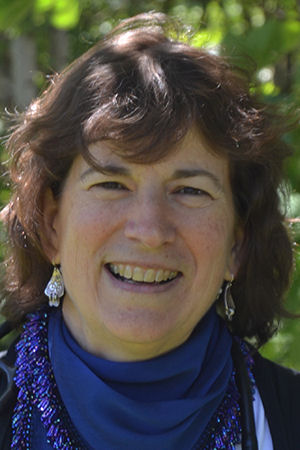 Marianne C. Parshley, MD, MACP, ACP Governor
---
Governor's Welcome
As your new Governor, I wanted to introduce myself to those in our Chapter whom I have not yet met. I grew up in Portland, leaving for 8 years of school in New Hampshire (just as green but much colder in winter), and returning for residency at Providence Medical Center. We chose to stay and raise our kids here in Oregon because my Chicago born husband agreed this is absolutely the best region in the country. We are on a campaign to get our 3 daughters to stay nearby in the Pacific Northwest. I still find joy in exploring new places in the Northwest by bike, trail, and, occasionally, car.
At work, I have practiced General Internal Medicine as an employed physician in Providence Medical Group in Portland since 1992, though I started 5 years earlier in private practice. I did a combination of inpatient and outpatient medicine until 2004 when we had to choose and since then I have concentrated on outpatient medicine. So I have seen both sides of the employed/independent and the inpatient/outpatient realms. I look forward to meeting as many of you over the next 4 years and hearing how our Chapter can better serve you in all the diversity of practices, locations and career pathways across the state.
---
Congrats To New Chair of the ACP Board of Governors
First, it is my absolute pleasure to congratulate our very own Tom Cooney, MD, MACP, as he begins his new position as Chair of ACP's Board of Governors. Tom was elected to this position by his colleagues on the Board of Governors of the College for his thoughtful, inclusive and supportive leadership during his four years as Governor. As Chair of the Board of Governors, Tom will lead the Board of Governors and sit on the Board of Regents, thus continuing to represent all of us in our Chapter and all ACP members across the country. Thanks Tom! ACP and our Chapter are fortunate in your election.
---
ACP IM 2017
The 2017 Internal Medicine Meeting was held in San Diego—under sunny blue skies which was a welcome respite for those of us able to attend after the rainiest February and March in decades, not to mention the recurrent ice and snow all over Oregon. For me, as I suspect you, it was a blessing to be able to get out and walk without an umbrella or snow gear!
---
Patients Before Paperwork
While in San Diego at the 2017 Internal Medicine Meeting, as part of its Patients Before Paperwork and Physician Wellness initiatives, several panels presented the work being done by the College to address a number of areas identified as challenges which sap the joy and satisfaction in the day-to-day practice of medicine. Coinciding with IM 2017, the Annals published a new ACP Policy Paper: Putting Patients First, Reducing Administrative Tasks which presents a framework to analyze administrative tasks and determine whether tasks may need to be challenged, revised or eliminated entirely. It's worth reading.
---
New Master and Fellows
This year while in San Diego at 2017 Internal Medicine Meeting, we celebrated a new Master of the College, Heidi Nelson, MD, MPH, MACP, Research Professor, Vice Chair of Medical Informatics and Clinical Epidemiology, and Director of Scholarly Projects at OHSU, as well as Medical Director of Cancer Prevention and Screening in Providence Health System.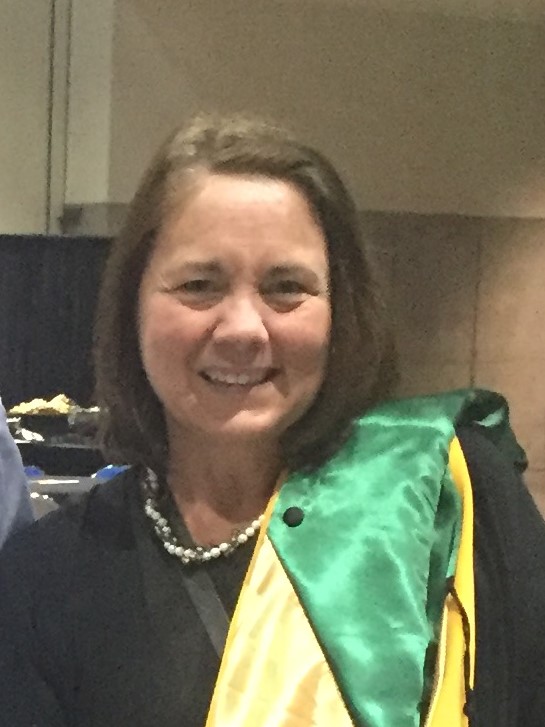 We also celebrated four new Fellows of the College Renee Dversal, MD, FACP; Linda Hungerford, MD, FACP; Prasanna Krisgnasamy, MBBS, FACP; and and Eduardo Vides, MD, FACP.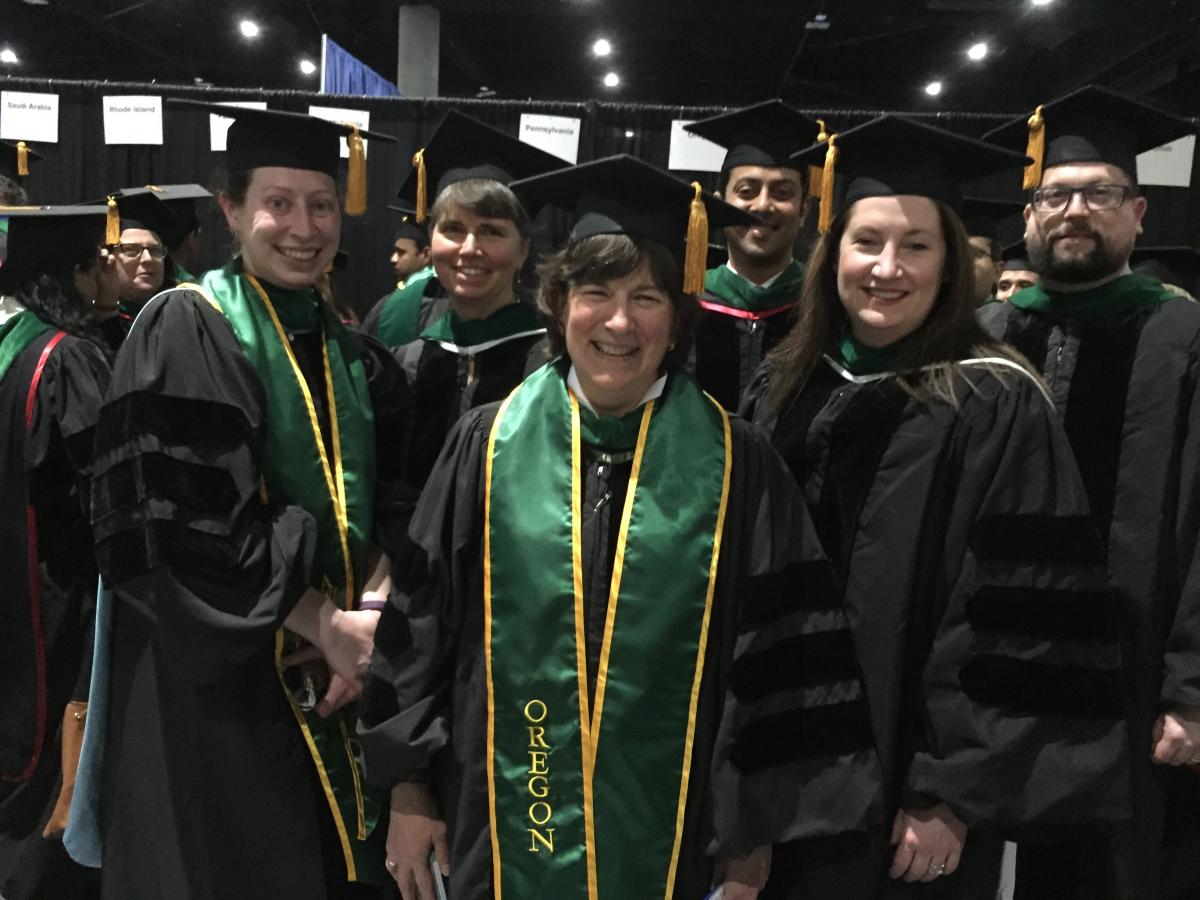 Pictured left to right: Avital O'Glasser, MD, FACP; Linda Hungerford, MD, FACP; Marianne Parshley, MD, FACP; Prasanna Krisgnasamy, MBBS, FACP; Eduardo Vides, MD, FACP.
---
2017 Herbert S. Waxman Chief Resident Teaching Scholarships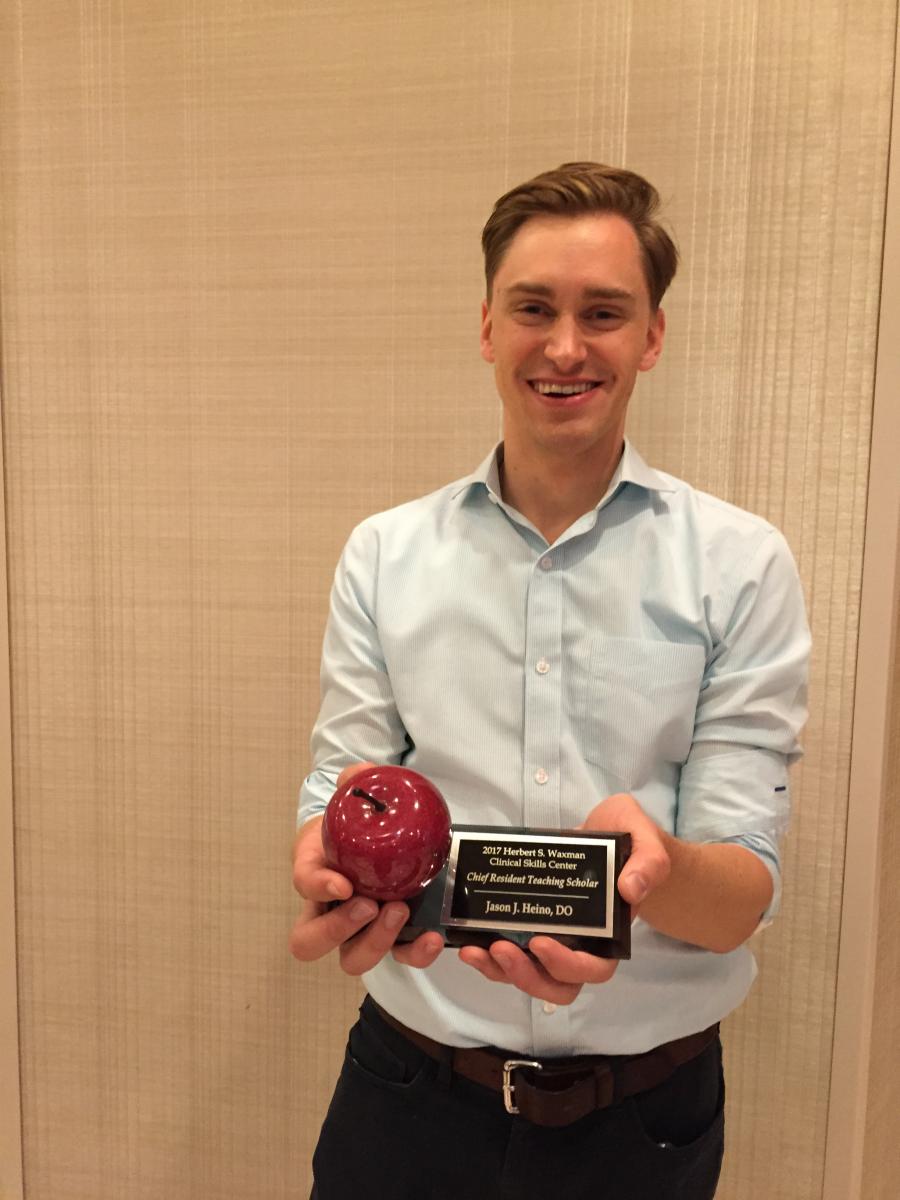 Our own Jason Heino, DO, Chief Resident at Providence St. Vincent Medical Center, was one of six residents as winners of the Herbert S. Waxman Chief Resident Teaching Scholarships. Established in 2014, the scholarships recognize outstanding chief medical residents and provide them opportunity to help teach popular clinical skills workshops under the guidance and mentorship of expert faculty at the ACP Annual Scientific Meeting. The Herbert S. Waxman Clinical Skills Center is a collection of activities offering physicians hands-on learning and simulation models focusing on office-based procedures, examination skills, and assessment and interpretation skills.
---
Residents and Early-Career Physician Present Posters at IM17
At the 2017 ACP Internal Medicine Meeting in San Diego we had a great group of residents from our Oregon Chapter Council of Residents and Fellows (CORF). As well, we had an Oregon Early Career Physician participating in the new E-Posters Competition.
Resident Posters:
Quality Improve:Suvi Neukam, MD (OHSU)
High Value Care:Bethany Roy, MD (OHSU)
Research Clinical:Kathy Wunderle, MD (OHSU), Christa Slaught, MD (Providence-St. Vincent)
Clinical Vignette: Jeffrey Bien, MD (OHSU), Hayden Oldham, MD (OHSU)
Early Career Physician E-Posters:
Clinical Vignette: Gita Gelfer, DO (Providence-Portland)
---
Doctor's Dilemma – Oregon Chapter Team 2017
Our Oregon Chapter Team found themselves in a hotly contested elimination round which was lost only at the buzzer with an outside shot. Representing Oregon for our Doctor's Dilemma Team: Andrew Dworkin, MD (Legacy), Evie Hobbs, MD (OHSU), and Jean Liew, MD (OHSU)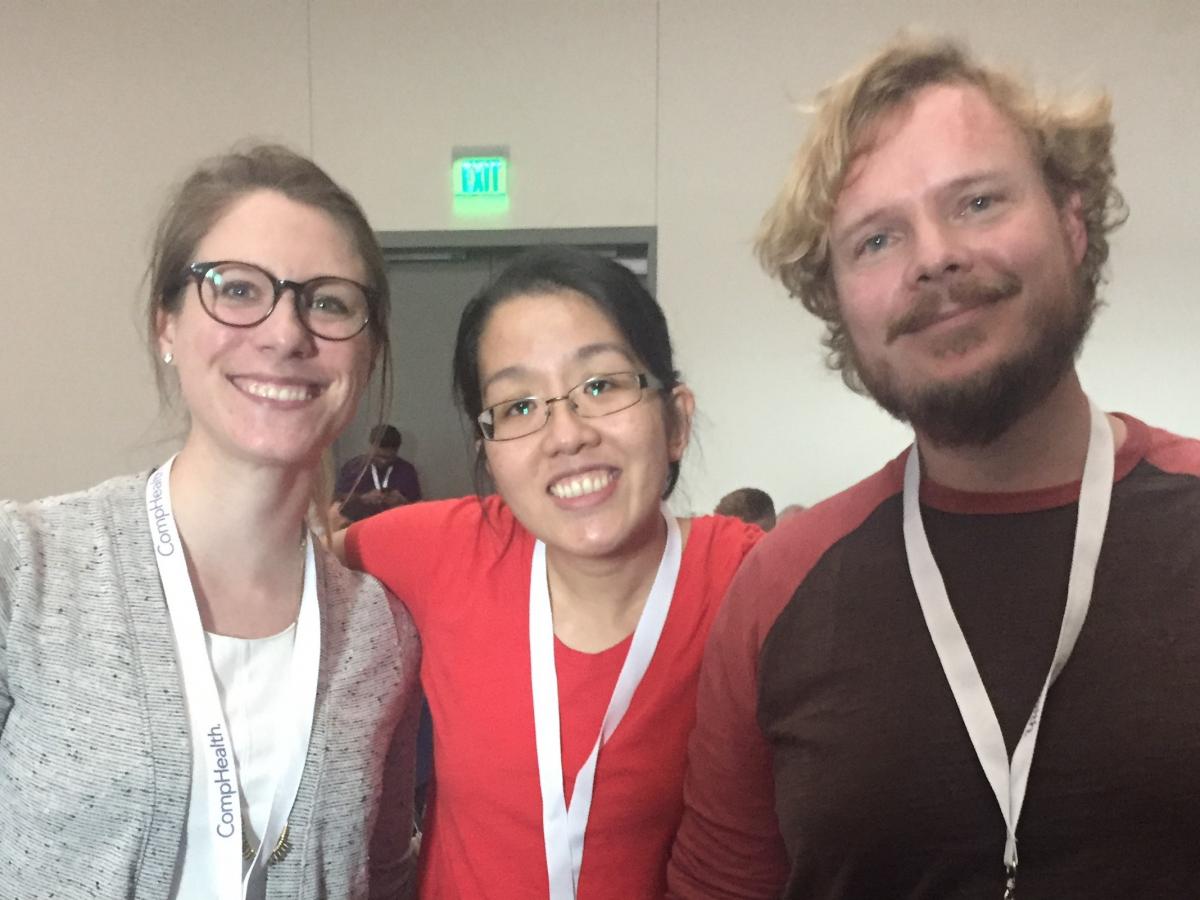 Pictured (left to right): Evie Hobbs, Jean Liew, Andy Dworkin.
---
Medical Students Posters and Oral Presentations at IM17
Seven OHSU medical students presented scholarship work during the ACP Internal Medicine Meeting. Thanks to mentorship from faculty members and an emphasis on professional development in the Internal Medicine Interest Group, this is the highest number of OHSU students participating in recent memory.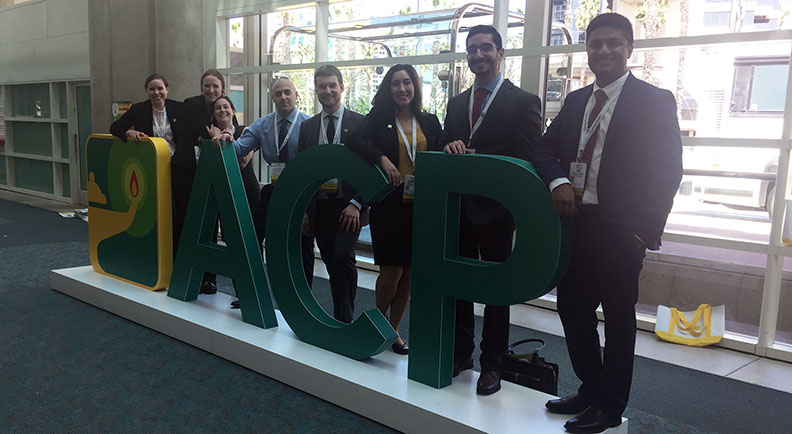 Pictured (left to right): Julia Armendariz, Sarah Shangraw, Kathleen Shangraw, Antonious Hazim, Josiah Brown, Camellia Dalai, Vahid Azimi and Neil Mistry (photo credit: O'Glasser).
Avital O'Glasser, MD, FACP, IMIG Mentor, said "Professional development on the national stage begins locally. Students in the Internal Medicine Interest Group, led by Susan Lou, MD, '15, developed an "abstracts 101" session three years ago, which has proven fruitful for increasing participation in ACP meetings. Historically, about five to six students would present posters at the Oregon ACP Chapter meeting - that number has been 15 or 16 in recent years. Oregon ACP has spent the last three years ramping up support for student scholarship, and it was absolutely wonderful to see projects result in so many presentations. Participating in a national conference attended by thousands of internists gives students a unique opportunity early in their own professional development. The benefits of a successful presentation extend far beyond having an item on a CV or residency application—we know that the benefits of a productive mentorship relationship that develops over the course of working on a project can be innumerable and sometimes intangible. It's a joy and a privilege to get to work with students in this capacity".
Student Posters:
Clinical Vignette:Camellia Dalai (OHSU) and Julia Armendariz (OHSU), Josiah Brown (OHSU) and Antonious Hazim (OHSU)
Quality Improve: Sarah Shangraw (OHSU)
Research Basic: Vahid Azimi (OHSU)
Student Oral Presentations:
Oral Competition: Neil Mistry (OHSU)
Neil Mistry, was one of 10 students chosen to make an oral clinical presentation. Neil's presentation was entitled, "Failure to Thrive in the Elderly; 'C-ing' Past the Fog".
---
Health and Public Policy
This year, the IM2017 Meeting coincided with 'interesting' times in Health Policy, as over the past two + months healthcare has been front and center in the national psyche and debate. Just before IM 2017, Friday the 24th of March, Speaker Ryan pulled the first attempt at an AHCA bill which had a popularity rating of only 17% and about which congressional representatives indicated their constituent messaging was a 47:1 against.
In the aftermath, at IM2017, we had the opportunity to hear the principles and background behind ACPs positions on healthcare reform and the ongoing advocacy work from VP of governmental Affairs Bob Doherty (@Bob_DohertyACP ), including ACP's collaboration with the AAFP, AAP, ACOG and AOA (over 500,000 physicians in total) in urging Congress to find a way forward on healthcare reform that insures access to care, preserves critical patient protections, retains the expansion of Medicaid and keeps the cost of coverage affordable. ACPs continued advocacy in subsequent weeks has been based upon these principles.
However, as of Thursday, May 4th, the House succeeded in passing an amended bill over the objections of hospital, insurer, physician and patient groups representing the majority of healthcare stakeholders. After adding additional reductions in Medicaid coverage, removing the guarantees for patients with preexisting conditions and allowing states to waive the mandate for covering the ten essential health services required by the ACA, the House voted 217-213 in favor.
Now it is up to the Senate, and ACP's advocacy work to protect patients.
---
Climate Change
One of my favorite sessions this year at IM2017 was one by a panel led by outgoing ACP President Nitin Damle, MD, MS, MACP on the health impact of Climate Change who gave a great overview on the science of climate change and many of the health impacts we are seeing now and will see in the near future. He was joined on the panel by Linda Rudolph MD, MPH and Bob Inglis, Executive Director of RepubliEn.org former Republican Representative from Greenville, South Carolina from 1993-1998 and 2004-2010, who gave impassioned calls to both reduce our carbon footprint in healthcare, and to advocate for continuing to participate in the Paris Climate Agreement and build on it by reaching out to both our progressive and our conservative colleagues. For more info on ACP's position on Health and Climate Change and practical suggestions:
---
Oregon Legislative Session
Bills to watch:
HB 2114 7-Day prescription limit for opioids: amended to meet CDC guidelines.
HB 2130 Safe storage.
HB 2527 Expansion of oral contraceptives at pharmacy.
HB 3135 Long Acting Reversible Contraception after delivery.
HB 3262 Psychotropic medications.
HB 3355 Psychologist prescriptive authority - would allow psychologists to prescribe.
HB 3391 Requires health benefit plan coverage of specified health care services, drugs, devices, products and procedures related to reproductive health.
SB754 Increase age for buying tobacco products from 18 to 21.
SB 797 Charleston Loophole and Domestic Violence protection.
SB 868 Extreme Risk Protective Order.
SB 951 Opioids.
SB 1008 Reduce diesel emissions.
---
Oregon Chapter ACP – 2017 Awards Program
The Oregon Chapter ACP Awards Committee is soliciting nominations for Chapter Awards. If you know of ACP members or colleagues deserving of recognition for their excellence and distinguished contributions, please take a few minutes to recommend them now. Awards will be presented at the Oregon ACP Chapter Scientific Meeting in Salem, OR, November 2-4, 2017.
Howard P. Lewis Distinguished Teacher Award – recognizes outstanding achievements in teaching. Nominees have been internists though not necessarily members of ACP.
Howard P. Lewis Distinguished Service Award – recognizes outstanding achievement in service. Nominees have been neither internists nor physicians and the service for which they were recognized was not necessarily related to the Chapter or ACP directly.
Laureate Award – recognizes those who have demonstrated an abiding commitment to excellence over an extended period of time and have served with distinction in some clearly definable manner. Nominees must be a Fellow or Master in ACP.
Outstanding Early Career Physician Award – recognizes outstanding clinical skills in internal medicine, highly respected by peers, and role model in the community. Nominees can be no more than 16 years out from medical school graduation and must be either Members or Fellows of ACP.
Please identify nominees for specific awards and include a brief background/biosketch regarding the candidate's qualifications. Please forward your nominations by May 30, 2017, to:
Anne Hirsch, MD, FACP - Chair, Awards Committee – amhirsch@comcast.net
or Mary Olhausen, Chapter Executive Director – omary52@comcast.net
Thank you very much for your support of the Chapter and your colleagues.Anne Hirsch, MD, FACP - Oregon Chapter ACP Awards Committee Chair
---
ACP Membership – Residents at End of Training
Trainees—Congratulations on nearing the end of your residency!! As you begin the next phase of your career make sure you continue membership in ACP to make ACP your professional home. ACP is offering you a special dues rate for your membership starting immediately and remaining active through June 30, 2018.
Entering Practice: Pay $144 and you'll be elected as a full ACP Member in July 2017. This is a discount of $116 off the regular full member price.
Continuing In A Fellowship: Pay $119 and continue your Resident/Fellow membership.
Receive all the benefits of a full ACP membership at these special rates. To take part in theses specials, use this link to continue membership uninterrupted. Benefits include Advocacy, Education, and Professional Development. Be a part of the world's leading internal medicine community. Stay connected to resources and developments in internal medicine. You can reach national ACP also by phone: 1-800-523-1546; 215-351-2400.
---
Point-of-Care & General Medicine Ultrasound Conference

As the use of ultrasound in point-of-care and general medicine settings continues to grow, so does the need for high-quality training and education. To meet this need, the American Institute of Ultrasound in Medicine (AIUM) has joined with Oregon Health & Science University (OHSU), the American College of Physicians (ACP), and the Society of Ultrasound in Medical Education (SUSME) to present the Point-of-Care & General Medicine Ultrasound course in Portland, Oregon.

This course is designed to cover those topics of critical need in these settings. This course will use live demonstrations, simulations and didactic lectures to provide a comprehensive and in-depth look at how and where medical ultrasound can effectively be used in point-of-care and general medicine settings. The faculty has created an event that focuses on learning through the observation-practice-feedback model. We will ensure that you come away from the course with a well-founded grounding in the basic techniques including focused cardiac, lung, abdomen, DVT, MSK/soft tissue, & procedural ultrasound, and that these techniques lay the foundation for a safe and effective ultrasound practice. The AIUM designates this live activity for a maximum of 14 AMA PRA Category 1 Credits™. Physicians should claim only the credit commensurate with the extent of their participation in the activity. Earn up to 14 AMA PRA Category 1 Credits™ (accepted by ARDMS) or 14 ARRT Category A Credits. The AIUM is accredited by the Accreditation Council for Continuing Medical Education (ACCME) to provide CME activities for physicians. For more information, contact Program Directors: Renee Dversdal, MD, FACP or Catherine Erickson, MD .
---
Infectious Diseases Society of Oregon – Annual Meeting 2017
The Infectious Diseases Society of Oregon 27th Annual Meeting will be held November 2, at Salem Conference Center, Salem, OR. You can make your room reservations now by calling The Grand Hotel at 1-877-540-7800. Please mention the IDSO Meeting. General session topics include C. difficile Current Patient Care Guidelines, Rapid Diagnosis of Everything: The Lab Ain't What It Used To Be, Vaccine For HIV, Report From The State-Oregon – with several other topics being presented in afternoon breakouts and ending with Stump The Stars.
---
ACP Oregon Chapter – Scientific Meeting 2017
The Oregon Chapter Scientific Meeting will be held November 2-4, at Salem Conference Center, Salem, OR. You can make your room reservations now by calling The Grand Hotel at 1-877-540-7800. Please mention the ACP meeting when making room reservations.
General session topics include Breast Density-Screening And Risk Assessment, Treatment of Insomnia, Opioid Use Disorders And Treatment, Perioperative Medicine, Wound Care, Bariatric Medicine Issues And Complications, Thieves Market-Great Case Solving, Transgender Patients-Strategies To Improve Care, COPD Management, Update In Hospital Medicine, Medical Reversal, Pharmacogenetics: Promise of Personalized Medicine, Fatty Liver, Thyroid Nodules, Update Management Systolic Heart Failure, Cancer Immunotherapy, and Ambulatory Medicine Update.
The Chapter Meeting showcases Resident & Medical Student Posters and six Resident Oral Presentations on Thursday evening. Two full days of scientific presentations on Friday and Saturday. Enjoy networking at our annual Friday evening Chapter Reception & Trivia Game.
---
ACP Internal Medicine 2018 – New Orleans, LA

Join your colleagues in New Orleans for the Internal Medicine Meeting 2018 . April 19-21. New Orleans is the birthplace of jazz, home to Creole cuisine and rich with history and culture. The "Big Easy" has charm and lots of venues and attractions are within easy walking distance. Register for Internal Medicine Meeting 2018 by July 15, 2017, and you will be entered into a drawing for a chance to win one free registration and two free roundtrip airline tickets. Odds of winning depend on number of registrations received by that date. United Airlines is the official carrier of the ACP and airline tickets issued will be from United Airlines (no cash value implied). 1-800-ACP-1915.
---
Chapter Twitter Account
Check out our new Twitter account @OregonACP for chapter and national ACP related news, including highlights of policy and advocacy work at the National ACP level, as well as photos of chapter activities and news about chapter members.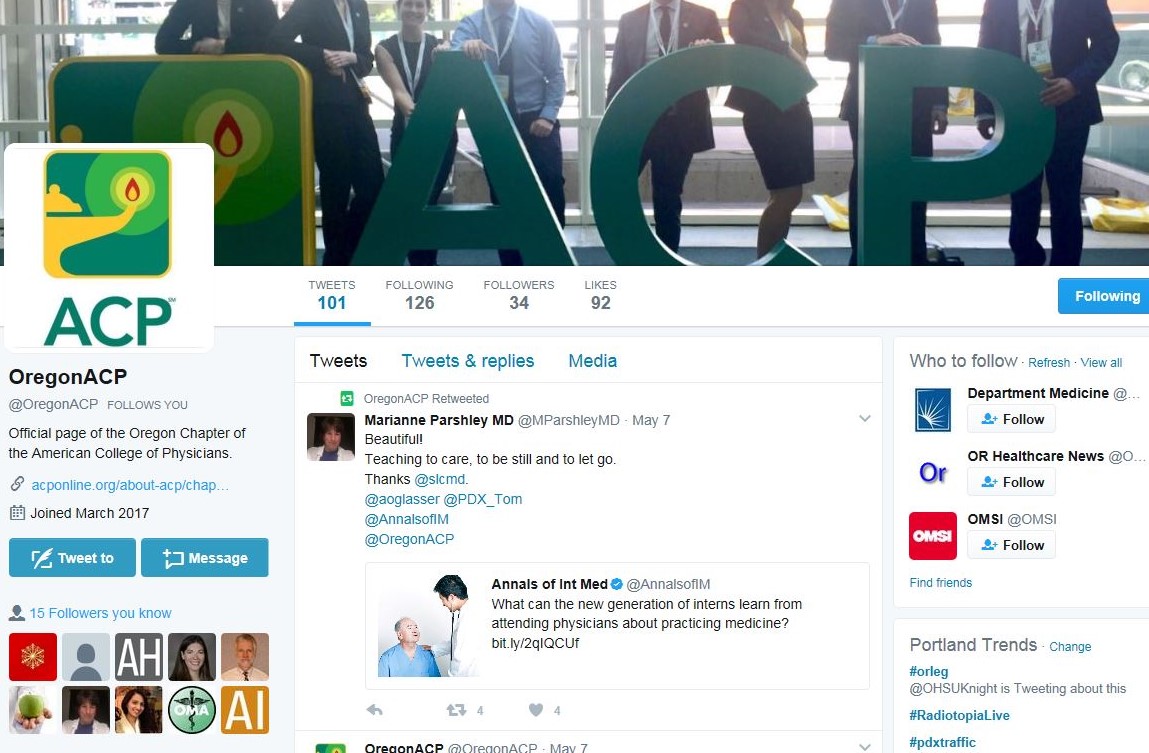 ---
Upcoming Events / Meetings / Conferences
Oregon Health Forum – Mental Health-Can Counties And CCO's Work For Better Mental Health?
May 31, 2017. 7:00-9:00am. Multnomah Athletic Club – Portland, OR
Website

OHSU – Oregon Health & Science University Infectious Disease For The Non-Specialist
June 1-2, 2017. Salem Convention Center – Salem, OR
Website

ACP Oregon Chapter - Council of Residents & Fellows (CORF) Event
June 6, 2017. Lucky Lab NW – Portland, OR
Need to RSVP. Omary52@comcast.net

Oregon Health Forum – Unintended Consequences Of Cannabis Legalization
June 15, 2017. 7:00-9:00am. Multnomah Athletic Club – Portland, OR
Website

Musculoskeletal Update for Primary Care-3rd Annual
June 15-16, 2017. Sentinel Hotel, Portland Oregon

OMA – Oregon Medical Association – The Oregon MACRA Playbook Conference
June 22, 2017. Sentinel Hotel – Portland, OR
Website

OMA – Oregon Medical Association – Practice Roundtable
July 20, 2017. OMA Bldg – Portland, OR
Website

ACP & OHSU - Point of Care & General Medicine Ultrasound Conference
July 22-23, 2017. OHSU – Portland, OR. Sponsored By: American College of Physicians (ACP), Society of Ultrasound In Medical Education (SUSME), Oregon Health & Science University (OHSU),and American Institute Of Ultrasound In Medicine (AIUM)
Website

Ashland Endocrine Conference
August 3-5, 2017. Ashland Hills Hotel & Suites, Ashland, OR

Regional Hospital Medicine Conference-12th Annual
September 28-29, 2017. World Trade Center, Portland, OR

OGS - Oregon Geriatrics Society – Annual Conference –
Sunriver Resort, Sunriver, OR
October 6-8, 2017
October 5-7, 2018
October 4-6, 2019
Website 360-892-1814

Oregon Rural Health Conference
October 18-20, 2017. Sunriver Resort – Sunriver, OR
October 3-5, 2018. Riverhouse – Bend, OR
October 2-4, 2019. Riverhouse – Bend, OR
Website

OMA – Oregon Medical Association Annual Conference 'Putting The Joy Back Into Medicine"
October 28, 2017. Location TBD.
Website
ACP Oregon Chapter - Annual Scientific Meeting
November 2-4, 2017. Salem Conference Center
Website

American College of Physicians – Internal Medicine Meeting
April 19-21, 2018. New Orleans, LA
Website

ACP Oregon Chapter – Annual Scientific Meeting
November 8-10, 2018. Salem Conference Center, Salem, OR

American College of Physicians – Internal Medicine Meeting
April 11-13, 2019. Philadelphia, PA

IDSO – Infectious Diseases Society Of Oregon – Annual Conference
November 2, 2017. Salem Conference Center – Salem, OR
Stephanie.munoz@providence.org

ACP Oregon Chapter – Annual Scientific Meeting
November 3-5, 2019. Salem Conference Center, Salem, OR

American College of Physicians – Internal Medicine Meeting
April 23-25, 2020. Los Angeles, CA

ACP Oregon Chapter - Annual Scientific Meeting
November 5-7, 2020. Salem Conference Center, Salem OR