The Chapter Centennial Legacy Award celebrates ACP's centennial by recognizing one seminal chapter member whose service to the chapter had a significant impact on the chapter's viability. This individual should exemplify ACP's core values including:

Leadership
Excellence
Respect
Compassion
Professionalism
Responsibility
Read about the state awardee and join us in congratulating him.
---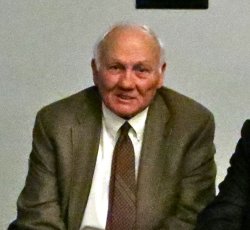 Boyd Shook MD, MACP, is the Oklahoma ACP Chapter nomination for the Chapter Legacy Centennial Award. Our nomination committee met and has unanimously selected Dr. Shook as our candidate. Dr. Shook was selected as Internal Medicine Physician of the year in 1996 and was awarded the Laureate Award in 1999. He has led our state as President of the Oklahoma Society of Internal Medicine (OSIM) 1981-1982. On the national level, Dr. Shook served as President of the American Society of Internal Medicine. He was awarded the ACP Oscar E. Edwards Memorial Award for Volunteerism and Community Service in 2000 and ACP Mastership in 2004.
More about the Chapter Centennial Legacy Award:
Award Booklet - full listing of winners
Press Release Template - for Chapter use