The Chapter Centennial Legacy Award celebrates ACP's centennial by recognizing one seminal chapter member whose service to the chapter had a significant impact on the chapter's viability. This individual should exemplify ACP's core values including:

Leadership
Excellence
Respect
Compassion
Professionalism
Responsibility
Read about the state awardee and join us in congratulating him.
---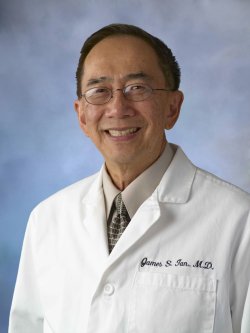 The Awards Committee of the Ohio Chapter of the American College of Physicians nominates James S. Tan, MD, MACP, FIDSA, FCCP for the Chapter Centennial Legacy Award.
Dr. Tan embodied each of the core values of the American College of Physicians. His service to the Chapter and College was vital to the early viability of the Chapter. His involvement in the ACP revolved around education and as Dr. Greg Rouan, current Ohio Chapter Governor recalls after returning to Ohio from his fellowship, "It was as under Jim Tan's tutelage as Chair of the Associates' Committee that we established clinical vignette and oral presentation competitions. These became and remain pivotal roles at our meetings." Between 1994-2005, Dr. Tan served 6 years as Governor and Interim Governor and was also awarded the Chapter Laureate Award and Master Teacher Award, the only physician in our Chapter who has been awarded both. His leadership of the Chapter emphasized resident and student education and membership. Not limited to Chapter functions, he also served on the National Program Committee and Credentials Subcommittee, was awarded Mastership in 2000, and edited the 1st and 2nd Editions of ACP's Expert Guide to Infectious Diseases. No other Chapter member has represented ACP's values with such spirit and consistency.
More about the Chapter Centennial Legacy Award:
Award Booklet - full listing of winners
Press Release Template - for Chapter use