You are here
North Dakota Governor's Newsletter October 2017
North Dakota Governor's Newsletter October 2017

---
---

Neville M. Alberto, MD, FACP, ACP Governor
Dear Colleagues,
It is my privilege to keep you posted on the college activities:
The ACP North Dakota Chapter held a successful Scientific Meeting on September 21-22, 2017. This live activity was designated for 6.0 category 1 AMA CME and MOC credits. This meeting helped the 42 attendees gain insight into recent medical advances, discuss local and national issues affecting the practice and teaching of Internal Medicine, greet old / make new friends and develop a collegial network in our area and workplace.
---
Chapter Meeting Highlights
Poster Competition
University of North Dakota Medical Students (15) and Internal Medicine Residents (5) presented a total of 20 posters in the two categories of Research (6) and Clinical Vignettes (14). The competition was held in the atrium of the Veterans Administration - UND Medical Education Center from 1:00-5:00 pm on September 21, 2017.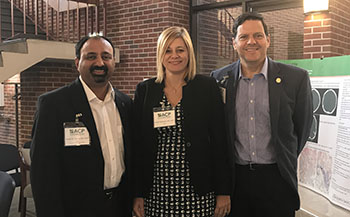 Left to Right: Dr. Neville Alberto, Governor of the ACP North Dakota Chapter, and Drs. Giselle Rodriguez and Nestor Sosa at the ACP North Dakota Chapter meeting.
Nestor Sosa, MD, FACP – Governor, ACP Central America Chapter and Giselle Rodriguez, MD, FACP were the judges and helped choose a winner in each of the two categories. Both winners are eligible to present their posters at the ACP Internal Medicine Meeting 2018 in New Orleans, LA to be held April 19-21, 2018. The runner-up was chosen in case the winner is unable to attend the national meeting. The following participants were declared the winners:
Research
Winner – Brett Johnson, MS2: "Effects of a Novel CYP3A4 Single-Nucleotide Polymorphism on Tacrolimus Pharmacokinetics in African American Kidney Transplant Patients"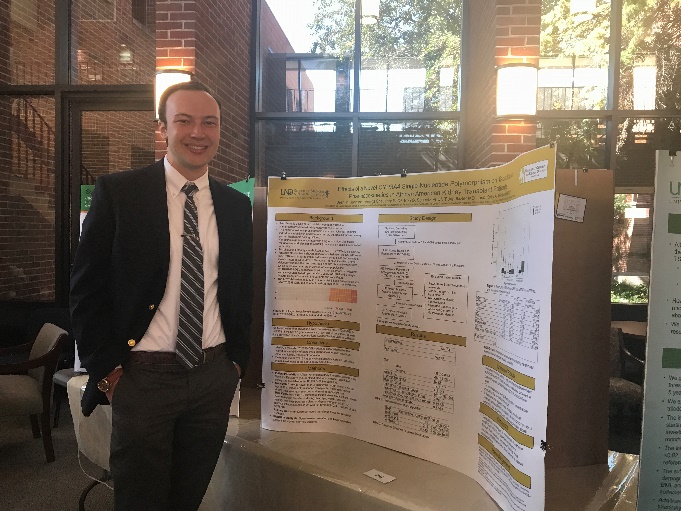 Runner up – Benjamin Prout, MS2: "Risk of ventriculostomy-related hemorrhage in patients with acutely ruptured aneurysms treated using stent-assisted coiling"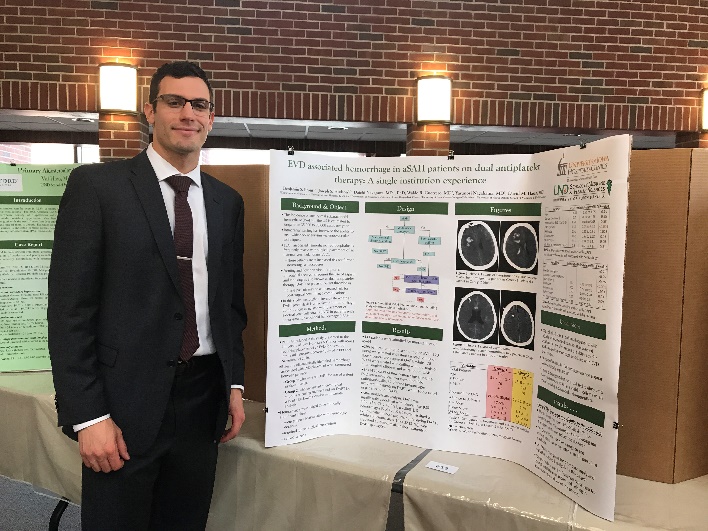 Clinical Vignette
Winner – Mahammad Khan Suheb, PGY3: "Highly rare cause of refractory lactic acidosis with a fatal outcome."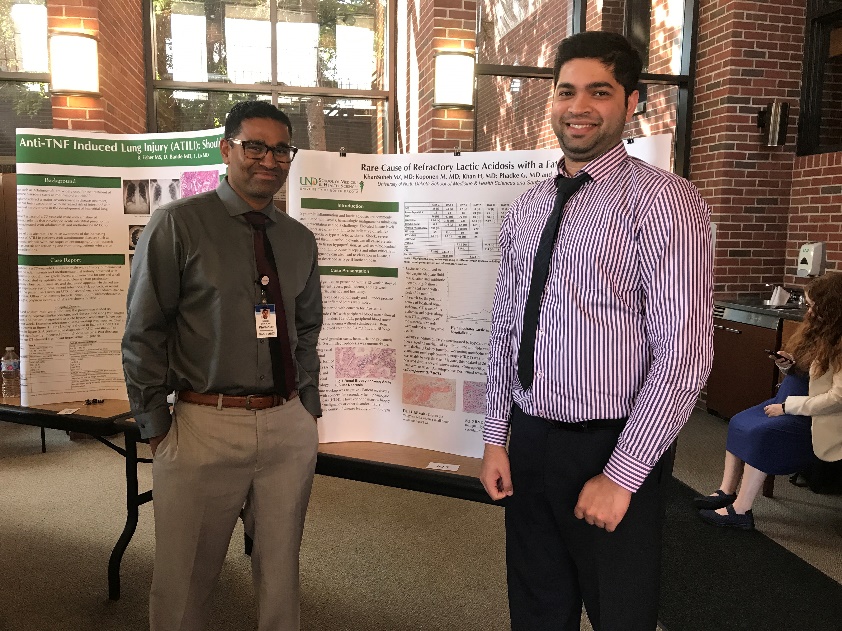 Runner up – Jace Kusler, MS3: "Syphilitic Osteomyelitis"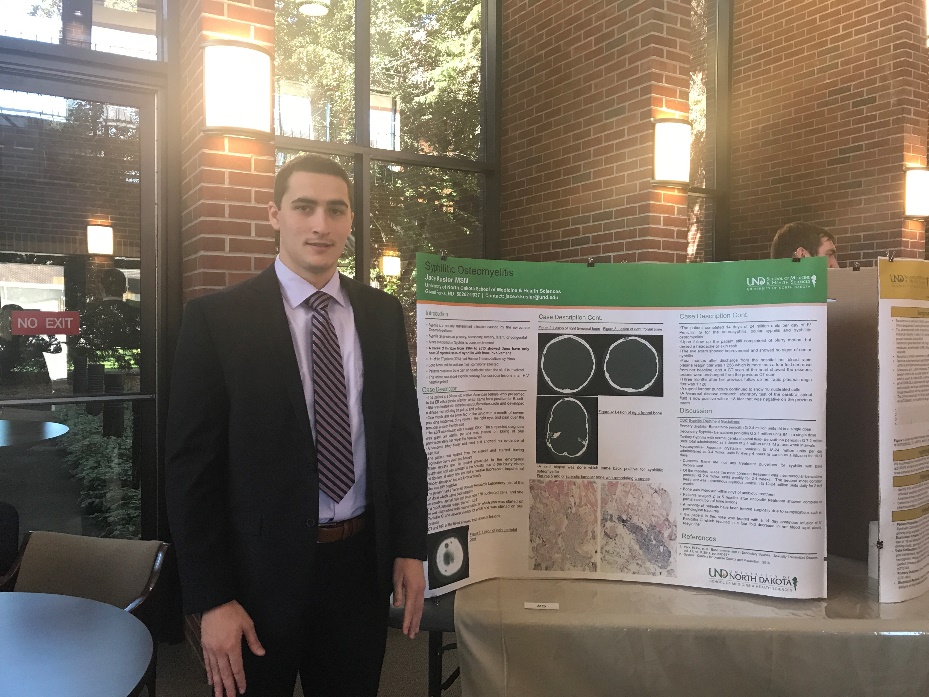 Congratulations to the winners!
Scientific Meeting
This activity was held at the Hilton Garden Inn in Fargo, ND on Friday, September 22, 2017 from 7:30 am – 4:00 pm.
Neville Alberto, MD, FACP and Dinesh Bande, MD, FACP were the moderators for this educational activity, which included eleven distinguished Faculty who presented on a wide range of topics relevant to the practice of medicine and the learning and work environment.
---
2016 Chapter Excellence Award
We are pleased to announce that our chapter is in receipt of the 2016 Chapter Excellence Award. Robert Tight, MD, FACP, Past North Dakota Chapter Governor (1994 -1999), made the presentation during the luncheon hour. The Chapter Excellence Award recognizes those chapters that excel in reaching the standards for managing a chapter, such as communicating to members, instituting Medical Students and Resident/Fellow Members activities and advancing and recruiting members.
---
Fall 2017 Board of Governors Meeting
I had the opportunity and privilege to attend and participate in the recently concluded ACP Board of Governor's fall meeting in Montreal, Canada where in addition to resolutions, the following topics were presented and discussed:
- The History of Annals and the Future of Medical Journals
- Reversal in Medical Research
- Truth or Truthiness: Challenges to Medical Journalism
- What can you do to promote Well-Being and Professional Satisfaction at the Chapter Level?
- Online Learning, MOC and MKSAP Tracker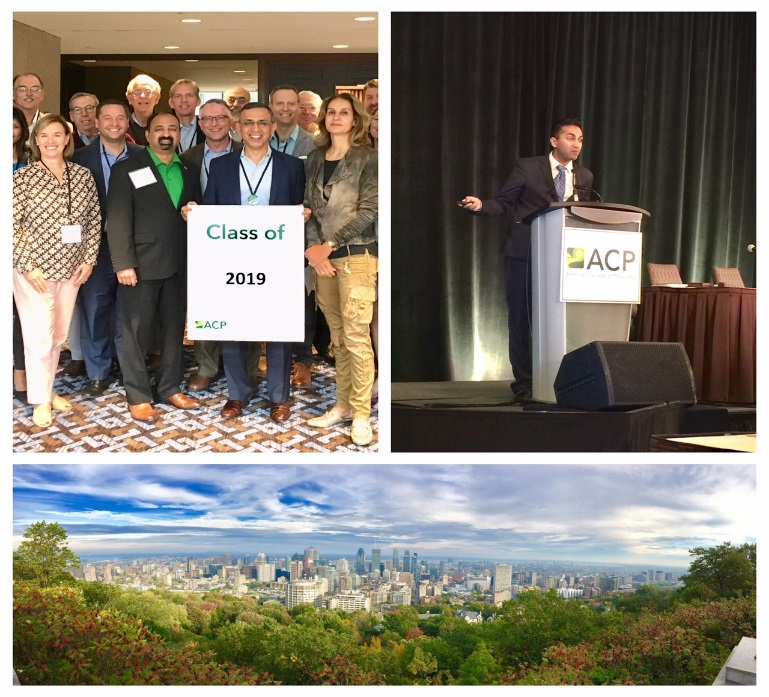 As Governor, it is my privilege and responsibility to listen to your feedback, thoughts, advice, and communicate the same/ ring it up for hearing (resolutions) at both the local and national platforms all in an attempt to provide quality and efficient care.
Thanks for your ongoing support and hope to see you at the ACP Internal Medicine Meeting 2018 in New Orleans.