You are here
North Dakota Governor's Newsletter November 2016
North Dakota Governor's Newsletter November 2016

---
---

Neville M. Alberto, MD, FACP, ACP Governor
---
GOVERNOR'S NEWSLETTER
Dear colleagues,
It is my privilege to keep you posted on the college activities:
Over the years, the college continues to make significant efforts to improve the educational environment and resources for the medical community albeit in the form of national and chapter meetings, the annals of internal medicine, ACP Internist, ACP Hospitalist, high value care curriculum and many more. For more information, please check out ACP - EDUCATION.
No college would be complete without serving as the voice for its members and its constituents and for that we have ACP - ADVOCACY. To learn more about where the ACP stands with respect to hot button issues, I would like to refer you to the ACP advocacy site. Whenever possible please try to familiarize yourselves with issues that impact your practice and your patients.
I had the opportunity and privilege to attend and participate in the recently concluded ACP-BOG fall meeting in Austin TX, where in addition to resolutions, the following topics were presented and discussed:
leading the way for Hispanic Health across the Nation
MACRA and the new quality payment program
opening door for diversity
embracing patient and family partnerships to thrive in the new age of value based care
Zika and other Arboviruses- A survival kit for internists
ACP physician wellness champions
Climate change and health
ACP technology-what now, what next
As Governor, it is my privilege and responsibility to listen to your feedback, thoughts, advice and communicate the same / bring it up for hearing(resolutions) at both the local and national platforms all in an attempt to provide quality and efficient care.
ACP - North Dakota Chapter held a successful Scientific Meeting on October 20-21, 2016 at the newly inaugurated UND School of Medicine and Health Sciences Building, Grand Forks, North Dakota. This live activity was designated for 5.25 category 1 AMA CME and MOC credits. In addition, this meeting helped the forty four attendees gain insight into recent medical advances, discuss local and national issues affecting the practice and teaching of Internal Medicine, greet old / make new friends and develop a collegial network in our area and workplace. The meeting highlights included : celiac disease in 2016, strategies to reduce hospital admissions in patients with congestive heart failure, a discussion about newer anticoagulants and the demise of Coumadin, what the community faculty needs to know about competency based medical education, advances in molecular diagnostics in clinical microbiology, healthy longevity and brain granulomas associated with hydrophilic polymer embolization following neuro intravascular interventions.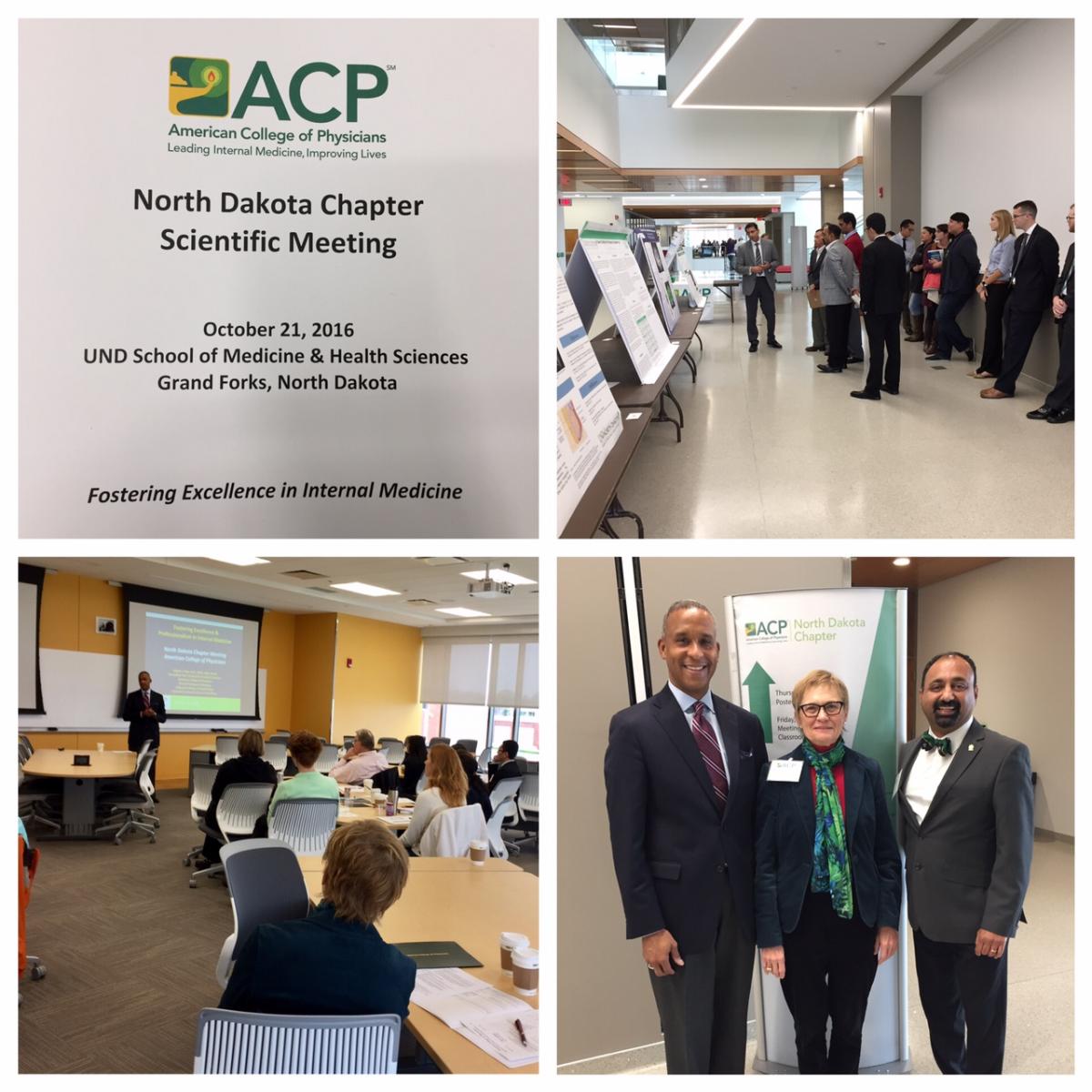 Dr. Wayne J. Riley, immediate past president, ACP attended and presented at the meeting on ACP 2016: Promoting excellence in Internal Medicine.
The North Dakota ACP Chapter was presented the Chapter Excellence Award-2015 for meeting the standards determined by the Chapters Subcommittee for excellence in chapter management.
Over the noon luncheon, we celebrated the life of our very own – Mack Traynor, MD was the first master of the ACP-ND Chapter. Past Governors Drs. James Brosseau and Julie Blehm shared on Dr Traynor's life as a medical professional and an active member of the community. In attendance were Dr Traynor's family to include his children.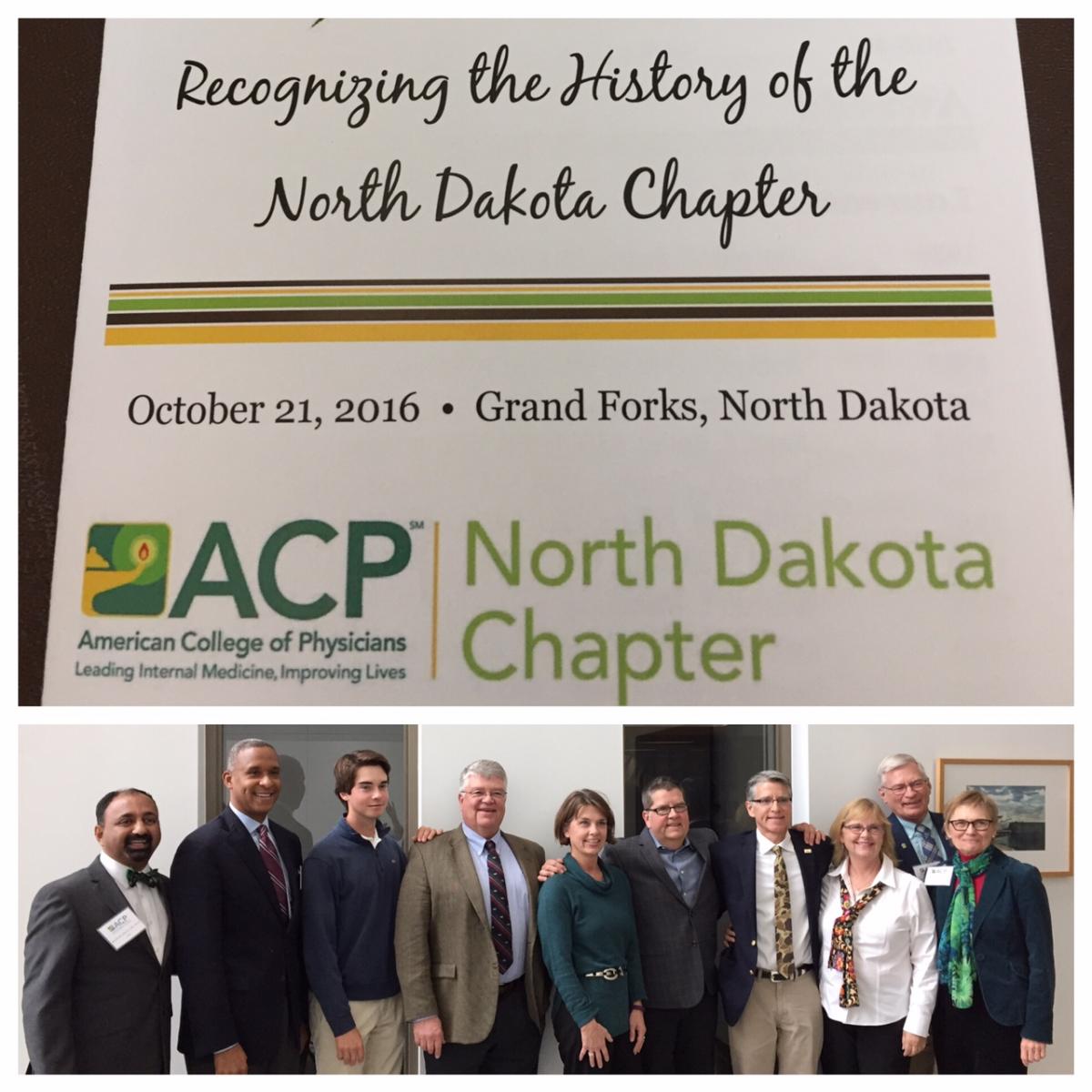 ACP poster competition was held the evening prior to the scientific meeting. Nine participants presented their work. Poster competition winners were announced and presented a check for $250.00/-at the Luncheon celebration to medical students Marcus Geffre and Lucy Ledyard for their work titled "Epiploic appendagitis – an unusual mimic of acute cholecystitis/choledocholithiasis." Would like to take this opportunity to thank Drs. Srinivasa Madhavan and Tze Shien Lo who helped me put the poster competition together.
A big shout out to Ms. Carla Mosser who did a wonderful job keeping us whole during her rookie year as chapter assistant. Thank you Carla!
Thanks for your ongoing support and hope to see you all at the spring ACP annual meeting in San Diego.
---
New Members
Shruti Kanwar, MBBS
Al-Marie Grace Logrono, MD
Jean Marie F McGowan, MD
Aaron R. Robertson, MD
Jonathan Rodrigues, MD
FNU Sonia, MD
Krishna C. Talluri, MBBS
---
Contact Information
Neville M. Alberto, MD, FACP
ACP Governor

North Dakota Chapter
Carla Mosser
North Dakota Chapter Staff