You are here
North Dakota Governor's Newsletter April 2017
North Dakota Governor's Newsletter April 2017

---
---

Neville M. Alberto, MD, FACP, ACP Governor
---
Governors Newsletter
Dear colleagues,
It is my privilege to keep you posted on the college activities:
I along with thirteen North Dakota ACP members and Fellows returned home after attending and participating in the spring ACP annual meeting in San Diego. It was yet another opportunity to advance and grow in the domains of Education, Advocacy and Wellness.
Marcus Geffre, fourth year medical student, UND presented a poster at the Spring Annual Meeting titled Epiploic Appendagitis – An unusual mimic of an Acute Biliary Process. He was one of the poster competition winners at the recently concluded ND ACP Chapter Meeting held at the newly inaugurated medical school in Grand Forks, ND.
Lindsey Dahl, MD FACP was conferred Fellowship and participated in the ACP Convocation Ceremony.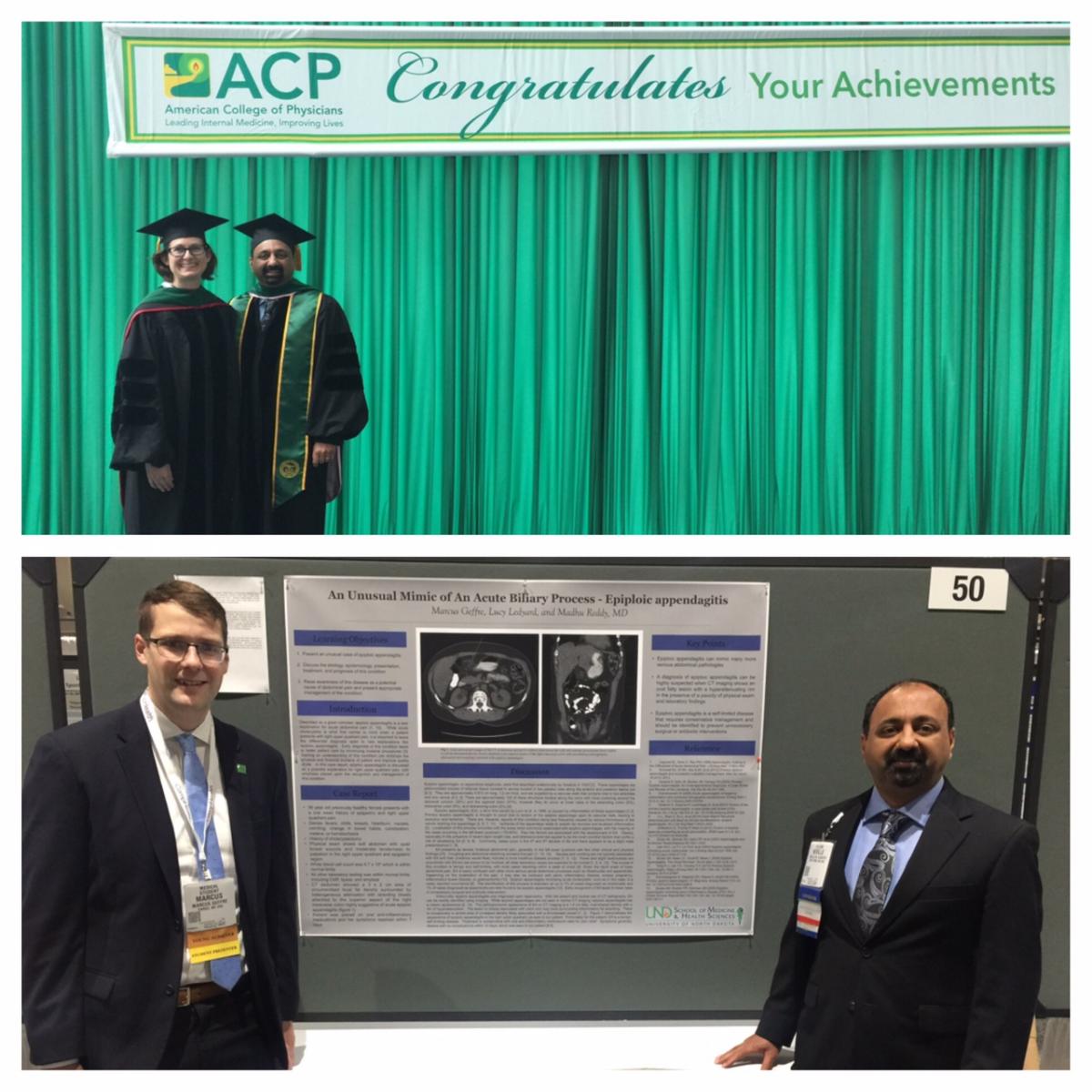 On Friday, March 31st, the Chapter hosted the ND ACP Chapter participants for dinner at Roy's San Diego Waterfront, located in the Headquarter Marriott Hotel. The ND congregation was joined by past ND ACP Members and residents of the Internal Medicine residency training program, UND to include Sathyanarayanan Machani, MD and Abhilash Perisetti, MD in addition to Nestor Sosa, ACP Governor, Central America Chapter and invited guest speaker for the upcoming ND ACP Chapter meeting in Fargo.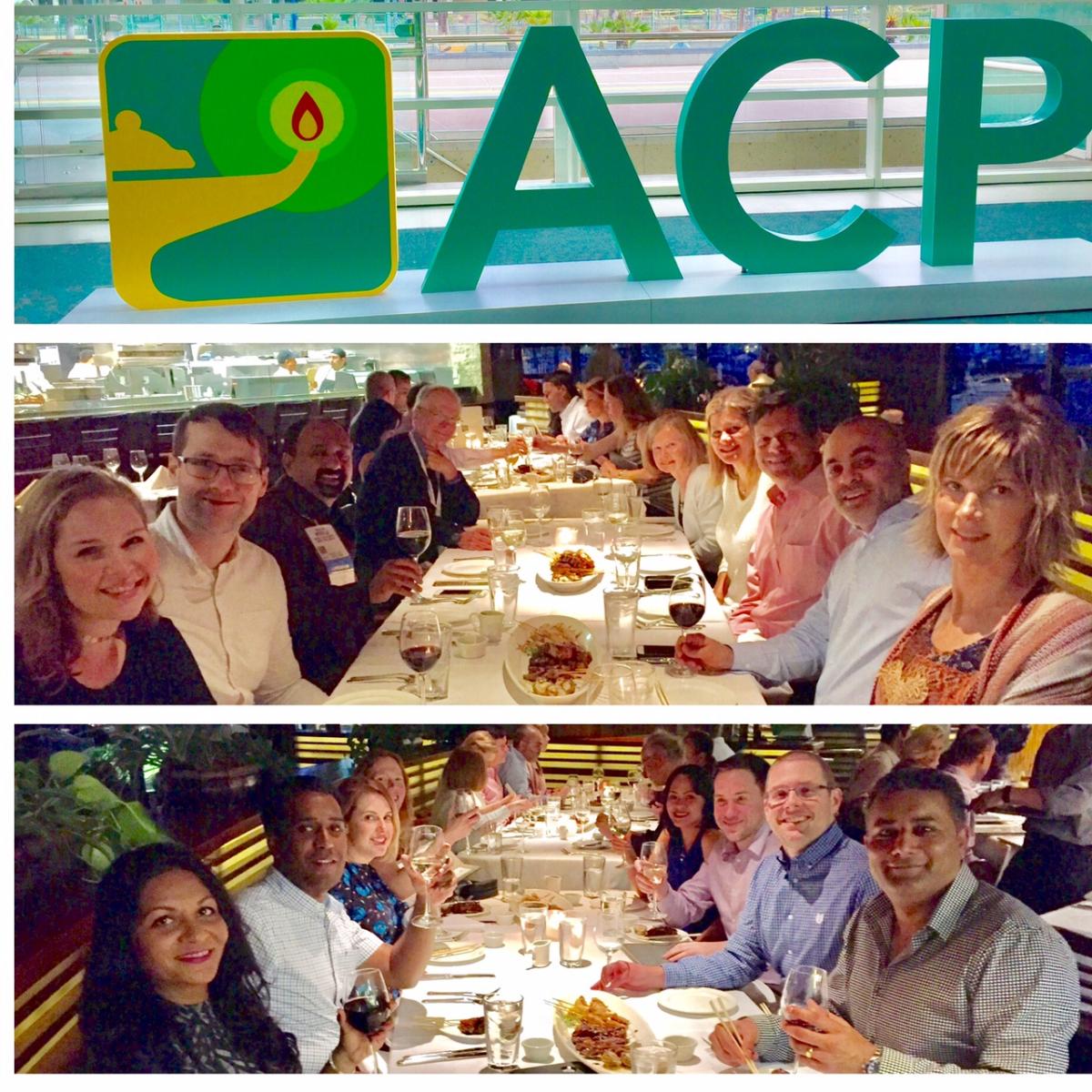 * May 23-24, 2017 * Washington, DC, the College will hold its annual Leadership day. Erik Heitkamp, fourth year medical student and soon to join the Internal Medicine Residency Program, Fargo ND and Fadel Nammour, MD FACP have expressed interest in representing ACP-ND Chapter on Capitol Hill.
Leadership Day is the College's annual two-day advocacy event in Washington, DC that enables our members from across the country to bring our issues of concern to U.S. lawmakers. This is a great opportunity for the College and our members to bring our policy priorities to Congress and try to influence the legislative process on behalf of internal medicine.
In addition to having an opportunity to meet with your legislators and staff in Washington, DC, participants are provided with in-depth briefings from White House officials, Capitol Hill staffers, and members of Congress; all of whom are among the top health care decision makers.
Participants will also:
Receive a comprehensive orientation on ACP's top legislative priorities.
Earn Continuing Medical Education (CME) credits.
Learn advocacy skills that can be utilized back home.
Meet other internists who care about advocacy, including colleagues from your own state.
Learn about policy issues that impact your profession and your ability to provide quality care.
Get to know ACP leaders and staff.
Socialize and have a great time!
Would like to take this opportunity to extend invitations to all ND-ACP Members to continue to remain active and contact the Chapter Staff to include myself and Carla Mosser if you would be interested in learning more about the local ACP activities and participation.
Preparations for the 2 day ND-ACP Chapter Meeting are ongoing. Please mark your calendars for September 21-22, 2017. The planning committee is working on putting together a pragmatic line of educators and educational topics for this annual educational activity.
Thanks for your ongoing support and hope to see you all at the ND-ACP Chapter meeting in Fargo!
---
New Members – Last Six Months
Shah Habib
Brendan Knowles, DO
Peter Kurniali, MD
Al-Marie Grace Logrono, MD
Jonathan Rodrigues, MD
FNU Sonia, MD
Daniel Walsh, MD
---
Contact Information
Neville M. Alberto, MD, FACP
ACP Governor

Carla Mosser
North Dakota Chapter Staff
North Dakota Governor's Newsletter April 2017