You are here
GOVERNOR'S NEWSLETTERNovember 2015
GOVERNOR'S NEWSLETTERNovember 2015

---
From the Governor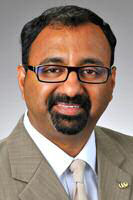 Neville M. Alberto, MD, FACP, ACP Governor
---
Dear colleagues,
It is my privilege to keep you posted on the college activities:
2015 is a very special year for the ACP. It is the centennial year of the largest single specialty organization that strives to represent the soul of the practice of medicine.
Over the years, the college has put in significant efforts to improve the educational environment and resources for the medical community albeit in the form of national and chapter meetings, the annals of internal medicine, ACP Internist, ACP Hospitalist, high value care curriculum and many more.
This year we would like to specially draw your attention to MKSAP 17 - ACP's Medical Knowledge Self-Assessment Program (MKSAP) is the gold standard for assessing your knowledge in all areas of internal medicine and preparing for the ABIM certification exam. MKSAP includes thorough syllabus content and the best questions in medicine. Over 80% of internal medicine residents rely on MKSAP to prepare for the boards. ACP Associate members enjoy significant savings on MKSAP.
Beginning in August, ACP members can access the DynaMed Plus point-of-care tool for FREE online or via a mobile device. With content developed jointly by ACP and EBSCO Health, this trusted, evidence-based resource is the next generation of clinical decision support.
Last but not the least is "In the Clinic Slide Sets" - educational tools to accompany Annals' In the Clinic issues. Get evidence-based answers to frequently asked questions about screening, prevention, diagnosis, and therapy for common clinical conditions.
For more information, please check out ACP - EDUCATION.
No college would be complete without serving as the voice for its members and its constituents and for that we have ACP - ADVOCACY.
To learn more about where the ACP stands with respect to hot button issues I would like to refer you to the ACP advocacy site. Whenever possible please try to familiarize yourselves with issues that impact your practice and your patients.
As Governor, it is my privilege and responsibility to listen to your feedback, thoughts and advice, communicate the same and bring it up for hearing(resolutions) at both the local and national platforms all in an attempt to strive to provide the best and efficient care.
ACP - North Dakota Chapter had a successful Chapter Scientific Meeting on Friday, October 16th, 2015 at the UND Medical Education Center Auditorium, Fargo, North Dakota. This live activity was designated for 5 CME credits. In addition, this meeting helped attendees gain insight into recent medical advances, discuss local and national issues affecting the practice and teaching of Internal Medicine, greet old / make new friends and develop a collegial network in your area and workplace. The meeting highlights included: perspectives in Trans catheter cardiac valve interventions, updates in Infectious disease to include the management of Hepatitis C, reinvigorating Internal Medicine Residency training programs - "doctors for complexity" and case presentations by our most recent Internal Medicine Program graduates highlighting the use of "point-of-care ultrasound" in making complex decisions efficiently. Plans are in place to have the next Chapter meeting at the upcoming brand new medical school building in Grand Forks. This would enable colleagues from the state to familiarize themselves with the state of art medical campus while encouraging medical students, residents and early career physicians become active participants in the College's Leadership, Educational and Advocacy domains.
The North Dakota ACP Chapter was presented with the Chapter Excellence Award for meeting the standards determined by the Chapters Subcommittee for excellence in chapter management.
North Dakota has a new Master: James D. Brosseau, MD, FACP has been conferred Mastership (MACP).
ACP Bylaws state that Masters shall be Fellows who have been selected because of "integrity, positions of honor, eminence in practice or in medical research, or other attainments in science or in the art of medicine." Masters must be highly accomplished persons demonstrating eminence in practice, leadership, or in medical research. Evidence of their achievements can come from many types of endeavors such as notoriety within their field and/or ACP chapter, research, education, health care initiatives, volunteerism, and administrative positions. The Master must be distinguished by the excellence and significance of his or her contributions to the field of medicine.
For Mastership, ACP involvement is expected, with rare exceptions. This may include, for example, service to the College in an official capacity, participation in chapter activities, and involvement in the development of College products and educational programs.
Ms Pam Heisler, Chapter Associate has announced her intentions to pass on the baton. Pam has served the North Dakota ACP chapter for over a decade and has worked hard to keep us whole. The Chapter would like to thank her for her services and wish her the very best in her future endeavors.
Thanks for your ongoing support while we endeavor to help make the American College of Physicians the very best College it can be.