You are here
GOVERNOR'S NEWSLETTERMay 2015
GOVERNOR'S NEWSLETTERMay 2015

---
From the Governor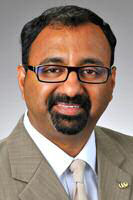 Neville M. Alberto, MD, FACP, ACP Governor
---
Dear Colleagues and Fellow Members of the American College of Physicians,
It is a great privilege that I am able to share with you my first letter as the Governor of the American College of Physicians (ACP).
The year 2015 marks the 100th anniversary of the ACP. The College celebrated its Centennial during the annual meeting in the historic city of Boston-the event was marked by the largest meeting attendance ever in the history of the college.
I would invite you to celebrate ACP's Centennial by exploring an online timeline featuring historical facts, images, and anecdotes about the organization in a decade-by-decade format. Plus, watch a video that explores 100 years of ACP.
Every year, a significant number of my fellow North Dakotans attend the Annual Meeting, and this year was no exception. Srinivasa Madhavan, MD, a final year resident in internal medicine, represented the University of North Dakota residency program and was invited to present his scholarly activity in the much sought- after poster session competition.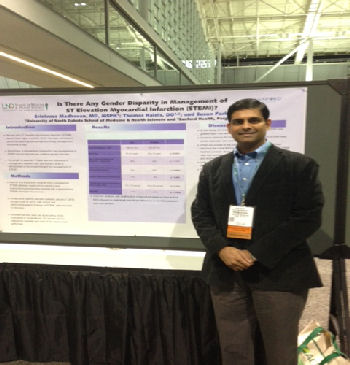 Srinivasa Madhavan, MD, a final year resident in internal medicine
In other news, we all recently witnessed something quite extraordinary and historic: on April 14th, the United States Senate followed the House in passing comprehensive legislation to repeal Medicare's SGR formula (H.R. 2) and transition the medical care industry to a new value-based system.
Repeal of the SGR has been an ACP priority, for over a decade.
No more will physicians have to be concerned with impending yearly payment cuts as a result of the flawed SGR formula; no more will this burden be hanging over physician practices; no more will we have to ask ACP members to contact their lawmakers week-in and week-out concerning the plague of the SGR. No, it is finally done, but it did not come about easily. Through the collective efforts of you, our Advocates, ACP's leadership and chapters, coalitions of medical groups and, yes, even Congress, we say good riddance to the SGR forever.
On behalf of all of us here at ACP, we say thank you for your advocacy over this long journey toward SGR-repeal. We look forward to the new payment and delivery systems of care that we worked so hard for in H.R. 2.
Our advocacy efforts will continue, but now with a renewed focus on other key priorities:
Extension of Medicare's Primary Care Incentive Program beyond 2015,
Reinstatement of the Medicaid Primary Care Pay Parity program, and
Support of important physician workforce issues like Graduate Medical Education (GME) financing reform.
But, we can and should pause now for a long-awaited celebration, in that our exhausting effort to repeal the SGR has finally crossed the finish line.
Finally, I would like to take this opportunity to say thank you to the ACP, for the vision; to Sanford Health and the University of North Dakota, for the encouragement; to Julie Blehm, MD, outgoing Governor, for the mentorship; to Ms. Pam Heisler and Ms. Beth Ambrosio, for the administrative assistance; and to my fellow North Dakotans, for your continued support while we strive to provide the best care for our patients and a voice for the Practice of Medicine.