You are here
New Mexico Governor's Newsletter October 2016
New Mexico Governor's Newsletter October 2016

---
---

Betty Chang, MDCM, PhD, FACP, FACCP, ACP Governor
---
Greetings from Governor
This is my first newsletter as your Governor. I can only hope I can meet the standards set by Eileen Barrett. The first six months of being Governor has been a steep learning curve. It has been a great experience and I thank all of you for the opportunity. Our big announcement for the year, is our successful bid to have Barbara McAneny awarded Master of the ACP. Barbara has contributed greatly to medicine in our state, and the award is well deserved. Alisha Parada (general internist), Eileen Barrett (hospitalist), and I (pulmonary and critical care) attended Leadership Day in Washington, DC. We were able to meet with all five New Mexico congressional offices to discuss issues key to the ACP. During the annual meeting, which followed, I had the pleasure of walking with seven New Mexico internists, inducted into Fellowship. If you are interested in Fellowship, please contact our Chapter Staff - Lisa Sullivan; we can tell you how to apply. See below for more details on the above.
The Annual Meeting Committee has been working hard to create a wonderful, educational meeting for the Chapter. It isn't too late to register. I hope to see you there.
Governor
Chapter Staff
---
Annual Meeting Reminder
November 3-5th at the Sheraton Albuquerque Uptown Hotel
Early registration ends October 31, 2016 after which an additional $25 will be added to the registration fee. There will be on site registration. Link to register.
---
Barbara McAneny, ACP Master
Dr. McAneny received her MD at the University of Iowa, where she also completed residency. She, then moved to New Mexico for fellowship at The University of New Mexico where she has been ever since. She has served as the President of the Greater Albuquerque Medical Association and the New Mexico Medical Society. She has served a 4-year term on the Practicing Physicians Advisory Council for the Centers for Medicare and Medicaid Services. She is currently on the AMA Council of Medical Service and the American Society of Clinical Oncologists Board of Directors. Clinically, Dr. McAneny has an active oncology practice at the New Mexico Oncology Hematology Consultants. Congratulations Dr. McAneny.
---
Leadership Day – Eileen Barrett, MD
This year, the NM Mexico delegation attended Leadership Day immediately prior to the national ACP conference in May. During this two-day event, attendees learned about the legislative priorities for the College and tips and tools for having effective advocacy meetings with congressional representatives and their legislative aides. This was the first year that ACP members didn't need to advocate for the repeal of the Sustainable Growth Rate, the deeply flawed formula that could have resulted in double-digit cuts to physician reimbursement. Instead, this year's advocacy efforts focused on advocating for increased funding and resources to fight the opiate abuse epidemic, reducing administrative burdens in practice, supporting telemedicine, increasing funding for graduate medical education that supports our workforce needs, supporting the National Health Service Corps and other programs that support recruiting and retaining clinicians in underserved areas, and enhancing interoperability for and usability of electronic medical records. We had highly productive meetings with the legislative aides for Senators Tom Udall and Martin Heinrich, and Representatives Michelle Lujan Grisham, Ben Ray Lujan, and Steve Pearce. If you are interested in joining us next year (May 23-24, 2017), please contact Betty Chang.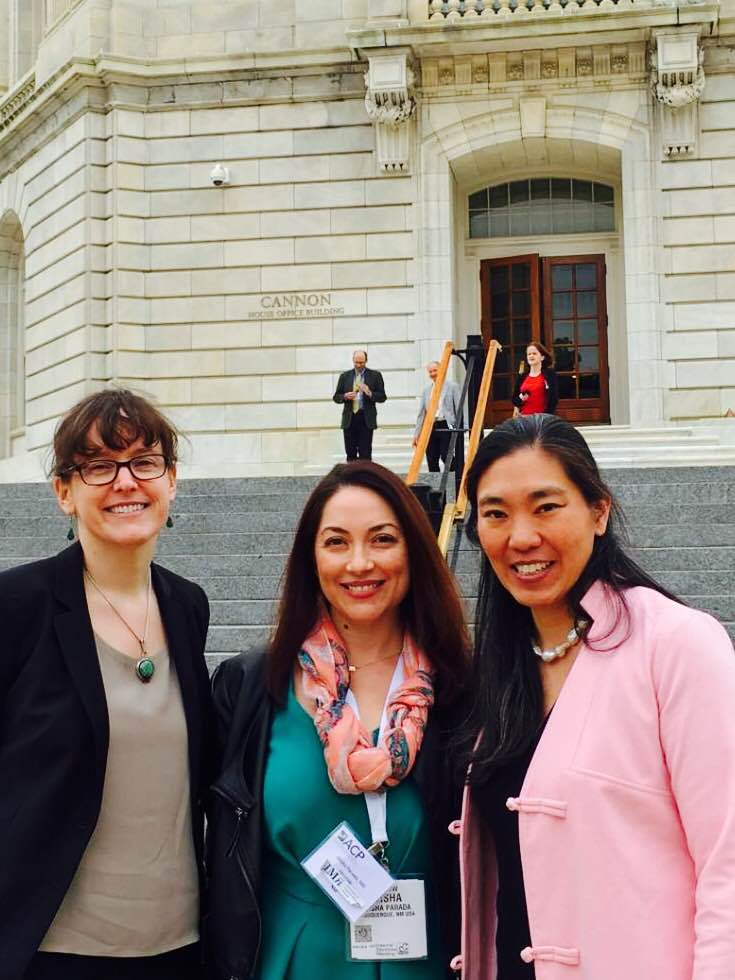 Eileen Barrett, Alisha Parada, and Betty Chang outside the congressional offices.
---
Jeopardy Competition at the ACP Annual Meeting – Ola Azzouqah
New Mexico Jeopardy team was composed of three residents, one from each year of residency, Wa'el Tuqan (R1), Ihab Ajaaj (R3), and myself (Ola Azzouqah) (R2). We Initially decided to participate in the local competition and competed with different teams from The University of New Mexico. After winning this competition, we qualified to participate at "Doctor's Dilemma" 2016 National ACP in Washington DC. It was a unique learning and enjoyable experience. We were able to interact with other teams, meet physicians from all around the globe, and attend lectures and seminars presented at the ACP. We also explored the different attractions of the Nation's Capital. Despite not winning, we learned from this experience in various ways and bonded as a team of residents outside the usual work environment.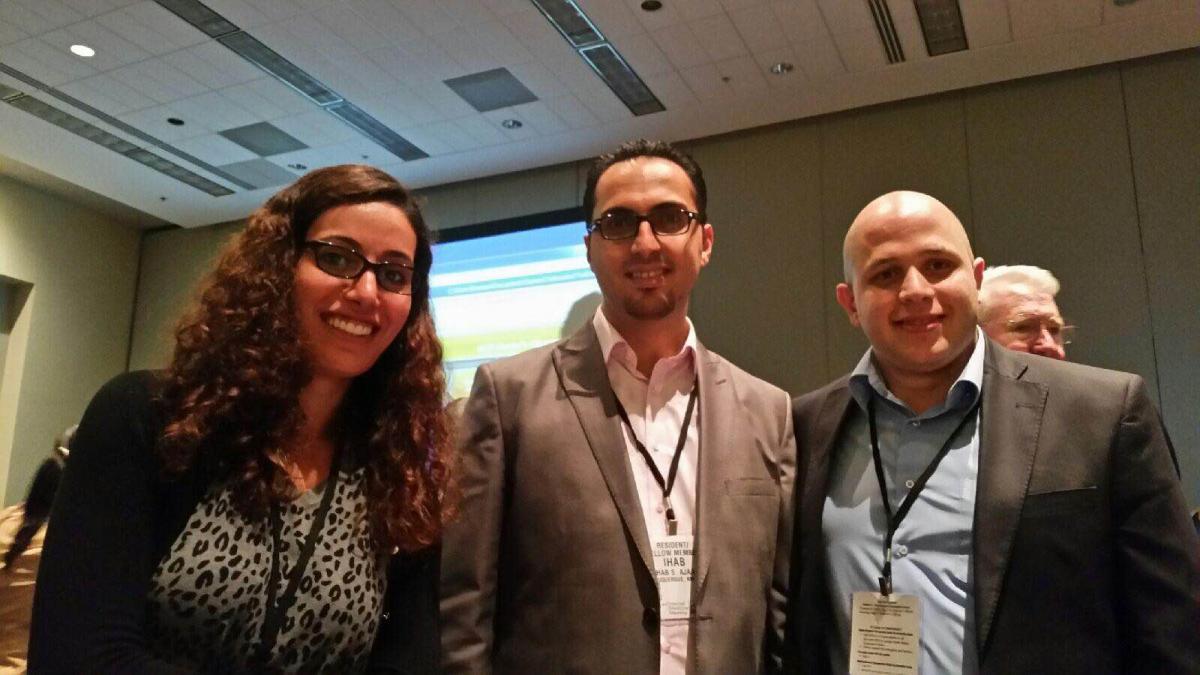 Ola Azzouqah, Ihab Ajaaj, and Wa'el Tuqan.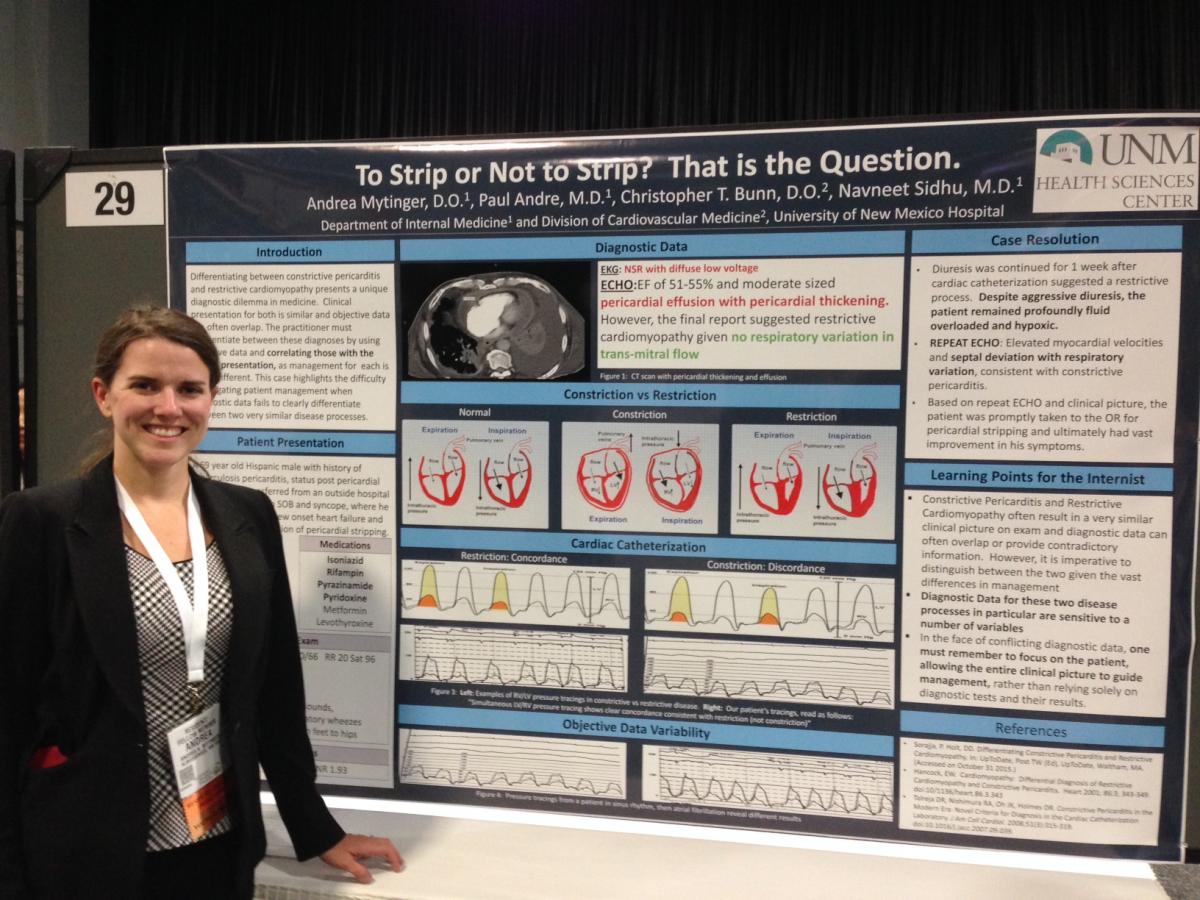 Andrea Mytinger presenting her poster at the Associates Poster Competition.
---
New Mexico Patient Safety Task Force – Rush Pierce, MD
In response to a Leapfrog Composite Safety report that ranked New Mexico last (50 of 50 states) in overall hospital patient safety, the Hospitalist Committee of the New Mexico Chapter of the American College of Physicians recruited a volunteer group of hospitalists, medical directors, patient safety officers, nurses and resident physicians from across the state to develop an intervention to improve patient safety (New Mexico Patient Safety Task Force). This group met by conference call from 2013 – 2015 to develop a statewide transfer form to facilitate communication of important clinical information between providers at Skilled Nursing Facilities (SNF's) and New Mexico hospitals. After studying transfer forms currently used by New Mexico hospitals and surveying New Mexico SNF Medical Directors, the New Mexico Patient Safety Task Force developed a one page transfer form that can be be used when transferring a patient from a hospital to another healthcare facility. The work of this group was supported by an Chapter Development grant from ACP. The form is being used by several hospitals in New Mexico. The work of the committee and the form have been presented at several national meetings. An electronic copy of the form is available from Rush Piercejrpierce@salud.unm.edu
---
Membership Update
Congratulations of those, who have advanced to ACP fellowship this year. We have many others who are eligible to become fellows, and I encourage you to apply. Eligibility includes ACP membership for 5 years and Board Certification in Internal Medicine or one of its subspecialties. See ACP Website for other eligibility requirements. And then join me in Fellowship Convocation on March 30, 2017 in San Diego.
---
New Fellows in the Last 6 months
Gregory G. Fotieo, MD, FACP
Diedre Hofinger, MD, FACP
Mark L. Unruh, MD, FACP
Anthony Worsham, MD, FACP
---
New Members in the Last 6 months
Ihab S. Ajaaj, MD
Robert J. Andrews, MD
Husam N. Bader, MD
Talha Bashir, MD
Melissa N. Begay, MD
James F. Bennett, MD
Sarah Burns, DO
Patrick O. Butsch, MD
Tracy M. Carlson, MD
Grace Dalmacion, MD
Benjamin R Deaton, MD
Michael Dempsey, MD
Joseph Eleid, MD
Bilal M. Khan, MD
David B. Ling, DO
Timothy McMurray, MD
Stephen Mehanni, MD
Justin T. Miller, MD
Megan Molleck, MD
Patrick W. Murphy, MD
Soumya Reddy, MBBS
Blavir Rukov, DO
Mariam Salas, MBBcH
Tyler R. Shackelford, DO
Nancy Shrestha, MD