You are here
New Mexico Governor's Newsletter May 2017
New Mexico Governor's Newsletter May 2017

---
---

Betty Chang, MDCM, PhD, FACP, FACCP, ACP Governor
---
Greetings from Betty Chang
It is always exciting to go to the ACP annual meeting each year. I get to see former colleagues, former residents, friends in Albuquerque I never get to spend time with, and new friends I meet throughout the meeting. We had a fabulous New Mexico Happy Hour. We get so insular in our work and home worlds that going to these meetings is an opportunity to widen our circles and bring new people into them.
During New Fellow Commencement, I spent time with Richard Honsinger (CMSS Representative and Allergist from Los Alamos and Santa Fe), Keshab Paudel (NMACP Award Winner from Lovelace Hospitalist), and Diedre Hofinger (new fellow from the Albuquerque VA.)
We whooped it up for our New Mexico Resident Jeopardy team: Barakat Altimimi (PGY3), Wa'el Tuqan (PGY2), and Payal Sen (PGY1). I hope that our returning residents will be excited to return to the Jeopardy stage next year.
Several of New Mexico's medical students and residents presented posters at the annual meeting. We are so proud of their contributions to scientific knowledge.
At the Board of Governor's meeting, prior to the ACP annual meeting, I heard how the ACP is actively working to preserve and protect access to health care by opposing the first Obamacare (American Health Care Act – AHCA) repeal and replace bill. The replacement bill is going before the Senate as you read this. If you want to know how to help lobby out Senators, email me. The loss of Medicaid expansion will be devastating to the State of New Mexico, I know my own practice saw a 20% decrease in uninsured patients since AHCA went into effect, and many rural practices saw an even larger decrease. The ACP was one of the first organizations to speak out against the Executive Travel Ban, citing it's devastating effect on the healthcare work force pipeline and effect on immigrant health.
The ACP continues to work with the ABIM on the MOC and recertification process. As you may have heard in 2018, the ABIM is piloting an open book exam for internal medicine and nephrology 10-year exam for those recertifying. This reflects more "real world" medical knowledge practices rather than testing what one can memorize in the weeks and months leading up to the exam. Additionally, in Internal Medicine recertification, starting in 2018, those recertifying may chose a shorter every 2-year exam rather than the big 10-year one. My certification expires in 2018, and I am undecided as to which option to try. As a guinea pig, I will keep you updated as I go through the process.
Betty Chang, MDCM, PhD
Associate Dean of GME and DIO
Professor of Internal Medicine
Lisa Sullivan
Chapter Staff
newmexicoacp@gmail.com
New Mexico Happy Hour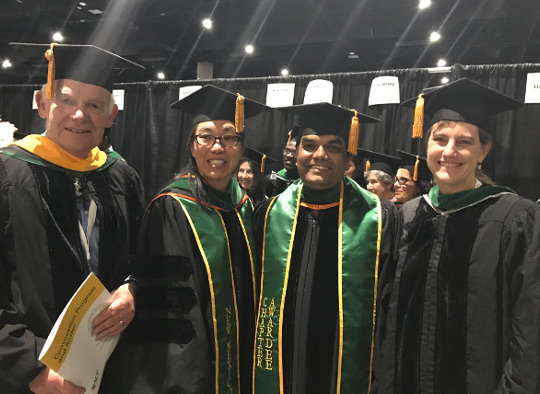 New Fellow Commencement
Left to right: Richard Honsinger, MD, MACP; Betty Chang, MDCM, FACP; Keshab Paudel, MD, MBA; FACP; Diedre Hofinger, MD, FACP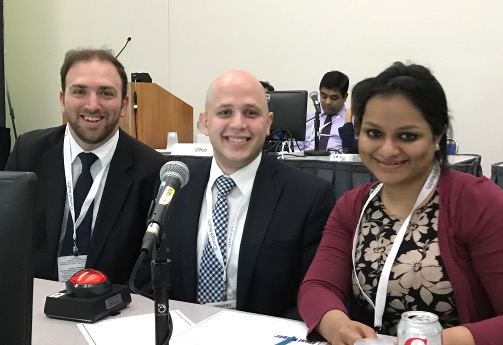 New Mexico Resident Jeopardy team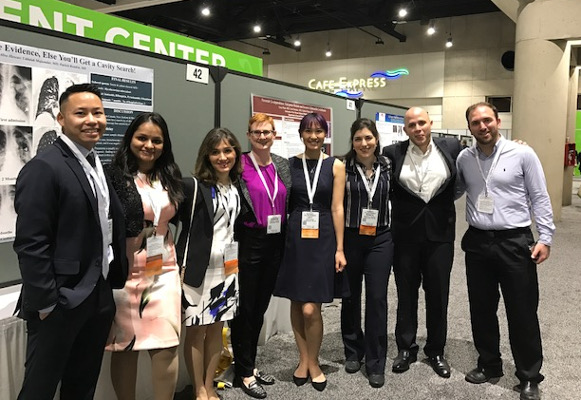 Student poster presenters at the annual meeting
---
Medical Student Poster Winners!
Congratulations to Christian Mateo Garcia, Amanda Bustamante Provencio and Justin R. Roesch, who won the Medical Student Poster Competition at the San Diego ACP Annual Meeting with their poster entitled – "Good Intensions" A Peer to Peer Medical Education Tutoring. Mateo and Amanda are two UNM medical students.
"Amanda Provencio and I would like to express our gratitude for the wonderful opportunity to present our quality improvement poster at the National ACP Internal Medicine Conference in San Diego. It was truly an amazing experience for both of us and offered a great educational and networking experience. We were very happy and surprised to have our poster selected and successful at the national level." Christian M. Garcia
---
Organizational Strategies to Promote Physician Well-Being
A February JAMA editorial called for national, state, institutional, and individual interventions to reduce the national epidemic of physician burnout (9). The authors of this editorial had recently published a meta-analysis and systematic review concluding that individual and institutional strategies to promote physician well-being both had an impact on burnout (13). A more recent meta-analysis showed that organization-directed interventions significantly reduced burnout more than individual-directed interventions (7).
Organization-directed interventions are systematic interventions that tackle the root causes of burnout such as excessive workload, inefficient work environment, the loss of autonomy, and the lack of workplace community. Some of these interventions are more expensive than others, but the cost of each must be compared to the estimated $500,000 to $1,000,000 price tag of recruiting a new physician to replace the one who burned out and left practice.
Here are some very specific suggestions for you to consider at your institution, based on recently published work, compiled by Liz Lawrence, MD, FACP.
American Medical Association Steps Forward: . Accessed 4/29/17.
Bodenheimer T and Sinsky CA. From triple aim to quadruple aim: care of the patient requires care of the provider. Ann Fam Med. 2014;12:573-576.
Bodenheimer TS and Smith MD. Primary care: proposed solutions to the physician shortage without training more physicians. Health Affairs 32, no.11 (2013):1881-1886.
Linzer M, et al. 10 bold steps to prevent burnout in general internal medicine. J Gen Int Med. 2014 Jan;29(1):18-20.
MacColl Center for Health Care Innovation at Kaiser Permanente Washington Health Research Institute.: www.improvingprimarycare.org Accessed 4/29/17.
Noseworthy J et al. Physician burnout is a public health crisis: a message to our fellow health care CEOs. Health Affairs Blog. http://healthaffairs.org/blog/2017/03/28/physician-burnout-is-a-public-health-crisis-a-message-to-our-fellow-health-care-ceos/.
Panagioti M et al. Controlled interventions to reduce burnout in physicians: a systematic review and meta-analysis. JAMA Intern Med. 2017;177(2):195-205.
Shanafelt TD and Noseworthy JH. Executive Leadership and Physician Well-being: Nine Organizational Strategies to Promote Engagement and Reduce Burnout. Mayo Clin Proc. 2017;92(1)129-146.
Shanafelt TD, et al. Addressing physician burnout: the way forward. JAMA. 2017;317(9):901-902.
Sinsky C et al. Allocation of physician time in ambulatory practice: a time and motion study in 4 specialties. Ann Intern Med. 2016;165:753-760.
Sinsky CA, et al. In search of joy in practice: a report of 23 high-functioning primary care practices. Ann Fam Med. 2013 May-Jun;11(3):272-278.
UCSF Center for Excellence in Primary Care: https://cepc.ucsf.edu
West CP et al. Interventions to prevent and reduce physician burnout: a systematic review and meta-analysis. 2016. The Lancet;388:2272-81.
Physician well-being should be measured regularly and used as an important metric of institutional performance and future interventions.
Empower all providers to identify and problem solve about an area of inefficiency in their own work area. Adding printers or having all needed Prescription Monitoring Program (PMP) reports available at the time of a patient visit are some simple and inexpensive fixes that have had significant impact in local practices.
Add "desk slots" to clinic schedules. The clinician can use these appointment times without a scheduled patient to catch up on paperwork, charting, and phone calls.
Allow for flexible work schedules, job-sharing, and part-time work schedules.
Build effective teams by empowering team members to work to their full potential, co-locating team members, and scheduling daily huddles. The most functional practices hire 2 to 3 support staff for each full-time physician.
Support small groups of physicians meeting regularly outside of work by providing funding for such gatherings (see the description of COMPASS groups, Colleagues Meeting to Promote And Sustain Satisfaction, in reference 8)
Promote wellness in regularly scheduled meetings by recognizing physician achievements, allowing time for brief exercises to promote resiliency and community, and exchanging information on burnout metrics and interventions.
This list includes only a few of the evidence-based changes an organization can make to reduce physician burnout. Please review the references listed in the embedded bibliography to learn about additional strategies that might work for your practice. Please feel free to let me know what strategies you and your organization have found to be effective.
Dr. Lawrence is a general internist practicing at La Familia Medical Center in Santa Fe and the Director of Medical Student and Physician Wellness for the UNM School of Medicine. She can be reached at Elawrence@salud.unm.edu
---
New Members – Last Six Months
Jacqueline E Acevedo-Gonzalez, MD
Daniel Taiwo Adeneye, MD
Lina E Aguirre, MD
Balwinder S Kang, MD
Nawang Sherpa, DO
Abhinav Singh, MD
Scotty Smith, MD
Thomas J Taylor, MD, MPH
---
New Fellows - Last Six Months
Justin J Roesch, MD FACP
---
Save the Date
2017 Annual NMACP Meeting will be November 2-4, 2017. Last year's meeting was phenomenal. Some of the best talks I have head in a long time. So, I hope you will make plans to join us this year. And in response to feedback from the meeting, we will have a computer at the meeting to assist attendees complete their CME forms (which are available online).
New Mexico Governor's Newsletter May 2017