You are here
From the Governor September 2014
From the Governor September 2014

| | |
| --- | --- |
| September 2014 | Eileen Barrett, MD, MPH, FACP, ACP Governor |
---
---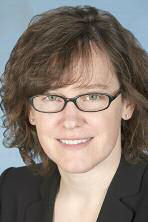 Dear Colleagues,
I hope this note finds you well and enjoying the tail end of summer! I am writing from Gallup, but am starting to prepare for the fall Board of Governors meeting in Chicago in mid September, and also for our Annual Scientific Meeting in November. I'm looking forward to both greatly. At the Chicago Board of Governor's meeting, we'll be discussing resolutions (ideas from the chapters that help the Governors advise the Board of Regents) as well as how to help members increase their practice enjoyment.
Maintenance of Certification (MOC), Meaningful Use, climate change, and prescription drug pricing are hot topics now. I truly value your opinions on these and other issues germane to medicine. Please review the resolutions we'll be discussing at the Board of Governors meeting, and complete the survey monkey to let me know where you stand:
With so much change in medicine, there is also a lot of talk about high levels of dissatisfaction. I'm honored to be participating in the College's upcoming summit on increasing practice enjoyment, and would like to bring your experiences with me to guide these discussions. Please take a moment to complete this very short survey about what contributes to your satisfaction in practice and what detracts from it.
Although there is a lot of change afoot, there remain so many inspiring physicians in our Chapter. I'm pleased there were such strong candidates for our Chapter awards this year, and excited that at this year's Annual Scientific Meeting we will be recognizing Allen Adolphe, MD, PhD, FACP as Chapter Laureate, Kendall Rogers, MD, FACP, SFHM for Excellence in Teaching, and Maricruz Merino, MD, FACP, for Community Service and Volunteerism. Please join me in congratulating them and thanking them to their service to their colleagues, their patients, and to internal medicine in New Mexico at our Business Meeting on November 7th.
Speaking of awards, this year we will present the inaugural NM ACP Medical Student Award. First through fourth year medical students are eligible. Nominations may be submitted by peers, resident physicians, faculty advisors, or physician mentors and should Pleasebe submitted to nmacp@msn.com by September 24, 2014. More information is available on our chapter website.
As always, I'm grateful for the dedication and thoughtfulness of our Councilors. Although I individually accepted the 2014 Chapter Excellence Award, I was doing so on their behalf. Please join me in thanking them. You may find our list of Councilors and Officers. I can't help but reflect on the successes of our council while considering that I'll be completing my four-year term as Governor in April 2016. Rush Pierce, MD, MPH, FACP, Tobore Kokoricha, MD, FACP, and Ellen Yee, MD, FACP, did a great job on our nominations committee, and I'm so pleased that we have two outstanding candidates to succeed me: Betty Chang, MDCM, PhD, FACP, and Keshab Paudel, MD, MBA, FHM, FACP. The voting membership (Masters, Fellows, Members, and Resident/Fellow Members with an elect date of 8/1/2012 or earlier) can vote via online (www.directvote.net/ACP/) or mail-in ballot. Check out the Chapter's Web site for full details on the candidates' bios and candidates' statements.
In closing, thank you again for your commitment to your practices, your patients, your colleagues, and to internal medicine. Please keep in touch.
Sincerely,
Eileen Barrett, MD, MPH, FACP
Governor, New Mexico Chapter of the American College of Physicians
Internist/Hospitalist - Gallup
---
Save the Date: Annual Scientific Meeting November 6-8
Save the Date for the Annual Scientific Meeting to be held November 6-8, 2014. Like last year, it will be held at the Sheraton Uptown in Albuquerque. Attendees can look forward to updates in outpatient medicine, hospital medicine, diabetes therapeutics, medical marijuana, and more. Register today!
---
Congratulations New Fellows!
Achieving ACP Fellowship is a mark of distinction and a milestone in a physician's career. I'm delighted that despite our small chapter size, we have so many accomplished and dedicated clinicians, and am so pleased to have to many advance to Fellowship. Please join me in congratulating Virginia Corpus, MD FACP, Maricruz Merino, MD FACP, Boris Naraev, MD, PhD, FACP, Ikenna Osuorji, MD, FACP, Molly Vosburg, MD, FACP, George Laws, MD, FACP, and William Cumberworth, MD, FACP.
---
News for Hospitalists: a New SHM Chapter in New Mexico
The Society of Hospital Medicine (SHM) New Mexico Chapter organizational meeting was held on July 22, 2014. The purpose of this meeting was to develop a network of hospitalists in New Mexico, share common concerns and problems and find out possible solutions.
We had a great meeting with 37 attendees and 7 people signed up as new SHM members.
Rush Pierce, MD, MPH, FACP introduced Kendall Rogers, MD, CPE, FACP, SFHM, who gave a presentation on "Quality Initiatives for Hospitalists."
Keshab Paudel, MD, MBA, FHM, FACP was elected President. (He is also a NM ACP Councilor and Membership Committee Chair.) The next meeting is tentatively scheduled for November 8, 2014 following the New Mexico Chapter ACP scientific meeting. Details will be available soon."
For more information, please contact Dr Paudel.
---
New Member Benefit in New Mexico: MKSAP Study Hall
Are you seeking more structure while studying for your boards? Our colleagues in the Illinois chapter have very generously offered that New Mexico chapter members may participate in a weekly webcast of their chapter's wildly popular MKSAP Study Hall. These are every Tuesday evening, and available to people who have MKSAP 16 Digital. Read more about this fantastic benefit and register.
---
Leadership Day
Over 300 ACP members attended ACP's annual advocacy event in Washington DC in May, including New Mexico's delegation: Julio Munoz, MD, FACP, MAAHPM, Mike Kaufman, MD, FACP, and Sam MacBride, MD. During Leadership Day, attendees learned about advocacy and then discussed key issues with Senators and Representatives.
ACP's asks include:
extending a program that pays primary care physicians and most internal medicine subspecialists no less than the Medicare rates for designated services provided to Medicaid recipients (which, if allowed to expire on Dec. 31, 2014, will cause deep Medicaid payment cuts in most states);
enacting legislation to permanently repeal the Medicare SGR formula;
co-sponsoring a bipartisan bill to establish "safe harbors" from malpractice lawsuits for physicians who follow evidence-based clinical guidelines; and
funding for workforce and Graduate Medical Education programs to address the growing shortage of internal medicine physicians.
Read more about Leadership Day, including a quote from NM ACP member Sam MacBride, MD.
---
Medical Jeopardy will Return!
After a successful resident Medical Jeopardy competition last winter, we're excited to plan this again for this academic year. Residents are encouraged to start forming teams now. The winners will compete at Internal Medicine 2015 in Boston, and possibly against a Texas chapter as well! Interested housestaff should contact Alisha Parada, MD.
---
ACP Leadership Academy
The ACP Leadership Academy will offer FREE interactive live webinars beginning in October 2014. To kick off this premier webinar series, our first topic will be Core Tenets of Leadership on October 21 at 6:30 p.m. ET (8:30 p.m. MST). Presenters will be Molly Cooke, MD, MACP (Immediate Past President ACP. Director of Education, Global Health Sciences and Professor of Medicine at University of California, San Francisco) and Steven E. Weinberger, MD, FACP (ACP EVP/CEO).
---
Welcome New Student Members!
Many thanks to Internal Medicine Interest Group President Tomas Cordova and Chapter Coordinator Sylvia Burns who registered 30 new student members at the UNM School of Medicine Student Activity Fair. We welcome our new student members, and look forward to your engagement in the chapter!
---
Member Benefit: Smart Medicine
The ACP has released ACP Smart Medicine, a web-based clinical decision support tool developed specifically for internists containing 500 modules that provide guidance and information on a broad range of diseases and conditions.
Integrated with content from Annals of Internal Medicine, ACP JournalWise, and ACP's clinical practice guidelines with a display that automatically adjusts to desktops, smartphones, and tablets, the clinical recommendations in ACP Smart Medicine are evidence-based and rated based on the quality of the underlying evidence. Information is continually updated through triggered updates with new, relevant content and guidelines - including new sections on Ebola and Marburg virus. Additionally, ACP High Value Care recommendations identify care activities that offer little benefit to patients.
ACP Smart Medicine also offers easy access to submit for CME credit. Physicians can select modules from the list of content areas they have reviewed, answer a question, and submit for CME credit.
ACP Smart Medicine is available as a free benefit to ACP members and can be purchased by non-members.